Will Election Commissioner Ashok Lavasa Not Join ADB?
Election Commissioner of India Ashok Lavasa has apparently not yet decided whether or not to join the Asian Development Bank as one of its vice presidents. Observers argue that his decision to be considered for the post in the first place raises disturbing questions.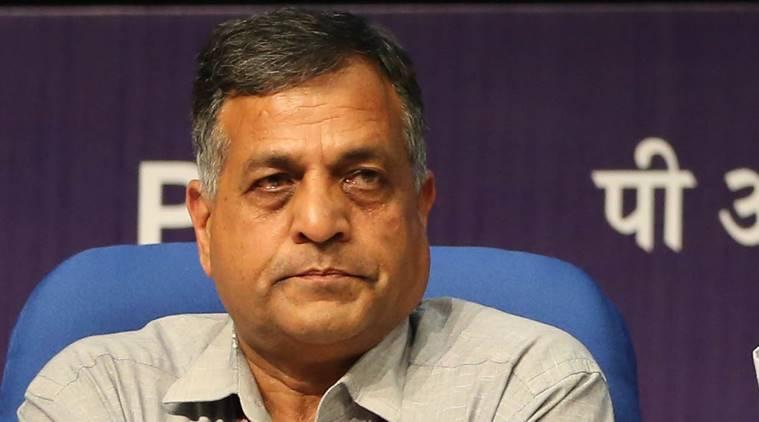 Ashok Lavasa. Image Courtesy : The Indian Express
Gurugram: Election Commissioner of India Ashok Lavasa is yet to decide whether or not he should accept the offer to hold the post of vice president of the Manila-based multilateral financial institution, Asian Development Bank (ADB).
A source close to Lavasa who spoke to NewsClick on condition of anonymity said he would be consulting his family members and confidantes before taking a decision on whether he should become one of ADB's six vice presidents. He has been offered the position of vice president in charge of private sector operations and public-private partnerships.
While the ADB's board of directors announced Lavasa's appointment on July 15, it is reliably learnt that he had received a letter from the bank three months earlier asking him whether he was inclined to be considered for the post. It is evident that Lavasa answered in the affirmative. Otherwise, the formal announcement would not have been made.
The source quoted earlier said that no deadline or time limit had been set for him to accept the appointment. He added that Lavasa was not aware who in the government (or specifically, the Ministry of Finance) had recommended that he succeed Diwakar Gupta in the ADB, whose terms ends on August 31.
Lavasa holds a Master's degree in business management from Southern Cross University, Australia, and an MPhil in Defence and Strategic Studies from the University of Madras. The ADB showered fulsome praise on him describing him as having "extensive experience" and "deep knowledge" of public-private partnerships and infrastructure projects.
The term of a vice president is for three years that can be extended for two more years.
The last occasion an Election Commissioner of India resigned before his term ended was in 1973 when the then Chief Election Commissioner (CEC), Nagendra Singh, was appointed a judge of the International Court of Justice at Hague, Netherlands.
Lavasa, a 1980 Haryana cadre officer of the Indian Administrative Service (IAS), had held important bureaucratic posts in the government, including those of Finance Secretary and Secretary, Environment and Forests.
After he retired from the IAS, he joined the Election Commission on January 23, 2018. As per convention, he is scheduled to succeed the current incumbent, Sunil Arora, as CEC in April 2021.
He would in normal course have retired as CEC in October 2022 by which time elections would have been held to the legislative Assemblies of West Bengal, Tamil Nadu, Kerala, Assam, Uttarakhand, Uttar Pradesh, Punjab, Manipur and Goa among other states.
Should he choose to join the ADB, Election Commissioner Sushil Chandra would succeed Arora as CEC, that is, unless the government chooses not to go by convention.
This convention is itself a subject of discussion and debate, as the experts that NewsClick spoke to point out. The Narendra Modi government is not known to be a stickler for convention, as the decision to suggest Lavasa's name indicates.
According to the provisions of the Election Commission (Conditions of Service of Election Commissioners and Transaction of Business) Act, 1991, an Election Commissioner or CEC can tender her or his resignation by way of a letter addressed to the President of India.
In the Eye of a Storm
Lavasa had been in the eye of a storm before the 2019 Lok Sabha elections when he disagreed with Arora and Chandra on at least five occasions when allegations of violation of the Model Code of Conduct were levelled against Prime Minister Modi and the then President of the Bharatiya Janata Party (BJP), Amit Shah, for their pre-elections speeches.
When his minority dissension was not recorded in the minutes of the meetings of the Election Commission, he boycotted meetings of the three-member Commission in protest.
Arora reportedly justified the move arguing that the Commission's proceedings were not quasi-judicial, that the Election Commissioners were not "clones" of one another and that divergence of views was "natural" and that making public Lavasa's decision to recuse himself from meetings of the Commission was "unsavoury" and "avoidable."
Investigating Lavasa's Family Members
Soon thereafter, three members of Lavasa's family, his wife and former banker, Novel Singhal Lavasa, his son Abir Lavasa and his sister Shakuntala Lavasa, who is a paediatrician, were targeted by law-enforcing agencies, including the Income Tax Department and the Enforcement Directorate (ED), for allegedly acquiring assets disproportionate to known sources of income and non-declaration of income.
In August 2019, the IT Department issued two notices to Novel Lavasa questioning her income tax returns between 2015 and 2017 when she was a director of more than a dozen private companies. A report by news agency Indo-Asian News Service pointed out that Novel Lavasa was appointed director of four power firms on the same day and notes that her husband Ashok Lavasa was a Special Secretary in the Ministry of Power for a few years.
On August 29, 2019, the Union government wrote to 11 public sector undertakings (PSUs) asking their managements to check their old records to ascertain if there were any instances of "undue influence" by Lavasa during his tenure in the ministry in different capacities, as Joint Secretary, Additional Secretary and Special Secretary in the Power Ministry between September 2009 and December 2013.
Along with the letter, a list of 14 companies where Novel Lavasa once served as director were annexed. The PSUs were told in the letter to verify the "records for any evidence regarding involvement in any decision making concerning or exercise of influence, in any form exercised by Shri Ashok Lavasa in securing any benefits to these companies/associated companies for (example) in the form of award of contracts/arbitration awards; placing of supply/commercial orders; entering into MoUs (memoranda of understanding)/commercial agreement and other financial accruals etc."
A few months later, in November 2019, the ED started investigating Ashok and Novel Lavasa's son, Abir, who was associated with a private company named Nourish Organic Foods Private Limited. The company was probed for allegedly violating the country's foreign exchange laws.
The investigation is regarding the raising of Rs 7.25 crore by the company in March 2019 from Saama Capital, a Mauritius-based investor, which has also invested in Indian start-ups such as SKS Microfinance, Snapdeal, Vistaar (NBFC), ChaiPoint and Paytm.
Earlier, in May 2019, Lavasa's daughter Avni who, as a junior officer of the IAS belonging to the Jammu & Kashmir cadre while serving as District Election Officer and Deputy Commissioner in Leh, had written to the local police to file first information reports against two BJP functionaries for allegedly trying to bribe journalists. They were the BJP's J&K President Ravinder Raina and a member of the legislative council, Vikram Randhawa.
In November 2019, the Haryana government was approached by the IT Department to enquire into the transfer of property from Novel Lavasa to Shakuntala Lavasa to ascertain if payment of stamp duty had been avoided.
The members of the Lavasa family denied the allegations and argued that they were vindicated when the Haryana's Financial Commissioner of Revenue and the Deputy Commissioner of Gurugram gave a clean chit to Novel Lavasa.
A letter sent by the Haryana government body to the IT Department in December 2019, read: "After payment of Rs 10,42,200 as duty…there is no evasion of stamp duty."
The source close to Lavasa who spoke to NewsClick asserted that Lavasa's family members had nothing to fear from the law-enforcing agencies and that their "conscience was clear."
Virtues of Honesty
In an opinion article written by Ashok Lavasa, titled the "Difficulty of Being Honest" ,with a sub-title "A society that creates hurdles to exhaust the honest, paves the path for its own perdition," which appeared on December 28, 2019, in the Indian Express, the Election Commissioner wrote about virtues and consequences of being honest in a society.
He wrote: "The honest, one could say, are those who are honest to their job and achieve the desired result by adopting honest means, being neither unduly swayed by the pressure to perform at all costs nor weighed down by passive principles that shackle performance. For example, in the case of a civil servant, accommodating popular expectations is not necessarily an act of dishonesty; succumbing to the pressure of the present is."
While he made no references to his experiences in the civil services in the op-ed article, his dissenting opinions in the Election Commission were perceived by some as expressions of honesty at a time when various institutions in the country are showing signs and symptoms of being compromised.
Not everyone, however, saw Lavasa as a defender of honesty and integrity in public life. Less than a week after his Express article, Indian Forest Service Officer and 2015 Magsaysay Award winner Sanjiv Chaturvedi wrote a 90-page letter with 22 annexures on January 2, 2020, to Lavasa. Chaturvedi alleged in the letter that his inter-state deputation to work for the Delhi government never materialised in 2016 due to actions taken by Lavasa when he was the Secretary, Ministry of Environment and Forests.
Chaturvedi had written in his letter: "Kindly clarify in the interest of and as part of a healthy, informed and objective debate on this very sensitive/important issue as to how your various actions in deliberately and wilfully keeping my above-mentioned case pending and undecided for months (by overruling the lawful opinion of senior Ministry officials, in your own handwriting after (a) 'discussion' with (the) Minister); making frequent U-turns; wilfully concealing the documents related to relevant precedence, passing thoroughly illegal orders by usurping the powers of (the Appointments Committee of the Cabinet) ACC, which were immediately nullified by Courts; various adverse court observations on your malicious actions/inactions and which resulted in my relentless harassment, without any fault and in fact, only for doing my duties honestly and fearlessly fit into overall framework of observations made in your article as you have now triggered a very wide debate on cost of honesty by way of (the) said article (opinion piece)."
Reactions of Retired Civil Servants and Former CECs
This writer solicited responses to the following questions from several retired civil servants and former CECs about the implications of the recent decision of the ADB to appoint Lavasa as its vice president.
In your opinion, shouldElection CommissionerAshok Lavasa accept the offer from the Manila-based Asian Development Bank to join it as one of its vice presidents incharge of private sector operations and public-private partnerships?
Or should he continue in his post so that he can become Chief Election Commissioner in April 2021 when the current incumbent Sunil Arora retires?
The convention is that the senior-most ElectionCommissioner becomes the Chief Election Commissioner. Is there a possibility that this convention can be overlooked?
Here is the scathing response from M G Devasahayam, who retired from the IAS and the Indian Army, in the form of a number of counter-questions:
"Can a sitting Election Commissioner holding a Constitutional post with equivalent pay and perquisites to a Supreme Court judge, seek or give consent (formal or informal) to being appointed to an office of profit, more so in a multilateral financial institution outside the country? Should he not have resigned earlier?
"If he (Lavasa) has not given prior consent, can he accept the appointment now? If he does, would this not be an act of gross impropriety, bordering on illegality and would doing so not be considered a 'corrupt practice'?
"Can the government of India indulge in this obnoxious practice that could destroy whatever institutional integrity is left with the Election Commission of India?
"Can the ADB indulge in this nefarious practice knowing fully well that this could be construed as meddling with our Constitutional institution and scheme of things? In this vast country could it not have found a qualified person for the position of vice president other than an Election Commissioner?
"Also, is this really an instance of Lavasa being 'kicked upstairs'? I am given to believe that except for the monetary compensation, it is a case of being 'kicked downstairs."
And finally, "would this become a precedent for other constitutional posts?"
Another retired civil servant and former professor, Jagdeep Chhokar, who is a co-founder of the Association of Democratic Reforms, had the following to say:
"My short response is that these are personal decisions. However, in this particular case, the matter is neither simple, and perhaps, nor entirely personal, given what is publicly known to have transpired since the 2019 Lok Sabha elections. For that purpose, one would have to know the process that resulted in the ADB making an offer, and its acceptance which is reported to have been done as media reports indicate."
"The specific issue there would be whether
the government proactively caused or facilitated the offer to materialise, or

the incumbent sought or applied for the position proactively himself, resulting in an offer which was subsequently, approved by the government, or

the process was something totally different from the two possible options listed.
"My guess is this will always remain a matter of speculation unless one of the two parties involved, the government and the incumbent, decides to reveal what happened. Nonetheless, the decisions remain personal, and I believe this ought to be respected."
"The convention that the senior-most ElectionCommissioner becomes the Chief Election Commissioner can, of course, be overlooked. Even if this is a possibility, it can even be referred to as speculation, that a via media has been found, chosen, or created, so that the need to overlook the convention is eliminated but this will remain a conjecture until all the facts are known. The current action can also be referred to as an example of 'having one's cake and eating it too' or dealing with an awkward or complicated situation gracefully, deftly, and skilfully."
Former CEC N Gopalaswami had the following to say to NewsClick:
"Sorry I have no answers to your questions. Who am I? Or for that matter even you? But then you can invoke a journalist's privilege, which I don't have, to decide for Lavasa as to what he should do."
"About the convention being overlooked, it has not been and perhaps it may not be but then who can predict the future (except, of course, professional astrologers)? The CEC's appointment is a fresh appointment for a term of six years or before he reaches the age of 65, whichever is earlier–– it is not a promotion. So there is no legal constraint against ignoring seniority in the Commission. Legally it will not be untenable if even an outside person is appointed."
Here is the response sent to NewsClick by T S Krishnamurthy, who was CEC between February 2004 and May 2005:
"It may not be fair on my part to comment on Shri Lavasa's decision on whether or not he should be moving out of the Commission although I must admit that the news (of this appointment as a Vice President of ADB) came as a surprise to me. He must weigh the pros and cons of leaving the Commission midstream.
"Generally, the convention is that the senior-most member of the Commission is appointed as CEC. Perhaps you are aware that before my becoming CEC after Mr (J M) Lyngdoh retired there was a news report about an attempt being made to bring an outsider as CEC. I know that there was some truth in these rumours. But I also know that the then Prime Minister (Atal Behari Vajpayee) was advised to follow the convention especially because the general election was to be held in a few months.
"My own view is that the convention would have to be followed unless there are strong reasons to deviate from it. I would also stress that governments should be extra careful while appointing Election Commissioners as these are not like the appointments of Governors where political considerations enter."
Research assistance: Sourodipto Sanyal
The writer is an independent journalist.
Get the latest reports & analysis with people's perspective on Protests, movements & deep analytical videos, discussions of the current affairs in your Telegram app. Subscribe to NewsClick's Telegram channel & get Real-Time updates on stories, as they get published on our website.
Subscribe Newsclick On Telegram