Elections 2019: Is BJP The Real 'Tukde-Tukde' Gang, After All?
From Amit Shah's NRC remark to Maneka Gandhi's open warning, the BJP's Hindutva rhetoric stands exposed as an open call to persecute Muslims.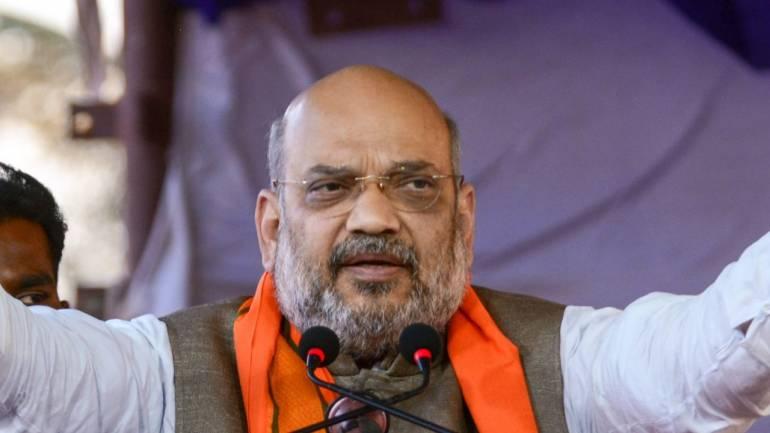 Image Courtesy: Money Control
On the day the seven-phase 2019 General Elections began, Bharatiya Janata Party (BJP) president Amit Shah at a rally in Darjeeling said, "We will ensure implementation of NRC (National Register of Citizens) in the entire country. We will remove every single infiltrator from the country, except Buddha, Hindus and Sikhs."
In another instance, on April 12, Union minister Maneka Gandhi creted a controversy by telling the Muslim community in Sultanpur, Uttar Pradesh, to vote for her or face the risk of not receiving her help for jobs as a lawmaker.
The NRC was meant to contain names of all "genuine citizens" or legal citizens in the country's Northeast. It counts as citizens only those who can prove that they were residents of India before March 24, 1971, as well as their descendants. Those who aren't able to prove their status are to be deemed illegal immigrants—even though they might have been living in the country for generations.
Through the Citizenship Amendment Bill, the BJP government aims to give eligibility to Hindus, Sikhs, Parsis, Jains, Buddhists and Christians from Afghanistan, Pakistan and Bangladesh to apply for Indian citizenship.
The Bill quoted religious persecution as the reason for this, leaving out Muslims.
The NRC is being wielded for more than one purpose: to create enemies or "infiltrators" or the complete 'othering' of the Muslim community within the Indian state, to fuel hyper-nationalism or rather jingoism in its people, calling for revenge, as seen in case of the "surgical strikes" of Uri, and the Balakot strikes. The rhetoric of Amit Shah and statements by Minister like Maneka Gandhi can best be summed up as an attempt to polarise the voters through the politics of religious sentiment and emotions — instead of reflecting on the work done by their government.
Also read: Modi-Yogi-Shah and Their Mantra to Get Votes: Communal Polarisation
Reflecting on this mentality and the ideology of the RSS that guides the BJP, former vice-president Hamid Ansari in a speech said, "By grafting and promoting Hindutva as a concept of cultural revitalisation and political mobilization which seeks to subjugate and homogenise the ethnic pluralities by establishing the hegemony of an imagined cultural mainstream. This has also generated social violence by some of its adherents."
The attempt to establish this hegemony while declaring Muslims as "enemy aliens" is nothing new, of course.
Newsclick had previously reported how Narendra Modi in his rally on the April 1, in Vidarbha, Maharashtra had said, "How can the Congress be forgiven for insulting the Hindus in front of the world? Weren't you hurt when you heard the word 'Hindu terror'?"
The BJP's agenda of othering and polarisation echoed through the recent past — be it BJP's Unnao MP Sakshi Maharaj calling for the Jama Masjid in Delhi to be razed, or its Rajasthan minister Jaswant Yadav making a direct poll pitch during his campaign for the last Assembly elections, which concluded on November 28.
"If you're a Hindu, vote for me, and if you're a Muslim vote, for the Congress," he had said.
Union minister Giriraj Singh had said that Muslims should go to Pakistan and has dubbed Deoband Darul Uloom as a "temple of terrorism". The legitimacy and the impunity given to the toxic political rhetoric must not be underestimated.
In 2014, Modi came to power with the slogan of an inclusive India (Sabka Saath, Sabka Vikas), advertised with young Muslims holding the Quran in one hand and a computer in the other.
For the 2019 polls, the BJP leadership obsessed with illegal migration and "infiltrators" has showed that all they are banking upon is Right-wing populism, making them the real "tukde-tukde" gang — a term that BJP and its affiliates had coined for civil society members, students, activists and anyone who chose to question the government.
Get the latest reports & analysis with people's perspective on Protests, movements & deep analytical videos, discussions of the current affairs in your Telegram app. Subscribe to NewsClick's Telegram channel & get Real-Time updates on stories, as they get published on our website.
Subscribe Newsclick On Telegram