Elections 2019: Closed Sugar Mills Make the Poll Battle Bitter in Kushinagar
Five out 10 sugar mills have shut down, leaving farmers in the lurch and thousands unemployed. The one's that are 'working' are not buying cane, say farmers.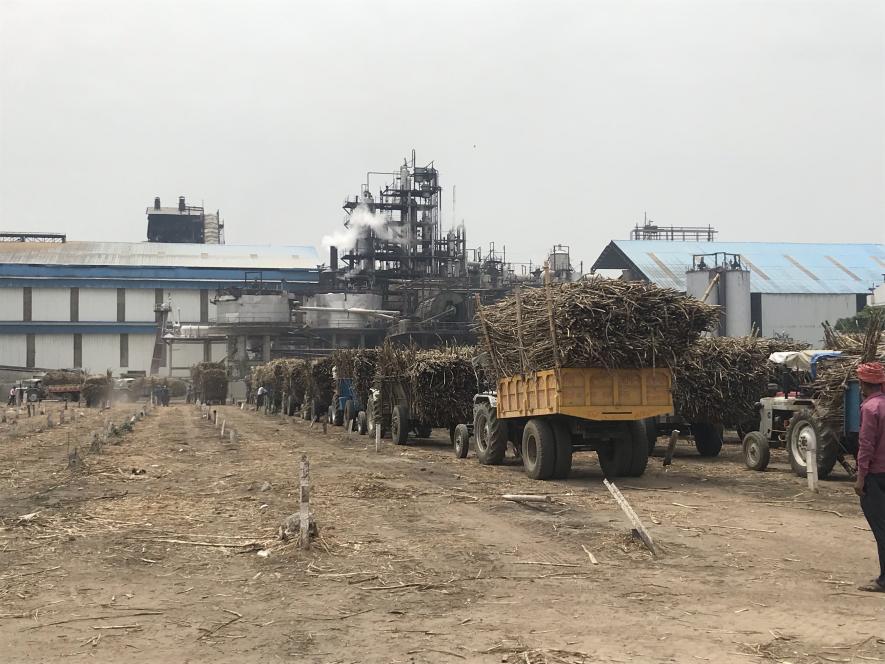 Image Courtesy : Abdul Alim Jafri
Kushinagar: Sugarcane farming is the backbone of the agrarian economy in Kushinagar in Eastern Uttar Pradesh. However, the crop, supposedly responsible for the region's financial stability, has become a burden on farmers as most sugar mills have stopped functioning in the district.
Due to the wrong policies of the government, five sugar mills out of 10 have shut down in the district in Laxmiganj, Ramkola, Padrauna, Kathkuiyan and Chitauni. Five other mills that are running are in Kaptanganj, Ramkola (Punjab), Dhadha, Sewrahi and Khadda. But these mills are not buying sugarcane. As a result, sugarcane can be seen lying in the fields in the scorching heat.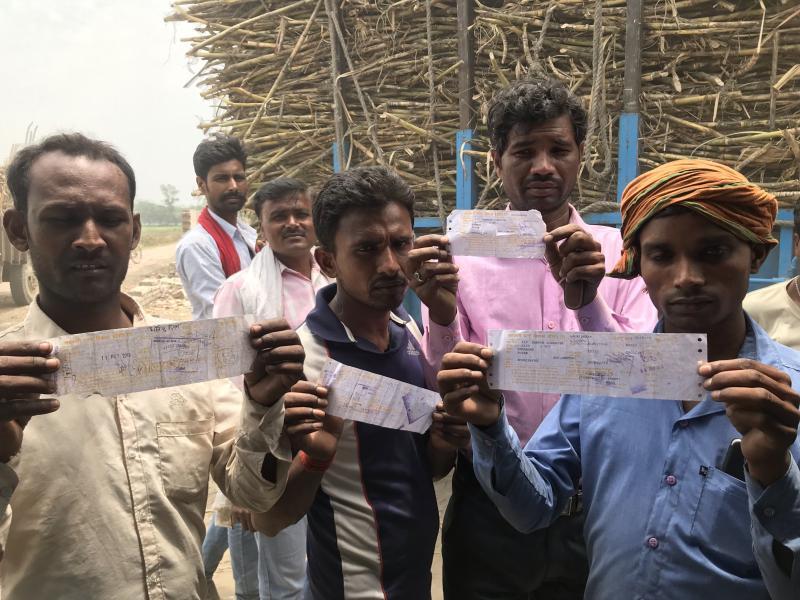 When Newsclick visited Kushinagar, we found a large number of sugarcane farmers making a beeline for the Dhadha Sugar Mill, which is situated on the Gorakhpur-Kushinagar highway, as most of the mills that were running was not buying their crop. The farmers alleged that all the working sugar mills will also close down in two-days and they would have no option but to burn the thousands of tonnes of their sugarcane crop or sell at a very low price to crushers.
Read Also: Elections 2019: No 'Acche Din' Yet For UP's Small Farmers
Who is Responsible?
During the 2014 Lok Sabha polls, Prime Minister Narendra Modi, while addressing a rally in Padrauna, had promised re-opening of the Padrauna sugar mill within 100 days. Five years have gone by but not a single representative of the government has even visited the area, the farmers said.
Various farmer unions and associations held protests and submitted a memorandum to the government, but every effort has proved futile, the farmers said, alleging that the Modi government was not bothered about the deteriorating condition of farmers. Not a single political party has mentioned in their manifesto about the rep-opening of closed sugar mills, they added.
Amit Kumar, a farmer who was standing in a queue in front of the Dhadha sugar mill, which falls under the Kushinagar Lok Sabha constituency from where BJP's Vijay Dubey won in 2014, recalled Chief Minister Yogi Adityanath's promise before the 2017 Assembly elections that payment would be made within 14 days of procurement. Farmers have only been paid for the 2018-19 season, he said.
"Ganna itna hai ki Dhadha sugar mill agar June tak bhi chale to kaam banega, lekin inhone to notice laga diya ki ye mill May 13 ko band ho jayegi (Farmers have enough sugarcane and even if Dhadha sugar mill operates till June, then the work will be done. But they have pasted a notice on the gate that the mill will be closed on May 13.)
Another farmer, Dinesh Yadav, who belongs to Gopalganj in Bihar, and had come to Dhadha to sell three trolleys of sugarcane said: "Parchi jo mili thi wo expire ho chuki hai, ab main ye ganna le kar kahan jaun, parchi katne ke 6 din ke andar ganna sugar mill par lana hota hai, ab bataiye itne door se aana uper se ganna chilne me 3-4 din lag jata hai, jab tak yahan aate hain, parchi expire ho chuki hoti hai (the receipt provided to me has expired, where should I go with all my sugarcane. We have to get the sugarcane crop to the mill within six days of getting the receipt. You know how much time it takes to reach to mill, and in addition it takes almost three to four days to peel the cane. By the time we do this, the mill receipt provided to me expires.)
Meanwhile, the president of Bharatiya Kisan Union of Kushinagar, Ramchandra Singh, who is a sugarcane farmer, has given memorandum to PM Modi, in which he has accused the BJP government of betraying sugarcane farmers. He has also appealed to the government to re-open the Laxmiganj sugar mill immediately else the BJP would face consequences in upcoming Assembly elections scheduled to be held in 2022.
In Laxmiganj, which comes under Ramkola Vidhan Sabha constituency, farmers have coined a slogan "Jo Laxmiganj band mill chalwayega, vote usi ko jayega' (Whoever ensures the reopening of the closed Laxmiganj sugar mill, will get the farmers' vote.)
Mahua, a farmer who was standing next to his overloaded sugarcane tractor trolley at Kaptanganj sugar mill, said: "Farmers are starving in our region because we are dependent on sugarcane."
Deoria & Baitalpur Mills Closed Since Decades
Since the past three decades, sugar mills in Deoria and Baitalpur, which fall under the Deoria Lok Sabha constituency, have been closed and not a single leader has raised this issue. The Bharatiya Janata Party (BJP) sitting MP Kalraj Mishra had promised farmers that the mills would be reopened but his tenure is over and now another BJP leader, Ramapati Ram Tripathi, is contesting and has made the same 'promise'.
Upset with government policies toward farmers, Vijendra Mani Tripathi, who hails from Baitalpur, is contesting Lok Sabha polls from Deoria.
Speaking to Newsclick, Tripathi said, "I am forced to contest this election as both Modi and Yogi government have neglected farmers' issues. There is no industry in Deoria and this sugar mill, which will generate employment in the district, has not been functioning since decades. Now farmers migrating to Mumbai and Gujarat in the search of jobs."
According to the Sugar Industry & Cane Development department of Uttar Pradesh, sugarcane dues in the state amount to Rs 10,562 crore. Over 2,200 people have lost their jobs following the closure of the mills while 1.5 lakh farmers have been affected due to the move, as per reports.
Read Also: Elections 2019: Kushinagar's Musahars Struggle to Sustain Amid Lack of Food and Medicines
Get the latest reports & analysis with people's perspective on Protests, movements & deep analytical videos, discussions of the current affairs in your Telegram app. Subscribe to NewsClick's Telegram channel & get Real-Time updates on stories, as they get published on our website.
Subscribe Newsclick On Telegram