Culprits Behind Degeneration of Lok Sabha Polls 2019
The main culprit is PM Modi's utter disregard for the model code of conduct, followed by the EC, whose integrity is under doubt, and the TV media, which trivialised the campaign with an eye on TRPs.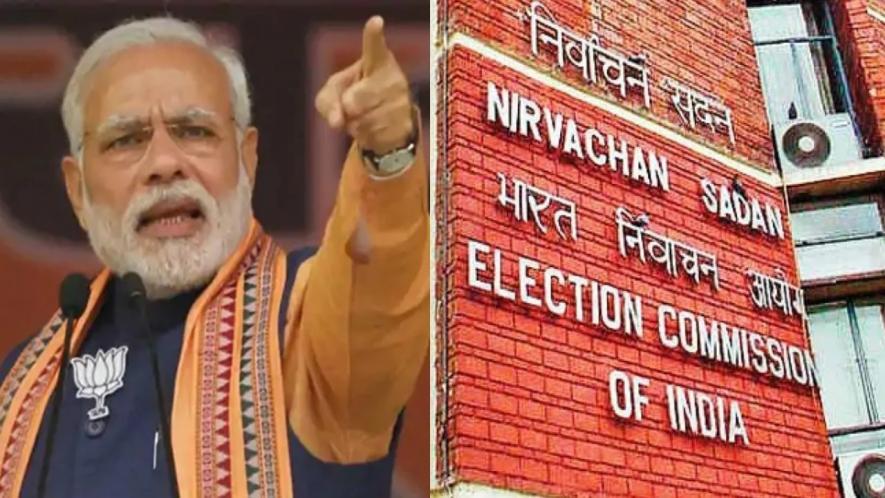 After every five years, India wonders whether it has seen the worst ever election. Experienced citizens, journalists debate about the falling standard of politics and campaign rhetoric. But there is no need to debate that question today. The year 2019 has by far been the most despicable election in Independent India in terms of every aspect: standard of candidates, use of money and muscle, abusive campaign, and the marginalisation of real issues. Leading that degeneration is Prime Minister Narendra Modi, who has overstepped the moral compass like never before. He may return as Prime Minister, but his record will always remain a blot.
Jawaharlal Nehru, who had set the standards of a dignified political campaign, would be turning in his grave as I write this piece.  In 1957, he fought a bitter election against Ram Manohar Lohia in Phulpur. But the bitterness did not cross the boundaries of civility. In fact, his letters to Lohia during election are a perfect example of democratic spirit.
 
Indira Gandhi, too, was known to be a ruthless leader, but never stooped to a personal level while criticising opposition leaders. Post Emergency, the 1977 election was fought fiercely. Indira was termed a dictator, but I don't remember any opposition leader attacking her personal life. Her son Sanjay Gandhi and his wife Maneka did hit below the belt by publishing private photographs of Jagjivan Ram's son to embarrass the Congress leader who had crossed over to the Janata Party. But that was an exception.
Sonia Gandhi's 'Maut ka Saudagar' remark against Modi attracted nationwide controversy. Modi and BJP still make hue and cry about it. But Sonia's Gandhi's bitter attack was related to the 2002 Gujarat riots, not Modi's personal life.
Manmohan Singh was not a typical politician at all. He was so reluctant to speak about his own achievements, nobody expected him to attack the opposition. He never passed any personal remark against anybody in his decade-long innings as Prime Minister.
But Modi never regarded this tradition of respecting political opponents. His entire political life has been devoid of graciousness.
The year 2014 was not difficult for Modi. The Congress-led United Progressive Alliance-2 was at its all-time low in terms of credibility, and he only had to fill the void created by Manmohan Singh. Five years on, he has had a much difficult task. He has had to account for his promises, and that is tricky when you have not even come close to fulfilling them. He did everything he could to avoid talking about unemployment, agrarian distress and social disharmony. Pulwama and Balakot provided a refuge, and he did not look back since then.
Since Modi likes boasting about the things that never happened under previous Prime Ministers, we can count his unprecedented disregard for the Model Code of Conduct. Modi recklessly used the armed forces in his speeches, appealed to voters in the name of martyrs, tried to instigate communal passions.
 
Out of nowhere, Modi also targeted former PM Rajiv Gandhi before the Delhi-Punjab-Haryana voting phase to rake up the 1984 anti-Sikh riots. His recent visit to Kedarnath before the last phase of voting is the latest example of his utter disrespect for election guidelines. If any opposition leader had done this, the Election Commission (EC) would have taken strict action.
Three decades ago, criminalisation of politics was an important issue for the Bharatiya Janata Party (BJP). In the1995 Maharashtra election, BJP leader Gopinath Munde had led a campaign against Sharad Pawar on this issue and won. The N.N. Vora report on criminalisation of politics was debated in the Lok Sabha for hours. Terror accused Pragya Thakur's candidature tells one how brazen the BJP has become in 30 years. The word "ethics" does not exist in the book of Modi's BJP. The festival of democracy has become ugly, and Modi is its main culprit.
The second culprit is the EC and its chief Sunil Arora. The poll panel had earned a reputation for its professional integrity all over the world. Former Election Commissioner T. N. Seshan had established the authority of this constitutional body in late 1980s. The appointment of controversial commissioners, such as Navin Chawla, was an exception, not the rule.
 
The EC has committed mistakes in the past, but its credibility was never doubted. This time round, CEC Sunil Arora has taken his sycophancy to another level. The poll panel has given ample clean chits to Modi and Shah, clearly showing lack of spine while dealing with the two most powerful leaders in the country.
 
The most worrying part is the lack of transparency in the entire process. One of the dissenting commissioners, Ashok Lavasa, has asked pertinent questions about it. The West Bengal episode is a blot on the impartial functioning of the EC. The EC is used to such political pressures, but never ever in Independent India has the Election Commission been so vulnerable.
I blame the Opposition parties, too, for not being ready for the historic 2019 elections. They had no campaign strategy to counter Modi-Shah's frontal attack. The Opposition should have built upon Modi government's shady performance. But they were unable to exploit the unrest surrounding unemployed youth, farmers or any other section of society. All the Opposition leaders were busy in was protecting their own strongholds. Mamata Banerjee or Mayawati rattled Modi, but were restricted to their territories.
On an all-India level, Congress president Rahul Gandhi tried to counter Modi a bit. But Congress gave a strange feeling of giving up this election long back and seemed to be 'preparing' for 2024. Voters did not see Opposition leaders acting together to save democracy. Their calls against Modi-Shah's tyranny seemed hollow and unconvincing for voters. TINA (there is no alternative) was a major issue for a large section of voters.
The Media's role in this election is another sham. News television was as frivolous as always with only exception of Ravish Kumar. Topics related to common people's life were covered by a few journalists in print or digital media. But a large section of media was only interested in paid news or political advertisements. Journalism took a back seat to revenues in this election season. Naturally, the BJP was ahead in this game. Modi-Shah got maximum coverage in comparison to other leaders and some of the media platforms became unofficial mouthpieces of the ruling party.
Finally, the 2019 election was a nightmare for the citizens. It was the costliest exercise in world's largest democracy. There was no wave, no enthusiasm. It was full of hollow television debates on non-issues. The Modi-Shah juggernaut was on the roll, but it was more mechanical than spontaneous. First-time voters and women will make a difference, we were told. But political parties were not serious enough to address their problems. After the last phase of voting, most of these voters feel relieved. Whoever wins this election, Indian politics will not be the same again. Democracy has been dented permanently.
The writer is a senior journalist. The views are personal.
Get the latest reports & analysis with people's perspective on Protests, movements & deep analytical videos, discussions of the current affairs in your Telegram app. Subscribe to NewsClick's Telegram channel & get Real-Time updates on stories, as they get published on our website.
Subscribe Newsclick On Telegram