Elections 2019: Is Pragya Thakur's Poll Campaign Weaker Than Digvijaya Singh's in Bhopal?
Political experts say that Thakur's candidature has not gone down well with the local BJP leadership, which may affect the saffron party's chances in the state.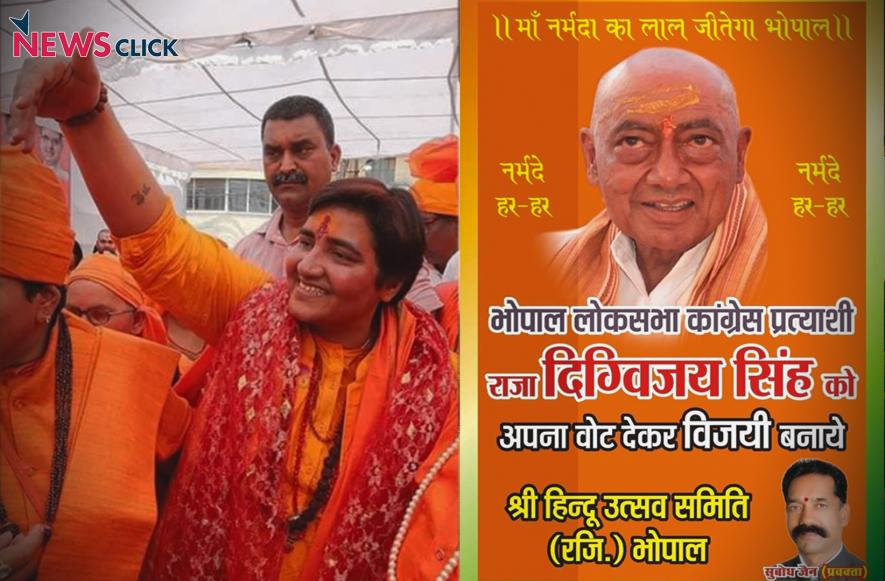 The poll campaign of both the candidates is marked by an appeal to the Hindutva line.
Bhopal: The election campaign for eight parliamentary constituencies including Bhopal concluded on Friday evening. The polling is on May 12.
These eight seats are - Morena, Bhind (SC), Gwalior, Guna, Sagar, Vidisha, Bhopal and Rajgarh. Among these, Congress is giving a tough fight to the ruling Bharatiya Janata Party in five seats, say political experts. But, the biggest question which remains unanswered is, who is going to win the most watched constituency of the country, Bhopal?
MP's former Chief Minister and Congress heavyweight Digvijaya Singh is contesting from Congress, while, the BJP has pitted 2008 Malegoan bomb blast accused and Digvijay's bitter rival, Pragya Singh Thakur.
Unlike 2014, when there was a clear Modi wave, political analysts and journalists are finding it hard to predict the fate of either candidate. But, political analyst Girija Shankar believes that elections can be won with better poll management, and Digvijaya Singh's poll management is better and more organised than BJP's. "Digvijaya's campaigning is better than Pragya, but, it is hard to predict Digvijaya's victory." he said.
The Last Push
In the last leg of campaign, Digvijaya Singh's poll managers urged women voters not to 'get carried away by emotional outbursts and tears of BJP candidate Pragya Thakur'.
To appeal to the government employees, who form a huge chunk of the voters, Singh made yet another attempt to build bridges by seeking apology from the employees if they thought he had taken decisions against their interests during his tenure as CM.
Also Read: Elections 2019: BJP May Lose 11 Seats in Madhya Pradesh, Suggests Assembly Election Results Data
Addressing the state secretariat and directorate employees near Vallabh Bhavan, Digvijaya said that he had always been "pro-employee". He reminded them that he hiked dearness allowance from the same date as their central government counterparts got the benefit, and also paid them arrears, which the BJP government discontinued though they dub him "anti-employee".
On the other hand, BJP candidate Pragya Thakur undertook a whirlwind tour of the state capital and met voters seeking their support. She visited temples, carried out a motorcycle rally and held road shows.
Earlier in the day, she met with the state government employees outside the Mantralaya premises and sought their support. Addressing the employees, she claimed that she was tortured, but she did not break down. She alleged that during the previous Congress regime in the state, she worked as an ABVP worker and was deeply touched by the sufferings of the government employees when the then Congress government had sacked more than 28,000 daily wagers at one go. She also urged them to vote for Modi.
Constituency-wise Analysis
Bhopal parliamentary seat is constituted of eight Assembly segments - Bhopal Madhya, Bhopal Uttar, Bhopal Dakshin-Paschim, Huzur, Narela, Berasia Govindpura and Sehore with 21 lakh voters, which is the highest in the state. Of these, Congress won three seats- Bhopal Madhya, Bhopal Uttar, Bhopal Dakshin-Paschim- in the recently held Assembly elections after more than two decades, while the BJP won in the remaining five seats. Earlier, the BJP had seven out of eight.
In the 2018 Assembly elections, BJP had got 63,000 votes more than the Congress in the eight seats. However, this does not mean that the voters will vote on the same pattern as they did during the last parliamentary elections.
In Bhopal, BJP has five sitting MLAs, two former cabinet ministers, sitting MP, mayor, RSS cadre and three former Chief Ministers. Despite that, Thakur was only accompanied by some state level spokespersons and mayor Alok Sharma, sitting MP (occasionally), with a guest appearance of former CM Shivraj Singh Chouhan and Uma Bharti, during her campaign.
"The BJP has unmatchable leadership in Bhopal, but since they are disappointed with an outsider candidate, they are giving a miss to the poll campaign. Even though the party is using Modi's name for seeking votes, the disappointment of local leaders may harm the saffron party," said senior journalist SA Pateria.
Also Read: Has BJP Taken a Risk In Fielding Terror-accused Pragya Singh From Bhopal?
Former cabinet minister and ex-MLA from Bhopal Dakshin-Paschim Uma Shankar Gupta and former MLA of Bhopal Madhya Surendra Nath Singh were found no where in the poll campaign till it ended on Friday. Former chief minister and 10-time MLA from Govindpura seat, Babulal Gaur has also refrained himself from the campaign trail owing to his illness. Former minister and MLA from Narela assembly seat, Vishwas Sarang and Krishna Gaur (daughter-in-law of Babulal Gaur), MLA from Govindpura have also given a wide berth to the poll campaign.
"We have been asked to go solo by senior party leaders when we went to the bungalow of a senior party leader to prepare a road map for Thakur's campaign," said a BJP youth worker. To bridge the gap, the BJP has transported RSS and party workers from Karnataka and Maharashtra and they are silently campaigning in support of Thakur and Modi in remote areas.
The caste equation in the constituency is quite eclectic. There are 4.7 lakh minority voters and 3.5 lakh brahmin voters. Thakurs, Baniya and Jain constitute 4 lakh voters, while Kayasthas are numbering 2 lakh. Then there are 5 lakh voters who belong to other communities.
Poll Campaign : Soft vs Hard Hindutva
A day after CM Kamal Nath announced Digvijay Singh's candidature from Bhopal parliamentary seat, the former CM launched his campaign from March 24. He started meeting with various business, religious and caste-based groups which have a major influence on voters.
In the course of the next three weeks, Singh travelled across the entire constituency and met with the local leaders. With his early campaign, Singh was well ahead of the BJP at the time, as the saffron party struggled to find a suitable candidate to take on the Congress heavyweight.
Singh's announcement and his influence over state politics left a massive impact and boosted the Congress candidates' moral. "Everything was going good for the grand old party and Digvijaya Singh, until the BJP fielded 2008 Malegoan bomb blast accused Sadhvi Pragya Thakur from Bhopal," said senior journalist Ashutosh Shukla. "Her candidature shocked the Congress," Shukla said. The Congress, which was looking strong at that point, went on a backfoot with Thakur's candidature and BJP's 'No Hindu terrorist' narrative.
Fearing polarisation of votes on religious lines, Singh, who was expecting a cakewalk victory, called for an immediate meeting with the party spokespersons and senior party leaders, instructing them to not make any controversial and defamatory remark against Thakur and the BJP.
Thakur launched her campaign with a hard core Hindu narrative. Her campaign was marked with controversial statements on former Maharashtra Anti-Terrorist Squad chief, late Hemant Karkare; Barbri Masjid demolition and branded Congress and Singh as anti-Hindu. She was even barred from campaigning for 72 hours by the Election Commission of India for her remarks.
Also Read: Pragya Thakur's 'Curse' Remark on ATS Chief Karkare's Death Sparks Outrage
To counter this, Singh launched 'Vision Document on Bhopal' focusing on local issues. Not only that, he also went on a temple visiting spree, took part in a road show with religious seers, and was seen grazing cows to counter the anti-Hindu image framed by Thakur. He also branded himself as 'Narmada Putra' (Son of Narmada). Meanwhile, banners featuring Singh with cows, Hindu seers and as Narmada Putra came up across the constituency.
"Both the parties have fielded Hindu candidates from Thakur community but the way the BJP is campaigning against Singh, it almost seems that the former CM is from a different community, while Sadhvi Pragya Thakur is a devout Hindu," said senior journalist Zafar Alam Khan.
"By fielding Pragya Thakur from Bhopal, the BJP has tried to spoil the social fabric of this city, but the voters understand it," Khan added.
On other hand, Thakur continued her campaigning by visiting different temples and was seen cursing the Congress and Digvijaya Singh for framing her in false charges of terrorism. On May 9, she also launched a vision document for Bhopal with numerous promises.
"The BJP is banking on Modi and nationalism not their candidate. The defamatory remark against Karkare has done a great damage to her image. To control the damage, she, too, has resorted to asking votes on Modi's name, instead of herself," said senior journalist NK Singh.
He further said, "It is difficult to predict who is going to win. I'm seeing the toughest election of my life. But Singh's poll campaign is well organised and till date he has succeeded in avoiding any controversy," he added.
Get the latest reports & analysis with people's perspective on Protests, movements & deep analytical videos, discussions of the current affairs in your Telegram app. Subscribe to NewsClick's Telegram channel & get Real-Time updates on stories, as they get published on our website.
Subscribe Newsclick On Telegram