Elections 2019: No Roads, Electricity or Health Centres; Why Vote, Ask Tribals from Nashik
"They feel that they don't require our votes, and hence, they neither seek our votes, nor do promise any developmental projects."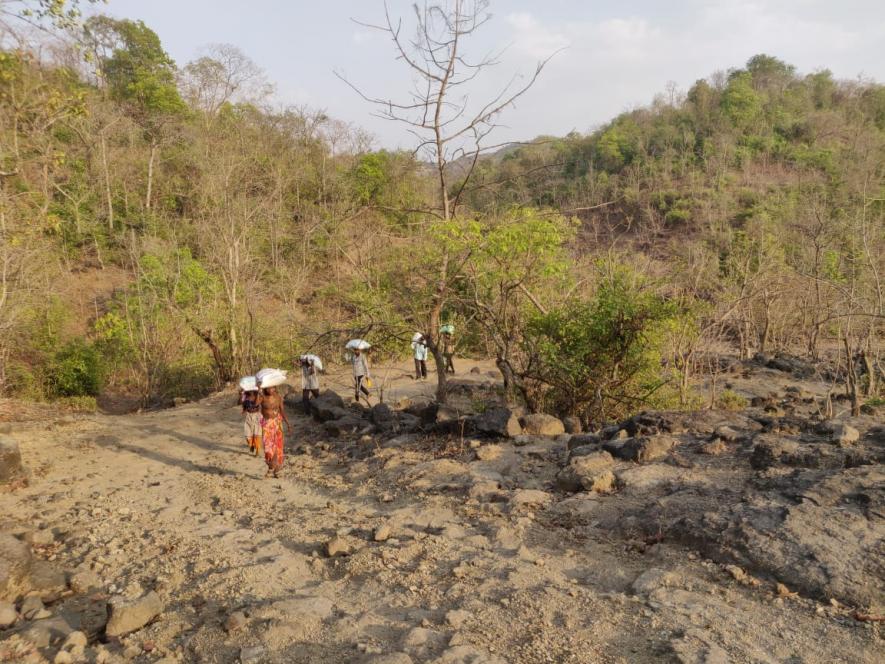 Image Courtesy : Varsha Torgalkar
Nashik: There is no electricity, and no roads in a stretch of 2.5 km in this region. Tribals have to trek up and down through the dense forests, as there is no state transport facility available. The nearest primary health centre is at a distance of 10 km. Tribals of the three hamlets of Chinchale Khaire village in Igatpuri Taluka of Nashik district are not aware of what development really means. No candidate or workers from any political party have bothered to walk to the remote region to ask for their votes in this Lok Sabha election.
The most shocking fact remains that no Primary Health Centre official comes to these hamlets, and most of the kids have not been vaccinated ever, according to the village sarpanch.
"Chinchale Khaire grampanchayat (GP) is a group GP of five hamlets – Ughadwadi, Gavthan, Khairewadi, Murumbatwadi and Umberwadi – with population over 2,500. Ughadwadi and Gavthan are at a distance of 10 km from Igatpuri taluka, and are 2.5 km inside the forest. All of these are Thakur tribals," said Vanita Bhurbude, 25-year-old sarpanch of the village.
One has to trek up and down through dense forests amid eerie sound of insects to reach Khairwadi. Around 100 people stay here in 8-10 houses made up of stones and wood. Dadu Shende, a tribal who is not aware of his exact age, said that he cultivates only three types of rice and millets on his farmland.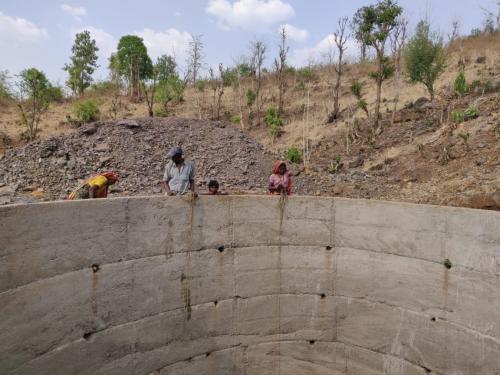 Image Courtesy Varsha Torgalkar
He told NewsClick, "Even if we decide that we want to work as labourers, we will have to go to Igatpuri, which is about 13 km away – including three kilometre of an arduous trek. So, one will have to walk 26 km a day, which will be extremely exhausting."
When asked about elections, he said that he does not know what their current MP, Hemand Godse, (from Shiv Sena) even looks like. He said, "I am sure he does not even know the names of our hamlets. Why should we vote as nothing going to change?"
While he fetched water from the only well – the only source of water for the three haShende added, "We don't know electricity, televisions or mobiles. This is how we have been living, and we don't know any other way." 4-5 more people from houses above nearby hill (they are part of Khairewadi) had come to fetch water from the only well that supply water to all three hamlets.
Somibai from Umbarwadi had got her hand broken many years ago when she fell from a tempo in Nashik. She says she was taken to a hospital in Nashik, but she did not receive proper treatment, and hence, her hand has been deformed. She takes pride in telling this reporter that she has helped deliver almost all the kids from these hamlets.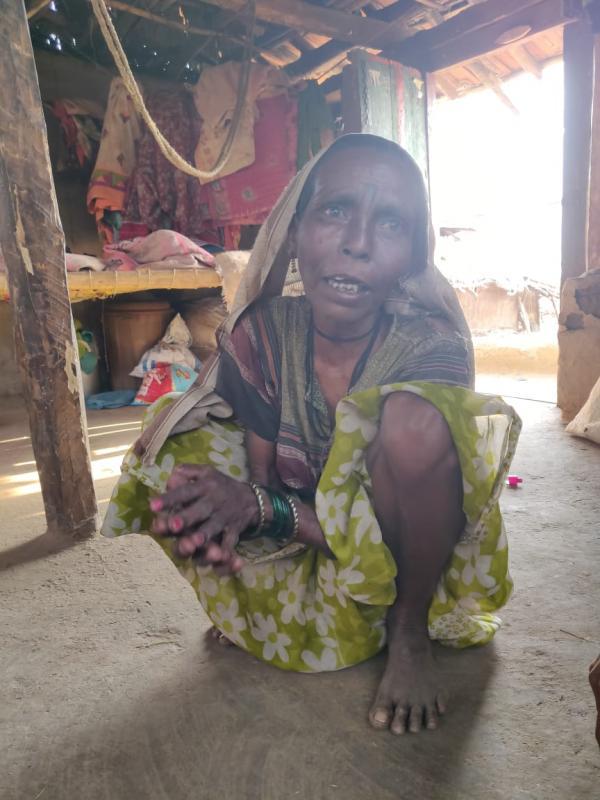 She told NewsClick, "I help in deliveries, but if it gets complicated, men here have to carry the pregnant woman in a makeshift stretcher made up of wooden sticks and clothes. From Ughadwai, we get a tempo to go to the hospital in Igatpuri. Sometimes, kids die before we can reach the hospital. Earlier, one doctor used to visit these hamlets once in two weeks for check-up, and would give medicines. But he hasn't come for many years. They should start sending doctors at least once in a while."
Bhurbude clarified that earlier, helpers, and not real doctors visited the hamlets. "But at least they would carry medicines for cold and fever. Now, they also don't show up, as they have to walk a lot. There are no toilets, nobody has a gas connection."
Last year, an NGO from Mumbai had provided funding to build a school in the village that would have classes till fourth standard. The tribals had carried bricks and other construction material on their heads for about 2.5 km, and had managed to construct it through volunteering. Hence, the kids have been able to go to the school at least standard IV. Only 3-4 youths from these hamlets have studied till standard XII, and they are the most educated ones here.
Geeta Ughade, a resident of the village, told NewsClick, "Not a single girl has gone to school here, as the commute through the forest may not be safe for them. The small kids, however, do go to the newly built school."
She said that the tribals chop wood, and carry mangoes or Karavanda (conkerberries or plum bushes) found in the forests to sell at Igatpuri.
"Tribals here buy all the required ingredients sufficient for two three months in May or first week of June. Once the monsoon arrives, all the streams get flooded, and we are cut off from the outside world for months. If somebody fall sick, or if women are pregnant during this time, they cannot go for treatment," said Bhurbude.
The area between these three hamlets and Ughadwadi falls under the jurisdiction of the Forest Department, which does not give permission to construct roads in the area. Bhurbude told NewsClick, "We have sent several proposals, and have made requests to MLA Nirmala Gavit (Congress) and MP Godse, but have never received any response."
She added, "I think, they feel that they don't require our votes, and hence, they neither seek our votes, nor do promise any developmental projects. Why would the tribals then make an effort and walk all the way to the polling stations?"
Nashik will go to polls on April 29.
Get the latest reports & analysis with people's perspective on Protests, movements & deep analytical videos, discussions of the current affairs in your Telegram app. Subscribe to NewsClick's Telegram channel & get Real-Time updates on stories, as they get published on our website.
Subscribe Newsclick On Telegram