Elections 2019: The Truth Behind Modi Govt's Pet Schemes -- I
The BJP-led Modi government is claiming that its flagship schemes have transformed the lives of millions of Indians. A closer look reveals why that's far from the truth.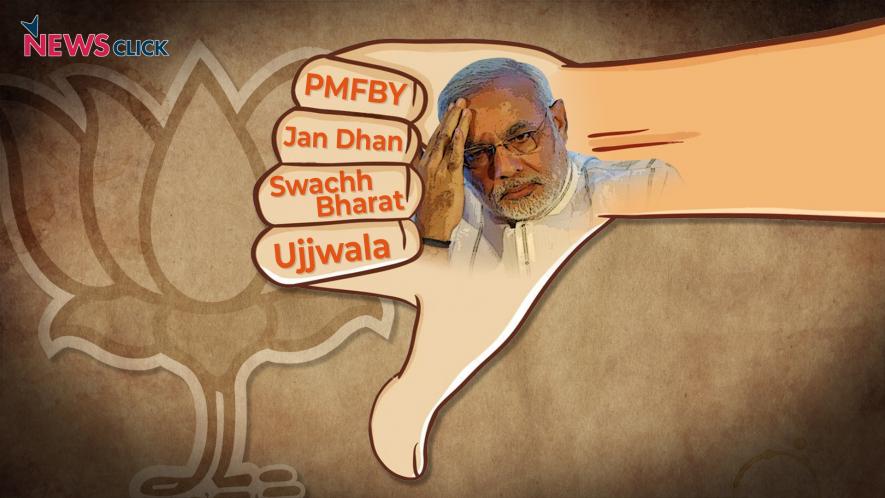 [In part one of a series on the Narendra Modi government's schemes, Newsclick fact-checks PM Ujjwala Yojana, PM Fasal Bima Yojana, PM Jan Dhan Yojana and Swachh Bharat Mission-Gramin]
One of the major planks of the Bharatiya Janata Party's (BJP) campaign for the upcoming Lok Sabha elections are the so-called flagship schemes. These include giving free cooking gas connections (Pradhan Mantri Ujjwala Yojana), opening bank accounts (Jan Dhan Yojana), crop insurance (Pradhan Mantri Fasal Bima Yojana), clean and open defecation free India (Swachh Bharat), and so on.
Are the government figures true? Are the people getting all the benefits? Are they supporting the BJP because of the schemes? These are some of the questions puzzling everybody. Some answers can be found in the following analysis.
Costly Cooking Gas -- PM Ujjwala Yojana
The government claims that over seven crore cooking gas connections have been given to rural families living below the poverty line under PMUY.
It's a myth that people get a free connection. They pay Rs.1,600 for the stove and gas cylinder. Most poor families are unable to pay this lumpsum and they fix up an instalment system with the gas agency. They are still paying back loans. Till January this year, consumers had paid Rs.9,968 crore for the supposedly free gas cylinder. The government pays the supplier company Rs.1,600 as subsidy for every connection.
The average refill by Ujjwala recipients is only 3.68 cylinders till now since the scheme started in 2016, as per a Parliament reply by the government.
Compare this to average refill of 6.8 cylinders by non-Ujjwala customers. This is because Ujjwala recipients do not have the capacity to pay Rs.500 at one go for the refill. Subsidised gas prices have been raised by the government by nearly 18% since PMUY was launched in May 2016. In any case, the subsidy is deposited much later in the recipient's bank accounts.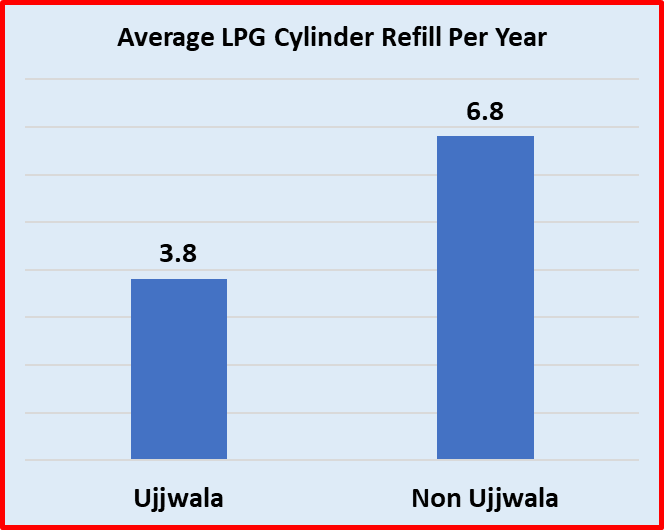 There are 22,328 LPG distributors supplying 25.12 crore customers in the country. That's 11,000 customers per dealer. This, along with lack of storage space in rural areas, means that there are long delays in supply, with people often forced to fetch the cylinder themselves, involving a day's wage loss, and transport cost.
Profit From Farmers' Distress -- PM Fasal Bima Yojana
One of Modi's most fraudulent schemes is the crop insurance scheme (PM-FBY). Instead of the government straightaway providing compensation to farmers who suffer losses due to weather calamities, as was earlier done, the corporate-friendly Modi Sarkar turned farmers' distress into a profit-making scheme for insurance companies. Farmers pay some premium to the companies, but the bulk of premium is paid by the government itself, and then – if a calamity strikes – the company would pay compensation.
Starting from the 2016 kharif season, in two years, insurance companies collected a total premium of Rs.50,036 crore, paid out a total compensation worth Rs.35,949 crore -- saving Rs.14,088 crore as profit!
The premium was made up of farmers' contribution of Rs.8,719 crore and combined central and state governments' contribution of Rs. 41,317 crore – all going straight into the pockets of insurance companies.
In contrast, the compensation to farmers is meagre and that too received months after they lost the crops. As a result of this disastrous arrangement, farmers enrolment has declined. Meanwhile, insurance companies are laughing all the way to the bank.
Empty Accounts -- Pradhan Mantri Jan Dhan Yojana
Opening bank accounts for "financial inclusion" was the objective of this scheme started in 2014. In nearly five years, its main achievement seems to be providing zero balance bank accounts to a lot of people, many of whom already had savings accounts to begin with.
In March this year, the PMJDY website declared that there were 34.87 crore Jan Dhan accounts with Rs.93,567 crore deposits. That works out to Rs.2,683 per account!
Modi perhaps doesn't know that real financial inclusion occurs only if working people get better wages and incomes, not just by opening bank accounts.
The government told Rajya Sabha in January this year that about 5.2 crore of these bank accounts had zero balance. The overdraft facility had been used by less than 1% (31.74 lakh) of all account holders, as of December 2017.
The insurance facility record was even more dismal: just 4,543 life insurance claims worth Rs 13.62 crore and 2,340 accident claims worth Rs 23.40 crore have been paid till January 2018. These minuscule figures show how much "financial inclusion" has really happened.
The whole programme has actually served the purpose of mobilising crores of rupees from poor people for use by the banks for lending and investment, and transferring insurance premia to companies.
Swachh Bharat Mission
PM Modi's favourite scheme has also ended up being an exercise of number juggling and photo opportunities. Although initially it had a range of objectives, the mission soon became confined to merely building toilets and declaring areas Open Defecation Free (ODF).
The government claims that 30 out of 32 states/Union Territories are ODF now but there has been a stream of reports on the practice still going on in different states, raising questions on the reliability of data. Such reports have come from many self-declared ODF villages in Gujarat, Rajasthan, Uttar Pradesh and Madhya Pradesh. Meanwhile, the budget for the mission has been steadily cut.
Typifying the dodgy data put out by the government, the SBM website says that there are 15.5 crore rural households. Census 2011 had put the number at 18 crore which would have increased to over 20 crore by 2019. By reducing the target, the government claims to have delivered toilets to most households. What about the five crore missing households? Nobody knows.
The Modi government has completely ignored the related scourge of manual scavenging, which continues unabated. Over 300 people, almost all dalits, engaged in the banned practice, have lost their lives since 2017. Far from seriously taking up the task of ending this heinous practice, the government has been paying lip service by allocating measly amounts for rehabilitation of manual scavengers and there has been no investment in technology to end it.
Meanwhile, cases of forced implementation of the Swachh Bharat Abhiyan abound, including denial of food, photography of those engaging in open defecation and even use of drones. Such coercive measures lead to the risk of false declarations, which will only bury the problem instead of resolving it.
(To be continued)
Get the latest reports & analysis with people's perspective on Protests, movements & deep analytical videos, discussions of the current affairs in your Telegram app. Subscribe to NewsClick's Telegram channel & get Real-Time updates on stories, as they get published on our website.
Subscribe Newsclick On Telegram