Elections 2019: Why Violence and Fear Rule Shantiniketan, Tagore's Abode of Peace
'The change of 2011 ruined our lives. But if we want, we can change it again', said residents of Bolpur, adding that they had now 'overcome fear'.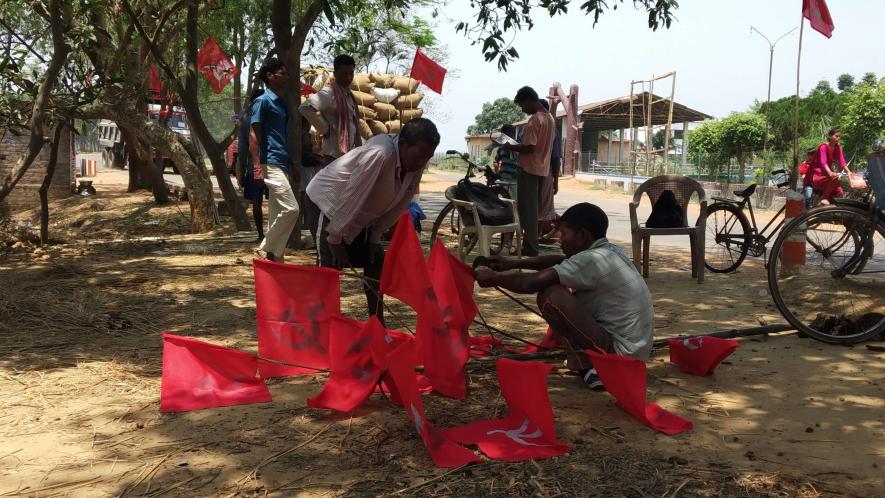 In the late nineteenth century, when the monotheist reformist movement Brahmoism was creating waves Kolkata, Rabindranath Tagore visited Birbhum with his father Maharshi Debendranath Tagore. The area was populated mainly by tribals. Later, the Visva Bharati University was established there, which soon became an international centre for studying arts and literature.
Tagore named this place, Shantiniketan, the abode of peace. Shantiketan makes up a major part of the Bolpur Lok Sabha constituency. However, Tagore's abode of peace is now contaminated with violence. Bolpur, the small city that looks very mundane from outside, hides seeds of terror in its layers.
Once a centre of cultural heritage, now sounds of gunshots and exploding bombs echo through the streets of Bolpur. It is surprising how much the city has changed in the past few years. Some local residents of Nanoor say they are scared of stepping out of their homes after dusk. Women say it was never like this before. They used to return home after midnight, alone. There was no fear.
From Bolpur, Communist Party of India (Marxist)'s Somnath Chatterjee was elected as Member of Parliament for seven consecutive elections. Before him, CPI(M)'s Saradish Roy was the elected representative from this constituency four times.
In 2009, Bolpur became a reserved constituency for the Scheduled Castes. In the Lok Sabha elections of 2009, CPI(M) leader Ram Chandra Dome contested the elections from Bolpur. However, in the general elections of 2014, Trinamool Congress's (TMC) Anupam Hazra emerged as the winner.
In the Lok Sabha elections of 2014, the winning TMC candidate had received 48.33% votes, while CPI(M)'s Dome had received 30.24% votes. The Bharatiya Janata Party (BJP) and Congress candidates received 15.13% and 3.59%, respectively, of the votes.
The Bolpur parliamentary constituency consists of seven Assembly segments – Ketugram, Mangalkot, Ausgram, Bolpur, Nanoor, Labpur, and Mayureswar. Three of these segments – Ketugram, Mangalkot, and Ausgram – are located in Purba Bardhaman district, and the remaining four are in Birbhum. In the 2016 Assembly elections, TMC candidates won in all of the segments except Nanoor.
The TMC candidate from Bolpur for the general elections of 2019 is Asit Mal, who was previously in the Congress. Hazra, who was TMCs MP from Bolpur has now switched to BJP and is contesting the elections from the Jadavpur. Dome remains the CPI(M)'s candidate. The BJP and Congress, candidates, respectively are Ramprasad Das and Abhijit Saha.
According to local people, it's not just Bolpur's atmosphere that has been contaminated with terror. The scenario is similar in Birbhum. A resident of Mangalkot, Sheikh Mohabbat, said there are so many internal clashes within the TMC, that the locals do not let MLA Siddikulla Choudhury enter the village. Once, the women of the village had to chase him out of the village with brooms. Since then, the MLA does not try to visit the village.
The owner of a stationery shop at Kulsona bus stand, on condition of anonymity, said, "The people are the same as before, but they do not say anything because they feel terrorised. But this time, their fear has reduced substantially."
Sadhana Mallik, who was the elected MLA from Mangalkot thrice, said, "Mangalkot has a different history and tradition. But these have been destroyed in recent times. People have forgotten their history, and now indulge in the politics of guns, bombs and murders. Our Mangalkot was not like this before."
People in other regions have similar sentiments about the change in atmosphere. Some of them related how people were not able to vote in the previous year's panchayat elections. But this time, the situation has changed, they said. People have started raising their voices. They have started stepping out of their homes. If the people are able to show this courage on the day of polling, the results will be different this time, they said.
A local resident, Amitabha Sengupta, said, "Do not judge this area by the campaigning. This election is going to be different. The people have never been this quiet. They are fed up with the Centre and the state government. They are waiting for change, desperately."
Nanoor's local resident, Dinesh Ghorui, explained how this change is going to come. He said, "We have nothing to fear. They cannot terrorise us." He pointed at the Durgapur Sidhu Kanhu Folk Cultural Centre, and said, "This was built in 1995, during the Left Front regime. After 2011, TMC tried to take over the building. But the people of this village guarded the building night after night. They fought to protect this building."
Malati Kisku from the same village said, "The change of 2011 has ruined our lives. But if we want, we can change it again too. The situation is like this because they do not let us vote. This time, if we all are able to vote, everything will change."
Subal Kisku, another local resident said, "This government has not given us anything. Achhe din (good days) are not for us. They are for the rich."
(Translated By Ditsa Bhattacharya)
Get the latest reports & analysis with people's perspective on Protests, movements & deep analytical videos, discussions of the current affairs in your Telegram app. Subscribe to NewsClick's Telegram channel & get Real-Time updates on stories, as they get published on our website.
Subscribe Newsclick On Telegram