Thousands of Phantom Votes Suspected Across Lok Sabha Seats in Bihar, UP
Three former Chief Election Commissioners say EC should explain, figures need to be reconciled.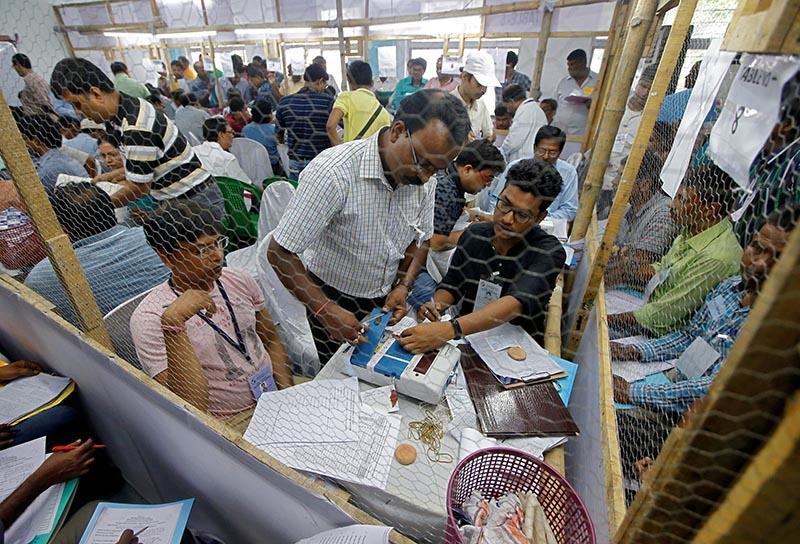 Representational image. | Image courtesy: The Himalayan Times
New Delhi: In several Lok Sabha constituencies in Bihar and Uttar Pradesh, thousands of votes were recorded to have been counted in excess of the total votes cast, and in a few cases, counted votes were substantially less than votes cast, an investigation by Newsclick has revealed.
These constituencies include at least three high-profile ones -- Patna Sahib, Jehanabad and Begusarai. In Jehanabad, the votes polled are in excess of the votes counted by 23,079. That is, it seems that this number of votes have not been accounted for. The margin of victory of the Janata Dal-United candidate in this seat was just 1,751 votes over the Rashtriya Janata Dal (RJD) rival indicating that the result could have changed had the unaccounted votes been counted.
An earlier version of this story has been updated with latest detailed results from State Chief Electoral Officers (CEOs) which put out the statutory Form 20 signed by respective Returning Officers, wherever available. Data for total electors in each Lok Sabha constituency has been drawn from statutory Form 2b, wherever put out by the respective State CEOs.
Phantom Votes?

|   | Electors | Turnout (%) | Votes Polled | Counted Votes | Difference [Polled-Counted] |
| --- | --- | --- | --- | --- | --- |
| Patna Sahib (Bihar) | 2136800 | 43.10 | 920961 | 982939 | -61978 |
| Begusarai (Bihar) | 1942769 | 62.32 | 1210734 | 1226503 | -15769 |
| Jehanabad (Bihar) | 1575018 | 53.67 | 845312 | 822233 | 23079 |
| Badaun (UP) | 1890129 | 56.70 | 1071744 | 1081108 | -9364 |
| Farrukhabad (UP) | 1703926 | 58.72 | 1000563 | 1002953 | -2390 |
Sources: Turnout data from ECI app; Counted vote data from CEOs of states except UP where ECI data used.
CEO Madhya Pradesh CEO Bihar Election Commision of India
Some of the LS constituencies mentioned in the earlier story have been omitted because the discrepancies were found to be minor after updating.
Former CECs Want Explanation
Three former Chief Election Commissioners (CEC) when contacted by Newsclick on this matter expressed surprise and said that the Election Commission needs to explain or reconcile the numbers.
"Since there are discrepancies, the Election Commission has to explain. Sometimes there are reasons and since there are none at the moment, they (the Commission) must give an explanation," said SY Quraishi, who was CEC in 2010-12. He even said that if the figures are true then "someone should move court".
Another former CEC, N Gopalaswamy (2006-09), said that "if the Form-17A polled figures have not been included and/or reconciled, then ask the Election Commission. Ideally, such reconciliation should have been done".
HS Brahma who headed the Election Commission in 2015, told Newsclick that discrepancy of up to, say, a couple of thousand votes could be understood because sometimes there are issues with postal votes. "But anything more than that needs to be investigated and explained," he added.
Rejected postal votes are often not counted in result tallies put out by the Election Commission but these may amount to as much as a thousand, in some cases. Since they represent polled votes they have been included in here, wherever such data is available.
Similar calculations have been done for other constituencies in several states by other analysts who allege that discrepancies have been discovered in those too.
Repeated phone calls to CEC spokesperson Sheyphali Sharan on May 24 elicited no response. Sharan also did not respond to an SMS message.
Surprising Discrepancies in Constituencies
In Patna Sahib constituency, where the two main contenders were the BJP's Ravishankar Prasad and the Congress' Shatrughan Sinha, the total number of electors [that is, eligible voters] in the 2019 general election was 21.368 lakh. The voter turnout on May 19 in this constituency was 43.10%.
On vote counting day, May 23, it turned out that total number of votes cast stood at 9,82,939. But, 43.10% of the total number of voters comes to 9,20,961 votes. That indicates that an excess of 61,978 votes have been counted, compared with the polled votes.
An examination of the second high-profile constituency, Begusarai, reveals a similar disturbing trend. Begusarai had three main contestants -- the BJP's Giriraj Singh, the CPI's Kanhaiya Kumar and the Rashtriya Janata Dal's Mohammad Tanveer Hassan. Of the 19.428 lakh total electors in the constituency, some 62.32% voters exercised their franchise, that is, 12,10,734 voters.
But curiously enough there is a mismatch with the counted votes, which were recorded as 12,26,503. That is, 15,769 extra votes appear to have been counted.
The Jehanabad Lok Sabha seat in Bihar witnessed a close contest between JD(U)'s Chandeshwar Prasad, who won by just 1,751 votes over RJD's Surendra Prasad Yadav. While the total number of registered voters in Jehanabad is 15,75,018, 53.67% exercised their franchise and the total number of votes cast was 8,22,065. The alarming part is that 23,079 votes were not counted and the JDU's candidate won.
Political Reaction
Even as he accepted defeat in the immediate aftermath of the counting of votes, Shatrughan Sinha told a news agency on May 24 that "there has been a big game (bada khel hua hai)". He was unable to respond to Newsclick's questions on the suspicious vote discrepancy in Patna Sahib since he was travelling.
Taking a guarded stance, Kanhaiya Kumar, CPI candidate from Begusarai admitted to Newsclick that "the prevailing situation certainly leaves a lot of room for doubts, but my party and I will take a collective decision on this issue and go over the numbers before making any public statement".
Speaking to Newsclick, a senior Congress Working Committee (CWC) member who closely followed the election across 40 constituencies in Bihar, said on the condition of anonymity that "there are grave doubts over the EVMs. There appears to be huge differences between polling (as it took place across the state) and counting of ballots. The Congress will certainly undertake its own investigations before the party's legal cell takes up the issue. This matter will be taken up at the CWC meeting on May 25".
In the course of this investigation, it was discovered that there is wide variance in practices of reporting across states and the ECI. For instance, figures on voter turnout varied from the ECI app to the State CEOs. Similar variation exists even in total electors in each constituency. Some of these will cause differing estimates of voter turnout in absolute numbers while inclusion or exclusion of postal ballots or rejected postal ballots may cause other types of discrepancies.
But notwithstanding these avoidable but sadly existing variations, the discrepancies revealed in the few constituencies above show that there is need for a full cross-check by the ECI and also full disclosure of all data in statutory formats. Otherwise, the people will continue to be uncertain of the counting process.
Get the latest reports & analysis with people's perspective on Protests, movements & deep analytical videos, discussions of the current affairs in your Telegram app. Subscribe to NewsClick's Telegram channel & get Real-Time updates on stories, as they get published on our website.
Subscribe Newsclick On Telegram