Experts Ask Sonbhadra's Residents to Avoid Drinking Water Due to Fluoride Contamination
The fluoride contamination in the water from the area is close to ten times above permissible limits. Residents suffer from a variety of illnesses as a result.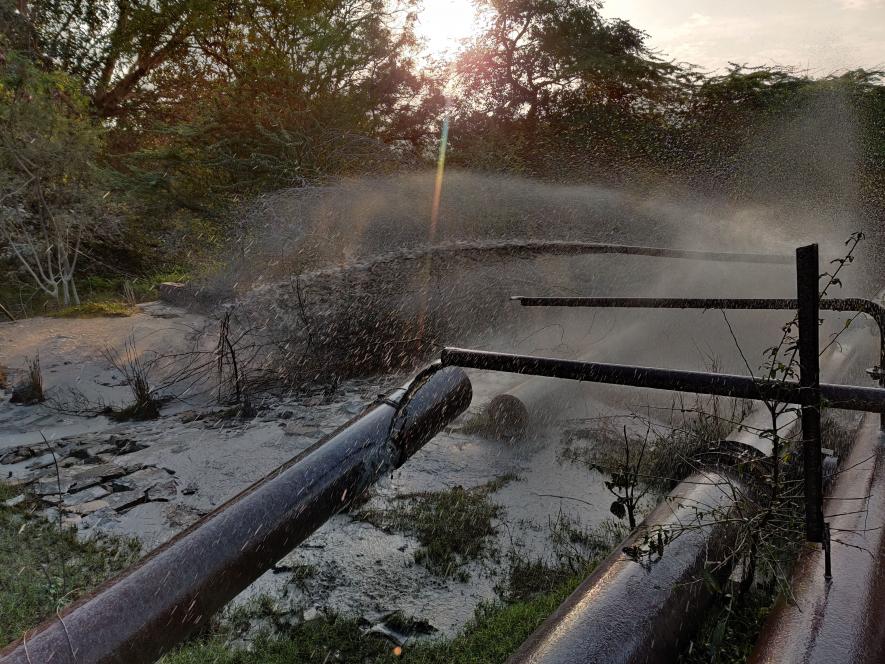 Water with ash from Obra powerplant being drained in Karuna river. PC Saurabh Sharma
Kon (Sonbhadra): Fifty-three-year-old Vijay Kumar Sharma has been bed-ridden for five years after his lower back was paralyzed. He even has to be carried by his two sons to answer nature's call.
Sharma now believes that he will never be able to walk on his feet again, and that he will die in this state. The bed-ridden middle-aged patient said that paralysis set in due to fluoride contamination in the ground water they drink.
"My doctors told me that this happened due to excessive contamination of fluoride in the groundwater. Water in the entire Sonbhadra region has turned into poison, is taking toll on our health and people are dying early because of it," Vijay told NewsClick.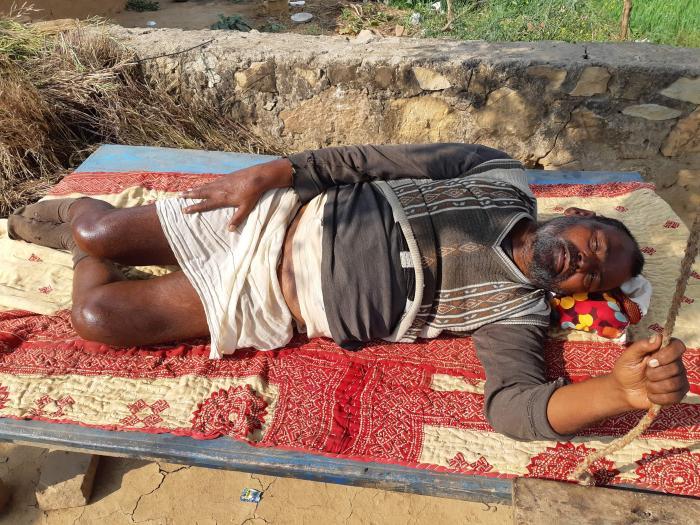 Vijay Kumar Sharma, was paralyzed due to excessive on block in Sonbhadra. PC Saurabh Sharma
According to a reply by the Government in Parliament, in over 114 habitations in Uttar Pradesh, ground water, which acts as a source of water, has been contaminated with fluoride. It has had a major effect on the dental and skeletal health of people across the state, with Sonbhadra being one of the worst-affected districts.
Vijay said that one of his sons has to take leave from work whenever medicines need to be sourced as they are available only in the city and not in the village. He added that his sons took him to the Banaras Hindu University's medical college, the Sanjay Gandhi Postgraduate Institute of Medical Sciences in Lucknow and many other prominent hospitals, only for them to return with the problem.
"We spent a lot of money, even sold two of our cows and a small part of land for treatment. Now, I am taking homeopathic medicines. My last wish before I die was to dance my heart out at my son's wedding but that seems impossible now," said a bed-ridden Sharma.
What is adding to the problem of water contamination in rural areas of the district is that the healthcare structure is also poor.
The Kon region community health centre only has two doctors. At the moment, one of them is on maternity leave while the other visits only twice a week. To avail treatment, people first approach quacks first. When the situation gets out of hand, they end up at the district hospital. NewsClick learned this after speaking to more than a dozen villagers from different villages in the district.
Another major reason for their health issues is the waste from industrial units that flows into the waters of the rivers Son and Karuna. The water bodies are considered lifelines of the area.
NewsClick travelled to the Karuna river which flows on the south-western side of the Obra power plant and found two major pipes which were pumping waste water with ash into the river. This reporter tried to approach concerned authorities in the power plant but was not entertained by them. However, Radhey Shyam, an officer at the Pollution Control Board accepted that the Obra power plant has committed a violation and should have been fined accordingly.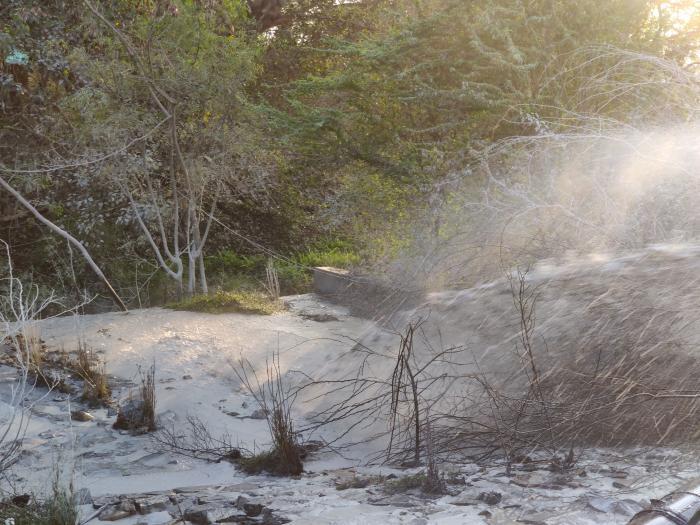 Water with ash from Obra powerplant being drained in Karuna river
When asked about the contaminated water being drained in the river the officer said he was not aware and that he would surely send a team to inspect and take necessary action.
"Our department has fined them in the past. We did not find any violation the last time we inspected the plant. If this has been happening, I will ask my team to take strict action against them this week," the official said.
Jagat Kumar Vishwakarma, a social activist who took up the case of excessive fluorosis with the National Green Tribunal (NGT) in 2014 said: "There is no end to this problem. It leads to a dead end with people dying."
Vishwakarma added that despite the NGT and the State Government ordering adequate action, the only step is to leave the village altogether.
"There is no alternative available for the water. The Jal Nigam has fixed a filter in hand pumps at many places but how effective they are can be judged by the number of people falling prey to the fluoride," Vishwakarma said. "The scheme under which the Government promises to provide clean drinking water at the doorsteps is yet to begin. Water tankers are sent to villages only when those concerned feel the need to send water," he added.
In November 2019, a committee was sent to study the water in Sonbhadra. NewsClick accessed its report, which mentioned that fluoride contamination in the water was close to ten times the permissible limit and that it was one of the main reasons behind people developing deformities, children being born with disabilities, people losing teeth and bones becoming weak.
According to the World Health Organization (WHO) the permissible limit of fluoride in drinking water should not be more than 1.5 ppm (parts per million) but in the case of Sonbhadra the ppm level was found to be between 12 ppm to 13 ppm.
S.K. Upadhyay, the chief medical officer said that two blocks in his district had been suffering due to fluoride in the water.
"The Myorpur and Chopan blocks have a major problem due to fluoride but the health department is trying to control it by organizing medical camps in every affected village. The best and only solution to end the problem, is to stop drinking the contaminated water," he said.
Jal Nigam officials responsible for installing fluoride treatment plants in affected villages were unavailable for comment.
Farrukha Khan, an office bearer with the Water Aid society said awareness and nutrition are also important factors to end the problems pertaining to fluoride related diseases.
"Only fluoride removal plants are not going to help. Importance should also be given to the nutrition as well as awareness. A lack of awareness is more dangerous than the actual problem," he said.
Get the latest reports & analysis with people's perspective on Protests, movements & deep analytical videos, discussions of the current affairs in your Telegram app. Subscribe to NewsClick's Telegram channel & get Real-Time updates on stories, as they get published on our website.
Subscribe Newsclick On Telegram