Faced with Multiple Challenges, Union Fights to Sustain Strike Action at E-Grocery Platform
Led by the All India Gig Workers Union, close to 150 door delivery agents of an e-commerce platform Fraazo have been on work strike since Monday in Noida and Ghaziabad; their negotiations with the management failed on Thursday.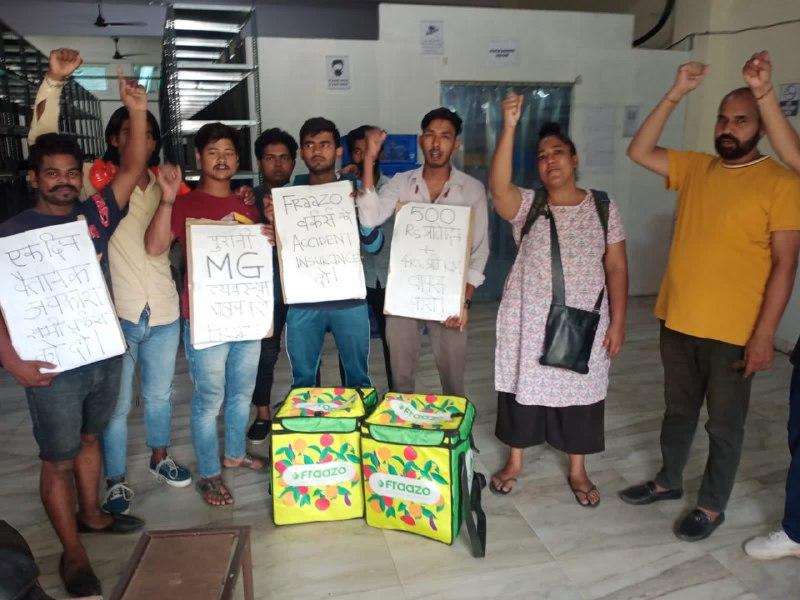 New Delhi: The union behind an indefinite strike action of the delivery workforce at a farm-to-fork e-grocery service operating in Noida and Ghaziabad pressed for pushing forward unionisation drives across urban centres in the country on Friday to turn "spontaneous actions" of the gig workers into "sustained effort" for their inclusion within the ambit of labour laws.
Close to 150 door delivery agents of an e-commerce platform Fraazo have been on work strike since Monday to register their anger against an unannounced change in their payment contract. Led by the All India Gig Workers Union (AIGWU), the striking workers are demonstrating every day outside what is known as the 'dark store' – a large warehouse – of the company.
The workers claimed that the company notified them about a new payment mechanism last week, making a shift from an earlier 'minimum guarantee' compensation model to a pay-per-delivery one. The change, which is feared to affect the monthly earnings of the delivery staff, triggered protests by workers, which was soon turned into a flash strike action.
However, five days down the line, the striking workers now find themselves in a challenging situation to continue with their protest, as the company allegedly engages third-party labour supplying vendors at a number of its warehouses to keep the delivery operations running.
On Friday, a leader of AIGWU, while speaking to NewsClick, highlighted the need to conduct more unionisation drives among the gig workers at the level of industry in the days to come, given the issues that they face.
"Problems of the gig workers are structural and systematic in nature, and they largely remain the same across different platforms," said Rikta Krishnaswamy of AIGWU, adding, "Which is why our union is consistently working to unionise gig workers to ensure that their spontaneous actions – such as that in Fraazo – can be turned into a sustained effort in the future."
She contended that currently, the work strikes by gig workers are difficult to "continue for a longer period of time." However, such protest actions provide crucial lessons to the overall workforce, according to her.
'LESS AMOUNT LEFT WITH WORKERS'
Founded in 2016, Fraazo is a Mumbai-based grocery startup that provides fresh vegetables and fruits online. According to one media report published in December last year, Fraazo's business was spread across Mumbai, Gurgaon, Noida, Delhi, Pune, Bangalore, and Hyderabad, among others, with a total delivery rider count of over 3,000 in these cities.
Among them, one of the riders is also 23-year-old Krishna Yadav, who joined Fraazo's delivery fleet this year and started making deliveries from the company's warehouse situated in Noida's Sector 22. "We used to get Rs. 500 per day after being active for 10 hours, along with Rs. 4 per kilometre as fuel allowance. Last week, the company changed this without even discussing it with us. Now, I was told that we would get Rs 45 for every order. There is also no fuel allowance now," he said.
The change in the payment mechanism will affect the monthly earnings of the delivery riders, Yadav lamented. "We usually get 8 to 10 orders every day for which we travel quite a bit. The fuel prices are already touching sky high. In such a scenario, there will be very less amount left with the workers," he said.
Krishnaswamy of AIGWU informed NewsClick on Friday that there are four dark stores in Noida and 3
dark stores in Ghaziabad, with each store having over 30 to 40 delivery agents working there. In the beginning, "full shutdown" was observed at all the units, she added.
"The workers went on strike on their own, and it was only afterwards that they reached out to us to help them in their fight. Yesterday (on Thursday), we submitted a memorandum to the Deputy Labour Commissioner (DLC) in Gautam Buddh Nagar, who assured us to look into the matter," Krishnaswamy said.
Multiple calls made to Gautam Buddh Nagar's DLC went unanswered.
On Thursday, the local unit of the Centre of Indian Trade Unions (CITU) also came out in support of the striking delivery agents. Companies like Zomato, Swiggy, Ola, Uber, and now Fraazo are "exploiting" delivery workers to "increase" their profit margins, Gangeshwar Dutt Sharma of CITU – Noida unit told NewsCick on Friday, adding that the government must immediately bring these workers under the purview of labour laws.
फ़ाज़ों कम्पनी के डिलीवरी मैन ने सीटू के बैनर तले श्रम कार्यालय पर प़र्दशन कर दिया ज्ञापन - गंगेश्वर दत्त शर्मा

नोएडा, मैसर्स- फ़ाजों कम्पनी के कामगारों की हड़ताल 2 जून 2022 को चौथे दिन भी जारी रही।
Thread 1/8 pic.twitter.com/ddnpekwffa

— AIGWU - All India Gig Workers Union (@aigwu_union) June 2, 2022
NEGOTIATIONS FAIL, MANAGEMENT SEEKS TO REPLACE STRIKING WORKERS
The delivery agents of Fraazo, in the meantime, are demanding, above all, to restore the earlier payment mechanism and an assurance that the consent of the workers will be taken before introducing any new changes to their service conditions in the future.
"According to us, there is a direct employee-employer relationship between the gig workers and these platform companies, no matter whether the latter choose to denote them as 'partners' or something else. That is why the gig workers must have the right to collectively bargain," Krishnaswamy claimed.
On the other hand, being flayed for its earlier decision, Fraazo's management also sought to reach an agreement in a meeting attended by representatives of AIGWU on Thursday. "The negotiations have failed, and the management threatened to close all their stores in Noida and Ghaziabad," Spandan Pratyush, another member of AIGWU, told NewsClick.
A new challenge awaited the striking delivery agents on Friday morning when they saw the management seeking help of third-party vendors, who supplied labour to replace those partaking in the strike action, NewsClick has been informed.
The Delhi-NCR zonal manager of Fraazo refused to comment on the development. NewsClick was also unable to secure a comment from the company's headquarters in Mumbai.
Asked about the same, Krishnaswamy of AIGWU said that the challenge ahead of the gig workers' union across the country is to keep the momentum once the workers themselves have taken spontaneous action.
To be sure, in the recent past, as the strikes by gig workers increase, threats, cash lures, penalties, and legal proceedings against workers, among others, have found a place in the playbook of platform companies to "break the strike." On the other hand, the unions have tried to champion collective care while also approaching the local labour authorities.
"In the case of Fraazo, we will be approaching the DLC of Ghaziabad tomorrow. We will also pressurise the Gautam Buddh Nagar's DLC to take some action in the matter," Krishnaswamy said on Friday.
Meanwhile, the management's refusal to budge has now put a section of striking delivery agents in a tough spot, most of whom have been living from hand to mouth for many months now. Among them was 30-year-old Sachin, who was sitting in protest outside the warehouse located in Ghaziabad's Gaur City 2 locality.
Speaking to NewsClick over the telephone, he said: "The company has managed to partially resume its operations today by getting workers who agree to its terms. On some days, they will fully run their business. What choice will we have then if not to withdraw the strike and get back to work then?"
Get the latest reports & analysis with people's perspective on Protests, movements & deep analytical videos, discussions of the current affairs in your Telegram app. Subscribe to NewsClick's Telegram channel & get Real-Time updates on stories, as they get published on our website.
Subscribe Newsclick On Telegram