Faced With Threats, Police Inaction, Families of 20 Slain RTI Activists Await Justice in Bihar
In a Jan Sunwai programme, family members of slain RTI activists demanded that a judicial commission of enquiry must be constituted to ensure that fair and objective investigations take place in these cases.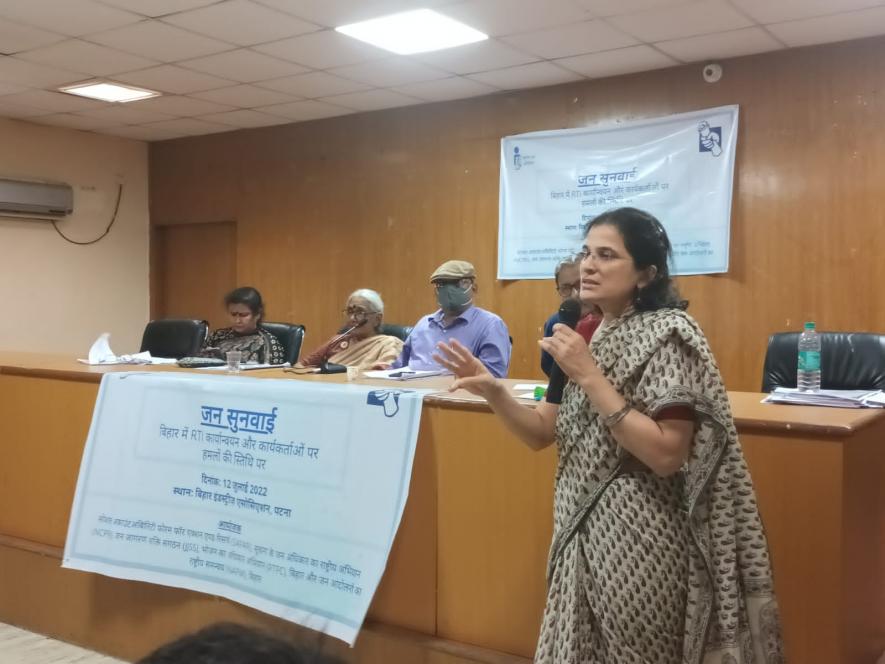 Patna: Nearly twelve years after an RTI activist Sashidhar Mishra was shot dead in Bihar's Begusarai district for seeking information, justice still eludes his family. Mishra's family is not alone; there are several such families across the state as more than 20 RTI activists have been killed in the state since 2010.
Mishra was one of the first RTI activists murdered in Bihar.
"My husband, who was an RTI activist, was killed in broad daylight near our house in 2010, but his killers have not been punished to date. This is a failure of the police and the government. We are poor people and live in the village; what can we do?" said Anita Devi, wife of slain RTI activist Mishra.
Anita has made it clear during a day-long "Jan Sunwai" (public hearing programme) that she is demanding justice as per the law of the land. The programme was held in Patna on July 12, 2022, on the implementation of Right to Information (RTI) in Bihar and the status of attacks on RTI activists.
Anita's stance was echoed by her teenage son Suryakant. "We simply want justice, nothing less or more. Unfortunately, nothing has happened so far. One of the main accused was arrested in the case but was later released after getting bail. The local police are not taking this case seriously and moving slowly."
Well-known RTI activists of the country, including Aruna Roy, Nikhil Dey, and Anjali Bharadwaj, were present during the public hearing on July 12. RTI activists from different parts of Bihar and more than two dozen family members of slain RTI activists also attended it.
Family members of slain RTI activists demanded that a judicial commission of enquiry must be constituted to ensure that investigation of these cases takes place in a fair and objective manner. They also said that the slain RTI activists should be given the status of human rights defenders.
Suryakant, who is planning to join the National Defense Academy to fulfil his father's dream, admitted that the poor financial background is a big hurdle for him and the family. "My father's killing snatched our main source of earning. Now, our livelihood depends on a small piece of farmland and help from some close relatives on my mother's side. I am also giving home tuition to local children to earn some money," he told Newsclick.
Similarly, Vinod Shah, whose father Bhola Shah was killed in 2018 in Banka district, said all the named accused in the case are roaming freely after being granted bail. "Police have not acted properly and failed to prepare a proper chargesheet with solid evidence to ensure punishment of the accused," Vinod said.
Vinod added that his family is awaiting justice as the accused are free. "I have been receiving threats repeatedly to withdraw the case against them. I am facing death threat because the accused are locally powerful," he alleged.
Vijay Agrawal, the father of RTI activist Vipin Agrawal who was shot dead in broad daylight in September 2021 near Harsiddhi for exposing several cases of land encroachment and corruption in local offices, said that no action was taken by police in the case. "The main accused in my son's killing has not been arrested so far. I don't know how to fight the case. For me, justice appears to be far away," Vijay, in his early 70s, said.
Vijay expressed his frustration over how the failure of the system to provide justice cost him his 14-year-old grandson. Deeply upset over the police's failure to arrest the powerful accused in his father's murder case, Vijay's grandson set himself on fire and succumbed to injuries in March this year in the East Champaran district.
Vijay said that his grandson wanted to inform the Superintendent of Police that no arrest was made in connection with his father's killing, and the accused persons were roaming freely due to the inaction of the police. Unhappy, the teenager returned home and expressed his hopelessness to the family members for not doing anything for justice in the case; then, he took an extreme step and set himself afire and jumped off from a nearby three-story building to protest against the police inaction. "Our neighbours heard him shouting slogans against police before setting himself on fire and jumping. His death was the result of us not getting justice," Vijay said.
Vijay recalled that his grandson observed a day-long fast in December 2021 to protest against the failure of the police to arrest the accused in the case. In his handwritten petition to the police, the teenager had mentioned that there seemed to be no hope of justice for his father, who was brutally murdered.
Vijay's son Vipin Agrawal was an RTI activist since 2009 and was attacked in 2020, and his wife was dragged on the road. After that, he had sought police protection, but it was not provided. It resulted in him being killed. "He was killed by local land mafia," Vijay said.
"My son was facing a threat to his life for exposing land encroachment cases by powerful people, including the local politicians. The police are yet to arrest the main accused. It saddened my grandson, who felt helpless and ended his life," he added.
Triloki Nath Jha, elder brother of the late Buddhinath Jha -- an RTI activist who was killed in November 2021 in Madhubani district -- said only three of 11 accused have been arrested to date, but the family wants the police to capture all of them. "Whenever we put pressure on local police to act against the accused, we receive threats. I am regularly receiving threats. Last month, I filed a written complaint to the police about the threat to my life. The accused threatened to send me where my brother was sent," Triloki Nath said.
He said his brother's crime was that he used to file several RTI applications against illegal and unauthorised clinics and hospitals, which were running without proper licenses in Benipatti.
According to Mahendra Yadav, an RTI activist, of the 20 RTI activists killed in the last 12 years in Bihar, almost half of them died over the last four years. In 2018 alone, six RTI activists – Jayant Kumar (Vaishali), Rahul Jha (Saharsa), Rajendra Prasad Singh (Motihari, East Champaran), Valmiki Yadav and Dharmendra Yadav (Jamui), and Bhola Shah (Banka) were killed. Most of these RTI activists were seeking information related to the state of functioning of public programs and institutions in their area, which should have been compulsorily made public by the government in accordance with Section 4 of the Right to Information Act.
"These brutal killings of RTI activists have raised questions not only on the safety of those who work to make the system accountable but also on the state's responsibility to provide legal aid and social security to their family members," said Ashish Ranjan, another RTI activist.
The object of the public hearing was to hold the government and the State Information Commission publicly accountable, raise legal awareness among the community of RTI activists, help families to obtain legal aid and entitlements under relevant government schemes and programmes, and finally, advocate for the institutionalisation of the same, Ranjan said.
The public hearing was organised jointly by the National Campaign for People's Right to Information (NCPRI), Jan Jagran Shakti Sangathan, Social Accountability Forum for Action and Research, Right to Food Campaign and the National Alliance of People's Movements (NAPM).
Get the latest reports & analysis with people's perspective on Protests, movements & deep analytical videos, discussions of the current affairs in your Telegram app. Subscribe to NewsClick's Telegram channel & get Real-Time updates on stories, as they get published on our website.
Subscribe Newsclick On Telegram