Famished and Frustrated, Delhi's Poor Have Raging 'Fire' in Their Bellies
With no ration cards and the flaws in the Delhi government's food security scheme, the non-beneficiaries of PDS remain hungry.
New Delhi: Mounting debts, unpaid rent for months, loans taken for her daughter's wedding and the expenditure incurred on educating her two sons give sleepless nights to Hasnara Begum with her family struggling to secure daily meals.
Hailing from West Bengal's Uttar Dinajpur, Hasnara is among the lakhs of Delhi residents who do not have a ration card. "We moved to Delhi more than 10 years ago but still don't receive any government benefit. Our lives have turned upside down since the pandemic. I am a domestic help but few households employ me now. My sons do not want to go back; they want to study here," she says.
"We could manage better if we, at least, get free rations regularly," says Hasnara, whose husband, a daily wage labourer, has lost his livelihood after the ban on construction due to the rising pollution.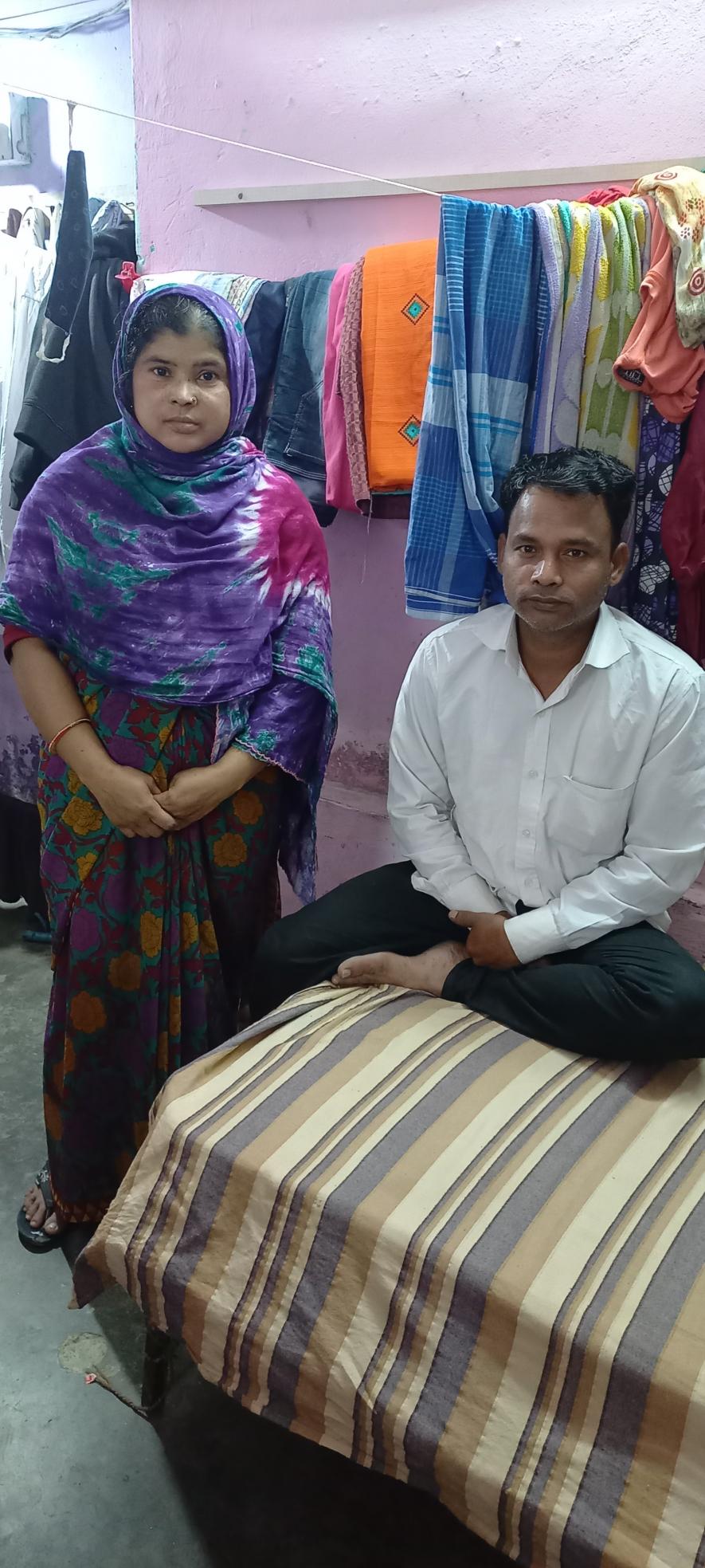 Hasnara Begum and her husband have been struggling with debts for months now. The couple had no work for months during the pandemic. Even now, work remains erratic.
According to the 2021 Global Hunger Index, India was ranked 101 among 116 countries with a score of 27.5, meaning the hunger situation is 'serious'.
As the pandemic left lakhs without income in the national capital last year, the Arvind Kejriwal government made provisions to distribute food grains through 69.60 lakh e-coupons for people not covered by the PDS. In May this year, the Delhi government announced that it will provide 4 kg of wheat and 1 kg rice to 40 lakh non-beneficiaries of the public distribution system. 
With a significant percentage of people left out of the scheme, even the beneficiaries are struggling to secure basic food items. "The other day, I stood in a queue at a school in Hauz Rani for five hours. When my turn came around 2 pm, I was told that the stock was finished, and I will be contacted when food grains arrive," a visibly sad Hasnara says. 
The succour of mid-day meals for her sons has ended as well with schools closed for several months. "The only saving grace is that my landlord does not pester me for rent," says Hasnara, who has stopped receiving the unending calls of her creditors in West Bengal. "What else can I do?".
The Delhi Rozi Roti Abhiyan (DRRA), a network of 30 organisations fighting for food insecurity in the capital, recently wrote to Kejriwal highlighting the non-availability of rations for non-beneficiaries of PDS. DRRA volunteers had checked the status of distribution at 106 out of the 282 schools designated for distributing rations. They had also pointed out that the failure to stock and provide rations amounted to the violation of Supreme Court and Delhi High Court orders.    
"The biggest problem is the lack of a universal food security and social security mechanism. Only 37% of Delhi's population has ration cards. About 70%-80% of people need the government's assistance especially in times of distress with their incomes still below the pre-pandemic level," says food rights activist Amrita Johri.
The implementation of the programme has been "so patchy that it is difficult to predict the availability of food grains. The government should be transparent about the availability of food stocks", Johri adds.
Living with uncertainty
Sixteen-year-old Reshma, who stays a few houses away from Hasnara, and her sister Muskan, 14, juggle classes and chores. "My husband polishes tiles but there is no work. It would be a big help if we, at least, get rations every month. We have not paid the rent for months. We are clueless about what we should do," says their mother Najma as Reshma scrapes the gas oven after making chapatis with the help of Muskan. 
Najma's anxiety about how her family, which doesn't have a ration card, will manage is not without reason—they managed to get food grains only twice this year.
Najma remains anxious how to feed her daughters. She has been unable to pay her rent for several months now. The increasing debt worries her.
Nujhat Bano and Rambeti, hailing from Bihar and Uttar Pradesh, respectively, have drastically reduced their food consumption due to the scarcity of rations.
Worried about the nutrition requirement of her children, aged 6, 5 and 3, Bano says, "My husband delivers Bisleri water. But the requirement has dropped sharply with the onset of winter. My kids are so young that I cannot work. We cannot rely on rations. We got food grains only thrice since the last year. How will I feed my children?".
Food rights activist Anjali Bhardwaj feels that besides the flaws in implementing the programme, there is little clarity on how many times a person can get rations. "The slum dwellers are employed in the unorganised sector with many of them migrant workers. Due to rising unemployment and inflation, food security for these families must be ensured," she says adding that the government should have picked up the list of around 70 lakh people who were given e-coupons last year.
Bhardwaj said that the programme is vague. "There is an arbitrary cap on the number of beneficiaries with people who are hungry being turned away. The government has neither clarified the policy nor addressed the grievances of people," she adds.  
Repeated calls to Delhi food supplies minister Imran Hussain's office on the challenges faced by the non-beneficiaries of PDS went unanswered.   
'I sleep hungry'
Rani is clueless about her age. Her granddaughters point out that she would be in her mid- or late 60s. With no source of income apart from the occasional aid from her elder granddaughter and her husband, Rani goes hungry on most days. "Both my husband and son have passed away. What can I do? I sleep hungry," she says.
Whatever little she can afford, Rani sets aside for her younger daughter. "I fed her some eggs and chapatis today. She sustained severe burns yesterday while playing at a neighbour's house. She has nobody apart from me."
Rani said she sleeps hungry on most days. She tries to secure meals for her younger granddaughter.
Arvind Singh, technical adviser, nutrition, Matri Sudha, pointed out how the pandemic has posed a serious threat to food security especially for those not covered by PDS. "Expanding the public distribution system is one way to handle the food security crisis. The PDS coverage is quite inadequate. Delhi should think of a public distribution system that covers the poorest of the poor and priority households," he says.
The writer is an independent journalist based in New Delhi. The views are personal.
Get the latest reports & analysis with people's perspective on Protests, movements & deep analytical videos, discussions of the current affairs in your Telegram app. Subscribe to NewsClick's Telegram channel & get Real-Time updates on stories, as they get published on our website.
Subscribe Newsclick On Telegram