Farmers vs Capitalism: The Neoliberal Mercenaries of Caste Politics
When 82% of farmers are small and marginal (including a large dalit and adivasi population), what good is "total collapse" of agricultural sector (as hailed by writer Suraj Yengde) going to serve them?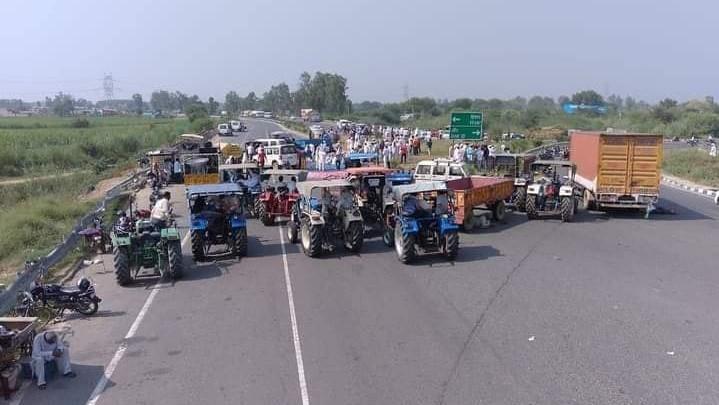 Farmers protest againt Farm Bills on September 20 in Haryana. | Image Courtesy: Facebook
Amid widespread opposition, The Farmers' Produce Trade and Commerce (Promotion and Facilitation) Bill, 2020, and The Farmers (Empowerment and Protection) Agreement on Price Assurance and Farm Services Bill, 2020, were passed by Rajya Sabha on Sunday, September 20.  These Bills, along with The Essential Commodities (Amendment) Bill, 2020, are part of the liberalisation plan of the agricultural sector in India.
According to Food and Agriculture Organisation (FAO) of the United Nations, 70% of India's rural households still depend primarily on agriculture for their livelihood, with 82% farmers being small and marginal. It is, therefore, by no means an exaggeration to say that this liberalisation plan of the agricultural sector is going to fundamentally impact the livelihoods of a majority of people, including farmers and migrant workers.
As rightly pointed out by several farmers' organisations, including the All India Kisan Sabha (AIKS), these Bills would push farmers further down the path of devastation as it is a plan to sell agricultural sector to corporates. By facilitating corporate control over agricultural land and its produce, these Bills essentially destroy the role of Agricultural Produce Market Committee (APMC) mandis.
These Bills also pave the path to erode already diminishing welfare support available to farmers in terms of Minimum Support Price (MSP) and similar measures. Long-standing demands of farmers' organisations, such as farm loan waiver, remunerative prices, stringent implementation of the Forest Rights Act (FRA), enactment of the recommendations from the Dr. M.S. Swaminathan Commission Report, 2006, land to the tiller, and similar necessary steps required to revive our rural economy have been conveniently ignored by the Central government.
Prime Minister Narendra Modi had earlier declared to double farmers' incomes by the year 2022. The caveat here is that now corporates will own farming, and their incomes are sought to be doubled!
In this context, when farmers across the country are in constant agitation and protest against these Bills, one would expect solidarity and support from all progressive sections of the society. However, a column celebrating "total collapse" (sic) of the agricultural sector published by The Indian Express came as a shocker.
On September 20, 2020, the leading daily published a column titled 'The importance of Chandra Bhan Prasad' by writer Suraj Yengde, under the tag 'Dalitality'. In the column, Yengde wrote a eulogy to Chandra Bhan Prasad, an advisor to the Dalit Indian Chamber of Commerce and Industry (DICCI), declaring him as "our man".
While hailing Prasad's politics of 'dalit Capitalism', Yengde quotes – "What could be a happier moment for Dalits than witnessing the total collapse of farmers (landlords) who do not pay minimum wages and humiliate Dalits in their day-to-day life?".
Also read: Why New Farm Bills Will Destroy Farmers and Agriculture
For an uninitiated reader, this statement would seem like a compelling argument to scorn at the rural populace, its class inequalities and caste oppression. But a logical question to be asked at the same time is when 82% of farmers are small and marginal (including a large dalit and adivasi population), what good is "total collapse" of agricultural sector going to serve them?
When farmers don't receive remunerative prices, doesn't it disproportionately impact the incomes of landless peasants (again a large dalit and adivasi population)? When rural incomes are not sustainable due to "total collapse" of agriculture, isn't it the main cause of distressed migration of the migrant workers?
In March 2018, 40,000 farmers and landless peasants (many of whom were adivasis) walked into Mumbai as part of the Kisan Long March and shook the imagination of the nation. Holding red flags with hammer and sickle of AIKS, these farmers and landless peasants demanded their right to land and forest, remunerative prices, and right to live with dignity.
While Yengde shares his fondness of "a soigné suit, sharp black tie and handsomely combed hair" in his column, the women in the Kisan Long March walked barefoot with blistered and flaming feet. In this scenario, Yengde equates the Left with the Sangh, and wishes "total collapse" to these farmers and landless peasants, disregarding the suicides of more than three lakh farmers in this country!
While the agricultural sector is being sold off to the corporates at the behest of the Narendra Modi government, the middle-class and neoliberal votaries of 'dalit capitalism' ("dalit academics, thinkers and babus", as Yengde himself mentions it) are also found singing the same tune.
As columnist Subhash Gatade wrote in an article, titled 'How Sangh Parivar and 'Dalit Capitalists' are Sanitising Dr Ambedkar's Radical Vision', capitalism is being valorised supposedly for annihilation of caste by Prasad and his ilk, by deceitfully projecting Ambedkar as a 'free market economist'.
In present times of economic crisis and when people across the globe are realising and mobilising against wealth inequality, climate change and authoritarianism due to capitalism, Yengde presents to us the old wine of capitalist exploitation dressed up in neoliberal bottle of diversity politics. If Yengde is to be believed, a suited and booted dalit capitalist is "our man", no matter if the same capitalism drives lakhs of dalit and adivasi farmers to suicide!
The author is a PhD research fellow in sociology at Ambedkar University, Delhi. He works on agrarian relations, rural sociology and caste in particular, and Marxist critique of political economy in general. The views are personal.
Also read: Why Small Cultivators Lose in Contract Farming Deals
Get the latest reports & analysis with people's perspective on Protests, movements & deep analytical videos, discussions of the current affairs in your Telegram app. Subscribe to NewsClick's Telegram channel & get Real-Time updates on stories, as they get published on our website.
Subscribe Newsclick On Telegram