Five Lakh Coal Miners Ready for Total Strike on Sept 24
They are opposing Modi government's decision to allow foreign companies' entry into the sector.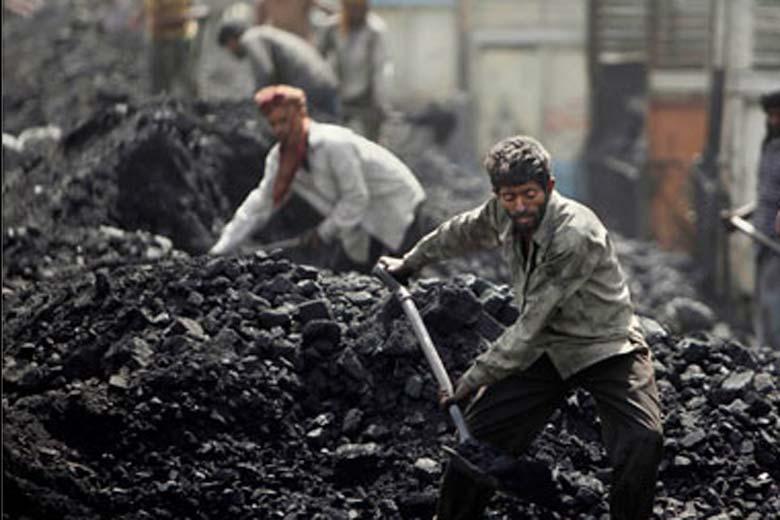 On Tuesday, 24 September 2019, nearly 600 mining establishments spread over 82 mining areas of India will fall silent as an estimated five lakh workers will go on strike primarily to voice their opposition to the recent decision of the government allowing 100% foreign direct investment (FDI) in the strategic coal sector. 
"There is deep anger and discontent among coal mining workers everywhere and they are determined to have a 100% strike in all coalfields of the country on 24th [Sept]," said DD Ramanandan, general secretary of the powerful CITU-affiliated All India Coal Workers Federation, speaking to NewsClick over phone from Bhurkunda mine in Ramgarh district, Jharkhand. The strike call has been given by six trade unions. Bharatiya Mazdoor Sangh (BMS), a union affiliated to the Rashtriya Swayamsevak Sangh (RSS), is not part of the strike call.
"We have gone to all major mining centres in the past two weeks and talked to thousands of workers; the support for the strike is unprecedented. This will be a historic strike in defence of the country's national resources which the government wants to sell off to foreign companies," he added.
There is a historical irony here: almost a hundred years ago, under British rule, the first trade union of coal workers called Indian Colliery Workers Association was formed in 1920, and in 1921, the second conference of the All India Trade Union Congress was held in the Jharia coal belt, attended by over 50,000 workers. They passed a resolution calling for 'swaraj' (self rule). Now, a century later, the coal workers are again fighting to guard the sovereignty of India against foreign/private exploitation. 
Even after unions served the strike notice, the government has gone ahead and issued a notification allowing 100% FDI for mining and sale of coal under the automatic route, including other associated processing infrastructure operations like coal washery, crushing, coal handling, and separation (magnetic and non-magnetic). On September 19, days before the strike, the union coal minister and the secretary in the ministry requested the unions to come for discussions about their demands. But all the unions turned down the request saying that nothing would come out of such meetings with the government.
Stop Foreign Capital and Privatisation
The coal workers' strike was called for by five major trade unions after the Modi government announced on August 28 that it would open the sector to 100% foreign investment. At present, most of the coal mining is done by the maharatna public sector undertaking Coal India Ltd (CIL) and its subsidiaries with a minor fraction mined by another PSU, Singareni Collieries Company Ltd. Coal mining in India was nationalised back in 1973. The Modi government has been trying to privatise the sector since its first term. It enacted Coal Mines (Special) Provision Act, 2015 allowing private players to produce and sell coal on their own administered price. It has also diluted public holdings in CIL by disinvesting nearly 35% of the government-held shares. Coal workers have relentlessly fought against these moves in the past. 
However, the Modi government has pursued a reckless policy of inviting more and more foreign capital into the country opening up various sectors like coal, banking, media, retail trade, etc. to foreign control. In case of the coal, the decision is without any economic logic because CIL and SCCL are very successful enterprises. In 2018-19, CIL produced 606.89 MT of coal while SCCL produced about 64.4 MT, making up 92% of all coal production. Over the past decade, these PSUs have paid almost Rs 1.27 lakh crore as dividends and reserves to the central government, in addition to various taxes and royalties amounting to Rs.44,000 crore last year alone. They employ about 5.5 lakh employees. In fact, CIL is counted amongst the world's top 10 coal mining companies.
Despite this record, the Modi government wants to practically sell off CIL to foreign companies giving the spurious reason that new investments for expansion of production and technology are needed. 
"Why can't the same investment be done by our government?" asks Ramanandan. 
"And what about the losses that government will suffer when the foreign owned miners will no longer give dividends to it? In fact, even tax revenues will fall because these foreign giants are well known for negotiating a much lower effective tax rates."
Job Security
There will also be huge job losses, as it is well known that foreign mining companies increasingly resort to either cutting down the labour force or replacing existing regular workers with contractual and casual workers with much less pay and much lower social security benefits.
CIL workers have already seen the effects of this kind of policies in the past decades, after liberalisation. In the early 1990s, there were about 7.5 lakh workers which have gone down to about 5.5 lakh, at present. Of these, nearly 2.8 lakh workers are under some kind of insecure employment – either contractual work or even casual work. 
Although technically, there is not much difference in the wages of regular employees and contractual employees, but, according to Ramanandan, the latter get much less in practice because of various nefarious tactics deployed by the contractors. These include paying the mandated wage through cheque and then taking the cheque back and lesser amount being disbursed in cash, or recording only 15 days of work despite the worker having worked for the full month, etc.
It is for these reasons that one of the demands of workers going on a strike is regularisation of all workers of all kinds and an end to contractual work.
Another demand of the workers is that all eight of its subsidiaries should be merged with the parent company (CIL). This is because the workers fear that each of the subsidiaries will be separately privatised through a piecemeal process. In fact, the workers are arguing that merger will create more value and more revenue for the government.
Wave of Protests
While various unions and federations of workers have extended support to the strike on September 24, the country is seeing a wave of protests within months of the second Modi government coming to power in June this year. There has been a strike by defence employees, telecom employees, railway workers (against corporatisation), bank employees and officers, steel workers and scheme workers. In fact, the joint platform of several central trade unions is currently finalising plans for multiple-day general strike sometime in the coming months to protest against Modi government's policies of wholesale disinvestment of PSUs, privatisation, job losses due to economic mismanagement and increasing entry of FDI. There is widespread anger at the government following its move to destroy protective labour laws by getting the Code on Wages passed by Parliament which effectively destroys the well settled principles of need and cost-based minimum wages and weakens the eight hour working day stipulation. 
The coal workers' strike is thus another step in this widening circle of protests by working people, that will gather more strength in the coming months.
Also read: Modi vs Workers: Destruction of Protective Labour Laws Begins 
Get the latest reports & analysis with people's perspective on Protests, movements & deep analytical videos, discussions of the current affairs in your Telegram app. Subscribe to NewsClick's Telegram channel & get Real-Time updates on stories, as they get published on our website.
Subscribe Newsclick On Telegram