Forcible Land Acquisition and Denial of Fair Compensation in J&K
Many central laws have not been implemented in the erstwhile state, but officials are causing serious harm, especially to farmers, with their land acquistion methods.
Altaf Hussain Shawl's uprooted apple trees (Sozeth, Budgam). Image Credit: Raja Muzaffar Bhat
Two days after Parliament abrogated the special status of Jammu and Kashmir and passed a bill to split the state into two Union Territories, Prime Minister Narendra Modi explained their rationale in an address to the nation. He said the people of Jammu, Kashmir and Ladakh had been deprived of their rights, and the abrogation of Article 370, the source of their special status in the Constitution, would "usher a new dawn". He assured there would be Assembly elections so people could choose their representatives and also said, "Laws are made for the entire country, but Jammu and Kashmir did not get the benefits of those progressive laws."
Almost three years are over, and the on-ground situation in Jammu and Kashmir is depressing. Elections have not been held. People are at the mercy of bureaucrats. Panchayat representatives from the village to District Development Council are unable to deliver as they have not been empowered. Despite the Prime Minister and Home minister's assurances, even central laws that could have helped people have not been implemented.
In Jammu and Kashmir, the government has not invoked the Right to Fair Compensation and Transparency in Land Acquisition Rehabilitation and Resettlement (Land Acquisition or LA) Act, 2013. This author earlier wrote about the LA Act being applied to Jammu and Kashmir in 2019, but not being put into practice through framing laws.
Now, the situation has worsened to unprecedented levels, as revenue officials are making landowners come to their offices and execute sale deeds of their land. In this process, the land holdings of residents are being trespassed in broad daylight. Giant hydraulic cranes are uprooting their orchards, a crucial source of livelihood in the region. Meanwhile the farmers are not allowed to raise their voices even as the police and government are taking possession of land forcibly. This is happeneing even though some farmers-landowners say they are not against giving up some land for development projects: They only want fair compensation as per the law.
Bashir Ahmad Bhat's case
Bhat is from the village Haripora Harwan (New Theed), around 20 km from Srinagar. On 20 January, he got an official communication from the Collector, Land Acquisition, Power Development Department, Srinagar. The letter asked him to execute a sale deed for his land as it was in the path of an under-construction power transmission line. The government needs 12 marlas (3,000 sq. ft ) of Bhat's 33 marlas (9,000 sq. ft.) land for the tower. The letter says, "...kindly inform the landowner of tower number 45D in estate Haripora Harwan... to attend the office of Executive Engineer TLMD-7 Bemina to execute the sale deed as per the latest stamp rates/prevailing rates for quantum of land verified/authenticated by the concerned division..."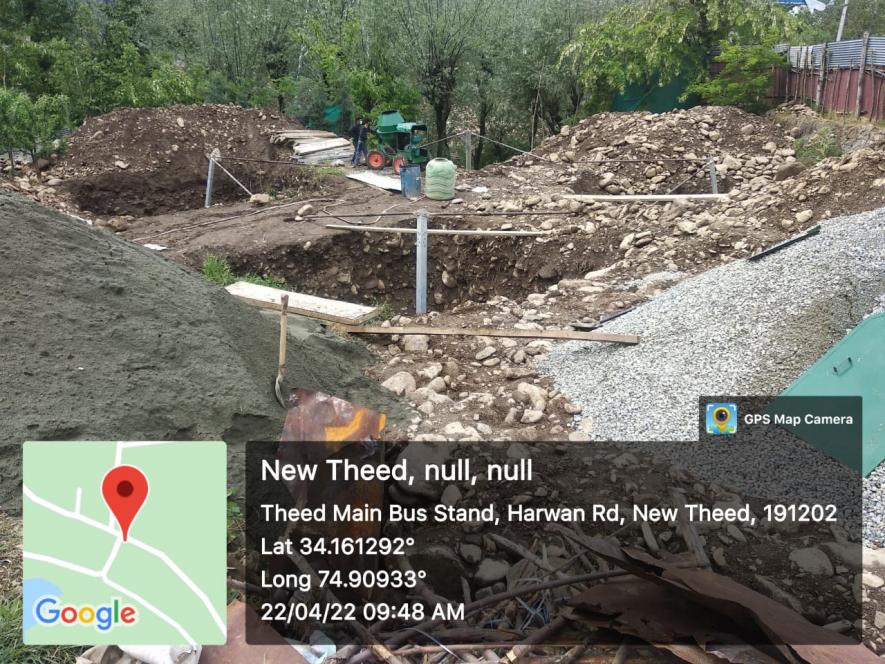 Upcoming transmission towers on Bashir Ahmad Bhat's land (Haripora Harwan, Srinagar). Image Credit: Raja Muzaffar Bhat
Bhat told the officials to follow the due process: issue a preliminary notification under the LA Act, 2013 (applicable in the Union Territory since 31 October 2019). But officials of the collectorate and power department were adamant about taking possession of the land without following that law. It is unclear if they issued any notification, as a copy was not served to the affected landowner. For a few months, Bhat went from pillar to post.
On 16 April, the Tehsildar, North District Srinagar, along with his staff, police officials, and staff of the Executive Engineer (System and Operations) Division 7, trespassed into Bhat's land with heavy-duty cranes. The raiding party uprooted several cherry and apple trees within no time and destroyed his standing crop of onion, garlic, and green peas. Since he had no notice, Bhat could not transplant his fruit trees, for which he got no compensation. Within two days, the cranes had dug large pits and dumped construction material at the site. Work is in full swing, and nobody is ready to hear the aggrieved farmer.
"We were never against construction of the transmission tower. We only wanted fair compensation as per the law extended to Jammu and Kashmir in 2019," says Irfan Hashim, Bhat's son. "If Prime Minister Modi made big promises to us, why are they not being fulfilled? Why is the government snatching our land and livelihood and not invoking the LA Act? This is jungle raj," says Irfan.
On 5 April, officials and employees of the National Highways Authority of India (NHAI) and a private construction company, NKC Projects Pvt Ltd, visited village Batpora, Budgam district, at around 6:30 pm, while people were busy breaking their Ramzan fast. Very soon, hydraulic cranes damaged a standing crop of mustard in full bloom. Landowner Mohammad Ramzan says he was not informed in advance. The NHAI is constructing the Srinagar Ring Road, which passes through Batpora. Other residents have got some compensation, but under the repealed Jammu and Kashmir Land Acquisition Act, 1934. Many have demanded compensation under the central act, as the awards under repealed law had lapsed more than two years ago. But Ramzan's case is altogether different. His 38 marlas or 10,345 sq. ft. were not even notified as required before acquisition by the LA Act though his land fell under the proposed road alignment. He was sure he would get notified, but that hasn't happened.
"The Naib Tehsildar and Junior Engineer of NHAI came with JCBs and hydraulic cranes of NKC Pvt Ltd to our land and destroyed our mustard crops. We have not received a penny, nor has government notified our land for acquisition. This is sheer injustice," says Mohammad Ishaq, Ramzan's son.
Altaf Hussain Shawl case
The government is acquiring around one acre of Altaf Hussain Shawl's land at Sozeth and Mirgund villages on the Srinagar-Baramulla highway, also for the Ring Road project. So far, no payment for the land has been made as many landowners want fair compensation as per the LA Act, 2013 and have gone before the Jammu and Kashmir High Court. Shawl's 150 full-grown apple trees are in the way of this upcoming road. On 20 April, the NHAI uprooted 60 of his trees, again without notice.
"A notification to acquire my one acre was issued in 2017 under Section 6 of the 1934 Act. That notification lapsed in 2019. A fresh notification was to be issued under the 2013 law, but the government is adamantly following the repealed law," Shawl says. His case is before the High Court too. According to Shawl, the government has misinterpreted a recent court order that asked NHAI to proceed with the construction of the ring road.
That order applied to those areas where people had already received compensation, even under the repeal act. "In my case, neither compensation for the land nor my fruit-bearing trees has been paid. Our trees have been axed mercilessly. It is simply a transgression," Shawl says.
In many cases, people allege forcible land acquisition and uprooting of orchards. In the Wathoora village of Budgam district, on 30 March, around 100 plum and apple trees were uprooted by government and NHAI officials for the Ring Road project. The landowners say they were compensated, but based on 28-year-old rates, when plums cost Rs. 13 a kilo and apple Rs. 16 a kilo. In the Gudsathoo and Budoo Bagh areas of Budgam, hundreds of apple trees were axed last November. In the Rambir Grah area of Srinagar, more than 400 apple trees were chopped, and the compensation was given as per the 26-year-old rate.
J&K High Court on forcible land acquisition
Over the last year, the Jammu and Kashmir High Court has given several orders on forcible land acquisition. One of these is the landmark 30 December judgment. Some years ago, the Rural Development Department had illegally acquired land in the remote Pogal Paristan village in the Ramban district. The department also constructed a community hall on private land without adequate compensation to the landowner.
The aggrieved landowner from Pogal Paristan filed a writ petition in Jammu and Kashmir High Court. A division bench of Chief Justice Pankaj Mittal and Justice Javed Iqbal Wani ordered that non-payment of compensation to affected landowners in a remote village was a violation of human rights. The order called it an abuse of process if the petitioners were deprived of valuable property. The court directed the Department of Rural Development Department to pay a Rs. 10 lakh penalty to the aggrieved and directed the Collector, Land Acquisition, to issue a fresh notification for acquisition under the central law, the LA Act, 2013.
The JK High Court order reads, "The right to property/land used to be a fundamental right, but now it has been recognised as a constitutional right vide Article 300A… no one can be deprived of his property save by authority of law. The aforesaid constitutional right has been acknowledged to be akin to a fundamental right and, more importantly, a basic human right. Thus, no one can be deprived of his property without following the procedure prescribed in law and payment of adequate compensation "
Procedure in law
The preamble of the LA Act, 2013 says land acquisition must be a "humane, participative" process. The act is supposed to get implemented in consultation with local self-government institutions, including Gram Sabhas. It says the acquisition process will be geared to encourage industrialisation, essential infrastructure and urbanisation. Yet it is to cause the "least disturbance" to landowners and other affected families. Justice and fairness in compensation and "rehabilitation and resettlement" are at the core of this law.
Panchayati Raj Institutions (PRIs) also have a defined role under the 2013 Act. Still, officials in Jammu and Kashmir are undermining this law in content and spirit. On the one hand, the Prime Minister told a massive gathering in Samba on National Panchayat Day that the youth of Jammu and Kashmir will not face the problems their parents and grandparents did. Yet, the on-ground situation is contrary to his words. Modi stressed how crucial the Panchayati Raj system is to rural governance, but State institutions in Jammu and Kashmir don't heed these institutions, certainly not when they are out to acquire land.
The author is a Srinagar-based columnist, activist and independent researcher and an Acumen Fellow. The views are personal.
Get the latest reports & analysis with people's perspective on Protests, movements & deep analytical videos, discussions of the current affairs in your Telegram app. Subscribe to NewsClick's Telegram channel & get Real-Time updates on stories, as they get published on our website.
Subscribe Newsclick On Telegram