Four-Year Undergraduate Programme - FYUP: The Same, but Different?
Privatisation of education in India is already happening, and this move now opens up the system for global capital that further commodifies education in India.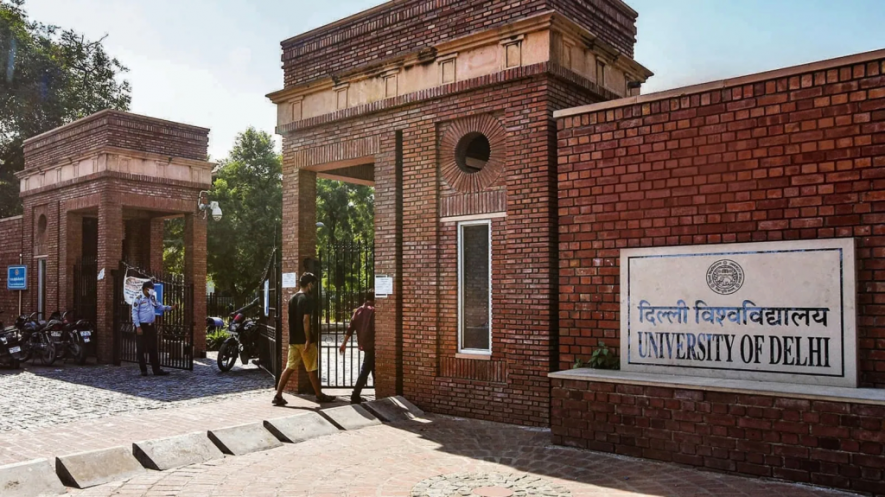 The Four-Year Undergraduate Programme (FYUP) returns to the University of Delhi. DU students say it is just new packaging of the same agenda.
"This time it comes to us, not as a separate present, but a smaller gift kept inside the well-packed box of horror called the National Education Policy," said Pritish Menon, a former DU student and activist, while reminiscing the protests against FYUP in 2013.
FYUP aims to change the higher education model of 3+2 to 4+1 to correspond with the American and other Western forms of educational systems, opening up the Indian education system for global capital. 
FYUP was first introduced in 2013 when students and teachers of Delhi University (DU) staged large protests demanding its rollback. At the time, it was introduced by the Congress-led United Progressive Alliance government, with Kapil Sibal as the then Human Resource Development Minister. It was largely opposed by progressive teachers, student groups, Right-wing groups and BJP (Bharatiya Janata Party). As soon as Narendra Modi came to power in 2014, under immense pressure due to the large movement against FYUP, the policy was scrapped.
It has now been re-introduced in Delhi University by the BJP-led NDA (National Democratic Alliance) government, claiming that it is a "completely different and better" FYUP than the FYUP of 2013. The acting Vice Chancellor of DU, PC Joshi, in an interview with The Print, said, "If someone is trying to equate FYUP of 2013 with the current FYUP, then it would be unfair to do so. Then students did not have flexibility regarding the structure, and if they wanted to make changes, they would have probably lost out on the entire degree in the FYUP of 2013." He also said, "The students will not have to study unnecessary subjects and can shuffle their subjects according to their liking. For example, if a Hindi majors student does not want to study English papers, they can shuffle their subjects with the university's prior permission."
Although the question remains if FYUP 2022 is better than its previous form, how is the DU student community now feeling about it? And what do the first-year students, who will now be the guinea pigs of this project, have to say about it?
A SHORT SURVEY AMONGST THE FIRST-YEAR STUDENTS
A survey was done by student organisation SFI (Students Federation of India) Delhi, among first-year students of Delhi University. The survey was filled out by 5,635 first-year students. It aimed to find out the irregularities in classes of courses like SEC (Skill Enhancement Courses), VAC (Value Addition Courses), introduced under FYUP, and AECC (Ability Enhancement Compulsory Course). It also had questions about the expenditure that students are burdened with while moving to Delhi for their education if the students know that under FYUP 2022, the credits of their core courses are being reduced by at least 33%.
The findings show that 52% of students said their classes of core subjects are either happening irregularly or not happening at all. As many as 62% of the surveyed students stated that their SEC and AECC classes aren't being conducted, and 56% of students said their VAC classes weren't taking place.
The survey valued the average living costs of students shifting to Delhi that adds up to Rs 10,000/month. The irregularities in classes were recorded to be much higher in the non-North Campus colleges, where almost 69% of students reported that their SEC and VAC classes weren't taking place regularly.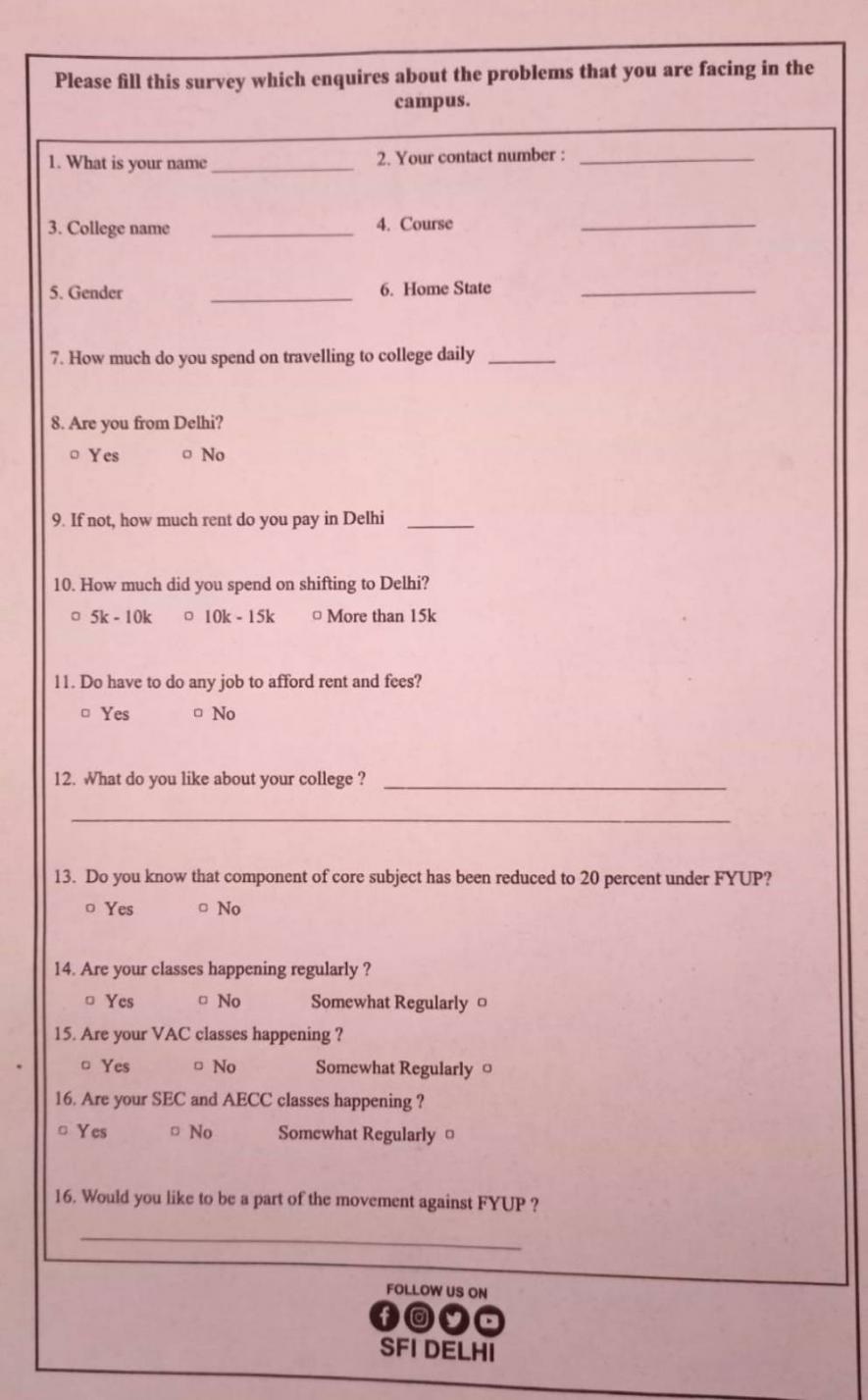 The survey also found how ill-equipped DU is to handle the changes being brought in due to FYUP. Aniket Gautam, a student of Zakir Hussain College, said, "Instead of fixing the already enmeshed problems in DU education, the university administration has taken up another one called FYUP."
The data shows that more than 50% of the students face irregularity in their classes, especially in the new courses introduced under the FYUP. There is fear amongst first-year students as they have never taken university-level examinations. The tentative date sheet states that the exams will begin on February 17 and the practicals on February 10. This semester is already much shorter than others, and classes are not taking place with half the semester gone. The students are extremely worried about how they will be able to perform in the upcoming exams, just a month away.
SEC and VAC
SEC (Skill Enhancement Course) and VAC (Value Addition Course) are introduced to the DU syllabus of all courses under the FYUP. These courses are meant to make the rigid learning of all the courses at DU more multidisciplinary. SEC includes papers like - Advanced Spreadsheet Tools, Personality Development, E-Tourism, Harmonium, etc. And VAC includes - The Art of Being Happy, Vedic Mathematics, Ayurveda, Swachh Bharat, etc. Both these courses will have two credits each.
A credit in DU courses means the number of hours of teaching required for a particular course per week. One credit equals one hour of teaching/week. So, if a course carries two credits, it must be taught for two hours per week. For courses with practicals, one credit equals one hour of teaching and two hours of practicals.
After the introduction of SEC and VAC in FYUP, the total number of credits in a degree has been raised from 148 credit points to 178 credit points. This increase in credits comes with a reduction of credits in the core courses, which consists of papers compulsory to the discipline. In the previous setup, the core courses used to have 108 credit points, which are now reduced to 88.
The students are, therefore, questioning why such unnecessary courses that have no benefit to their particular discipline are being introduced at the cost of the core papers. Jidhun, a computer science student at Ramanujan College, said, "For us, one credit means two hours of practicals/week. Taking away two credits means taking away four hours of practicals per week; for science students, that is too less." The teaching hours for a core course will be reduced by 33.4%.
MULTIPLE ENTRY/EXIT POINTS: THE NEW ELEMENT
The new element, different from FYUP of 2013, as told by the acting VC of DU, is the flexibility provided in the course structure. Earlier, if they had to leave the degree in between, the students had to leave empty-handed, but with this flexibility, after every year, the students will receive some accreditation. If a student completes one year of education, they can get a certificate in the course, after two years, a diploma, after three years, a bachelor's degree, and finally, in the fourth year, either a degree with honours or a degree with research or dissertation.
This flexibility is supposed to be helpful for the students, but the current state of education and data shows a high rate of dropouts in higher education. This rate of dropouts shows that most students from vulnerable or marginalised sections of society want to get done with their education and start earning for their families. This option of multiple entries and exits stands to benefit a few. Still, many students will opt out of education as soon as they have something in their hands leading to only a few reaching the fourth year and most from marginalised sections dropping out at an earlier stage.
Prachi Verma, a student of LSR, said, "Most students will feel the pressure from families to drop out of their education whenever there is a problematic financial situation, and it is almost unlikely that at a later stage, they will enter the field of education again. This means the only students reaching the fourth year will be from affluent families. Families that can pay for the extra year."
INCREASED FINANCIAL BURDEN
Hitesh Kumar, a DU student shifting to Delhi from Ambala, said that shifting near South Campus cost him over Rs 25,000. This consists of the cost of roaming from one place to another, finding the right place, submitting the rent, the security deposit, and a very high brokerage. He said the monthly expense of travelling to college, food, and rent would cost him Rs 13,000 at least. One cannot imagine the expense of students coming from places much further away, especially the southern states while facing all sorts of stereotypes and biases and getting cheated upon due to differences in language and communication.
As recorded in the survey, a DU student's average cost of living is above Rs 10,000. Considering that, the cost of living for a year adds up to a minimum of Rs 1,20,000. So a degree, not a total of three years, but in stages of four years with a year as a stage, will make the students question if they want to continue the next year and bear the expenses of another Rs 1,20,000 lakh. And the fourth year adds an extra expense of Rs 1,20,000 along with the college fees while they learn unnecessary subjects like SEC and VAC and much less of their core paper. In such a scenario, these courses, instead of an enhancement and addition, become degradation and reduction.
"NEW PACKAGING, SAME AGENDA"
Students of DU feel that FYUP 2022 is the same as FYUP 2013; it is the same agenda in a different pack. They say that the agenda is making education more and more inaccessible, just like what the whole NEP aspires to do. It is quite evident from the survey done by SFI Delhi and the discussion above that the FYUP of 2013 had the agenda of making education less accessible for the marginalised sections of society. That agenda remains the same in the current version of FYUP.
The replacement of the 3+2 model with the 4+1 model of attaining degrees will invite private foreign universities with big names to open their branches in India. The University Grants Commission of India has already put out a draft on January 5, 2023, about foreign universities in India as per the recommendations of NEP 2020. Privatisation of education in India is already happening, and this move now opens up the system for global capital that further commodifies education in India.
The writer is a post-graduate student in Ambedkar University, Delhi, and a member of the Students' Federation of India. The views are personal.
Get the latest reports & analysis with people's perspective on Protests, movements & deep analytical videos, discussions of the current affairs in your Telegram app. Subscribe to NewsClick's Telegram channel & get Real-Time updates on stories, as they get published on our website.
Subscribe Newsclick On Telegram