Fragile Peace in Jammu Teeters with Return of VDGs After Dangri Attack
Speaking out against the civil militia – out of the concern that their resurgence could mean more human rights abuses – politicians and activists have condemned the revival of this force.
A view of Dangri village, where militants on January 1, 2023, killed nearly 7 people from two families(Photo by Kamran Yousuf).
Jammu: There is now a reign of fear in the border areas of Jammu as tensions rise between the two communities. The return of civil militia branded as 'Village Defense Groups' (VDG) has aroused fear among Muslims, while the recent Dangri incident has alarmed Hindus. The fragile peace that once united them is now in jeopardy, as unease spreads like wildfire and the winds of change threaten to destroy all they hold dear.
The tranquil border community of Dangri comes to life as the golden tones on the horizon disperse the night. This border village appears to be in a different universe from the busy cities since it is hidden away in the rolling hills and surrounded by lush green forests.  However, there is a sense of unease as soon as one enters the village's boundaries since after the Dangri incident, which has rocked the community to its core.
One can see men roaming the streets with vigilant eyes and steady trigger fingers as they carry guns. They are in charge of everyone's safety as the village's guardians. These men are members of the civil militia known as village defence groups, which were established in the neighbourhood following what locals regard as the deadliest massacre in history, which claimed seven lives. "We would not let history repeat itself," says Rahul from Danrula Panchayat, one of the members of the civilian militia, his voice firm and resolute. "We won't let what happened in Dangri happen here. We will do whatever it takes to protect our village and our people."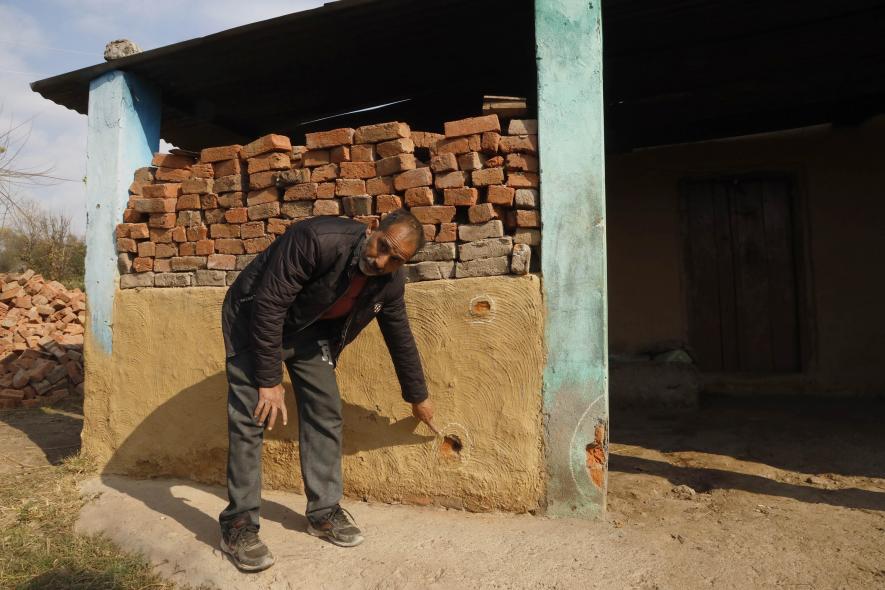 A resident pointing out a house in the Dangri village that has bullet hole(Photo by Kamran Yousuf).
Even as life goes on as usual for the villagers, the presence of the armed men serves as a constant reminder of the dangers that lurk around.
"It's not easy living like this," says Rajpal Singh, another member of the militia, his eyes flicking across hills that surround the village. "Every day, I wake up wondering if this will be the day that something happens. But I won't run. I won't leave my home and my people vulnerable to harm. VDGs are not scared despite security deteriorating with each passing day," he says.
Militants attacked Rajouri's Dangri village on January 1, killing seven people and injuring 14. Two children were among those who died after an improvised explosive device (IED) the assailants left behind detonated. "I am horrified by what the security personnel did and witnessed here when they arrived. Two of our children were killed by an IED planted on our property. We could have rescued two people if they had done a thorough check," said Sarooj Bala, the mother of two children killed in the IED attack.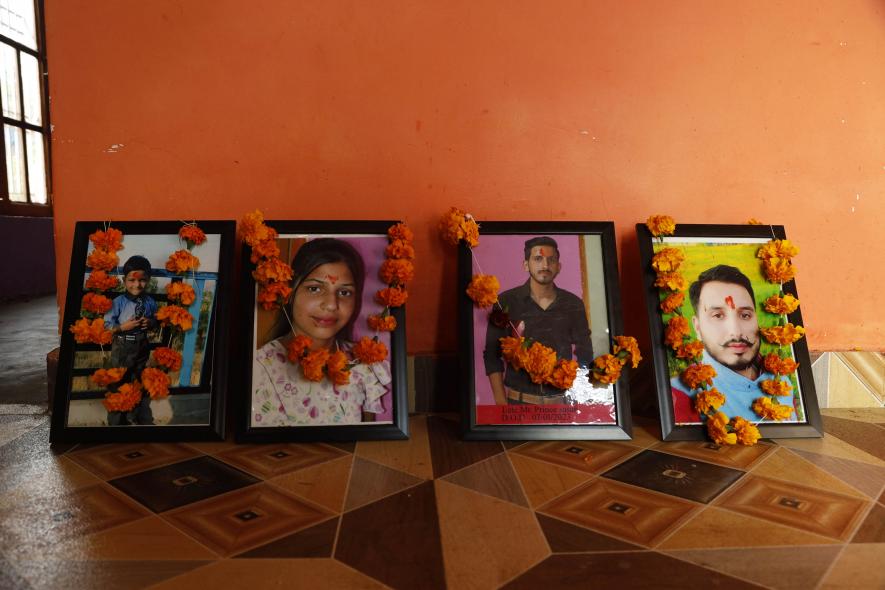 The garlanded portraits of the four family members who died in the dangri attack(Photo by Kamran Yousuf).
The villagers said that it was New Year's Eve in the small border village, and the residents were celebrating the arrival of the New Year. But suddenly, the sound of gunfire echoed through the streets. The villagers initially thought that it was just fireworks to celebrate the occasion. "We heard shots being fired and we thought it was just people setting off firecrackers to celebrate the New Year," said Sat Paul Sharma, the father of one of the victims, Satish. "But then we realised that it was something much more serious."
He told NewsClick that everyone was inside that evening. "I was sitting outside with my mother and Pawan. Someone started shooting as soon as they entered. Pawan was hit by a shower of gunshots in the lobby," he said.
He contacted his elder son Satish to inquire after another incident outside, who yelled, "Daddy, I'm dead. Come up to me," he says. Blood was all over the place when he got there. "My heart rate increased, and I fainted. I didn't get up till the next morning. I don't know who picked me up and drove me to the doctor," he claims.
The militants had entered the village and fired indiscriminately at the families in two homes. "When we returned to our homes, we found out that they had taken our loved ones," cried Balraj Sharma, uncle of the victims. "Why did they have to do this? Why did they have to take the ones we love?"
The militants had fled into the nearby woods, and the police believe that they are still hiding in the forests. The authorities have launched a manhunt to find the perpetrators, but they have remained at large. "This is a dark day for our village," said the village head, Deeraj Sharma. "We never thought that something like this could happen here, and it has left us all in a state of shock."
On February 9, the government of India informed the Rajya Sabha that Village Defense Groups (VDGs) had been formed to protect people in the Jammu and Kashmir districts of Rajouri and Poonch.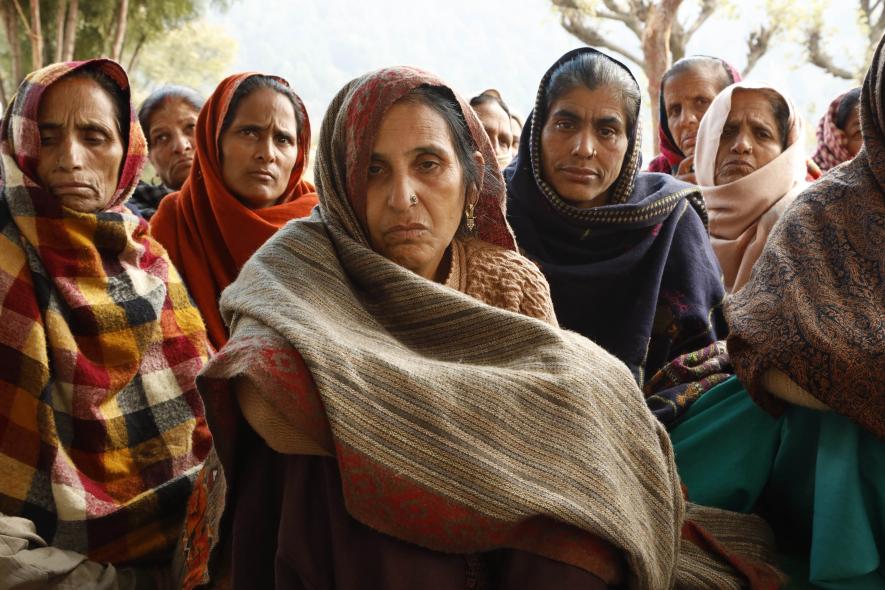 Saroj Bala, mother of Deepak Kumar and Prince Kumar, who lost their lives in the militant attack in Dhangri on January 1(Photo by Kamran Yousuf)
Nityanand Rai, Minister of State in the Ministry of Home Affairs India, stated in a written response that the Village Defense Group Scheme, notified by the Government of J&K in 1995, did not include the formation of Village Defense Committees (VDCs).
"However, in terms of the scheme ibid, village defence groups (VDGs) were to be constituted. Village Defence Groups, in terms of the Scheme of 1995, have already been constituted in the districts of Poonch and Rajouri of the Jammu Division for the protection of villages," it added.
"According to the Village Defence Guards Scheme (VDGs), notified by the government of the UT of J&K on August 14, 2022, in addition to the areas and villages already declared as vulnerable areas in the Scheme of 1995, any other area or village that may be considered a more vulnerable area by law enforcement agencies, necessitating application of the Scheme ibid to such an area or village, the Government can by an order declare such an area or village as a "more vulnerable area"," read the response.
Jammu: a new hotbed of militancy
Experts believe that worries regarding the efforts to revive militancy in the Jammu region—particularly in the Chenab and Pir Panjal regions, where assaults on security personnel and political activists have escalated over time—led to the concept of the reactivation of VDGs. Militancy has been active in the Jammu region but calm in the Kashmir region in recent years, making the situation in Jammu and Kashmir unstable.
In Jammu, which is generally considered to be peaceful, there have been more militancy-related incidents since Article 370 was repealed. One such operation, which began on October 1, 2021, in the Rajouri forests and cost the army almost nine men, has been the longest anti-militancy operation. Two days prior to the prime minister's arrival, on April 22, 2022, a gunfight broke out close to the army's Sunjwan cantonment in Jammu, killing two militants. At least three militants were recently killed in a "chance encounter" with security forces in Jammu's Udhampur area on December 20, 2022. The Jammu region has also been the source of reports on various militancy-related activities such as grenade explosions, IED use, and the use of sticky bombs.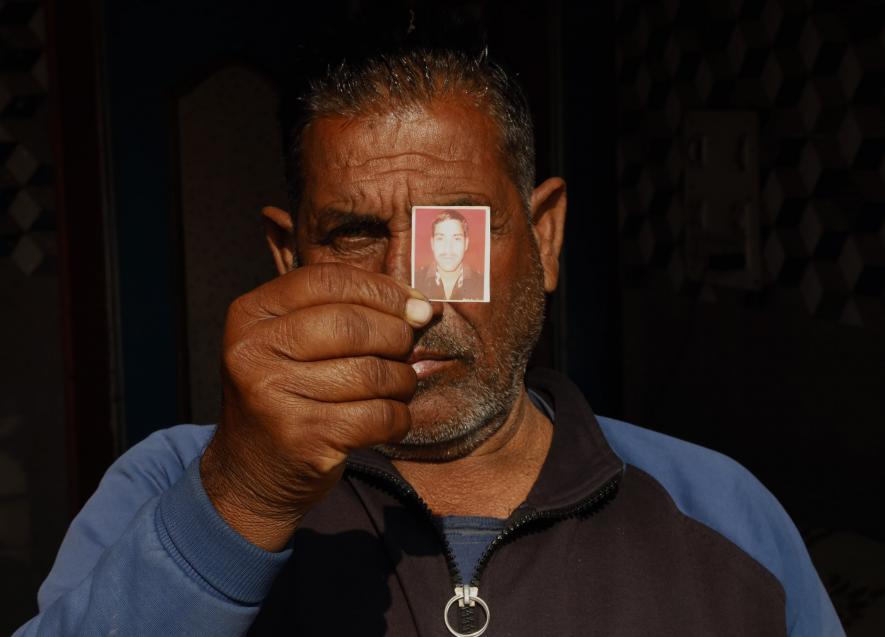 The victim Satish's father, Sat Paul Sharma, proudly exhibits a photo of his son in Dangri village in the Rajouri area of Jammu(Photo by Kamran Yousuf).
Former Director General of Police, Jammu and Kashmir, S P Vaid, told NewsClick that events over the past year suggest that a determined effort is being made from the other side of the border to upset the peacefully coexisting communities in Jammu. "The idea is that there would be backlash and heightened emotions if these killings were committed against minority communities. Since both populations coexist happily, they aim to drive a wedge between them. As Jammu is communally sensitive, if tensions between the two communities rise, they may have a chance to recruit some young men who are susceptible to radicalisation for their cause," he said.
He asserts that the anti-militancy operations carried out after 2016—including 'Operation All Out', which dealt the militancy severe blows by killing all of its leadership—forced militants to alter their tactics. "As a lot of work goes into creating a militant; this caused enormous losses. They modified their strategy and began carrying out targeted executions after their guns were also lost. As a result, neither their men nor their weapons will be lost (hybrid militancy). Because there is a shortage of both militants and weapons in Kashmir, this method was developed to save both," he said.
He also claimed that the militant handlers had invigorated areas close to international borders, including Kuthwa, Sambha, RS Pura, and the Akhnoor area, by using drones to drop guns and drugs.
According to him, VDGs have a long history and have been essential in the fight against terrorism throughout history, as the terrain of Jammu is different from that of Kashmir and "more difficult". "There is no doubt that the VDS has a key role to play in this fight. Militants may be able to escape some regions while security forces are en route, but these VGGs can engage them in combat before the army arrives," he said.
Old fears return.
Numerous allegations of violations of human rights have been made against members of the civil militia over its long and tumultuous existence. Speaking out against the civil militia – out of the concern that their resurgence could mean more human rights abuses – politicians and activists have condemned the revival of this force.
According to official records, 221 criminal cases have been brought against VDG members in Jammu, including 205 cases in which charges have been framed. These cases include 23 murder cases, seven rape cases, 15 rioting cases, and three drug cases.
Tribal activist and leader of the People's Democratic Party Talib Hussian told NewsClick that arming untrained members of one group threatens the social cohesion of these sensitive communities, especially given the VDCs' dismal track record. "Muslims perceive a replay of the past when local Hindus were handed firearms immediately following the militancy and they started to harass Muslims. There have been incidents in the past and there are fears that tensions between the two communities will grow as a result. Things started to return to normal when the forces were disbanded, but the government should not have made such a foolish decision," he says.
In order to reduce the likelihood of a communal conflict, he argues for an equal distribution of guns among the two communities. "Although it was wonderful to have equitable distribution, there is still inequality, and Muslim ex-soldiers are having their weapons removed," he claimed.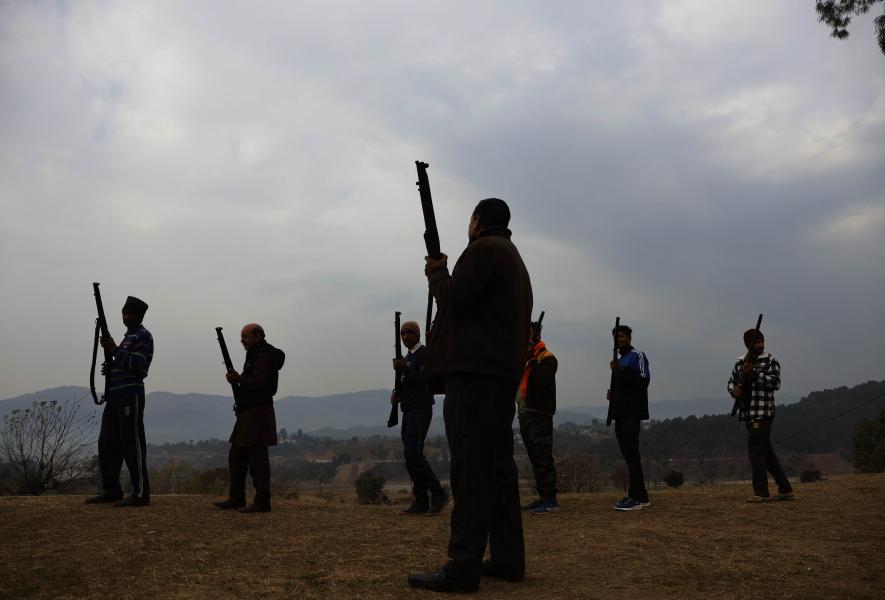 A former army official teaching VDG members how to use weapons in the Roujori village of Androla in Jammu(Photo by Kamran Yousuf).
Hussain further argues that giving guns to one group while taking weapons from former soldiers from another community just makes the situation worse: "I don't know where it's going to lead us. Because the Doda Kishtwar and border are more communally sensitive than the main Jammu region. Giving out weapons there means the government is increasing communal tensions there," he said.
He also rejected the idea that arming Hindus can assist in combating militancy in border areas. "It is a white lie because Muslims have helped the army in border areas, be it Kargil, Kashmir, or here in Jammu. The Hindus have never battled militancy and have simply become migrants," he said.
"This is a flimsy justification that they are doing it to protect the borders when, in reality, there are numerous security forces and significant financial resources being used by the government to secure the border Even after doing this, you are still giving them weapons, you are doubting the army's ability to secure our borders," concluded Hussain.
As the families mourn the loss of their loved ones, they demand justice for the crime committed against their families. The villagers stand united, determined to see the perpetrators brought to justice. The police have promised to leave no stone unturned in their quest and provide closure to the families of the victims, "Why, with all their resources, have security forces been unable to capture the offenders? This is a serious problem that needs to be investigated. With each passing day, our hope fades," said a local.
Get the latest reports & analysis with people's perspective on Protests, movements & deep analytical videos, discussions of the current affairs in your Telegram app. Subscribe to NewsClick's Telegram channel & get Real-Time updates on stories, as they get published on our website.
Subscribe Newsclick On Telegram