GROUND REPORT: How Assam Police Crackdown on Child Marriage, Jailing Parents, is Destroying Families
Instead of raising awareness, the age-old social ill is being treated like a law & order problem. Thousands have been booked and arrested.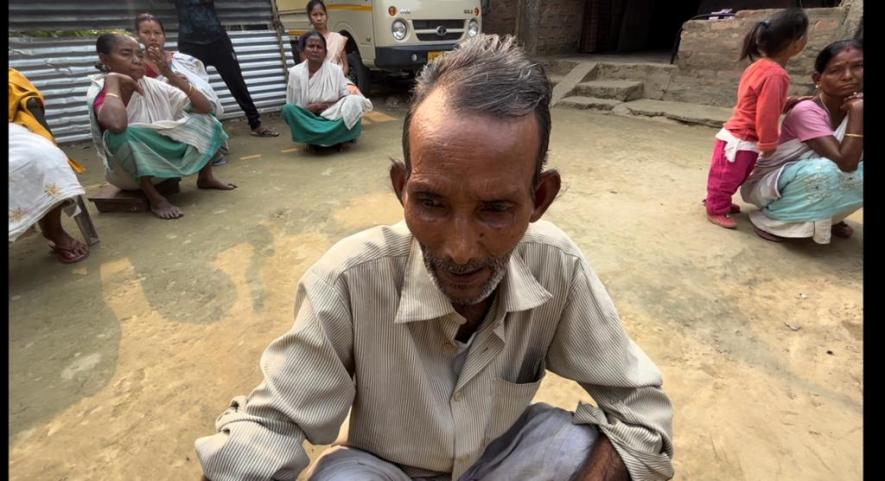 Father of a boy arrested under POCSO.
The latest crackdown across Assam on child marriages has ruined many families overnight. On January 23, Assam chief minister Himanta Biswa Sarma announced at a press conference that the state police would launch a massive operation against violators.
At the same press conference, Sarma also said that the Prohibition of Child Marriage Act, 2006, and the POCSO (Protection of Children from Sexual Offences Act, 2012) would be implemented. Sarma categorically announced that those boys who married girls below 14 years of age would be tried under the POCSO Act, and those who married girls between 14-18 years would be tried under the Prohibition of Child Marriage Act.
In a matter of days, Assam Police started arresting thousands of people across the state. As per local media, over 4,000 cases were registered, and till February 7, about 2,500 arrests have been made.
THE PROCESS OF 'POLICE ACTION'
Police swooped down at midnight in several places, gheraoed houses and arrested people as if they were militants. One elderly person, recounting the horror, recalled the past operations in Assam to arrest militants, when police and military entered villages, surrounded identified houses, and if the person in the search was not found, then took away whoever was present.
"It was the same as Operation Bajrang targeted to smash ULFA," an octogenarian in Morigaon told NewsClick.
NewsClick visited a few families in Morigaon and Nagaon districts in middle Assam and talked to a few others over the phone.
Hemanta Patar of Raha in Nagaon was arrested at midnight a few days ago. His elderly parents did not even know whether he had been charged with POCSO or the Prohibition of Child Marriage Act. His wife is pregnant and he is the only earning member of the family. The family's livelihood depends upon Patar's small poultry shop and minimal harvesting from their little plots of land. He has been sent to Nagaon jail. His family members could meet him only once in jail; they said they are not well acquainted with how to pursue the judicial process.
Pursuing the judicial processes will be disastrous for the Patar family and thousands arrested, especially under the POCSO Act. With their economic condition, it will be extremely difficult to follow the cases.
NewsClick asked the family about the details of the marriage. They said there was no social ceremony; Patar loved that girl, and one day they fled and came home.
"Both of them have been staying here since then. They did not know the girl's age when she came with Hemanta. We scolded him when he did this. Even if our child has done something wrong, we as parents cannot kill him or cast him away from us. Both of them were taking the responsibilities of the family," Patar's mother said.
When asked about any complaint or case registered against Patar by the family of the girl or by neighbours, they denied anything of this sort.
"The girl's parents came to our house, and both families came to an understanding. Why would fellow villagers register a case?" , said Hemanta's mother.
At Mahgarh Deobali village, Khagen Deka, 65, was arrested and is currently lodged at Nagaon jail, said his family members.
When NewsClick arrived at Deka's house, neighbours gathered slowly. They explained how the police suddenly took him away like a dreaded criminal. Deka's son is accused of child marriage. He works in Hyderabad. Deka had sufferred a stroke once. When the police came, he requested them to let him finish his lunch, but the police dragged him away, said his family.
Deka's wife said: "My son loved that girl, and she came along in April last year. There was no marriage ceremony, and the families of both sides came to an understanding. My daughter-in-law is now pregnant, my son works in a distant place, and my ailing husband has been sent to jail."
The neighbours expressed their deep discontent with how the police are creating fear among people.
"This village also suffered the brunt of floods last year; our paddy crop is gone this year. Many of us have not received proper compensation from the government. They couldn't support us during the flood, but now the police dragged an elderly person. Is giving shelter to one's son a serious crime? His son may have done something wrong, but jailing the father without any notice and prior information is unacceptable," a neighbour told NewsClick.
When asked whether any case was registered regarding the marriage, Deka's wife said: "The girl's family has never registered any case, nor has there been any case from neighbours."
WHO REGISTERED THE CASES
The question that is being raised by several people is who registered the case, if any, and where were the authorities concerned or the village administration when the girl came to stay in the village? Was Deka also slapped with the POCSO Act? The family members are not that literate to understand the judicial provisions. Visiting the jail is not something they can't plan regularly, forget about pursuing the judicial procedures. The arrest will take a huge toll on the family.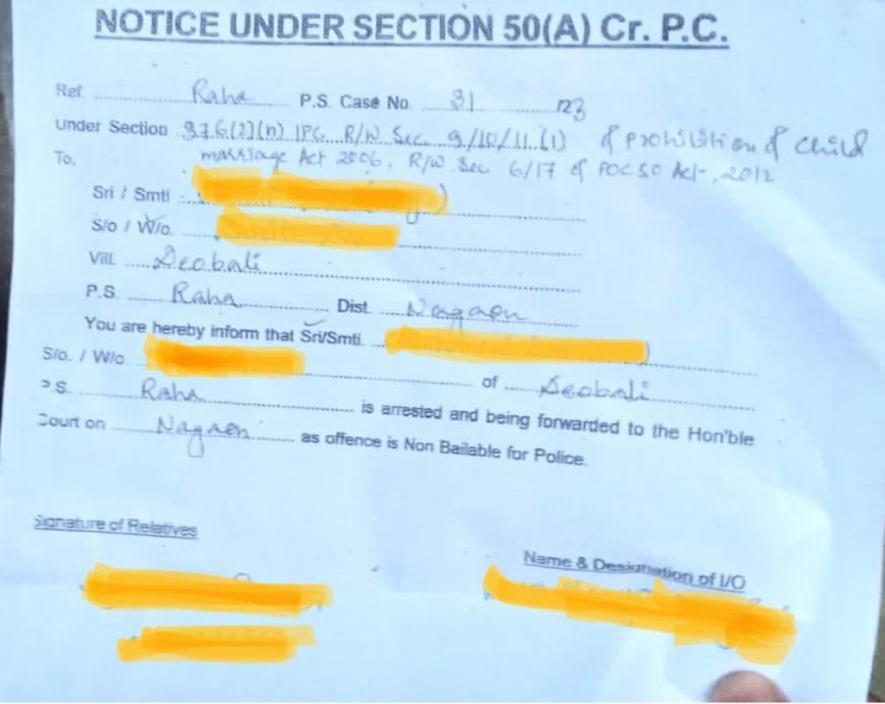 One sample of the POCSO Act imposed on an accused.
Similarly, Chintumani Das, 22, of Deobali, was arrested. His parents told NewsClick that his wife Nishita came over a year ago and now has a three-month-old child. They said there was no social ceremony and no case or complaint was made from either side. Das is a daily wage labourer and the family's sole earning member. His father told NewsClick that when the girl came to their house, she was a few months less than 18 years. She is 19 now.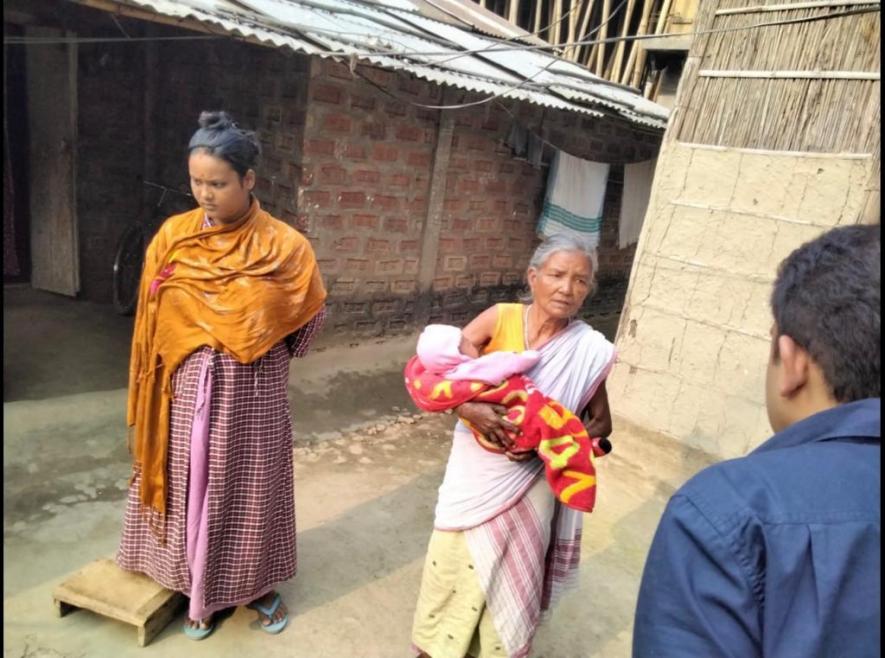 Something even more strange happened at Dighaliati village of Nagaon. Dighaliati is a Muslim-majority village. Police arrived there at midnight and gheraoed the house of Rohim (name changed). The accused was his elder brother, Korim (name changed). Korim was not present then; police raided and took Rohim away. Police said that unless the family handed over Korim, his brother won't be released and will be sent to jail. Korim surrendered, and the police released his brother. The family is in shock and doesn't know how to pursue the case. There is also an infant in the family, and Korim is the main breadwinner.
HOW WERE THE CASES REGISTERED?
At his press conference, Sarma said his cabinet studied the NFHS (National Family Health Survey) survey 2019-20 conducted by the Central government and found child marriage as the key reason for maternal and child mortality in Assam. The DGP of Assam, GP Singh, said following directives by the state cabinet, the police have collected data and based on that cases have been registered in different districts of Assam.
But, how did the police survey and register the cases?
The police claims it took help from ASHA (Accredited Social Health Activists) workers and the VDP (Village Defence Party). The VDPs are unique to Assam and function under the Assam Police, primarily assisting local police in safeguarding villages.
Rinku Medhi, who belongs to the VDP at Phuloguri village, told Newsclick that a few days before the crackdown started, he received a phone call from the Raha police station. He was given a list of names of villagers and was asked to conduct a survey and take signatures from those listed. The list, he claimed, provides the names of the families where child marriages occurred. He conducted a survey within a few days and submitted it to the police. Medhi said he was completely in the dark about what was going to happen.
The villagers in all the incidents mentioned earlier also told NewsClick that VDP people came to their house for a survey enquiring about the age of their daughters-in-law. The ASHA workers also came and asked them to cooperate with the police. Nobody knew what was in store.
On the condition of anonymity, an ASHA worker said they carry out routine surveys of pregnant women in villages and register their details, including age. This is done to provide the requisite dosage of the prescribed injections. They periodically send the lists to the higher authorities.
"Probably police stations got the lists from the health department that they gave to the VDPs to conduct the surveys," the ASHA worker said.
NewsClick also talked to the additional Superintendent of Police (crime), Morigaon district. He said the police did not take any suo motu cases; all the cases were registered, based on complaints.
"We also took the help of VDPs," he added.
The additional SP said that until NewsClick visited (February 7), as many as 149 cases had been registered, and 110 persons arrested. This number is going to increase, he said. On being asked about the religious background of those accused, he said that it is approximately 52% Muslims and the rest Hindus.
On visiting the Morigaon Police Station, one police official told NewsClick that 16 cases were registered there, of which only two were Muslims.
"The district has other police stations where this trend reverses," he said.
However, one person associated with VDP in the Moirabari region of Morigaon told NewsClick that similar calls were made to him by the police. In their survey, they failed to find such cases. Moreover, they were not provided with a list and there was nothing in writing. Notably, Moirabari is a Muslim-dominated area. According to him, there have been no arrests in his village till now.
Role of VDPs and ASHA Workers
The role VDPs and ASHA workers' roles were also found in other cases.
Kula Dutta Das of Bihmari, Behali, in Sonitpur district, was arrested at midnight and is in jail now. His son was accused of child marriage (he married six months ago), and when police did not find him, Das was arrested. At Bihmari as well, VDP came a few days before the arrest. His family told NewsClick that Das is not taking food inside the jail.
Two similar cases at Rangchali village of Behali occurred where police took away someone else when the primary accused was not present. All these cases hint that the government and the police are more interested in numbers and chest-thumping.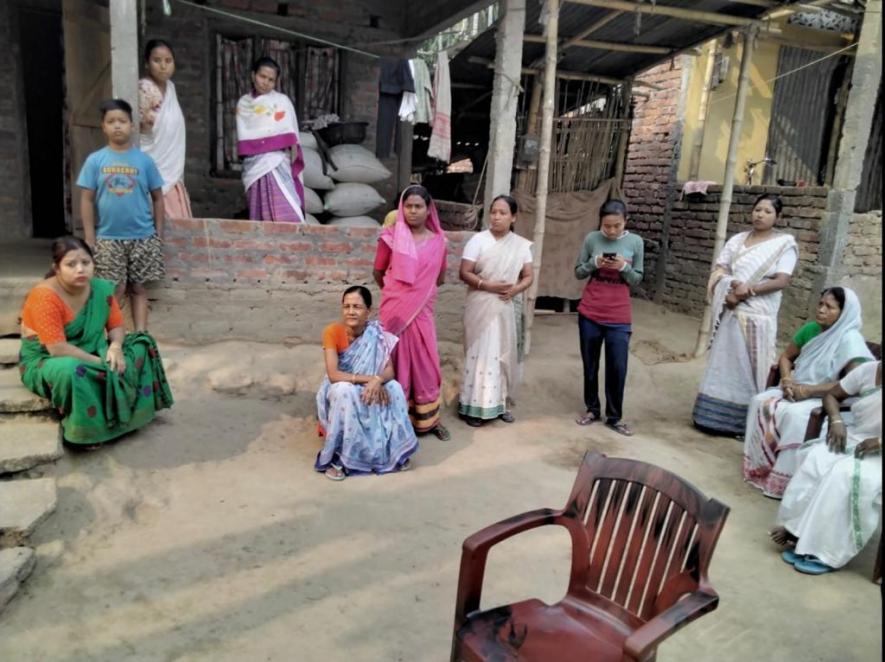 Families with their future mired in the dark.
Was this the standard modus operandi in all the districts? It is unclear.
NewsClick spoke to Ashraful Islam, secretary of Raijor Dal from Janiya, Barpeta district. He said in his village, Bhograndha, there were no arrests till this report was written (February 8). However, there had been surveillance, and only some people got notices and are under investigation. He said that VDPs did not conduct any survey in their area. Nevertheless, he said there were over 100 arrests, if the whole Barpeta district was to be considered.
The NGO named Childline, working since 2015 to create awareness against child marriage, also played an active role.
Abdul Malik, the director of Childline, said: "In Assam, probably there is no village where child marriages have not taken place. Though it was high among Muslims, slowly, awareness is building up. Moreover, the marriages are done in secrecy in many instances."
Imdadul Malik of Childline said their NGO had also registered cases against child marriages.
"The police have those cases, and along with those, they took data from the CWC (Child Welfare Committee). These are the cases between 2019 and 2022," Imdadul Malik told NewsClick.
He said there are 23 cases in the Barpeta Sadar Police Station alone, and the entire district may cross the 100-arrest-mark.
With the massive crackdowns, thousands of families are facing a dark future overnight. Local media footage shows women breaking down, knowing their future is ruined. People also protested against the police action, and seeing the widespread resentment, Sarma later appeared a bit lenient. He told the media that those boys who married girls below 14 would be jailed, and those who married girls above 14 would be charged with bailable Sections. He also said that there would be no further arrests of parents. However, the action will continue, he added
Not a Law & Order Issue
Looking at scattered instances, certain points emanate from this 'special operation' by Assam Police against child marriage. First, they perceive the chronic social problem as a mere 'law and order' issue, say analysts. This approach probably drove them to unleash the operation in a style reminiscent of the operations to arrest militants, terrorists or other dreaded criminals.
Second, Sarma had been health minister of Assam for over a decade. It is quite unlikely that instances of child marriage have grown exponentially within the last two or three years, as this has been a chronic problem. Hence, instead of a 'special police operation' as of now, had Sarma undertaken a 'special initiative' like awareness building, tightening the local administration and engaging more people earlier, possibly the issue could have been tackled more humanely and sustainably.
Get the latest reports & analysis with people's perspective on Protests, movements & deep analytical videos, discussions of the current affairs in your Telegram app. Subscribe to NewsClick's Telegram channel & get Real-Time updates on stories, as they get published on our website.
Subscribe Newsclick On Telegram