GTA: Hills Will See Stability…Will Submit Gorkhaland Resolution Copies to Nabanna Later, Says Anit Thapa
The Bharatiya Gorkha Prajatantrik Morcha, a 9-month-old party, sprung a surprise by winning 27 seats in the 45-member Gorkha Territorial Administration in the Darjeeling hills.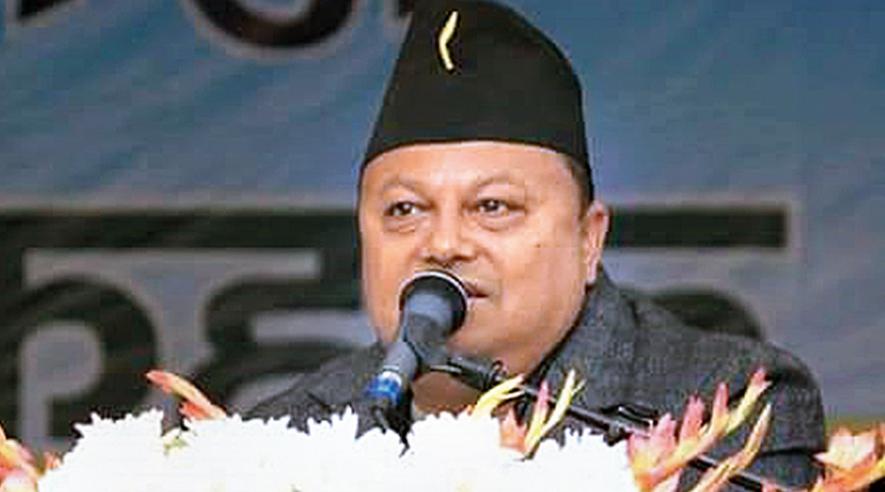 Anit Thapa.  Image Courtesy:  Wikimedia Commons
Kolkata: The outcome of the elections for the Gorkha Territorial Administration (GTA), the regional autonomous body of the Darjeeling hills, may well prove to be a turning point in hill politics whose bane for a long time has been strife and violence. With a clear verdict in favour of the nine month-old Bharatiya Gorkha Prajatantrik Morcha (BGPM) of Anit Thapa, the results of the elections, delayed by almost five years, "will prove to be the harbinger of peace and stability in the hills". "Mark my words", said BGPM president Thapa, while speaking to NewsClick from Darjeeling. 
BGPM has registered a comfortable majority with 27 seats in the 45-member GTA sabha and Thapa, who himself has romped home, explained his confidence thus: "I will enlist the cooperation of all members, including eight of the Hamro Party of Ajay Edwards. Yes, politically, they will form the Opposition; but I will seek their cooperation and carry them along. The same will be my stance vis-a-vis the five Independents and, of course, the Trinamool Congress, state's ruling party, which unexpectedly has won in five seats out of the 10 it had contested. Politically, BGPM and TMC have been working together for the past few months. For far too long the hills have suffered, development has taken a back seat not necessarily for want of money but because of instability. We have to catch up on the development front. People have given my party a responsibility; we have to deliver," Thapa observed.
Out of five independents who won, two were backed by the Bimal Gurung faction of the Gorkha Janmukti Morcha (GJM), which stayed away. 
When asked whether he would want TMC's participation in the board, Thapa said, "I am scheduled to meet chief minister Mamata Banerjee at Nabanna (state secretariat) on Wednesday. We will discuss the matter; but to me that's not an issue".
Asked further if he can stick to his campaign time assurance of adopting a resolution for Gorkhaland if BGPM formed the board; given the chief minister's vehement opposition to any division of the state, the senior hill politician remarked that he would keep his word. "We would forward copies of the resolution to Nabanna and the Centre. I do not envisage any hitch in this".
BGPM's general secretary Amar Lama told NewsClick that after the board formation formalities are through, the party would make all-out efforts to fulfil promises made to the people. "Problems have piled up and people have mandated us. Solving their problems is our only option", Lama added.  
Thapa has some experience of running GTA after he and Binay Tamang parted ways with Gurung but headed a faction of GJM. Tamang too had an innings in GTA – all as part of administration by nomination and with the bureaucracy having a major say. 
Subsequently, Thapa floated BGPM and Tamang after some time accepted the TMC flag at the Kolkata party headquarters. Nearly three months after Thapa floated BGPM, Edwards-- originally with the Gorkha National Liberation Front (GNLF) -- distanced himself with that outfit and formed the Hamro Party, which a few months ago won the Darjeeling Municipal Corporation (DMC) elections. Edwards himself lost that election by a slim margin. However, this time round, he is among the eight victorious Hamro Party candidates. He has assured the hill people his party will act as a responsible opposition. 
The point that emerges is that voters in the hills have preferred new political outfits – Hamro Party for DMC and BGPM for GTA – on both occasions when they were presented with an opportunity in the past couple of months. What is obvious is that Gurung, who dominated hill politics from 2007 till 2017 when his GJM was a stable partner of the Bharatiya Janata Party, did not play a key role in the recent GTA elections.
The 100-day violent agitation that Gurung organised in 2017 in support of Gorkhaland proved very costly for his political career. A number of cases were slapped against him. He could not operate bank accounts and circumstances forced him to go into hiding. He resurfaced some months before the 2021 Assembly elections in summer, distanced GJM from BJP and slowly came close to TMC.
At one point, GJM had three factions with Gurung, Thapa and Tamang as leaders and all of them became pro-TMC. With resources out of his reach, it remains to be seen how much help Thapa can mobilise by being on the side of the ruling dispensation. 
Asked about GJM's assessment about the results and its next course of action, party general secretary Roshan Giri, told NewsClick, "people chose BGPM, so we have to accept it. Our party would first take stock of the political situation." When asked if they expect Thapa to keep his campaign's reassurance about adopting a resolution for Gorkhaland if BGPM formed the GTA board, Giri said GJM would certainly want Thapa to keep his word, adding, "I have publicly said this".
Veteran hill politician and Jana Andolan Party chief Harka Bahadur Chhetri, who stayed away from polls due to lack of funds, is of the view that a healthy political situation has evolved in the hills through the GTA election after a long time. "People have voted for stability though the 56% turnout was rather low, somewhat unexpected", he said. 
There are several issues which have remained unattended for a long time. Patta for land for workers in tea estates and cinchona plantations is a major demand. Persisting drinking water shortage has given rise to, what Chhetri termed as, a 'drinking water mafia' which are exploiting hotels, restaurants and tourists.
The state's public health engineering department has miserably failed on this account and government-run primary schools are languishing. The existing infrastructure has to be toned up to attract students and to prevent drop-outs. The long pending proposal for modern car parking facilities, for which funds were available but not used, has to be activated. A functional subordinate civil services board's setup should not be delayed.
"Fast-paced action is needed to fill up the large number of vacancies that have been existing in the various offices for years", Chhetri told NewsClick from Kalimpong. 
Commenting on the political future of Gurung, whose party's spokesperson he was for a long time, Chhetri said, "his support base has eroded. It won't be easy to become relevant again". 
Elections were also held for Siliguri Mahakuma Parishad (SMP) whose jurisdiction covers the rural areas. TMC registered a strong victory in all three tiers in those elections for the first time. In a way it is a back-to-back victory for TMC after comfortably winning the elections to the Siliguri Municipal Corporation in February which is made up of the urban part of the Siliguri sub-division.
The BJP, which made its presence felt in the Assembly elections last year and Lok Sabha elections in 2019, fared poorly this time around. The Left, which was a dominant force in the SMP jurisdiction for many years, is yet to recoup its base. [SMP was formed in 1989 after Darjeeling Zilla Parishad was dissolved following the constitution of Darjeeling Gorkha Hill Council in 1988].      
The author is an independent journalist. Views expressed are personal.
Get the latest reports & analysis with people's perspective on Protests, movements & deep analytical videos, discussions of the current affairs in your Telegram app. Subscribe to NewsClick's Telegram channel & get Real-Time updates on stories, as they get published on our website.
Subscribe Newsclick On Telegram