Gandhian Wave of Protests Against CAA-NRC Spreads Across Bihar
Several sit-in protests are underway at Shanti Bagh in Gaya town, Sabzi Bagh and Phulwari Sharif in Patna, Bihar Sharif in Nalanda, Nawada, Begusarai to Kishanganj districts.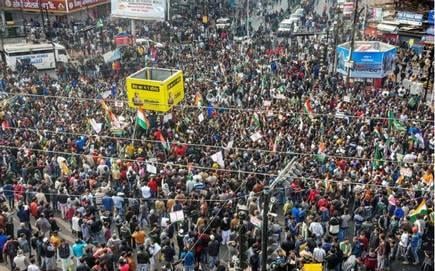 Patna: Shaheen Bagh's Gandhian wave of protest against CAA-NRC has intensified the ongoing protests from town to semi-urban and rural Bihar.
Inspired by the month-long resistance at Shaheen Bagh, which has been following the Gandhian principle of peace and non-violence, against CAA-NRC, several such sit-in protests are underway at Shanti Bagh in Gaya town, Sabzi Bagh to Phulwari Sharif in Patna, Bihar Sharif in Nalanda, Nawada, Begusarai to Kishanganj districts. Similar sit-in protests are set to start in different districts soon.
Apart from sit-ins, protests of different kinds have been taking place at several thoroughfares in the state for the last few days. One such protest is regularly taking place near the railway hospital in Gaya from 6 PM to 7 PM where a group of youth silently stand with placards and banners.
While the Shanti Bagh protest entered the 18th day on Wednesday, Sabzi Bagh's protest has been ongoing for four days and Phulwari Sharif and Bihar Sharif have been ongoing for three days. The protest in Kishanganj is set to start on January 14. Thousands of people, mainly women have been spending hours under the open sky at different sit-in protests in the state, showing their solidarity with all those fighting against the central government led by BJP.
Also read: CAA-NRC: Shaheen Bagh-Inspired Protests Spread to Allahabad Via Kanpur
This Gandhian wave has been unprecedented in the recent decades. On Tuesday night, Bihar Opposition leader Tejashwi Yadav joined protesters at Shanti Bagh and former JNUSU president Kanhaiya Kumar joined the protesters at Sabzi Bagh and thousands thronged the venues of protest.
At Sabzi Bagh, surrounded by congested mohallas and different markets, in the heart of Patna, Kanhaiya Kumar in his usual tone launched a verbal attack on Prime Minister Narendra Modi and Home Minister Amit Shah and urged people to stand against dangerous design of CAA-NRC. He also raised his famous "Azadi" slogans in which he was joined by the protesters. Hundreds of students of Patna University had also gather at Sabzi Bagh.
"People's protest will force the Modi-led government to roll back CAA-NRC. We will further intensify the protest across the country. There will be Shaheen Bagh all around to fight against dictatorial government," Kanhaiya said.
Tejashwi, on the other hand, not only targeted Modi, but he also attacked Bihar Chief Minister Nitish Kumar while addressing a huge gathering of people at Shanti Bagh.
Dr Roomi, a homeopathic practitioner, who has been regularly participating in the protest at Shanti Bagh, told NewsClick that there was no place in the open ground at Shanti Bagh when Tejashwi reached there at 7 PM. "The place was overcrowded, there were no less than 8,000 to 9,000 people, almost double than the daily crowd as hundreds were standing on the adjacent roads to narrow streets to listen Tejashwi," he said
"This does not bode good news for BJP leaders as they tried their level best by using all resources to attract a big gathering at Gandhi maidan on Tuesday where Uttar Pradesh Chief Minister Yogi Adityanath addressed a pro-CAA-NRC rally, hardly six hours ahead of Tejashwi. Despite weeklong preparations, there were not more than 10000 people at the rally in the daytime when the sun was shining. Going by the response of common people, it was a big flop show in support of CAA-NRC in Gaya, considering the urban stronghold of RSS and BJP," she added.
Contrary to that, Tejaswi's plan to address anti-CAA-NRC protesters was finalised only on Tuesday morning and there was no extra preparation to mobilise people for his programme by his party, Rashtriya Janata Dal. The convenor of Samvidhan Bachao Morcha, Omair Khan alias Tikka Khan, one of the faces behind the protest in Shanti Bagh, which has been ongoing since December 23 said that the gathering has been constantly increasing with people from all walks of life joining.  "We are following Gandhian path to protest, it will continue with people's support," he said.
According to a police official in Gaya, the crowd at Tejashwi Yadav's rally was no less than the rally addressed by UP CM if one looks at the preparations behind it. Even though BJP leaders have been claiming that there was a crowd of 50000, that would be at least five times more than reality on the ground.
Interestingly, Adityanath in his address at Gaya claimed that, "Muththi bhar log virodh kar rahe (only few are opposing CAA-NRC)." But some youths in Gaya, hardly a kilometre away from Adityanath's rally, released hundreds of black balloons in the sky to protest when he was busy advocating for CAA-NRC.
Reports also say that even in remote areas of Seemanchal and Kosi region, which include the flood prone parts, residents have been staging day-long protests, taking out protest marches, candle march and organising small meetings to express their anger. "It will take the concrete shape of protest like Sabzi Bagh in coming days as people are losing patience over the government approach on the issue," former JNUSU president Shakil Ahmad Khan, who is a Congress MLA, who has also been active at the Sabzi Bagh protest, said. He also said that hardly a day passes without reports of protest in nearly a dozen districts in the state. 
Safi Ahmad, a social activist in Gaya said that the ongoing protests have been so unprecedented that those of the Muslim community who never dared to venture out on the streets have left their inhibitions behind and are joining the protest in large number. "It is visible from Shanti Bagh to Sabzi Bagh," he said.
Also read: CAA-NRC: Youth Killed During Protest, Family Upset Over Political Leaders' Apathy
Several civil societies including Loktantrik Jan Pahal are planning to start awareness campaign as well as protests to reach out to people through cycle yatra, paidal yatra and ghar ghar yatra soon. 
The Left parties in the state have announced a state-wide human chain on January 25 and will stage a satyagarah at all district headquarters on January 30 against CAA-NRC-NPR. Besides, Tejashwi Yadav is to start a yatra in Seemanchal districts from January 16.
Nitish Kumar on Monday, January 13, formally announced in the state Assembly that there was "no question" of the National Register of Citizens(NRC) in Bihar. Following this, several people questioned his statement. "His party JD-U supported CAB in both the houses and it is an ally of BJP, but Nitish Kumar is trying to make us fool ahead of next Assembly polls," Mumtaz Ahmad, one of the protesters in Sabzi Bagh said.
The state has till now witnessed two shutdowns—first by the Left parties supported by the other Opposition parties on December 19 and again on December 21 by Rashtriya Janata Dal, supported by all opposition parties and Left parties.
Get the latest reports & analysis with people's perspective on Protests, movements & deep analytical videos, discussions of the current affairs in your Telegram app. Subscribe to NewsClick's Telegram channel & get Real-Time updates on stories, as they get published on our website.
Subscribe Newsclick On Telegram