Why Global Trade in Essential Meds and Devices Must Not Stop
Despite export ban and its best shot at upscaling production, India will fall short of ventilators when Covid-19 peaks. Besides, many developing nations will count on pharma imports from India.
One of the most important developments in the contemporary era of globalisation is the integration of national economies into a global economy. National economies have been interlinked through global value chains. Today, exports constitute around one-fourth of total global production. Interestingly, most world trade is now taking place within firms located around the globe: 60% of the world's goods exports and 30% of the total value of global exports come from trade of inputs and intermediates.
With the global outbreak of the Novel Coronavirus pandemic, countries are closing their borders and grounding their international aviation routes, which has interrupted the free movement of commodities as well as inputs and intermediates.
India's decision to lift the initial ban on exports of Hydroxychloroquine—an anti-malarial that could be a potential way to treat Covid-19—is being highly criticised within the country. But holding hands to maintain the global supply-chain is also key to our resilience during this pandemic.
Drug security as well as continuing access to diagnostic and therapeutic medical devices to fight Covid-19, are, without a doubt, of utmost importance for any country including India. As the number of infections grow, India might need a massive transitory increase in healthcare infrastructure as well as more medicines and medical equipment. Covid-19 test-kits and ventilators are key diagnostic and therapeutic tools, and we also need other medical devices that can respond effectively to Covid-19.
A recent study by Imperial College, London, reveals that 30% of hospitalised Covid-19 patients are likely to require mechanical ventilation. [Ventilators are devices that support patients who have problems breathing. They control the oxygen supply and air flow to patient's lungs while they cannot do their work. International trade nomenclature defines ventilators as "oxygen therapy and artificial respiration or therapeutic respiration apparatus (HS: 90192010].
There is no doubt that ventilators will play a key role in India's battle against Covid-19. According to a current study of the Center for Disease Dynamics, Economics & Policy (CDDEP), India might need one million (10,00,000) ventilators to address the peak of this pandemic, while the nationwide current capacity is estimated at around 30,000 to 50,000 and about 70,000 to 100,000 ICU beds. Unfortunately, there is no official estimate of the number of ventilators that India can produce herself during an emergency in a very short period of time.
A number of countries, including India, are trying to procure ventilators domestically to address the increased need for the devices for their patients. The Italian Army joined the production lines of their country to meet the "desperate need" for ventilators. A single ventilator involves thousands of parts that are produced in different corners of the country—even countries capable of upscaling their production quickly are facing problems due to interruptions in the global supply-chain.
Illustration 1: Ratio of export to import for oxygen therapy and artificial/ therapeutic respiration apparatus. Source: Own estimates from the Annual Survey of Industries and Trade-stat, Ministry of Commerce and Industry, Government of India.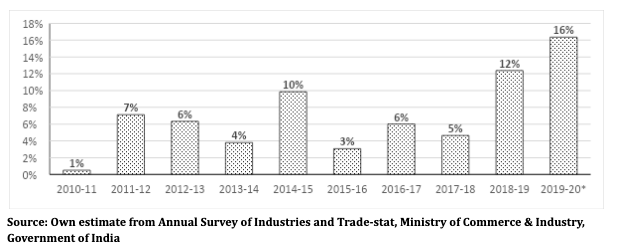 Illustration 2: Major supplier of oxygen therapy and artificial/ therapeutic respiration apparatus for India Source: Own estimates from Annual Survey of Industries and Trade-stat, Ministry of Commerce and Industry, Government of India India is known as the "pharmacy to the developing world"; millions of people rely on it to produce affordable generic medicines. At the same time, India has high dependence on imported medical devices: 70% of India's domestic need for medical devices and equipment is fulfilled through imports.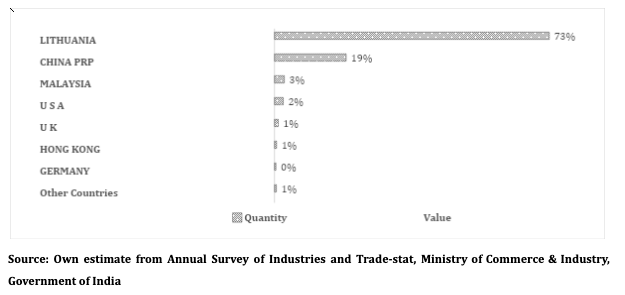 The Department of Pharmaceuticals initiated steps to ensure drug security in the country immediately after the Covid-19 outbreak in China. The National Pharmaceutical Pricing Authority also took steps to ensure the supply of personal protective equipment and consumables such as masks, gloves and hand sanitisers continued. For instance, on 19 March, the Directorate General of 
Foreign Trade banned export of all kinds of ventilators, including artificial respiratory or oxygen therapy apparatuses, or any other breathing appliances/devices.
Historically, export constitutes less than a fifth (1/5th) of the import of oxygen therapy apparatus and artificial or therapeutic respiration apparatuses in India by volume (see Figure 1). According to CDDP, the peak of Covid-19 pandemic in India is likely to happen somewhere between April and May 2020. Banning the export of ventilators, thus, cannot be enough to ensure the availability of this essential device at that time when there is peak demand in India.
India has a high import dependence for "oxygen therapy and artificial/ therapeutic respiration apparatus" on countries including Lithuania, China, Malaysia, the United States (US), United Kingdom (UK), Hong Kong and Germany (see Figure 2).
Cumulatively, these seven countries account for 90% (by value) and 99% (by volume) of India's trade in ventilators. Given the patient load of these countries, if they decide to withdraw their supply from Indian market, no doubt it will have an adverse impact on India's struggle against Covid-19.
India obviously needs to give its best shot to upscale domestic production, but import dependence cannot be reduced overnight. Nations across the globe need to maintain uninterrupted global supply chains of essential medicines and medical devices to reap the benefits of each other's expertise to fight back this global pandemic and save mankind.
The author is a fellow at the National Institute of Public Finance and Policy (NIPFP), New Delhi. The views are personal.
Get the latest reports & analysis with people's perspective on Protests, movements & deep analytical videos, discussions of the current affairs in your Telegram app. Subscribe to NewsClick's Telegram channel & get Real-Time updates on stories, as they get published on our website.
Subscribe Newsclick On Telegram