Battling Impending Desertification, Punjab Strives to Revive Traditional Ponds
With ground water increasingly being used for irrigation over the years, the state is now looking to change course and revive a traditional water system.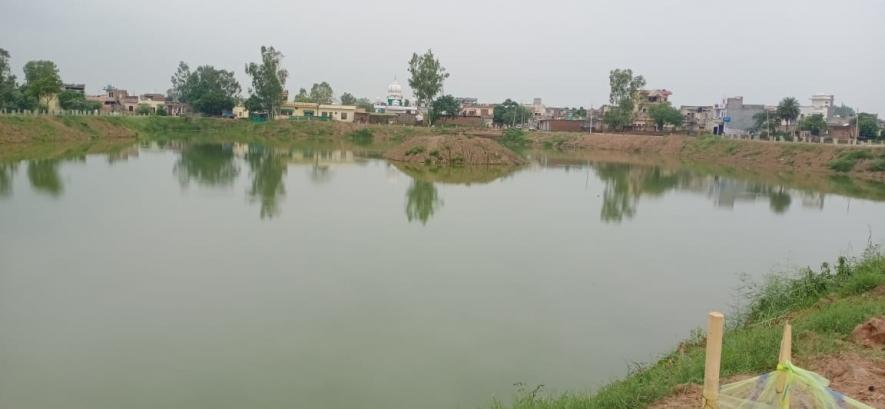 Photo Credit: Jaswant Singh
Fifty-eight-year-old Gurvinder Kaur, the sarpanch of Sarsini village in Mohali district, and her husband, Manjit Singh, returned to the latter's village close to a year and a half ago. The visibly excited couple used photographs to show villagers wading through a slush-filled community pond to remove weeds and filth that had accumulated in it over 25 years.
In 1995, Singh moved to Australia with his wife. He returned to his village short of two years ago. "I began working as a factory worker in Australia. After many years of hard work, I had set up my own factory. My children are well-settled there. Whenever I visited my village, I felt moved by the condition of my village and wished to help out. So, we returned to Sarsini one and half year ago," he said.
Singh's wife contested the election for the post of Sarpanch of the village last year, and won. The village pond, which had become an eye-sore for the villagers, became their priority. "Ever since people started depending on taps and tube-wells for water supply to their homes, they stopped using water from village pond. Not only was it not used for more than two decades, villagers were also dumping sewage and waste into it. It became filthy, contaminated and full of weeds," he said.
The pond ended up being neglected since it was situated outside the village and close to a cremation ground.
"Labourers demanded a whopping Rs 1.40 lakh to clean the four-acre pond. The villagers could not afford it. Some gutsy youth came forward at our call, others joined in as well. Over a period of two months, we cleaned the pond while spending only Rs 4,000 for tea and snacks, and worked laboriously at the pond," said Singh.
Enthused by the work, villagers are now cleaning another small pond in the village.
Singh said that the exercise had other effects as well. He said that they used the mud that was dug out from pond to level the cremation ground. It also created land for a park near the pond. "We broke caste and class barriers by joining the separate chunks of land, which were not far away from each other, but were used for cremating people belonging to different religions and castes. Now, Hindus, Sikhs and Dalits have a common cremation ground in the village," Kaur told NewsClick.
The villagers are now planning on using the pond for fish farming. Sewage pipes that led to the pond have been disconnected. Now, a path with flowering plants and trees is in the offing. The government is facilitating funds for building pathways, the park and other related work under the MNREGA scheme, said Sukhchain Singh, Block Development and Panchayat Development Officer of Dera Bassi.
A project for pond rejuvenation was launched in 2019. People from Chunni Kalan village in Fatehgarh Sahib, just 28 kilometres away from Chandigarh, took two months to clean a large pond in their vicinity last year. "Around 30 years ago, locals began building toilets but since they did not have a sewage disposal system, they would dump sewage in the pond. The water in the pond became highly contaminated," Harkamal Jit Singh Bittu told NewsClick.
Bittu, who had returned from Italy two years ago, said that the way the Italians "respected" their water bodies really impressed him. "When I returned to my village, I decided to contest the election for Sarpanch and revive the pond. Fortunately, we had a young team in their 30s and 40s and half of them were NRIs who were brimming with energy and an earnest desire to do something for the village. We joined hands, pooled in the money and cleaned the pond within two months," he said.
The state government helped in laying concrete walls which surround the pond and by creating pathways. A water treatment facility is also being built as part of the same project this year.
Bittu said that villagers who would earlier avoid going near the pond, now show it to their guests as if it were a prized possession.
Neeru Garg, nodal officer for Faridkot district, said that villagers would face a tough time during the monsoon each year. "Filthy water in the ponds would flood over and move into their houses and into village lanes each time it rained. It would lay household goods to waste and leave an overbearing stench for many days," she said.
Garg said that ahead of the monsoon this year, the villagers pumped out the dirty water of the ponds into open land with the help of drainage pipes, and cleared the bottom of the silt that had been accumulated.
"This year, we are not anxious about the monsoon. We have been waiting for it with open arms so that it fills our ponds with fresh, clean water," she said.
The water bodies used to be a major source of water for the villagers in the past. People would use the clean water for irrigation, bathing, and for religious and social gatherings like weddings, funerals and fairs. People would also sit around these ponds and chat for long hours. In a way, these ponds were hubs for socialising as well, said Harkit Singh, the Block and Village Development Officer for Morinda.
Singh added that in peak summer months, when the ponds would almost dry up, the moist soil from the bottom was dug out and used by locals to line the roofs and walls of their houses for water-proofing ahead of the rains. This system was done away with after concrete structures came into the picture. The removal of silt from ponds also helped in recharging ground water during the monsoon.
The constant use of water did not result in stagnation, as it does in present times. The degradation of the ponds resulted in silt which stopped ground water from being recharged over the years, he added.
Kahan Singh Pannu, Director of Mission Tandrust Punjab told NewsClick that ground water has been exploited for irrigation purposes, leading to its depletion over the years. "Therefore, by cleaning and refilling traditional ponds with rain water and excess or un-utilised water from homes, which otherwise would go waste, we are conserving water for irrigation as well as recharging ground water. A water treatment system is being installed to clean the water which is collected from households before it reaches ponds in 250 villages," he added.
This massive program of pond rejuvenation is a part of Jal Shakti Abhiyan of the Ministry of Urban and Housing Affairs, Government of India. It is aimed at battling the severe ground water crisis in Punjab. The extraction of underground water, which was 149%, according to the Central Ground Water Board report of 2013, rose to 165% as per the CGWB's latest report of 2019. The CGWB issued a warning saying that the state would become a desert in the next 25 years if the status quo was maintained.
De-watering had been completed in 11,071 out of 12,296 targeted ponds and de-silting in 3,176 out of 7,456 ponds till June 18, 2020.
Of the total 13,178 targeted ponds in 2019, de-watering was completed in 5,352 ponds and de-silting in 2,440 ponds.
The writer is a freelance journalist who writes on the environment.
Get the latest reports & analysis with people's perspective on Protests, movements & deep analytical videos, discussions of the current affairs in your Telegram app. Subscribe to NewsClick's Telegram channel & get Real-Time updates on stories, as they get published on our website.
Subscribe Newsclick On Telegram