Gujarat Elections: Farmers of 3 North Gujarat Villages Have Been Boycotting Polls for 3 Years
Over 50% farmers in Dahisana own less than two bigha land; a drop in income over the years, failing crop and government apathy has angered them.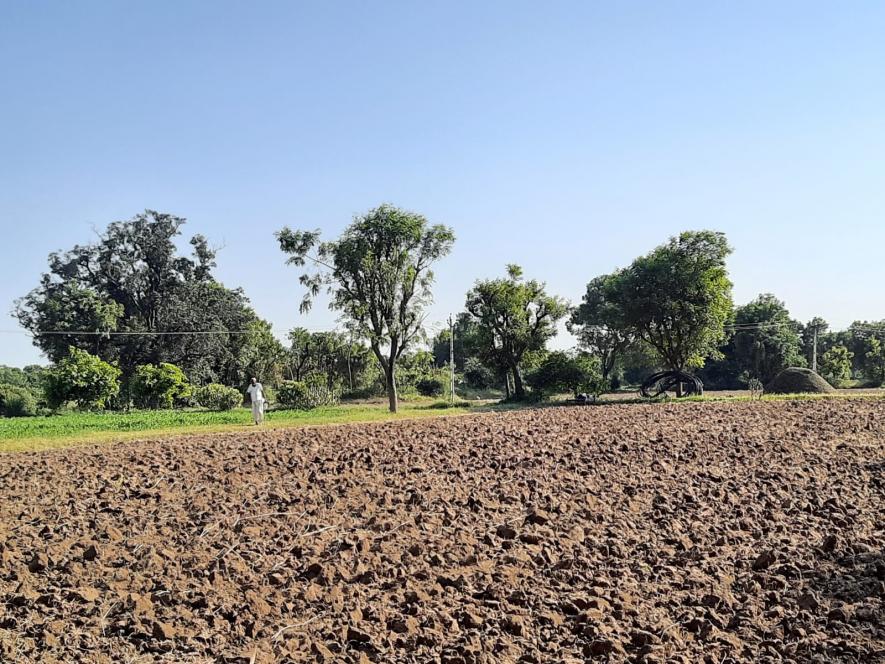 The barren lands of North Gujarat leading to fading hopes of the Youth and the old small-scale farmers.
Davol, Dahisana, Varetha: The lack of irrigation water in North Gujarat has led to consistent depletion in farming patterns in the area, and with the absence of any government aid, most farmers are now resorting to animal husbandry. The younger lot has migrated to urban areas of the state. Frustrated with indifference to their problems, three villages, with a total of around 10,000 votes, say they have been boycotting elections for three years now.
Approximately 50 kilometres away from the urban centre of Mehsana, lies a dry and barren rural belt, usually known for water scarcity as in case of other districts in North Gujarat. However, the nature of problems in the past five years has evolved, and the farmers now have much more to deal with.
"There was a time when farming in our village used to be done in all three seasons. We would earn well and never needed to look into alternatives. Things have changed now, the economy might have improved, but we are going down," Jaswant, 30, from Davol told NewsClick. Most of the farmers in the belt of Davol, Dahisana, and Varetha are either landless or own very little land, two bighas or less.
Premji Prajapati, a 52-year-old frail farmer, owns half bigha land in the village of Dahisana. Since he cannot farm in the small space he has owing to the prevailing water uncertainty, he grows cattle fodder there.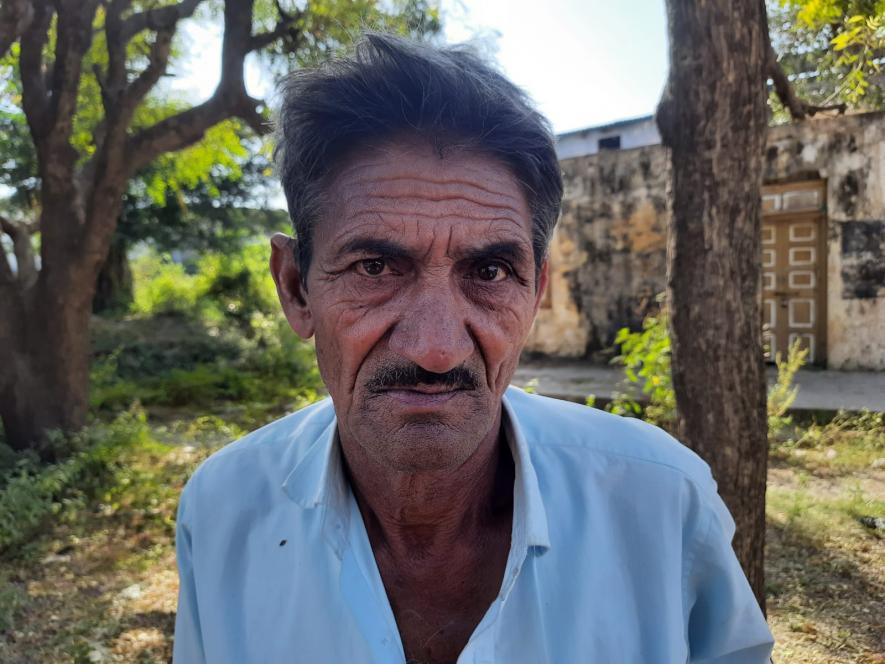 Premji Prajapati owns just half a bigha of land, earns 2500Rs a month via daily wage, the sole source to run his family of three.
"I do not even sell the fodder that I grow, I feed it to neighbouring cows and buffaloes. It is not much and will not make any difference to my economic condition. I rely on my daily wages for that," said Prajapati.
The amount that Prajapati is paid for working in Mehsana or in a more well-to-do farmer's field is Rs 250 a day. However, when asked how many days he actually gets work, he laughed and said, "that is the uncertain part. The maximum work that I get in a month is for 10 days only."
As per the villagers, over 50% of farmers in Dahisana own less than two bighas. When farming conditions were better, their economic condition was good, too. Slowly, as the farmers had to dig as deep as 800ft to find groundwater, they were forced to resort to animal husbandry for their earnings. With this shift, rose their cost of investment. Cattle fodder became expensive, and due to lack of water,the farmers were forced to make a choice.
"We could either grow seasonal vegetables and other crops like groundnut or grow cattle fodder. Since the other crops were an expensive investment with uncertain outcomes, we had to resort to growing cattle fodder where the loss was comparatively less, and it could be used even in adverse conditions," said Krishna, another farmer from Dahisana. Krishna's economic condition is slightly better than most other farmers in his village. He owns three bighas and has some livestock.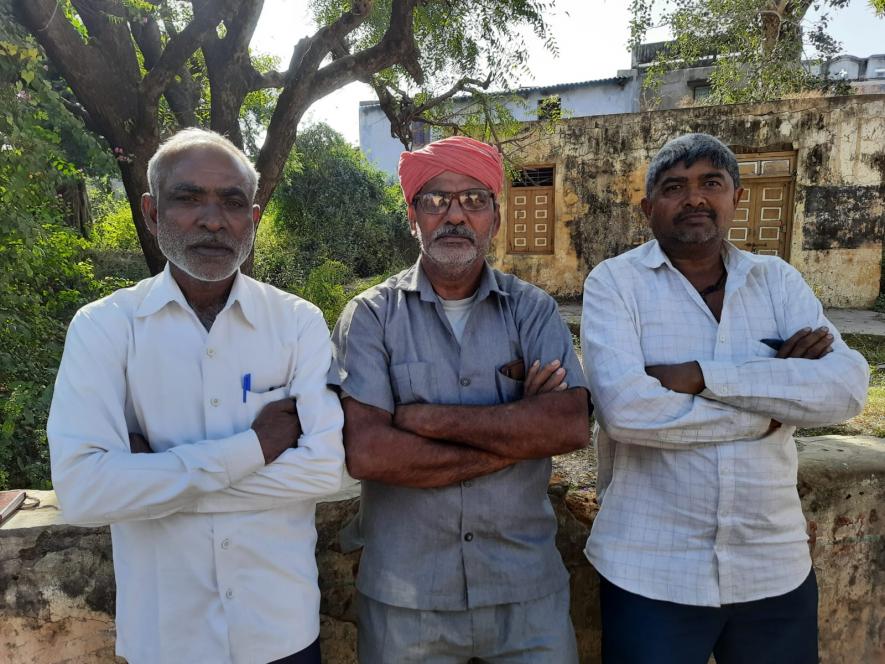 Most of the villagers in Dahisana own less than 2 bighas of land, some of the citizens of Dahisana.
NewsClick travelled to three villages to understand the current conditions of farmers. With every new villager we encountered, the situation seemed to be getting worse. We encountered more and more farmers with little land and ones who were only growing cattle fodder. With the era of Internet boom in the country and rapid rise in the urban economy, the condition of farmers in this belt of North Gujarat have only worsened.
Valji Choudhary,m 52, virtually broke into tears while talking about his condition. Only a part of his three-bigha land was in use now. "I would have left this hell long back had it not been for my ancestral land. Now, I am so immersed into loans that I cannot afford to go any other place before repaying everything," he said. Valji has two buffaloes, one cow, and a family of four to cater to, all via the dairy products that he sells.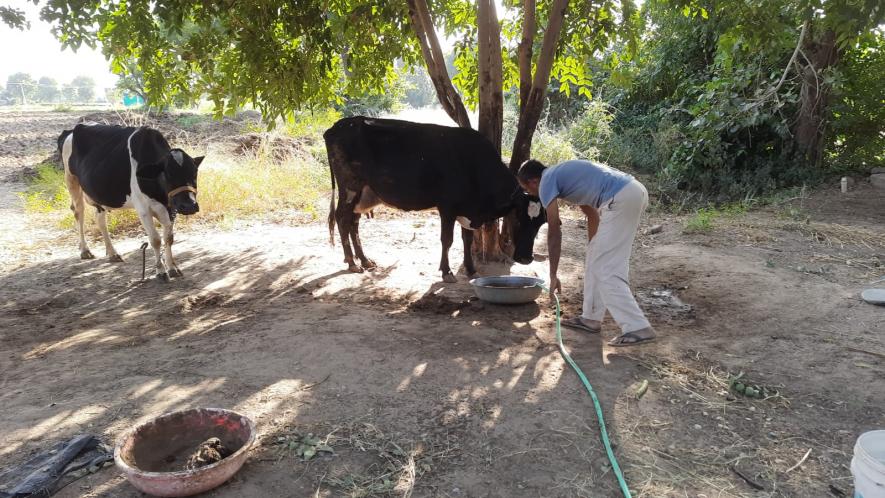 Valji working on his ancestral land feeding water to his livestock.
"Government policies and subsidies could make our situation better, only if they were applicable to us," said Valji. The Centre has a subsidy plan of 55% for drip and irrigation farming for small and marginal farmers across the country. However, all that Valji is able to use on the small land he has is the same water supply that he has for drinking at home. Therefore, hundreds like him are laid off from this scheme.
Approximately five years ago, the situation got worse for farmers here. Most now had either resorted completely to animal husbandry or were doing daily wage jobs. The hopes of growing any other crop on their land except fodder and groundnut were slowly fading out. The farmers started knocking on the doors of every minister they could reach in Gandhinagar. A delegation even met the state irrigation minister and other government representatives. But all in vain.
Seeing no results, and a drop in their income level with each passing year, the farmers three years ago, decided to boycott elections.
"If the so-called representatives cannot do anything to bring us out of the crisis we are in, why should we vote for them?" said a villager from Varetha. One fine day in 2019, people from all three villages gathered in the nearby 'Varahi Maata Mandir', a shared temple between the three villages. A decision was made, and the collective answer was to boycott elections.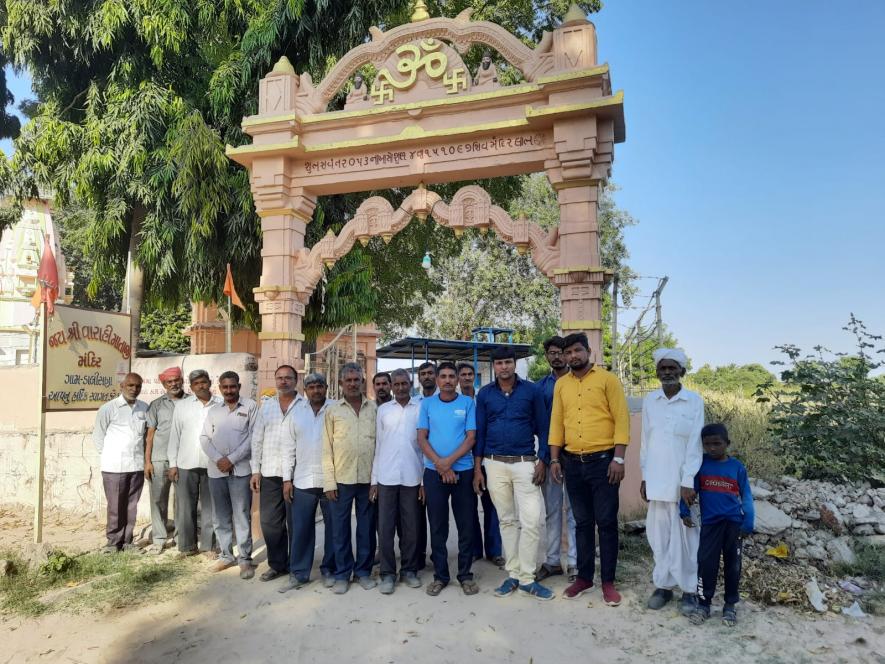 The 'Varahi temple' at Dahisana where villagers of Davol, Dahisana, and Varetha pledged to not vote until their plights were listened to.
"Since that day, we do not pay any heed to politicians of any party. They are all thieves," he added. NewsClick found that in all these three villages, there is no 'sarpanch' as of now. The villagers said when the time for the sarpanch election came, none of them filed nominations.
Not just in the sarpanch elections, even when it came elect delegates for the tehsil, which is done for the three villages collectively, none of the leaders from the three villages filed a nomination. "We are going to refrain from voting in the upcoming Vidhan Sabha as well. 'Pehle samadhan, do fir vote lo'(first give us solutions then come asking for votes) is our motto now," said the villagers in unison.
Urban Shift of 'New Age' Farmers
In the age of high inflation rate and lack of land and farming conditions in their village, the young village boys are now compelled to move to urban areas like Surat, Ahmedabad, and Gandhinagar. "With complete negligence of our issues one year after another, there has been a compelling urban shift here," said Jaswant.
Jaswant, 30, is still in the village unlike his peers and is in constant search of a government job. "I will leave the village as soon as I land a government job. In 20% of the houses, at least one person has now migrated to a city," he said. He has completed his Masters, and has also cleared the Teachers Entrance Test exam. He has been a
part of the recent protests against the government about filling up vacant jobs of 'vidyasahayaks' as well. He is duly qualified and is confident of getting a job if pending vacancies since 2017 are filled. However, he currently works in his ancestral land.
Naresh and Sahil from Dahisana work in Surat and Ahmedabad, respectively. They left their villages as soon as they turned 18. They say they saw no future in farming. The stories they used to hear about their grandfathers from their parents painted an entirely different picture from what was in front of their eyes. Cattle fodder and groundnut, currently the only crops grown in their villages, will not help them support their families. "With no help from the government, our survival will be in question if we stay here for long," said Naresh does diamond rubbing work in Surat.
A considerable number of daily wage workers and small-scale farmers do not even own a house in their village. Shankar, 50, narrates the plight of marginalised farmers, being one of them. Riding his Luna moped, he stopped when he saw a couple of villagers speaking with NewsClick.
Among five brothers, two bigha land is supposed to be divided. Shankar's share boils down to less than a bigha. "My biggest dilemma is to whether make a house for myself there or to rear a cow and buffalo. I chose the latter long back. But a huge chunk of the money that I earn via that, goes towards house rent. Hence, in order to meet monthly expenses, I travel from village to village selling shoes and slippers," he said. Mother nature has not been very kind to us, he said, adding that they do not see much rainfall. Government aid is the only plausible solution.
The angry and disenchanted villagers, however, are adamant about not voting even in the upcoming Assembly elections. While the Scheduled Castes (SC) and Other Backward Castes (OBC)- dominated belt in the Mehsana district continues to revolt, their plight has failed to reach the ruling party's (BJP) manifesto with each election. The youth of the village, on the other side, see an end of farming culture in their villages and hope to find economic revival, mingling with the crowd that migrates to the big cities.
The writer is a freelance journalist based in Delhi and is travelling to Gujarat to report on the Assembly elections.
Get the latest reports & analysis with people's perspective on Protests, movements & deep analytical videos, discussions of the current affairs in your Telegram app. Subscribe to NewsClick's Telegram channel & get Real-Time updates on stories, as they get published on our website.
Subscribe Newsclick On Telegram