Gujarat Elections: RTE Rules Being Flouted in Muslim Areas, Allege Teachers
Closure of several Urdu-medium primary government- aided schools contradicts NPE objectives, say local teachers in Rakhiyal.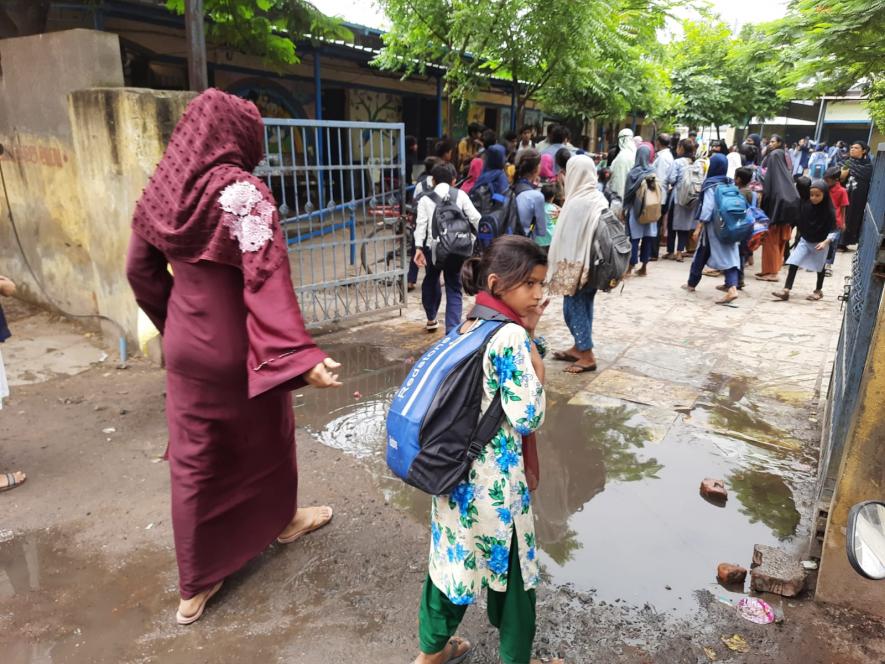 A primary school in Rakhiyal
Ahmedabad: There's a pile of debris on the site of a primary school building in the Musllim-dominated Rakhiyal area of Ahmedabad, which was brought down in November 2020. As a testimony to its existence, a slide where children would have played, stands on one corner of the ground.
"Who will believe there was a school in this place earlier? All that is left is a slide in the extreme corner of the ground where, in 2020, there used to be a four-storeyed school. Hundreds of students lost access to education once the school was brought down," says Rahil, a government school teacher in a Hindi-medium school of Rakhiyal. He happened to be in demolished school to meet the principal just two days before it was to be vacated.
A bike ride with a local teacher in Ahmedabad's Rakhiyal unfolded several untold stories of primary schools that now either lie vacant because the government appointed engineer happened to find the condition of the building not fit due to old infrastructure, or the school had less than the number of required students, as per rules to run it. However, local teachers in Rakhiyal deny both these reasons and have a different story to narrate.
Right beside the Kalandari Masjid of Rakhiyal lies a two-storey building with a school on the first floor and shops on the ground floor. The school was shut down in November 2020 after the engineer said it needed renovation.
"The shops are in the same building. Look at the irony, it was inappropriate for education, but perfectly fit to run businesses?" Rahil pointed out to Newsclick.
Pandemic changed lives of hundreds of kids
As property rates in the Rakhiyal area are low, many migrant workers send their kids to these corporation schools. But, with the pandemic came troubles for them and their children. Workers had to leave the town and head back home. Two years later, as the schools started in June this year, very few workers had returned, while several others eventually returned within a month.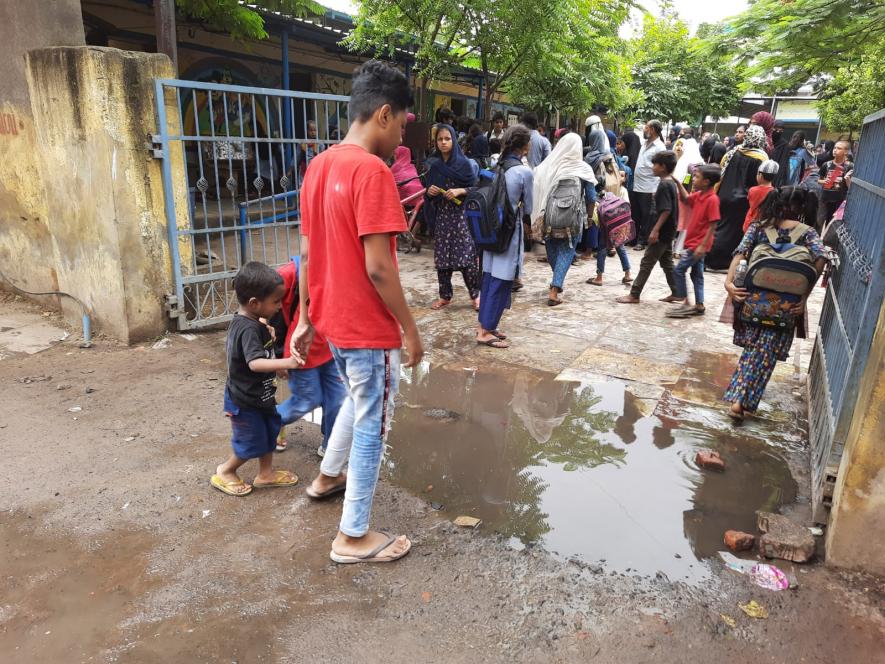 After a halt of  over2 years, students are now finally showing up at school
Romila, who has been teaching in an Urdu-medium for the past 17 years, said she had been trying to encourage children from her community to study so that they end up in a better place and improve the economic conditions of their families. "The children who come to us are not the usual ones. We have to keep pushing them as well as their parents," she told NewsClick. Romila also made some shocking revelations indicating "intentional" deprivation of already economically weak students from a basic right -- the Right to Education.
A student's name can be cancelled from school but only after a lengthy process. For the first two days, if the child does not show up at school, a neighbouring student is asked to check up on him/her and let the administration know. If that does not work and the student still does not show up for a week, the class teacher visits his/her house to bring them back.
Only after a month of absence, a committee involving the local supervisor, teachers of the school, and a government supervisor collectively decide on striking off the student's name from the school.
"None of these required procedures were followed after the reopening of schools after a gap of two years (during the pandemic). The supervisor in charge showed up a month after the school reopened, and as soon as I would try to explain to them about a particular child and the nature of his/her absence, they would ask me to strike the name off," she said.
Romila claimed that names of 300 students were cancelled out this way, some of whose parents said over phone that they were labourers and would show up only once they had a job surety.
As per a recent news report, as many as 62 primary schools in the last 25 years have been shut down in Ahmedabad. At least 23 have been either shut down or merged with another, in the last two years alone.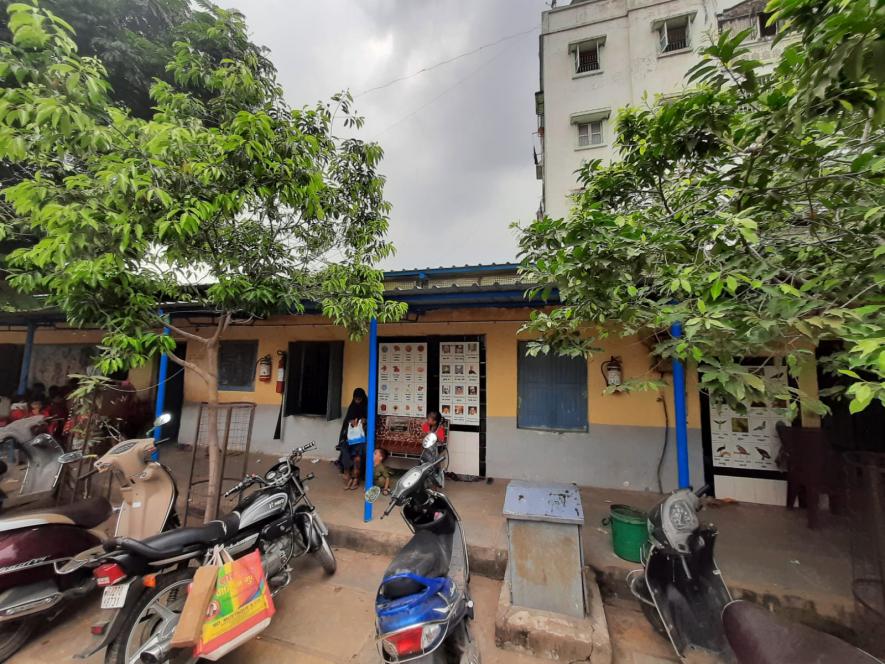 The primary school in Rakhiyal does not much seating capacity, and the roof is not a pucca one.
Several teachers and principals of primary schools in the Muslim settlement alleged that this was not the only rule that was flouted by government representatives. There is another law on the merger of schools. As per the rules, schools can be merged only if the number of students in each school is less than one hundred. However, the teaching staff of different schools alleged that schools with over 200-300 students were also shut down. Moreover, the ones under renovation for the past two years had yet not been started.
Spike in Dropout Rates
In Juhapura, the largest slum, with a population of two and a half to three lakh, there is only one senior secondary government aided school. With little choice left between the daily bread and their children's education in a private school, parents are often compelled to pull their children out of school.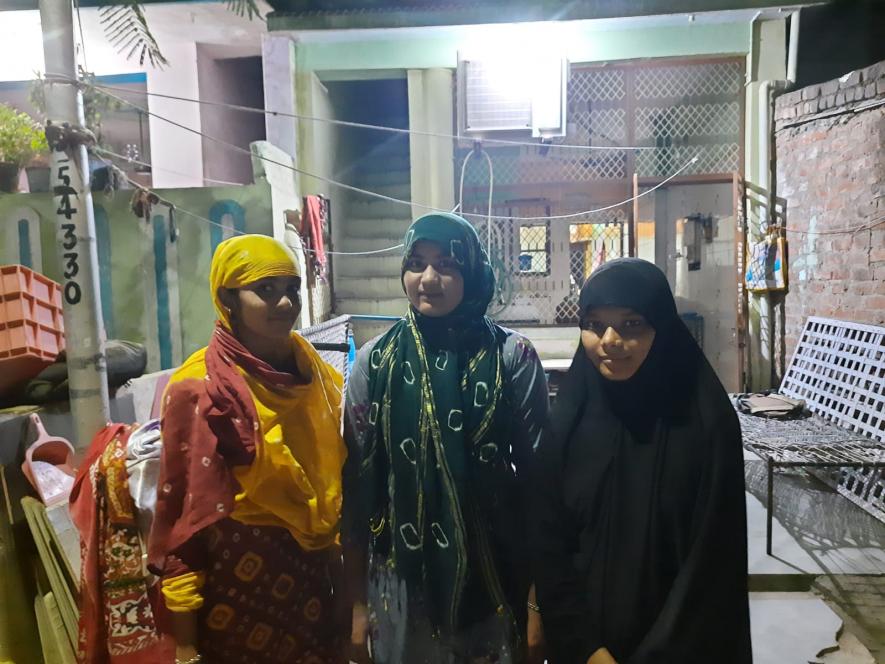 Yushra, Saniya and Nazia, three girls who recently got back to studies after a 6 year long drop out.(left to right)
Yushra, Nazia, and Saniya are three girls in their 20s who are pursuing their 10th grade after dropping out for nearly six years. Yushra, in particular, the most academically bright among the three, said she wanted to study "with all her heart" to make a good career. Her father is in jail, and she works during the day with her mother, who sews clothes so that she can run the house and also continue to fund her daughter's education. Yushra very recently got the opportunity to get back to studying after six years of dropping out of school with the help of a non-governmental organisation (NGO) that works with dropouts in the area.
The other two have also had similar encounters. The students who dropped out were not ready to speak under pressure from their families, but the ones getting back to school had tales of misery. "Once we drop out, it seems like there is no going back. It always starts with our parents being unable to bear the school fee for a private one, and later extends to a permanent dropout label as we are girls," Nazia told NewsClick.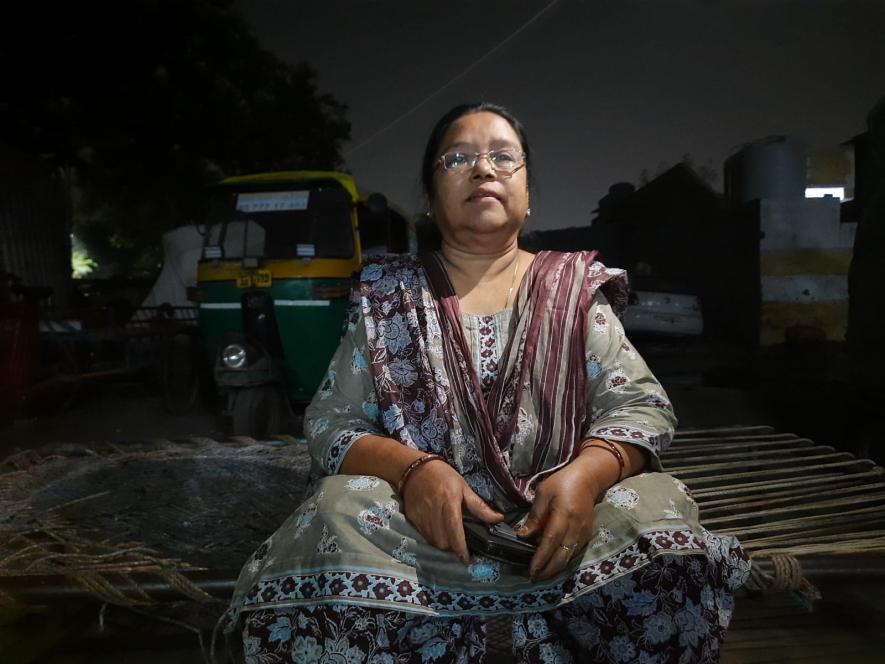 Hajra Aapa, popularly known as Munni Ben who works on getting the dropped out students back on track
"Had there been a government-aided school in the area, people would not have worried. There would not have been so many dropouts," said Hajra, an old lady working for these students.
Access to Right to Education
The Reform Educational and Social Trust (REST) is a body that surveys Muslim settlements of the city and appeals to the government for educational reforms and creating opportunities for minority students where needed.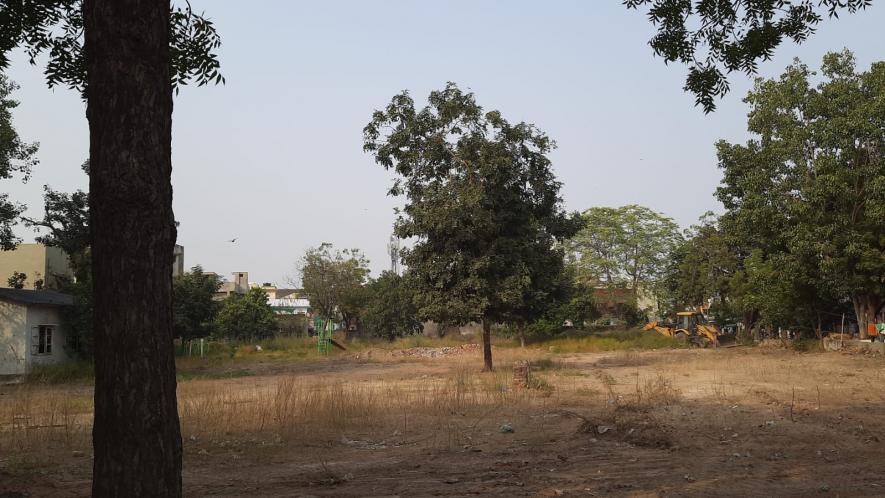 The barren land which once used to be a 4-storey school, now the only visible things are a slide and a JCB
In 2017, the organisation conducted a survey and found barren lands in several places that could be used to build schools. Additionally, the organisation even did a door-to-door survey and came out with a report that suggested that over 1,000 kids were awaiting education in those designated areas. However, all the efforts were in vain as their proposal was never considered by the authorities.
One of the biggest restrictions that the teachers feel, is the shutting down of primary Urdu medium schools. The minorities in the area see that as a direct attack on their religion and accuse the government of imposing such decisions on the community. REST also made a list of the Urdu schools that had either been shut down or merged in the city.
Rakhiyal Urdu Shala No-1,2, Rajpur Urdu Shala No 7,1, Gomtipur Urdu Shala No 2,1,3,4, Jamalpur Urdu Shala No 6 have allegedly been shut. A different list by REST shows that nearly 16 schools have allegedly been merged with other schools. 
"The mergers and shutdowns do not help. We do not have a problem with our students learning in English medium schools. But are we giving them the right teachers? The teachers who were teaching in Urdu medium, ones who have been trained to do so, are now teaching in English and Hindi mediums," claimed a teacher from Rakhiyal.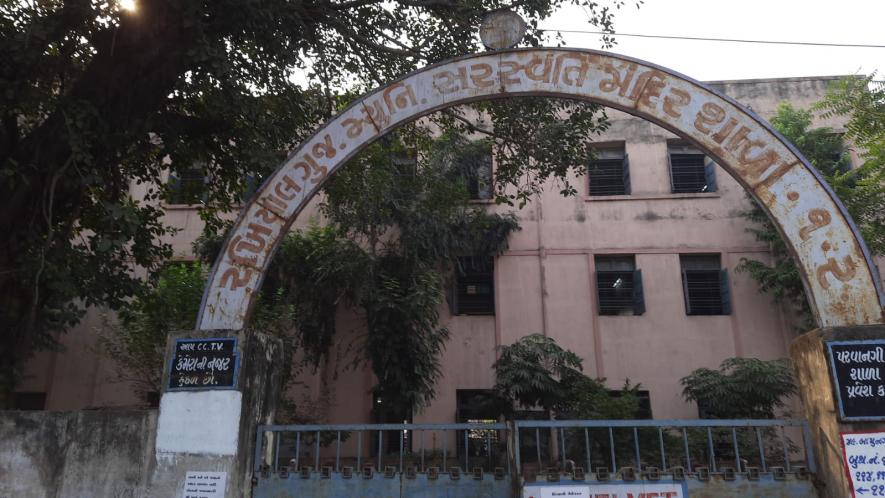 Within this school now run 3 schools in different shifts, as the other two were merged with this.
The biggest allegation by some teachers is that the government is contradicting itself in doing so, as this is being done even as the government is saying that it is trying to apply the National Education Policy (NEP) in the entire country. "We feel upset when we hear the government saying in the NEP 2020 that for primary education, a child should be studying in their mother tongue, while this treatment is being meted out to Urdu medium schools here," a teacher said on the condition of anonymity.
Limited Interaction with Hindu Community
Narrating an incident, Rahim, the principal, said he was speechless when "one fine day, a student came up to me and asked if the Muslim community had betrayed the country?"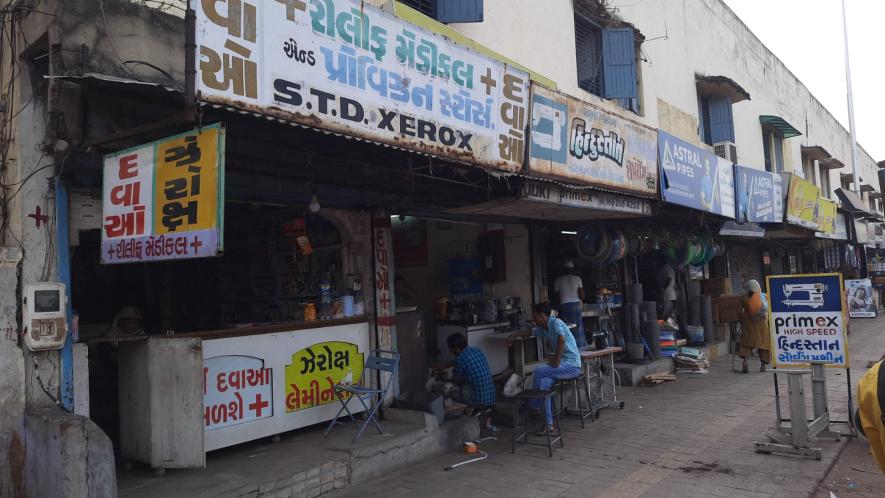 On the first floor was a primary school, and the ground floor occupied by shops. Schools shut down while shops continue to run smoothly.
Geographical segregation in the city has resulted in a complete black hole in the interaction of two communities, the teachers say. Observing the children over the years, the teachers say that students only knew Diwali via pictures and crackers, Holi for its colours, and Janmashtami for Lord Krishna. The opaque wall dividing the two communities had restricted their mindsets, too.
One of the Hindu teachers also agreed to speak to NewsClick over the phone on the condition of anonymity. "I do sense the attack on the community here. There are schools in the Hindu settlements that have fewer students but are not being shut. We see our suggestions being taken, and theirs completely ignored. And most of all, there seems to be a targeted shutdown of Urdu medium schools," the teacher told NewsClick.
The constant battle with the State for rights is not limited to students or teachers from one community. As per the government data, approximately 19,000 posts are vacant for positions of primary teachers across Gujarat. The teachers had been visiting ministers every week, until the government, right before the Assembly elections were announced, released a notification for 2,600 posts. However, the process for that will begin only after elections.
The writer is an independent journalist based out of Delhi. He is in Gujarat to report on the elections.
Get the latest reports & analysis with people's perspective on Protests, movements & deep analytical videos, discussions of the current affairs in your Telegram app. Subscribe to NewsClick's Telegram channel & get Real-Time updates on stories, as they get published on our website.
Subscribe Newsclick On Telegram