Gujarat: Farmers, Industries Hit Due to COVID-19 Lockdown
Before the textile industry decided to close down amid lockdown of Surat from March 21, the majority of textile dyeing and printing mills were functioning at less than 50% of their capacity.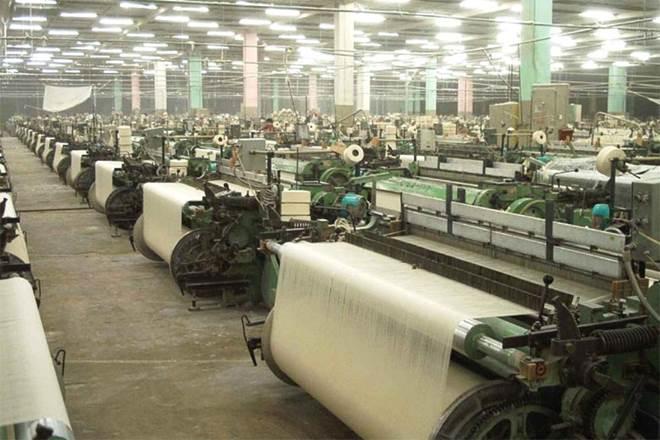 Representational image. | Image Courtesy: Financial Express
Five days after the first positive case of COVID-19 in Gujarat, the total number of cases has risen to 30 and one person is reported to have died. Five major cities of Gujarat, Ahmedabad, Surat, Vadodara, Rajkot and Gandhinagar, have been completely shut down and borders of the cities have been sealed, restricting any movement in or out of the cities.
The Gujarat government has announced closure of all warehouses except for those storing essential food items and all shops except those selling essential food items, milk and medicines. All modes of public transport including intracity and intercity bus services, auto rickshaws and local trains have been shut down.
It should be noted, however, that the economy of Gujarat had taken a hit since January this year itself, even before the virus reached India. Manufacturing sectors in Gujarat are dependent on China for both importing raw materials and exporting finished goods. The situation is now intensifying with Europe gripped by the COVID-19 virus.
Jeera, castor oil and wheat
Gujarat is the largest producer and exporter of jeera (cumin seeds) and castor oil in India. In markets of Unjha, a town in Mehsana, Gujarat, which is the primary producer of cumin in the state, prices of cumin were quoted to be Rs 16,000 per quintal in mid-January this year. It went down to Rs 14,500 to Rs 14,600 per quintal in early February this year after the coronavirus outbreak in China.
Noticeably, China is the largest importer of cumin for Gujarat. The farmers say that the situation is more worrying as this year has seen about 30% more crop than other seasons owing to favourable climatic conditions and good monsoons.
Exports of castor oil from Gujarat have also been hit since Europe has been under the grip of coronavirus. The farmers say while export to China, which accounts for about 40% of the export, is gradually moving to normal, exports to Europe, accounting for about 30 to 35%, have been stagnant. Spot prices were around Rs 740 and Rs 750 at Agriculture Produce Market Committee (APMC) of Palanpur and Deesa in Banaskantha district of North Gujarat in early March this year.
Price of wheat, however, took a hit last week after coronavirus spread in India and various states began to impose restrictions. Saurashtra, the wheat-producing region of Gujarat sells its produce primarily to Karnataka and Kerala through sea route. Price of wheat, whic was Rs 2200 per quintal around mid-February, fell to Rs 1,742 on March 16 at APMC, Rajkot. Farmers who went through a season of acute draught and subsequent debt last year were expecting a good yield and earning this season, but are disappointed.
"This is the peak season for selling harvested crop. If we cannot sell now, not only will this affect us financially, but our crops will get ruined as most of us don't have a mechanism to take our harvest and stock it at home," said a farmer who came to APMC, Sanand on March 21, only to find it closed.
Though the Gujarat government has not asked APMCs to shut down amid the lockdown, various markets authorities have taken a decision of their own accord viewing the COVID-19 pandemic. Sanand APMC had decided on March 20 to shut down indefinitely from the next day. Two APMCs in Ahmedabad are to remain closed for 11 days and two days respectively. APMC in Unjha, Mehsana has shut down till further notice. APMCs in Surat and Vadodara, however, remain open.
The worst-hit due to closing down of the APMCs are small-time farmers who grow vegetables, who now also have to bear the cost of travelling to APMC in another city.  As a result, tomato prices, for instance, have nosedived to Rs 1 at most APMC that are open.
Also read:Coronavirus: Amid Pandemic, Delhi University Teachers Await Two Months' Salary
Salt
The salt exporters and makers of Kutch, Gujarat receive an average order of 6 lakh tonne every month from China, as per the Indian Salt Manufacturers Association. However, after the corona outbreak in China, the issuance of letters of credits were not extended after February 15 resulting in a decline of 1.5 lakh tonne in export of salt from the region in March.
Milk
Milk sales have gone through the roof in major cities of Gujarat, which have recorded positive cases of COVID-19 since March 21. Many shops ran out of milk as people started panic buying on March 21 prompting RS Sodhi, MD of Gujarat Cooperative Milk Marketing Federation (GCMMF) or Amul to give a statement, assuring that there won't be a shortage of milk or other dairy products.
According to GCMMF, Gujarat consumes about 58 lakh litres of milk per day and sales have increased by 15%. The organisation supplies about 15 lakh litres milk per day to Ahmedabad which has increased to 18 lakh litres per day.
Textile
 Following the outbreak of the novel coronavirus, the textile industry of Surat has witnessed a simultaneous drop in demand for fabrics in the domestic market and exports orders from Europe, USA and UAE.
Before the industry decided to close down amid lockdown of Surat from March 21, the majority of textile dyeing and printing mills were functioning at less than 50% of their capacity.
On an average, 2.5 crore metre fabrics are processed every day at the textile mills in Surat. For the past one week, mills are processing only about one crore metre per day, resulting in losses of about Rs 40 crore.
Moreover, cotton and yarn processing has declined substantially during the past one month after exports to China came to a grinding halt resulting in excess in domestic supply.
Raw cotton prices on average went down from Rs 4755 per quintal to Rs 4280 quintal in early March.
Diamond
Diamond industry in Surat has witnessed a fall of Rs 846 million in exports since February this year, as per Surat Diamond Association (SDA) who apprehend that this might be worse than the recession that had hit the sector in 2008.
Three countries – USA, Hongkong and China that account for 80% of the exports – have been severely hurt by the COVID-19 pandemic.
In view of the slowdown, SDA had decided to keep its units open, but then declared that it will stay closed from March 24 to March 31 following a lockdown in the city. Notably, on March 20, Diamond Workers Association had demanded at least one month of paid leave for the workers.
"Except for some of the large units, working conditions in polishing units are inhuman and pathetic. Diamond workers work in a group with barely a foot between them. Besides, no employer is providing them with sanitisers, masks or facilities to wash hands," said Ramesh Zilriya, president of Diamond Workers Association.
Ceramic
Ceramic industry that is clustered in and around Morbi district in Saurashtra region of Gujarat, is the only industry sector in Gujarat that is looking forward to a boost amid the corona pandemic.
China is the largest exporter of ceramic products in the world where most ceramic factories have been shut following the pandemic. The markets that Chinese ceramic exporters dominated, especially in vitrified floor tiles market in Europe, USA, Africa and Gulf countries will be now looking for ceramic products from Gujarat, claims Morbi Ceramic Association (MCA).
"The industry is experiencing at least a 10% boost in the coming months. In fact, some manufacturers have already begun exporting to Europe and African countries," said Nilesh Jetpariya, President of MCA.
"However, the ceramic units may face shortage of some chemicals used in coating vitrified tiles that are imported from China," he added.
Also read:The Cost of This Pandemic Must Not Bankrupt the People
Get the latest reports & analysis with people's perspective on Protests, movements & deep analytical videos, discussions of the current affairs in your Telegram app. Subscribe to NewsClick's Telegram channel & get Real-Time updates on stories, as they get published on our website.
Subscribe Newsclick On Telegram