'Gujarat Model' – It's All About High Growth, Low Wages
Agricultural labour and industrial/service sector workers in the state are among the lowest paid in the country.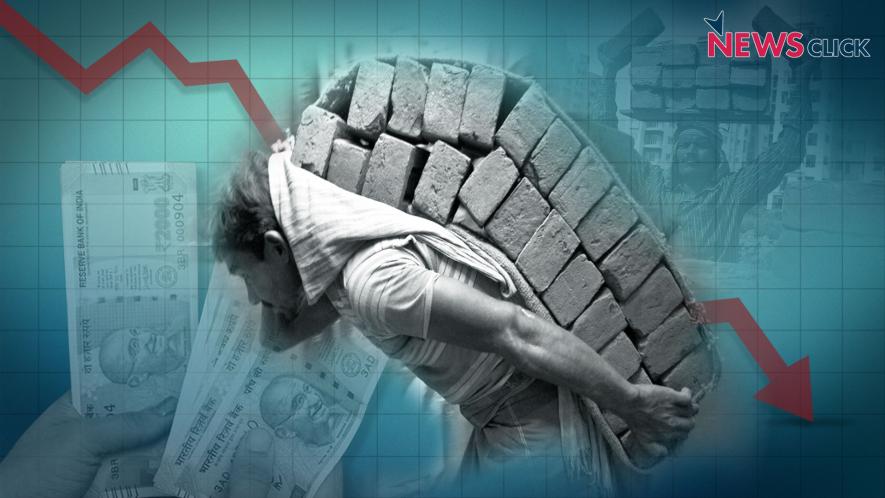 Gujarat, which is going to the polls in the first week of December, is considered a prosperous, advanced state. It has the second highest economic output (Gross State Domestic Product) among all states, second only to Maharashtra. This is mainly driven by its strong industrial base, with about 43% of the GSDP originating from secondary sector. The reasons for this are rooted in history – early industrialisation, substantial agricultural output, geography, and strong trading ethos, among others. All of this pre-dates the ruling Bharatiya Janata Party's (BJP) rise to power in the state in the 1990s.
But what characterises BJP's almost uninterrupted rule since 1995 is the marginalisation of the labouring classes in the state. Workers of all kinds – whether agricultural or rural non-farm labour or industrial or urban informal – have been getting lower wages for their labour, which is what actually generates the economic output everybody is proud of. This low wage regime, in turn, has ensured a steady high rate of profits for the owners of land and industrial productive capacity. No wonder every industrialist wants to go to Gujarat to set up their plants.
This low wage, low entitlements life of Gujarat's working people is usually never discussed when the great 'Gujarat Model' is talked about, especially during elections.
Industrial Wages Among Lowest
The chart below shows most recent minimum wage rates as notified by various state governments, and available online. It includes the wage rate for the Central sector (for workers in enterprises run by the Central government) notified by the Central government.
The most striking feature is that barring two-three states, all other states declare a shockingly low minimum wage, which ranges from about Rs.10,000/month to as low as about Rs.7,000. Gujarat is one of these states, figuring pretty low in the series. It provides for a minimum wage of merely Rs.9,438 per month.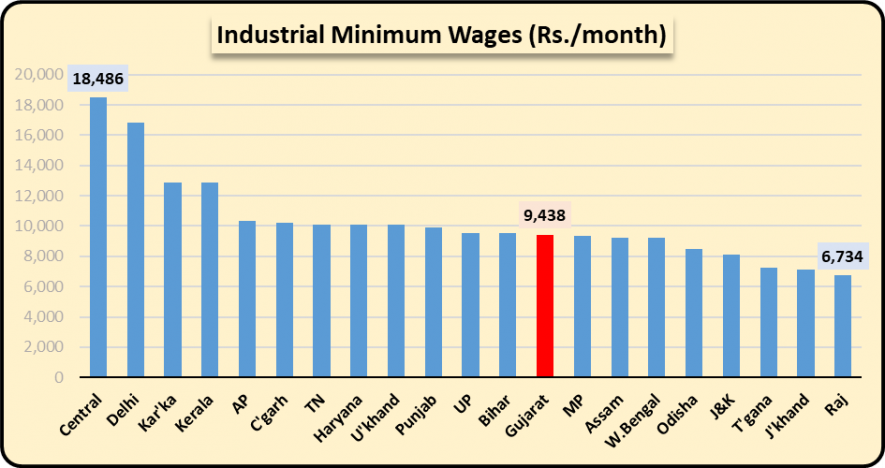 It must be remembered that these are notified wages NOT paid wages. In all states, the vast majority of workers covered by these notifications do not get these notified wages. A combination of decrepit enforcement machinery, lack of political will and aggressive employers ensures that workers are employed for much less. The persistent unemployment is also helping keep the wages depressed – there are hundreds of desperate workers willing to work for less given a chance.
What makes Gujarat special is that it is not a poor state or a less industrialised state. Yet the wages are low. If one looks at big industry, the situation appears to be the same. The Annual Survey of Industries (ASI) carried out by the Ministry of Statistics reveals, in its latest results for 2019-20, that per worker wage was Rs.14,858 per month in Gujarat, only slightly above the all-India average of Rs.14,608, and far below several so called backward states like Jharkhand (Rs.20,602), Odisha (Rs.19,720), Chhattisgarh (Rs.18,033) and of course, it lagging behind Maharashtra (Rs.18,472), Karnataka (Rs.17,663), Andhra Pradesh (Rs.15,755) and Kerala (Rs.15,726). ASI covers factories that are covered under the Factories Act, mainly large ones.
Pitiable Condition of Agri Workers
As per Census 2011, there were 68.39 lakh landless agricultural labourers in Gujarat. Their numbers would have increased in the decade since then. Besides these, there are an estimated five lakh migrant workers, 15 lakh construction workers, and other rural non-farm workers. Most of them have no minimum wage protection. An indication of the kind of wage earnings they get is available from the agricultural labour wage rates compiled by the Labour Bureau of the Ministry of Labour.
For September 2022, which is the latest month for which such data is available, the daily wage rates for men and women agricultural workers is compiled in the two charts below. Gujarat is clearly in an unenviable position, figuring at the second lowest rank for male workers, among the 18 major states. Daily wage for male workers in Gujarat is only Rs.244 per day. The average wage for India works out to Rs.344 per day. Gujarat is a third less than that.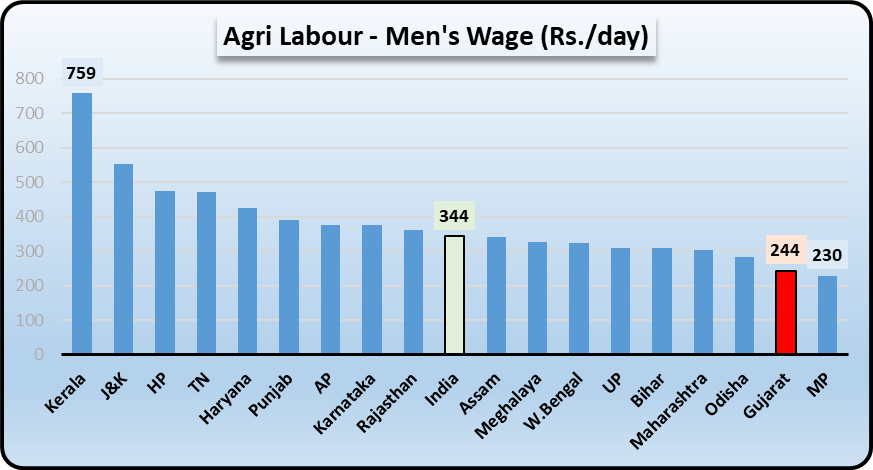 Women's wages are generally lower than men's wages across states. In Gujarat, the difference is not much because already the wage is at rock bottom. Women agricultural workers in Gujarat are paid a mere Rs.243 per day.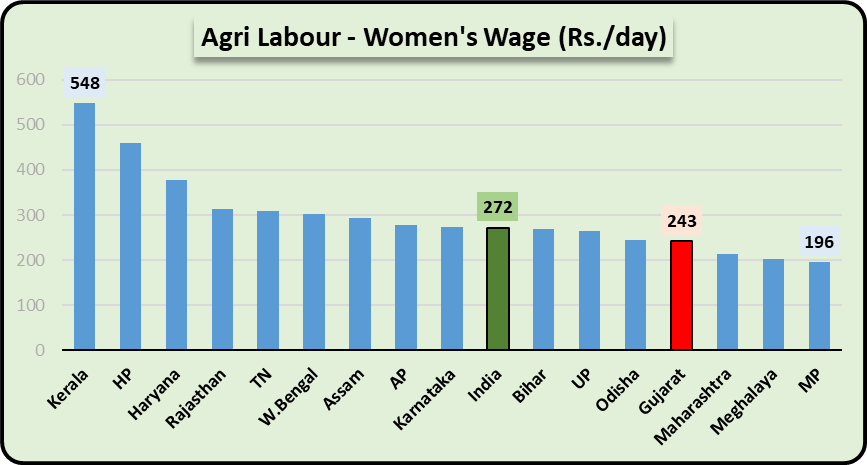 Again, these are average wages collected through a sample survey. Actual wages, as reported by various other sources, often turn out to be lower, or tied with kind payment like waste grain or fuel from agricultural waste.
Average wages given to the rural job guarantee programme (MGNREGA) workers confirms that these are what wages are like in Gujarat. In the current year, average wages are Rs.213.88 per day for MGNREGA workers. Last year the rate was Rs.205.66 per day.
 
Working people seek a new path
The ruling BJP cannot escape the responsibility for this horrifying condition of the labouring classes in what it so proudly proclaims as a 'model' for the rest of the country. The state government can not only notify higher wages but it can also set up an enforcement machinery to ensure that these rates are actually given to workers. With all its support to the big industrialists – and vice versa – it can also motivate them to increase wages.
But, in reality, the Gujarat government has been discouraging workers from seeking higher wages or better working conditions. These onerous conditions are lauded by the government as contributing to 'ease of doing business'.
In the upcoming Assembly elections, working people are seeking a change from this harsh regime of exploitation that has been operating in Gujarat for many years. Whether this search will be successful, the results will tell.
Get the latest reports & analysis with people's perspective on Protests, movements & deep analytical videos, discussions of the current affairs in your Telegram app. Subscribe to NewsClick's Telegram channel & get Real-Time updates on stories, as they get published on our website.
Subscribe Newsclick On Telegram