HEFA, NEP Spell Doom For Higher Education—Especially Marginalised Students
More students will receive notices for fee hikes in the coming days. After all, the push to privatise isn't limited to a couple of higher education institutes but driven by government policy.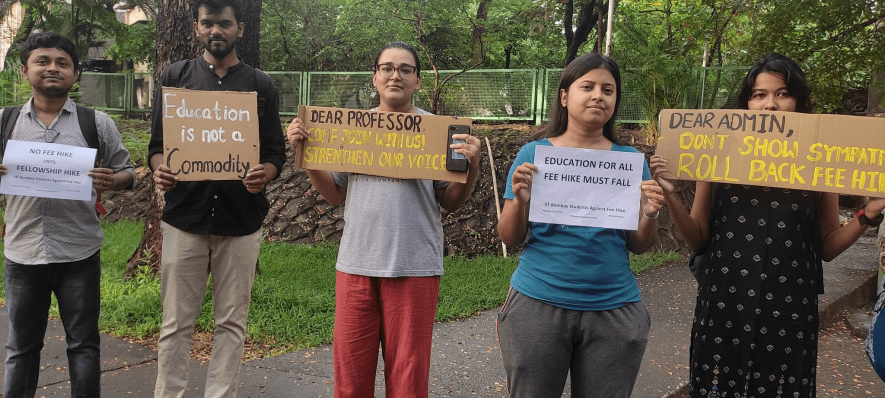 Many government educational institutions, including the Indian Institutes of Technology in Delhi and Mumbai and the University of Allahabad, are in the news due to student protests against massive fee hikes. The recent hikes are not an isolated concern arising in a handful of institutes. They are a policy-level issue stemming from the government withdrawing support from public education. As this process continues, more aspiring students will be excluded from higher education opportunities.
The government has been preparing the ground for the massive commercialisation of education for a very long time, but we can trace the current crisis of fee hikes to 2016. That year, on 12 September, the Union Cabinet approved a new Higher Education Financing Agency (HEFA), which had featured in the Finance Minister's 2016-17 budget speech. The finmin said, "These [HEFA] funds will be used to finance improvement in infrastructure in our top institutions and will be serviced through internal accruals." In short, the government proposed that institutions borrow from it to meet their needs and repay their loans by charging students.
IIT Bombay and IIT Delhi were among the first institutions to receive HEFA grants, which is why they have massively hiked student fees. IIT Bombay Director has acknowledged as much. He has held the policy directive to raise internally-generated funds as responsible for the fee hike and indicated that hikes are bound to become an annual process. In December 2019, despite IIT Bombay's yearly fund deficit of Rs. 82 crore, it had to repay a HEFA loan to the tune of Rs. 41.5 crore.
Around one-tenth of the HEFA loan must be repaid yearly by the borrowing institute, which forces it to divert resources and attention from activities it would otherwise have spent money and time on. In a recent statement, University of Allahabad public relation officer Jaya Kapoor also clearly says there is a clear direction from the government of India for the university to generate funds and reduce reliance on the government.
The parallel process with HEFA is the National Education Policy (NEP) 2020, currently rolling out in universities and institutes across the country. In spirit and letter, the NEP is also firmly against academic and administrative autonomy for universities. Its structure is such that it promotes financial autonomy and even encourages public institutions of higher education to push to go private. As a result, more students will receive notices for fee hikes in the coming days.
We must consider how many premier institutes are already inaccessible to the vast majority of students from marginalised communities due to the prohibitive costs of higher education. Recent responses to RTI requests of organisations such as the Ambedkar Periyar Phule Study Circle or APPSC, and the Union Ministry of Education's answers to questions raised in Parliament, make exclusionary tendencies clear. The number of applicants from disadvantaged communities has been growing, but the number admitted has failed to keep pace. Many departments in the IITs have closed their admission process without admitting a single student from the Scheduled Castes or Scheduled Tribes.
In 2021, data provided by the Union Ministry of Education in response to a question of Member of Parliament Dr V Sivadasan in the Rajya Sabha says that almost 63% of undergraduate dropouts in the top seven IITs over the last five years were from the reserved categories. The high dropout rates of students from marginalised backgrounds reflect how reservation policies are flouted, for neither the institutes nor the government is taking steps to address this denial of advanced degrees to the less privileged applicants. Many institutes do not have working cells for SC, ST and backward class students, nor equal-opportunity cells as the University Grants Commission mandates. On the contrary, a spate of fee hikes is urging students to exit the education sector.
Various fees and hikes at IIT Bombay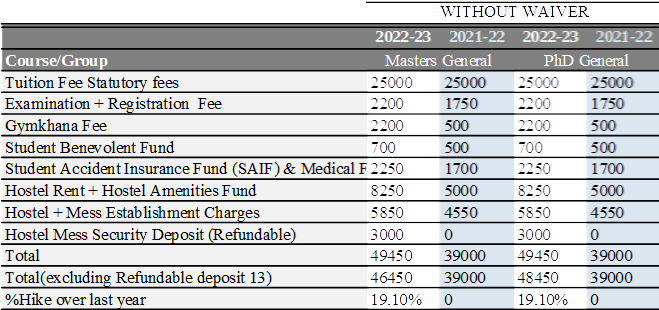 Table created based on circulars and fee structure available on IIT Bombay website
The figures in Table 1 demonstrate the tuition waiver for SC and ST students while charges such as gymkhana fees, medical fees, hostel establishment charges, etc.—which all students, regardless of category, must pay—have risen exponentially. In effect, the costs for SC and ST students at IIT Bombay rose 53.21% just this year.
Note that IIT Bombay raised the tuition fees for new entrants to programmes such as M. Tech by 500%. IIT Bombay students recently revealed that many seats in the M. Tech course have gone vacant despite multiple "spot admission" rounds (Table 2).
Sample of admissions in PhD, M Tech
1 The fee was supposed to increase by the mentioned amount but was not implemented because of pandemic.
2 From 2022-23 the academic fee and hostel fee includes one-time payments but excludes semester mess advance.
3 The amount excludes one-time payment but includes semester mess advances
After students staged continuous protests and relay hunger strikes, the proposed fee hike at IIT Bombay has been considerably revised. The tuition fee for new M. Tech entrants has been reduced by Rs. 15,000, and the academic fees for all students across categories—excluding tuition, which reserved category students don't pay—has been reduced by Rs. 550. The tuition fee for new PhD students stands reduced by Rs. 1,250, and the "one-time fee" has been reduced by Rs. 1,100.
Similarly, IIT Delhi partially rolled back a fee hike after continuous student protests.
Seen together, NEP and HEFA loans instead of grants from the government will make massive fee hikes the norm in educational institutes that access such loans or adopt the new policy. In this system, nothing dissuades the government from withdrawing from its responsibility to invest in education. Therefore, all government-funded institutions could quickly become self-financed institutes. This transition would be a massive attack on the very idea of a public university and undo any inclusivity achieved so far in education. Fee hikes and repeatedly flouting reservation policies in premier institutes will make them inaccessible for most Indians, especially those already marginalised by society. NEP and HEFA pave the way for exactly such an unwelcome outcome.
Kishan is a Research Fellow at the National Institute of Public Finance and Policy (NIPFP). Anagha is a PhD candidate at the Centre for Political Studies, JNU and a councillor at JNUSU. The views are personal.
Get the latest reports & analysis with people's perspective on Protests, movements & deep analytical videos, discussions of the current affairs in your Telegram app. Subscribe to NewsClick's Telegram channel & get Real-Time updates on stories, as they get published on our website.
Subscribe Newsclick On Telegram