HP Assembly: Sorry State of Healthcare in Himachal
Spending on Health in HP remains below 5% of the total Budget and less than the committed budget estimates.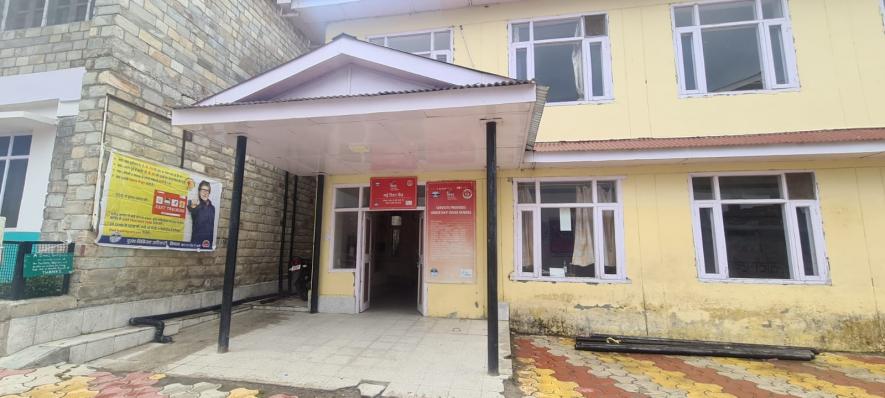 Shimla: Himachal Pradesh- set to go to polls on November 12, will face a neck-to-neck fight between the incumbent Bharatiya Janata Party (BJP) and Congress. Every political leader has hurled allegations against each other over various issues in election campaigns. They are taking up issues like unemployment, Uniform Civil Code, Old Pension Scheme, etc., to draw the attention of the electorate.
During the election rallies, Amit Shah reiterated the BJP's promise to implement the Uniform Civil Code if voted to power. At the same time, Congress' Priyanka Gandhi Vadra assured the withdrawal of 'The Agnipath Scheme' and regulation of the Old Pension Scheme (OPS)- which has been haunting the BJP if the grand old party again comes to power after five years.
However, one of the biggest sectors- the health sector- has found negligible mention in political rallies and party manifestos. While the BJP has promised five new medical colleges and mobile health clinics, the Congress has also announced opening mobile health clinics in its manifesto, but, other than healthcare finding an 'honorary' mention in political rallies in the run-up to the Assembly elections, the existing condition of the health sector in the small hill state, remains largely poor.
According to Rural Health Statistics 2020-21 and Budget documents of the Himachal Pradesh Government, spending on health in Himachal Pradesh from 2012-13 to 2020-21 remained below 5% of total budgetary allocation and in the covid period in 2019-20 and 2020-21, the state
the government spent even less than committed in the budget estimates.
There are 2,114 Sub centres, 553 Primary Health centres (PHC) and 98 Community Health Centres (CHC) in Himachal Pradesh. NewsClick travelled to one such CHC located in the Chopal constituency of Shimla district to take stalk of the ground reality.
CHC Chopal
Chopal is a Sub Division (administrative division) of Shimla District and is over 50km from the capital. Civil Hospital Chopal is one of the 98 CHCs in Himachal and caters to a rural population spread across a radius of 40-50 km.
It is imperative to remember that the villages in and around Chopal are not only far away from the capital city, Shimla; most are remote with link roads and sometimes no roads at all. Providing healthcare and even First Aid remains challenging to a staff of nine doctors here. A senior doctor working here told NewsClick, "We have a running capacity of 50 beds here even though it is proposed to be run at a 100-bed capacity. People here don't have resources and are simple village people who don't object, but if you come here from a bigger city, you'd be angry to see this state."
Doctors of this hospital struggle with a shortage of basic requirements like sutures, oxytocin and gloves- which are essential requirements as most cases coming here are accident cases and pregnancy cases. "Our seniors ask us to indent, and we do; our clerk shows us the report, but we never receive it," a female doctor requesting anonymity told NewsClick.
"Now we just identify and refer because we don't have basic equipment like an Ultrasound machine. We have an x-ray machine, but other than that, we collect samples and send them. It's normal here, and we have gotten used to it along with the people," she added.
According to Indian Public Health Standard (IPHS) norms, four specialists (Surgeons, Obstetricians, Gynaecologists and Paediatricians) are required at every CHC. In Himachal, out of a total of 98 CHCs, only one CHC has all four specialists, and 97 CHCs do not have all four. "Only the CHC in Theog has all four specialists," she added. Her statement corroborates with the data available as 392 specialists are required in CHCs, out of which only eight are in position, and 384 posts are vacant. At district and sub-district hospitals, there are 1,717 posts sanctioned; out of this, 24% of doctors' posts are vacant."
One of the most challenging times for this hospital was when the pandemic hit. Another Senior doctor, who has been at the hospital for nearly four years now, recalled the time when the pandemic hit in 2020. "We had a shortage of workforce. At that time, we were only three doctors here taking turns with OPD and Corona OPD as well. We were not only overworked; we did not even have PPE kits, masks- forget N95 masks, we did not have gloves and Corona tests as well!" she told NewsClick.
On average, the doctors here tend to nearly 100 patients a day with ailments ranging from fever, vomiting, typhoid, and diarrhoea to deliveries. However, during the first wave of Corona, the three doctors here had to tend to nearly double the amount on a daily basis without proper covid protocol.
Adding to their woes, winters in this area are severe, with the region receiving snowfall up to three feet which results in electricity cuts for up to four days at a stretch. "Winters are the worst. With no power supply, we struggle to do our jobs. Roads are blocked, so we need to keep patients at the hospital, but generators run out of fuel, and we need electricity to supply oxygen and nebulisers. Overall, it gets pretty rough," she added.
Government Apathy a New Normal
Whether it's the CHC at Chopal or the Indira Gandhi Medical College (IGMC)- one of the six medical colleges and the biggest hospital out of the 101 government hospitals in Himachal (according to HP economic survey 21-22), a common theme of lacklustre attitude by the Government has been found.
A Post Graduate Resident in the Dermatology Department of IGMC told NewsClick that the staff remains highly overworked despite several vacant posts.
"Everybody sees it. Patients get agitated when they have to wait in line for hours to get tests done or to get a consult. But we also only have so much time in a day, and we're left with no choice but to pacify them by saying we are doing what we can," a doctor requesting anonymity told NewsClick.
"This has become normal," the doctor added. When asked if the recently inaugurated All India Medical Sciences (AIMS) Bilaspur would be conducive to reducing workload, she said, "It has to be fully functional first. The Government is announcing and opening these super speciality hospitals but they are not functional. No one knows how long they will take to be fully operational."
She was referring to the Trauma Centre and Superspecialty Block of IGMC being brought up in the Chamyana area of Shimla, which was proposed to be completed in March 2022 but remains under construction to date. According to a report by the Comptroller and Auditor General of India (CAG), the health and family welfare department of Himachal Pradesh failed to establish envisaged trauma centres in five hospitals even after incurring an expenditure of Rs 10.61 crore. There was further idling of funds of Rs 7.81 crore with these hospital authorities for 30-57 months.
"With the elections around the corner, I don't see any difference in the way healthcare has improved in the last five years. On the other hand, I think it has deteriorated only," said a senior Doctor told NewsClick.
Get the latest reports & analysis with people's perspective on Protests, movements & deep analytical videos, discussions of the current affairs in your Telegram app. Subscribe to NewsClick's Telegram channel & get Real-Time updates on stories, as they get published on our website.
Subscribe Newsclick On Telegram