Haldwani Evictions: 'How Can Demolishing Homes be Normalised in a Democracy?'
Over 4,000 aggrieved households of this Uttarakhand city, mainly Muslims, have been paying taxes for decades. They say the Railways has not presented any proof, except a map, to prove its title over the land in question.
Haldwani (Uttarakhand)/New Delhi: Asma Khan, a mother of two and home maker, is at the risk of losing her home, built decades ago by her forefathers. Her voice choked and eyes moist, she narrated the injudicious treatment being meted out to her and thousands of people in Haldwani's Banbhoolpura locality in the wake of the Uttarakhand High Court's eviction order.
The 36-year-old, who has a Master's degree in political science, manages family affairs, while her husband earns a living from a small business of furniture manufacturing.
"How can the horrible act of demolition be normalised in a democratic nation," she says, soon after returning from a prayer session organised by women against the proposed demolition of over 4,000 houses at Banbhoolpura locality in Haldwani city.
In this biting cold, a total of 4,365 households on 78 acres in the locality have been asked to vacate the area till January 7, failing which they would be removed by force. Bulldozers are set to leave at least 50,000 people living at Ghafur Nagar and adjoining areas such as Indira Nagar, Nayi Basti and Line No. 17, 18, 19 and 20. All these localities are densely populated, and people have been residing here for decades.
"Even a dictator cannot think of uprooting such a large number of people from a place they have been residing for several decades. At a time when governments across the world come up with rehabilitation policies, our government and courts are hell bent upon booting us out without any rehabilitation and compensation plan," said Asma Khan, intermittently wondering where they all would go with children and elderly people.
Shumaila Ansari said they would prefer death over leaving the place they proudly called their home. Holding a three-year-old daughter in her lap, she told NewsClick: "We cannot afford to buy a piece of land elsewhere and construct a house. Eviction in the absence of rehabilitation is inhuman. Where will we go with our children in this spine-chilling cold? We have no choice, but to face all sorts of brutalities. We are ready for the worst, but won't leave."
Advocate Md Nayeem lives in a two-storeyed house built on an area measuring 594 square feet since three generations. His grandfather, Abdul Karim, had got the nazul (revenue) land on lease (patta) in 1947 for a period of 90 years.
Following the state government's 2009 nazul policy, it was converted into a freehold land. The then Congress government had decided to stop renewing pattas allotted to well over 50,000 people and freeholding the nazul property.
Freehold property can be defined as any estate which is "free from hold" of any entity besides the owner. Hence, the owner of such an estate enjoys free ownership for perpetuity and can use the land for any purposes, however, in accordance with the local regulations. Sale of a freehold property does not require consent from the state and hence requires less paperwork.
Despite the regularisation of his land, Nayeem, too, is facing threat of eviction. "Despite being the legal owner of the land, I am an encroacher today. Doesn't it sound bizarre?" he smilingly asks with apparent unease on his face of an uncertain future.
"Nazul land is owned by the state government. It has been leased to our ancestors, and we have inherited it from them. We are being accused by the media of waging 'land jihad'. But no one, not even the court, is asking the Railways for evidence in support of its claim over the land," said 40-year-old Zaheer, who earns a living by making steel almirahs.
Md Shadab (40), a carpenter by profession, said both he and his father were born in his house at Nayi Basti. His grandfather Inamullah was allotted a land lease of 600 square feet 50 years ago.
Md Imran had got 60% discount on the circle rate when he got his freehold land registered in 2015. His name is also mentioned in the khasra-khatauni (land records) as the legal owner of his land at Line No. 17 where he has been residing for generations.
Syed Sarfaraz Ali, also from the same locality, has a land lease of 1940. He had applied for registration of his property as freehold land following the state government's nazul policy. Since the order was quashed by the High Court, but later upheld by the Supreme Court, his application is pending with the department concerned.
Showing a paper issued by the Urban Development Authority, he said his house is built on Khasra No. 729.
"Despite the fact that the Railways does not even have claim on 729, we have been served eviction notice. We have not so far approached the High Court as our objection is pending with the estate officer appointed by the Railways where we would be heard on February 7. The High Court issued the demolition order even before the final decision on our objections and appeals in the district judge court," he said.
Rahmat Khan's father had bought his land in Line No. 17 for Rs 1,700 on October 1, 1956 from the Union Ministry Rehabilitation, through an auction of enemy's property. According to papers, the property was acquired by one Laxman Das who later sold it to Hukum Khan. His father bought the land from Khan.
The mutation of the land was done in 1969 by the municipal corporation, which also passed a map of his house in the same year.
Ateeq Shah, in support of his claim of legal ownership on his land, showed a certificate of sale of the freehold property issued by the then Union Ministry of Rehabilitation. The Enemy Property was bought by his father in 1961. Before acquisition of the property, they had been living in the house since 1950. A treasury challan shows his father had also paid a rent arrears of 10 years.
Many residents of Banbhulpura claimed they had been living in the locality for the past 82 years. They have land lease of the nazul property issued to their forefathers in 1940. Records show they have been regularly paying house taxes as well. Still, they are on the verge of losing their homes.
They claimed that 80% of Haldwani lives on nazul land.
Though Banbhulpura is predominantly a Muslim locality, it has a minority Hindu population as well. And it is also faced with the same threat. Most of them belong to the OBC (Other Backward Class) community, which migrated from Uttar Pradesh after the state was carved out.
Banwari Lal's family has been living with his family near Durga Mandir at Indira Nagar for the past 52 years. His father shifted from Rampur in 1970. He had got the land during the Indira Gandhi government in the Centre.
"We have been paying house tax, sewage tax, water tax for years. The area has government schools, colleges, health centres and religious places. If the land is owned by the government, how was such a huge population allowed to settle here? Why did the government provide facilities? Above all, why is the government collecting revenues when the land does not belong to it?" he asked.
Vinod Kumar Sahu, who makes confectionery and sweets in marriages and parties, owns 700 square feet of land near the temple. It was bought 40 years ago by his parents who migrated from Allahabad (now Prayagraj) in Uttar Pradesh.
"We won't leave until the government comes up with a proper rehabilitation plan," said the father of a daughter.
Laxmi Devi was visibly disturbed. The 55-year-old has a house built on area of 400 square feet.
"After marriage, I came to this house only from my parents' house. My husband lived and died here in 2011. Whatever we earned, we spent that here. Where will I go now in this age? The house is my only saving," said Laxmi Devi, whose daughter is scheduled to get married in March.
Railway officials said they have begun the process of demolition. "A total of 4,365 encroachments have been served notices through local newspapers. The occupants have been given seven days' time to shift. If they fail to evict, actions will be taken," Rajendra Singh, Railway PRO, Izzat Nagar, told NewsClick.
Amid protests, a joint team of revenue and railway officials have already conducted a survey to demarcate the alleged encroached areas.
Opposing the planned eviction, the Congress has accused the government of intentionally not arguing the case in the court.
The district administration has started preparations to turn the town into a cantonment. Heavy police force is being deployed in Haldwani. Apart from Railway Protection Force (RPF), companies reserved police forces have also been requisitioned from the Centre. Police from neighbouring districts have also been deployed here.
Potential trouble makers, according to senior officials, have been under constant watch. If needed, they would be taken in preventive detention. The police are monitoring the social media. "Strict action will be taken against those who try to disrupt the peace," said the Inspector General of Police.
THE CATCH
The High Court's decision is based on a writ petition filed in 2014 in the form of a public interest litigation (PIL) by one Ravi Shankar Joshi. The petitioner is in no way an aggrieved party.
The Railways never filed any petition in the court, claiming that its property has been encroached upon. It came into picture after the court asked it to file a reply to the PIL.
Against strong evidence of the occupiers of the land, the Railways has not presented any proof, except a map, to prove its title over the land in question.
Its claim is on 29 acres of land in the area adjoining the railway track near Haldwani Railway Station. But the eviction notices have been issued through newspapers to people residing on 78 acres. Nowhere in the court record has the Railways claimed title over 78 acres.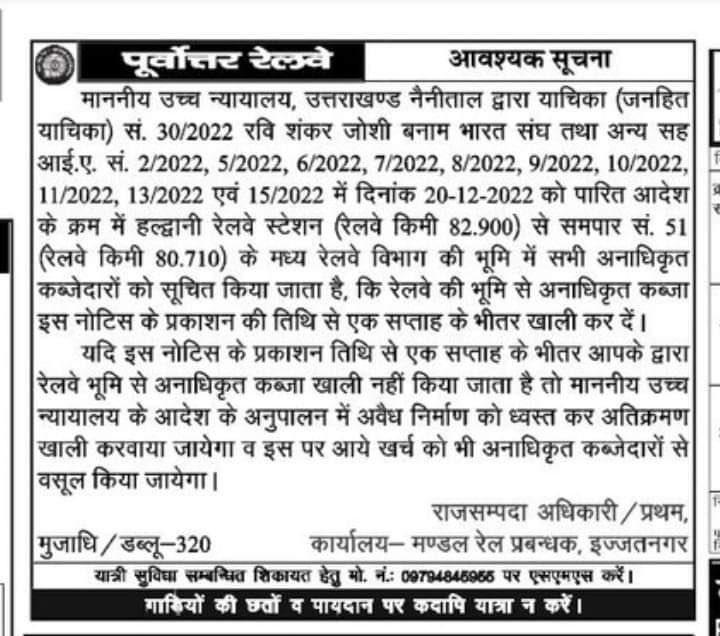 How did this happen? No one knows.
The Uttarakhand government, through an affidavit, had informed the court in 2017 that land in question is nazul property. This means the state has the title over the land. But later, it said the property belongs to the Railways and it has no say on it.
Get the latest reports & analysis with people's perspective on Protests, movements & deep analytical videos, discussions of the current affairs in your Telegram app. Subscribe to NewsClick's Telegram channel & get Real-Time updates on stories, as they get published on our website.
Subscribe Newsclick On Telegram