Hard Hit by Pandemic, How Female Garment Workers are Fighting Exploitation in AP and Karnataka
An estimated 40% of garment and textile workers in Karnataka and about 50% in Andhra Pradesh's Hindupur region lost their jobs after COVID-19 outbreak.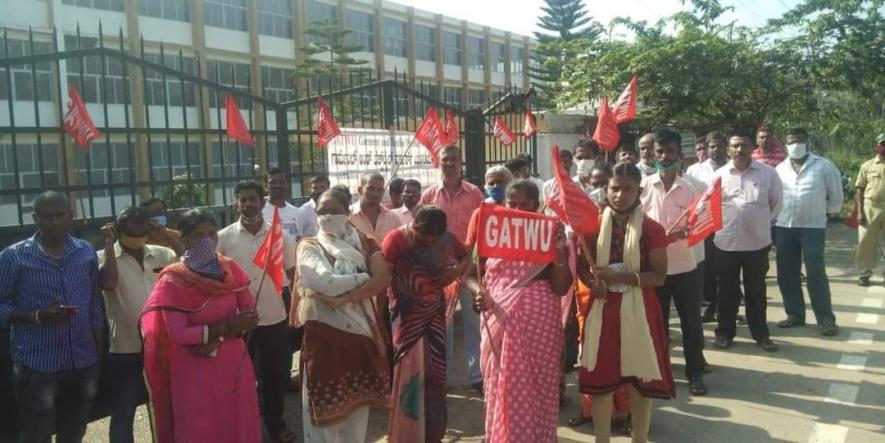 Hyderabad: For over a month, 66 garment workers, most of them women, of Arvind Lifestyle Brand Limited Factory in Karnataka's Ramanagara district have been protesting against abrupt layoffs and sudden closure of the factory without any notice. The workers led by Garment and Textile Workers Union (GATWU) are demanding alternative work in other factories of Arvind Lifestyle or an appropriate legal compensation, including payment of pending salaries in the ongoing tripartite negotiations with the factory administration and the district labour commission.
The female workers in the apparel industry are the worst-hit among the working class in Karnataka, says R Prathibha, president of GATWU, which is affiliated to New Trade Union Initiative (NTUI). According to GATWU's estimations, after the COVID-19 outbreak, nearly 40% of the workforce in the apparel industry in Karnataka or about 36,000 workers were rendered unemployed owing to the indiscriminate policies of private companies.
"Only a few factories where workers are unionised, they were able to resist and protest the violation of their rights by the managements," said Prathibha.
In June, Euro Clothing Company II (ECC II) of Gokaldas Exports Ltd at Srirangapatna town in Mandya district shut down the factory and abruptly laid off about 1,300 workers. "After a continuous protest for nearly two months, the management agreed to pay the pending gratuity amount, pending salaries and wages for the notice period," she said.
NewsClick had reported on the protests by the female workers of the closed ECC II unit that has even garnered international support. ECC II has been mainly manufacturing for H&M (Hennes & Mauritz), the world's second biggest clothing retailer. As trade unions protested in front of H&M retail outlets, its officials got involved in the negotiations with Gokaldas management, ultimately reaching a settlement with the workers.
Similar, and in some cases, worse plight has hit garment workers in Andhra Pradesh.
According to the Centre of Indian Trade Unions (CITU), the workforce in garment industries in Hindupur region of Andhra's Anantapur district has come down from 30,000 to 15,000 after COVID-19 outbreak.
"In the last few months, female workers in several garment factories have voluntarily staged protests by boycotting work, complaining about low wages, harassment and intimidation and harmful working conditions among others," said E S Venkatesh, CITU secretary of Anantapur.
In October, nearly 4,000 textile workers, 90% of whom are women, working in three units of the Texport Industries Private Ltd in Thumakunta of Hindupur region protested for eight days demanding increase in minimum wages and better working conditions.
"After the negotiations among the workers, trade union representatives, and the Texport management, and the district labour commission officials, the management agreed to increase the minimum salary by Rs 1,000, but in installment from the present salary of about Rs, 6,000. They have also ensured that the female workers will be protected from all kinds of harassment by the supervisors and the management," said Venkatesh.
In November, thousands of garment workers in the India Designs Garment Company and Nisha Designs Garments Company workers in the Parigi mandal in Anantapur staged protests demanding increase in minimum wages and complained about harassment by male supervisors.
"After a two-week long protest, the management said it will increase the salaries from April, but addressed several demands such as increased lunch hours from 15 minutes to 30 minutes, shifted the reporting time from 8:50 AM to 9:30 AM and ensured that harassment cases are addressed," said Venkatesh who was part of the negotiations with the management. "In these protests, only half of the workers had joined. But with few positive results, the workers are now realising the importance of unionising," he added.
Texport, Indian Designs and Nisha Designs have been profit-making entities in the country's apparel industry.
Vinod Kumar, CPI(M) Hindupur regional secretary, sad that the garment workers are irked by the fact that the garment factories, which are three to four km away but come under Karnataka state were paid minimum wages of Rs 12,000 per month, which is nearly two times of what Hindupur workers are being paid. "The garment factory managements in Andhra Pradesh say that they are paying as per the government rules. But the minimum wage government order has not been revised for the last 10 years," said Kumar.
Garment, textile and tailoring workers across countries are afflicted by similar situations.
According to a report by the International Labour Organisation (ILO) titled 'Gendered impacts of
COVID-19 on the garment sector', "the COVID-19 crisis has hit the garment sector hard, and studies suggest that the industry will continue to feel its impacts in the months to come. Major changes in both supply and demand have disrupted production and cash flow, pushing many businesses to the edge of collapse. As buyers and suppliers struggled to mitigate the economic repercussions of the coronavirus, and orders worth billions of dollars were cancelled, millions of workers in countries such as Bangladesh, Cambodia, Egypt, Ethiopia, Haiti and more were retrenched or furloughed, some without payment of wages for already completed work or
severance pay, as required by law."
Get the latest reports & analysis with people's perspective on Protests, movements & deep analytical videos, discussions of the current affairs in your Telegram app. Subscribe to NewsClick's Telegram channel & get Real-Time updates on stories, as they get published on our website.
Subscribe Newsclick On Telegram