Haryana: Government School Students Studying in Servant Quarters of a Private Mill, Highlights Petition
As per Ashok Agarwal, a leading RTE activist, 454 rooms of 85 government schools in the Faridabad district alone are in dilapidated conditions. Out of which, PWD had already declared 220 rooms of 34 schools as congested and dilapidated in 2017-18, which are yet to be demolished after over four years.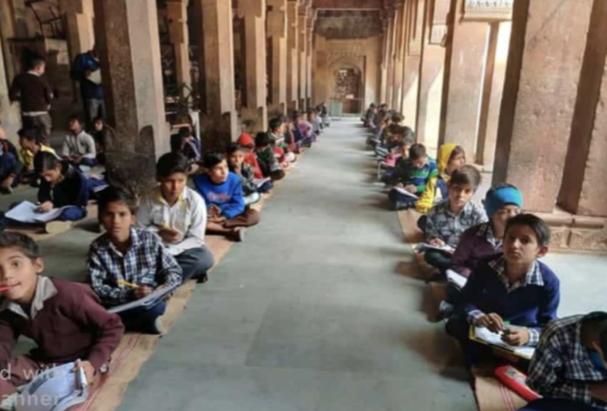 Thousands of students of government schools in Haryana are forced to study in dilapidated and dangerous school buildings, risking their lives even when the state's public works department (PWD) declared them dangerous for any activity. A petition filed by leading Right to Education (RTE) activist Ashok Agarwal in Punjab and Haryana High Court alleged that the Manohar Lal Khattar government refused to take cognisance of repeated complaints of parents seeking intervention in the matter.
Citing examples of schools in Faridabad, Palwal, Nuh and Palwal and Karnal, Agarwal emphasised that his team visited at least 25 schools in different districts to assess the state of education and found one school resorting to shifting students to the servant quarters of a private mill, violating the provisions of RTE Act.
Talking to NewsClick over the phone, he said, "During our visit, we found that Press Colony High School in Faridabad was run from crammed servant quarters of East India Cotton Mill. In another matter, we moved Punjab and Haryana High Court, where its education secretary submitted an affidavit in the court and confirmed that it has ordered that the school be shifted to another State of Art School built in the neighbourhood. Still, the district education officer failed to comply with the orders even after two years."
He added that as per information acquired through RTI and government records, 454 rooms of 85 government schools in the Faridabad district alone are in dilapidated conditions. Out of which, PWD had already declared 220 rooms of 34 schools as congested and dilapidated in 2017-18 itself. Even after four years, the declared rooms have not been demolished, and new rooms have not been constructed in their place. This highlights the negligence of the education department.
"We visited another Government Boys Senior Secondary School in Tigaon where we found 500 students were studying in the school. The school had built three new classrooms, but it was not enough to accommodate 500 students. The old building was 100 years old and in an extremely dilapidated situation where poor students were forced to study."
"After finding the horrible situation, we decided to broaden the visits and visited schools in central Haryana. In Karnal, we visited Government Middle School in Kheriwal village, where we found that merely 23 students were studying in this school. The number of students had decreased from 35 to 23 in a year due to lack of basic amenities like classrooms and toilets. It was interesting to note that the students of the standards sixth, seventh and eighth were studying in the same classroom as the school did not have enough rooms to accommodate students. It had only three teachers, out of which two had gone to attend a seminar for a week and students were left at the mercy of a single teacher."
He added that the Haryana government fails to acknowledge that the RTE means quality education which necessarily implies a conducive and safe environment in every school for children's education.
"Do I need to say that these students come from the poorest families who cannot raise their voices about this human right violation?"
Reports suggest that the state is battling the challenge of poor infrastructure and needs an army of teachers to teach children in Haryana. The information furnished by Haryana Education Minister Kanwar Pal in the state Assembly in response to a question suggested that it has 40,000 vacant positions for teachers and 6,000 positions for support staff. In his reply in December 2021, the minister said that the education department needs 398 principals, 112 headmasters, 13,974 postgraduate teachers, 20,467 trained graduate teachers, and 4,846 primary teachers. Similarly, it had 6,662 vacant positions for support staff, including sweepers, guards and peons. The state currently has 53,68,539 students, of which 25,30,868 students were studying in government schools and 28,37,671 students in private schools.
Krishna Kumar Nain, state vice general secretary, Haryana Vidyalaya Adhyapak Sangh, told NewsClick that the education system has severally suffered due to the transfer policy of the education department.
"It is quite evident that the state needs 40,000 teachers desperately. In the absence of these teachers, the department opted for transferring the teachers to mitigate the pressure. Now, every school lacks teachers of two or three subjects which other teachers are teaching. Some students are scoring good scores in two or three subjects and failing in other subjects. No parent wants it. Even when they wish to teach students in government schools as they are financially broke, they are looking to shift them in private schools as the situation improves."
When asked about the dilapidated structures of schools, he added, "The situation is common in schools where there is not enough land to build new schools. The outer infrastructure has improved a bit, but it still needs equipment and other material to make it a proper school. Labs do not have the equipment, and the library does not have any librarian or books."
Get the latest reports & analysis with people's perspective on Protests, movements & deep analytical videos, discussions of the current affairs in your Telegram app. Subscribe to NewsClick's Telegram channel & get Real-Time updates on stories, as they get published on our website.
Subscribe Newsclick On Telegram