Hasdeo Forest is Existential Issue for Tribals, say Activists Opposing Coal Mining
Tribal activists allege that the approvals for coal mining will have dire consequences for the ecology of Hasdeo Aranya, resulting in mass displacement.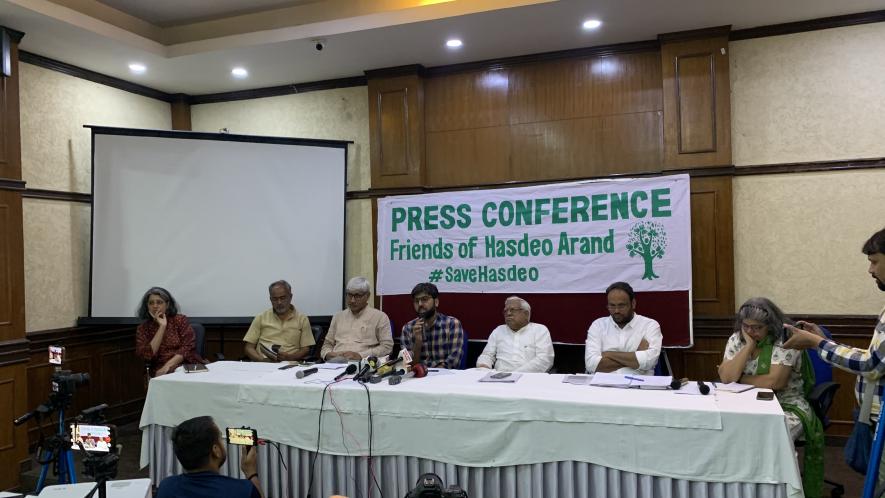 "How would you react if I ransacked your places of worship? We have been worshipping trees and mountains. For us, the forests are not only a matter of livelihood which gives us fruits, tendu leaves and wood. We cannot imagine our existence without it," said a tribal activist, echoing others opposing the destruction of the Hasdeo Aranya forest in Chhatisgarh. Addressing a press conference in the national capital on Wednesday, May 25, the tribal activists said that the consistent approvals for mining in this ecologically sensitive region were coming when leading nations are terming coal as an 'unviable' energy source.
Hasdeo Aranya, also known as the lungs of Chhatisgarh, is one of the largest, intact dense forest areas in central India, covering an area of 170,000 hectares and spread across Korba, Surajpur and Surguja districts. It is the catchment area of Hasdeo, Mahanadi's largest tributary, and remains critical for perennial river flow. The water is subsequently used to irrigate approximately 3 lakh acres of area. Tribal activists allege that the approvals for coal mining will have dire consequences for the ecology, resulting in large-scale displacement.
Showing multiple letters of communication within Chhattisgarh government over concerns of increasing human-elephant conflict, Alok Shukla, Convenor of Chhatisgarh Bachao Andolan, said that various officials conceded that coal mining in the forests could alter the character of the region. 
He said, "If we look at the status of different coal blocks in Hasdeo region, we find that coal blocks in Parsa, Parsa Kete and Kete Extension were allocated to Rajasthan Rajya Vidyut Utpadan Nigam, which went into collaboration with a Gujarat-based power company to produce electricity. Even when the villagers, through their gram sabha, declined permission for mining in the area, the company, in connivance with locals, held forged gram sabha meetings and obtained clearance certificates in 2018. The people enraged by this warned about agitation." He added, "Today, when we are addressing this conference, some villagers will register an FIR against the company because the consent letters shown by it in 2019 carried the names of three persons who died in 2015." 
Ruing the present scenario, the activist said, "The most depressing aspect about the mining approvals is that both state governments are run by the Congress, which alleges that the Narendra Modi government benefits two capitalists. In contrast, its own corporations are benefiting them."
Shukla maintained that the forest area in Hasdeo Aranya is protected by Schedule V of the Constitution. However, no governments, states or unions are interested in protecting the constitutional rights of the tribal population.
Echoing similar sentiments, Kanchi Kori, environmental law and policy researcher at the Centre for Policy Research, said that Hasdeo Aranya needs to be looked at from different prisms, including the global climate crisis. She said, "Hasdeo Aranya is not a local issue as political leaders term it to throw it under the carpet. It is very much a constitutional question which empowers tribals to choose the fate of their land." 
Kori further claimed, "As far as environmental laws and approvals are concerned, we find that processes have been customised to allow the mining. For example, on one hand, the state government says that the area hosts a major population of elephants, whereas another suggests that few elephants pass it. Then, officials would say this migration can be managed. The villagers have been arguing that the fake gram sabhas took place, whereas the Centre's approval letter will say that the state government has received the necessary permission from local bodies. What is laughable is that coal is being extracted for power plants in Rajasthan, which is not even functioning. So, it is evident that the decisions have already been taken to clear coal block allocations somewhere else, and processes have been customised to suit it. There is enough documentary evidence to back it."
Hannan Mollah, core committee member of Samyukta Kisan Morcha, also addressed the conference to express his solidarity. Mollah said that united farmers' struggle at the borders of the national capital to repeal three law farm laws is the latest lesson for movement across the country to continue the struggle and win. He said, "we cannot afford to lose this fight because it would mean defeat for the tribal people. We, too, convened a meeting of Bhoomi Adhikar Andolan to fight the tyranny of the Modi government because it is not limited to Chhatisgarh. It is very much present in Maharashtra, Gujarat, Jharkhand, West Bengal and Odisha. We also need to fight the cleverness of BJP because it is now trying to push laws through its state governments."
Jitendra Meena, Assistant Professor at Delhi University who has been writing on tribal issues, said that tribal people do not look at the forest as a supplier of livelihood means, but their existence cannot be imagined without them. He said, "I hail from a community where trees are worshipped on every occasion, including marriages and festivals. How do you think a tribal person would imagine his life without them. But the biggest mockery remains about the constitutional violations. Scheduled areas are protected by the constitution, and the President of India governs them through state governors. To manage these areas, tribal advisory councils must be formed, and their meetings convened regularly. To your surprise, no meeting of these councils have taken place in the last seven years. The president did not even bother to summon them for its reports."
Get the latest reports & analysis with people's perspective on Protests, movements & deep analytical videos, discussions of the current affairs in your Telegram app. Subscribe to NewsClick's Telegram channel & get Real-Time updates on stories, as they get published on our website.
Subscribe Newsclick On Telegram