Health in Uttar Pradesh: People Demand Better Services and More Budget
A study of some districts in UP shows that per capita spending on health is very low and decreased between 2018-19 and 2019-20. The family planning services were not accessible during the pandemic and people had to pay from their pockets despite having a PMJAY card.
Representational use only.
Per capita spending on health in select districts in UP is very low and decreased between 2018-19 and 2019-20

The bulk of the expenditure in Health & Wellness Centres is on infrastructure instead of medicines and diagnostics

In some districts in UP, family planning services were badly hit during the COVID-19 pandemic. Services such as termination of unwanted pregnancy, counselling, contraceptives etc. were hardly available to women

Even after having the Pradhan Mantri Jan Arogya Yojana (PMJAY) card people had to spend on testing, treatment and medicines from their own pockets.
These are some observations of a community-level advocacy group of women from marginalised sections in UP, called the Mahila Swasthya Adhikar Manch (Women Health Rights Platform). This platform was created and supported by SAHAYOG, a non-profit organisation working on women's reproductive and adolescent health rights and on issues of gender equality and justice.
Focusing on a few districts - Hamirpur, Barabanki, Jalaun, Varanasi and Lucknow - the report by the Mahila Swasthya Adhikar Manch highlights the following challenges –
During the COVID-19 pandemic, people were unable to avail of reproductive and sexual health services as most of the community health centres were converted to COVID centres.

Reproductive and sexual health services remained affected over a long time as most of the health department staff including the ASHA workers were stationed in these COVID centres.

Pregnant women were unable to get an antenatal examination and even the Iron & Folic Acid tablets were not being made available.

Many women could not get timely contraceptive services and had to depend on private health facilities for the termination of unwanted pregnancies.

It was difficult to contact women in villages during the lock-downs as the physical movement was restricted and telephonic means are not an option.
In a district-level consultation organised by SHAYAOG in Lucknow on 17-18 December, these observations were shared with the state-level officials with the health department of the UP Government. The consultation saw the participation of more than 80 people from nearly 20 districts in UP.
DECLINING BUDGET FOR HEALTH
Recent analytical reports have highlighted the weak public health system in UP in terms of infrastructure and human resources resulting in poor health outcomes.
Studying the district level budget documents for allocation and utilisation of funds in the health sector at the district level, the analysis by SAHAYOG points out that the spending on health in some of the select districts - Hamirpur, Barabanki, Jalaun, and Varanasi - has decreased.
Figure 1 shows the per capita expenditure on National Health Mission (NHM) between 2018-19 and 2019-20. Per capita expenditure on NHM in district Barabanki is the lowest, though it has increased between the two years. In all other three districts of Hamirpur, Jalaun and Varanasi, the expenditure has decreased. The decline is most pronounced in Varanasi where the expenditure has decreased by Rs 22.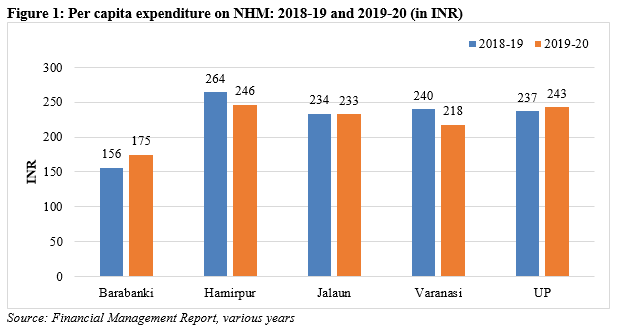 Within NHM, the per capita expenditure on family planning has decreased considerably between 2018-19 and 2019-20 for UP and for all the selected four districts (Figure 2).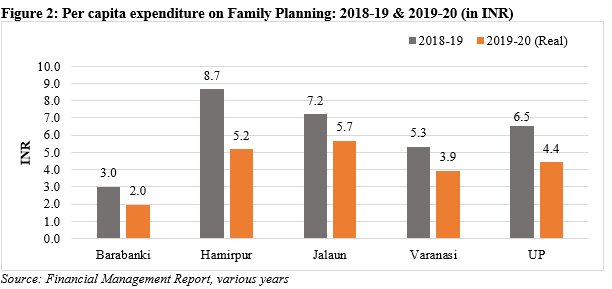 Barabanki fares most poorly among these districts. The decline is most pronounced in Hamirpur - from Rs 8.7 to Rs 5.2 per capita. For UP on average, the decline between 2018-19 and 2019-20 was quite high – from Rs 6.5 to Rs 4.4.
EXPENDITURE ON HEALTH AND WELLNESS CENTRES
The Health and Wellness Centres (HWCs) were announced by the Central government in 2017 as part of the Ayushman Bharat programme. The HWCs are established by upgrading the Sub centre and Primary health centres to include more comprehensive health services.
It is only in 2019-20 that expenditure on HWCs was undertaken in the selected districts (Figure 3). In most of the districts, the per capita spending is higher than the average of UP, except for Varanasi which is very low as compared to other districts or even the average for UP.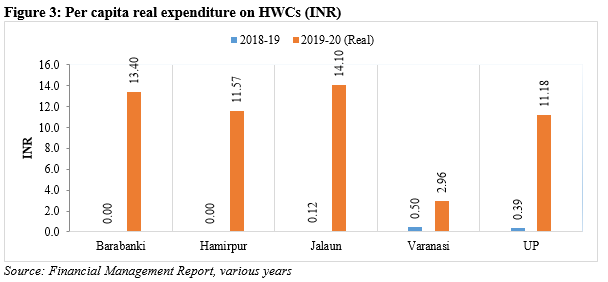 ooking at the composition of expenditure under HWCs in 2019-20, Figure 4 shows that in UP the maximum expenditure is on the infrastructure head (89.3%). Expenditure on HR activities is around 2.5%. The total expenditure on HR, IEC, equipment and training is minuscule in the state level.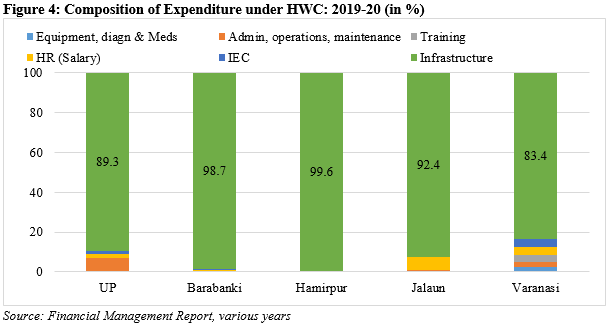 The districts also follow the same pattern, with Hamirpur recording almost the entire expenditure (99.6%) on infrastructure. Barabanki also has spent mostly on infrastructure head.
It is concerning to see that the expenditure on equipment, diagnostics and medicines is negligible. With such a pattern of spending, the very purpose for which the HWCs was announced gets defeated. As revealed by district-level observations, in many of the cases it is just renovation of buildings or putting up of new hoardings and posters. The crucial expenditure for people which should have been on providing more diagnostic services and medicines is missing.
The COVID-19 pandemic has clearly shown the dire need for an efficient public health system. The community and district level analysis was done by SAHAYOG and its partners clearly show that much more public investment is needed in the health sector and a better prioritisation within each budget head. Rather than spending on IEC and other non-developmental heads, expenditure on services, equipment, medicines are more important. The government needs to look into these aspects carefully and plan the expenditure and design health interventions accordingly in a pro-people manner. The main demands put forth by the women's group at the end of the consultation include:
Family Planning counselling at the community level and other related services needs to be made available in villages.

Reproductive and sexual health services, including contraceptives, should be made available free of cost at every level.

HWCs should immediately be strengthened as per the standards and adequate human resources are put in place.

Adequate medical staff should be recruited at all levels of hospitals/health centres as per the Indian Public Health Standards.

All citizens must be provided with equitable, accessible and affordable health services at the nearest possible point.

More ASHA workers need to be recruited in the public health system and they must be given appropriate salaries.

As low budget allocation and expenditure for health affects the entire health system, the health budget must be increased in real terms. The per capita expenditure on health must be increased.

To monitor private hospitals, pathology and other services, compliance to the Clinical Establishment (Registration and Regulation) Act 2010 must be ensured.
Get the latest reports & analysis with people's perspective on Protests, movements & deep analytical videos, discussions of the current affairs in your Telegram app. Subscribe to NewsClick's Telegram channel & get Real-Time updates on stories, as they get published on our website.
Subscribe Newsclick On Telegram