Arming Children, Securing a Future?
By distributing knives to meritorious children, organisations like the Hindu Mahasabha, are trying to give religious legitimacy to what is essentially a political use of faith.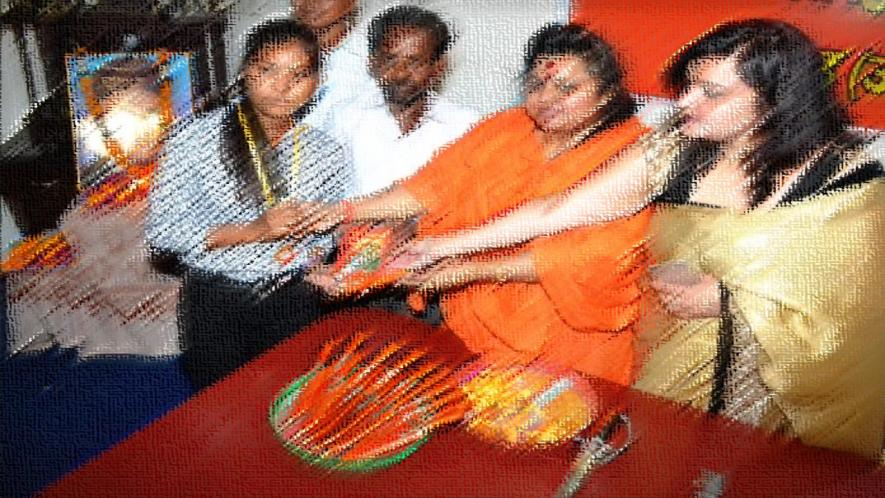 What does an organisation do when it wants to congratulate meritorious students who have excelled in exams?
Reward them with some gifts, say, books, and (if finances allow) give them scholarships or laptops to facilitate their further studies. Definitely not gift them knives.
Well, Pooja Shakuni Pandey, the national secretary of Hindu Mahasabha, who had been making news for controversial reasons for more than a year, exactly did this on Savarkar Jayanti. This mathematics professor made it clear that she was not much interested in how they study further or what they wanted to become. With this knife distribution programme, along with a copy of Bhagwad Gita, she wanted to 'create Hindu soldiers out of these children' and it was basically a "[s]tep to motivate Hindus and empower them, especially the younger generation, with knives to protect themselves."
Definitely there was no one in the audience to tell her that such a call for arming a section of the population can easily considered an offence under Section 153 (a) which penalises what is known as creating 'disaffection between communities'. Second, it puts a question mark over the whole constitutional edifice that guarantees everyone -- irrespective of creed, caste, colour, gender etc – the right to life.
The spokesperson of Hindu Mahasabha made it further explicit that this knife distribution ceremony was just an attempt to follow Savarkar's dream who had said that 'Militarise Hindus, Hinduise the nation'.
It is obvious that the contemporary followers of Savarkar would not like to remember the conditions during which Savarkar had given that call. It may be underlined that in one of the most inglorious chapters in their own history, Savarkar, leader of the Hindu Mahasabha, had gone to the extent of mobilising Hindus to join the British military -- when the broad masses of the people in this part of the subcontinent had risen in unison over the historic Quit India movement. The Hindutva supremacists were thus engaged in strengthening British efforts to suppress the rising tide of people's movement. Savarkar, the pioneer theoretician of the project of Hindu Rashtra, preferred to tour India then, asking Hindu youth to join the military with a call to 'Militarise the Hindus, Hinduise the nation'.
Not very many people would have forgotten how Pooja Shakuni Pande, nicknamed 'Lady Godse' was appointed the 'first judge' of the Hindu Court established by her organisation, in a programme held on Independence Day last year, much on the lines of the Sharia Court, to take decisions on Hindu affairs or how she led the mock 'Gandhi assassination programme' a few months ago, wherein she was herself seen firing from a fake pistol on Gandhi's cutout.
As expected, in an ambience filled with Hindutva triumphalism, this objectionable programme was neither much covered by the media and nor was there any move to take legal action against the organisers for influencing young minds with tales of arms and violence.
Hardly had the dust settled down on this 'arming of children' episode, came news of a 'weapons training' camp at a school run by a Bharatiya Janata Party MLA in Thane. Copies of photographs of the Facebook posts showing children some of them minors, handling rifles, guns, loading/unloading them and jumping across fires went viral.
A controversy erupted over alleged 'weapons training' being imparted to students at a Mira Road town school, owned by local Bharatiya Janata Party (BJP) legislator Narendra Mehta, here on Sunday. In a letter to Atul Kulkarni, Assistant Superintendent of Police (Thane Rural), the Democratic Youth Federation of India (DYFI) has alleged imparting of weapons handling training to students and has sought a probe into it. It's not only illegal, but also dangerous for students,"
Could it be said that both these 'unrelated' incidents are a sign of things to come when the Hindutva Brigade finds itself emboldened with a historic victory second time in a row?
It is difficult to presume this, but signs are ominous when it is being discussed that "Among the youth, except in non-Hindu communities, the BJP has found acceptance across caste groups. PM Modi's popularity was a great pull factor. Looking at this changed narrative, maybe it wants to further inculcate a ''warmongering attitude' in these 'tomorrow's youth' which can precipitate random vigilante violence and emergence of lynch mobs to teach the 'others' a lesson.
The last five years of the Modi regime have witnessed the emergence of such vigilante mobs. There have been umpteen examples to know how a vigilante mob slowly merges into the state and vice versa and how the much-cherished rule of law is put on its head or how the state 'outsources' work of silencing dissident voices to such mobsters.
It also serves the larger Hindutva agenda.
Analysing the reasons for vigilantism, scholar Christophe Jaffrelot dissects the vision and role of the Rashtriya Swayamsevak Sangh (RSS) which has always intended to 'transform society from within, by instilling its own sense of discipline into it, which it thought was required for defending Hindus more effectively'. For him as the Hindu Nationalists, 'do not want the state to prevail over society and want the society to regulate itself, as per the emphasis on social order and "harmony" or hierarchy, that is suggested in the Hindutva ideology', the fact that the vigilantes "do the job" is very convenient for them.
We should never miss the fact that like every exclusivist ideology/organisation/formation, which claims to be centered around a particular religion --  be it Islam, Zionism, fanatic Buddhism -- Hindutva has always entertained a dream of preparing/arming its followers to fight the 'others' and slowly albeit not so silently moving closer to usher into its dreamland of Hindu Rashtra. Its ideologues/leaders have been candid enough to point out to the faithfuls the 'internal enemies'' and ways to deal with them or exterminate them. All these preparations dotted by regular drills, games and other militant exercises serves as a counter to the much publicised notion by the same people that 'Hindus are Cowards' or "Islam was spread through the sword", which has been an item of belief for Hindutva fundamentalists.
Reports galore where affiliated organisations of RSS - namely Bajrang Dal, Durga Vahini - are seen imparting training supposedly for self-defence, which also involves rifle training.
Gone are the days when only lathi-wielding swayamsevaks (volunteers) of the Sangh use to march on streets on VijayaDashami /Dusshera as part of their route marches called 'Path Sanchalan' in their lexicon, reports keep appearing here and there how some of these volunteers or volunteers of other affiliated organisations join these programmes with swords, pistols and rifles as well these days and have no qualms even firing in air to communicate their message.
Read Also: Dissecting Communal Riots in Bihar: Two Lakh Swords and Plenty of Hateful Songs
And of late, armed processions of Hindutva volunteers/supporters under the pretext of religious celebrations have become quite common in large parts of North India -- which have caused spurt in communal tensions at various places.
Such armed processions, as part of religious celebrations, remind one of the stock in trade trick of every type of fundamentalist who tries to transplant religious symbols and rituals from the sphere of the sacred to the soil of the profane. This helps to create an illusion of religious legitimacy to what is essentially a political use of the faith system in operation called religion. Burning crosses carried by the infamous Ku Klux Klan -- a Christian terrorist organisation in the United States, which advocates extremist reactionary currents such as white supremacy, white nationalism, anti-immigration and anti-communism --, the use of the noble concept of Jihad by the Fassadi terrorist or the likes of Al Qaeda ; or the conscious use of the image of Ram via-a-vis the Ayodhya temple movement by the Hindutva brigade illustrates this exercise.
Shadow Armies, a recent book by veteran political journalist Dhirendra K Jha, even takes a close look at burgeoning of fringe organisations such as the Sri Ram Sene, the Hindu Yuva Vahini, the Sanatan Sanstha and the Hindu Aikya Vedi apart from few affiliated organisations of the RSS which, according to the author, "stir up trouble, polarize communities, incite violence in the name of Hindutva." It is common knowledge that they had accompanied BJP's steady advance over the last three decades from two Lok Sabha seats in 1984 to 282 in 2014.
With the ascent of Hindutva Supremacism at the Centre once again, all these efforts have received a tremendous boost and they have further developed ways to put the faithful further on a militant/radical/violent path.
And how can the children be left behind?
Get the latest reports & analysis with people's perspective on Protests, movements & deep analytical videos, discussions of the current affairs in your Telegram app. Subscribe to NewsClick's Telegram channel & get Real-Time updates on stories, as they get published on our website.
Subscribe Newsclick On Telegram