Gujarat Today Could be What 'Hindu Rashtra' Will Look Like for Dalits
The recent spate of attacks on dalits in the state is an indicator of the fact that the unfolding project of RSS's Hindu Rashtra has entered a new phase where the community is being construed as the 'new other'.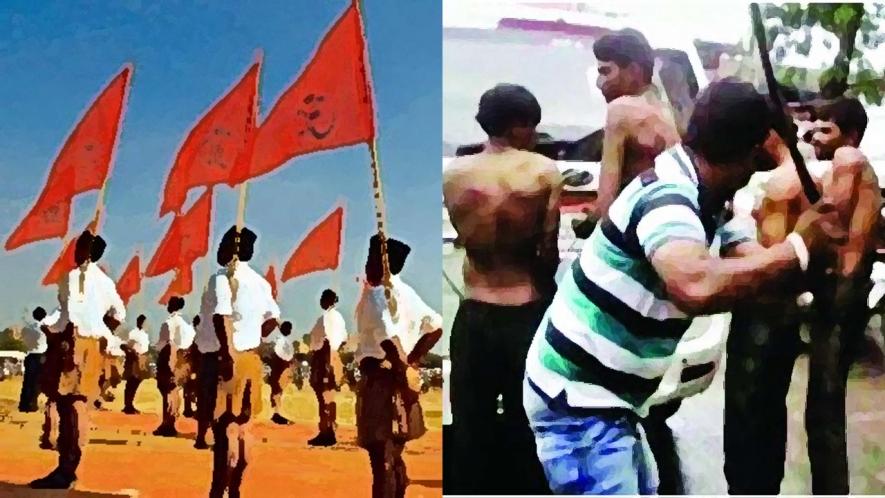 When I was born, I was not a child

I was a dream, a dream of revolt

that my mother, oppressed for thousands of years,

dreamt.

Still it is untouched in my eyes

Covered with wrinkles of thousand years, her face

her eyes, two lakes overflowing with tears

have watered my body….

– Sahil Parmar (Noted Gujarati Poet)
'You are Welcome to Enter ... Village of Hindu Rashtra'!
It was around two decades ago that headlines in a few national newspapers reported the 'arrival' of Hindu Rashtra in parts of Gujarat. A few inquisitive journalists had even displayed photographs detailing the nascent phenomenon then.
The shock generated by the news died down in a short while.
Hardly anybody then could have a premonition that it won't take much time for the idea of Hindu Rashtra to gain wider acceptability across India with a commonsense gaining ground rather getting consolidated where religious minorities were increasingly understood as 'the other'.
Could it be said that the recent spate of attacks on dalits -- leading to at least three deaths in the past one month in the same state, coupled with growing instances of life of insecurity of many concerning their lives or their continued deprivation by the dominant castes, is an indicator of the fact that the unfolding project of Hindu Rashtra has entered a new phase where dalits are being construed as the 'new other', one who could wreck the project of 'Hindu Unity' from within.
Perhaps it is too early to draw any such conclusion, but portents are there for everyone to see.
We should not forget that time and again, Hindutva ideologues have demonstrated their tremendous fascination toward Manusmriti, which ordains sub-human existence for dalits. Remember Golwalkar, the second supremo of Rashtriya Swayamsevak Sangh (RSS), had opposed the making of the Constitution by espousing the cause of Manusmriti and had demanded that it be made into independent India's constitution. Organiser, the organ of the RSS, had then complained:
But in our constitution there is no mention of the unique constitutional developments in ancient Bharat. Manu's laws were written long before Lycurgus of Sparta or Solon of Persia. To this day laws as enunciated in the Manusmriti excite the admiration of the world and elicit spontaneous obedience and conformity. But to our constitutional pundits that means nothing.
(Organiser, November 30, 1949, p.3. For detailed discussion, see Modinama, Leftword, 2019)
One of the most shocking incidents in this targeting of dalits happens to be the killing of Manji Solanki, deputy sarpanch of village Jalila from Botad district, by suspected dominant caste people from his own village. In fact, Manji, who had faced deadly attacks at least four times in the past few years, had applied for security with the police and his application was pending with the police for months together.
A purported video clip of the last moments of Manji is disturbing to say the least. In the clip, he is not only naming the persons who attacked him but also narrating how the perpetrators rammed their four-wheeler on his two-wheeler and beat him with lathis and pipes. Thousands of dalits from Gujarat and Maharashtra had recently gathered at Manji's village to demand justice for him.
Less than a month before Manji's murder, 19-year-old Rajesh Sondharva, a resident of Manekwada village in Rajkot district, who was fighting for justice in a criminal case involving the murder of his father, late Nanjibhai Meghabhai Sondharva, a dalit activist, was thrashed to death by dominant caste people.
Anyone who looks closely at these killings or instances of dispossession or the life of insecurity faced by dalits -- who number less than 7% of the state's population -- can discern a common thread in it which relates to the their growing assertion for their constitutional rights and the vengeance with which it is dealt by the 'upper castes'. The killing of Manji Solanki, whose wife was the sarpanch (head) of the village, demonstrates that it does not even matter even if one's political affiliations lie with the ruling dispensation itself.
It was only last year that Frontline magazine had shared details of 'Cases of Violence against Dalits' in the state during the last few years, which had gone largely unnoticed. The three representative cases from the year 2018 tell us how the mere fact that a 21-year-old's hobby of riding a horse led to his killing (Bhavnagar), or another young dalit's efforts to unearth corruption by resorting to the Right to Information Act, led to his being hacked to death (Rajkot district) or how a former revenue official's attempts to get fellow dalits ownership of their land and the unnecessary delays by the revenue department led him to immolate himself as a mark of protest (Patan district).
Less than three years ago, Gujarat was witness to a historic movement of dalits and other democratic forces in the aftermath of the Una flogging incident, when cow vigilantes had brutally attacked a family of dalits for skinning dead cows.
Jignesh Mevani, the radical leader of the historic Una movement, had then shared few details of dalit lives in the aftermath of the movement:
– there are yearly thousands of cases of atrocities against dalits every year

– atrocities continued to rise during Narendra Modi's chiefministership which lasted for 13 years

– there are more than 55,000 dalits who are still engaged in scavenging

– 1 lakh sanitation workers are still not getting minimum wages

– dalits in 119 villages in Gujarat are living under police protection

– rate of conviction in cases of dalit atrocities is merely 3%.
After remaining silent for long, Prime Minister Modi had then said addressing the perpetrators, "Don't beat my dalit brothers, hit me if you want". It does not need underlining that there has been no change in the situation, rather it has worsened.
It is still a continuation of lives of deprivation and discrimination.
What is the way out for dalits -- to live a life of dignity and freedom?
It was only last month when some marriage processions of dalits in villages in the northern part of the state came under attack by dominant caste people. It was alleged by activists that the government had turned into a "mute spectator" and miserably failed to "ensure the safety of members of the community". Activists had even underlined that while the "situation is so serious in the state that dalits are unable to take out marriage processions" the Chief Minister has not uttered a single word on this discrimination.
According to Vijay Rupani, Chief Minister of Gujarat, there is need to inculcate Samajik Samrasta in society to ameliorate the situation. No doubt, the idea sounds really good, but it basically tries to sanitise the essentially hierarchical situation in the society which has even got divine sanction.
The question that needs to be asked is whether mere sermonising about samajik samrasta (social harmony) would put an end to an age-old discrimination that has received modern sanction?
First, one needs to acknowledge that contradictions exists and what one calls the upper castes or dominant castes have consistently refused to allow a life of dignity to dalits and other discriminated sections.
Definitely there is nothing new as far as refusal to see that fissures exist in Indian society and caste discrimination is a crude reality that cannot be wished away. One can look back at the period when Modi happened to be the Chief Minister of Gujarat, when a government-sponsored report titled, Impact of Caste Discrimination and Distinctions on Equal Opportunities: A Study of Gujarat, had even called caste discrimination a matter of "perceptions".
In his blog 'True Lies', senior journalist Rajiv Shah had then provided a detailed  critique of this study. To put it in a nutshell, this report was a governmental response to an exhaustive study titled, Understanding Untouchability, done by Ahmedabad-based NGO, Navsarjan Trust (2009), which demonstrated with concrete data the wide prevalence of untouchability both in public and private spheres in interaction between Scheduled Castes (SCs) and non-Scheduled Castes (non-SCs), as well as within SCs: among the several jatis in rural Gujarat.  This report covered around 1,600 villages in Gujarat, did a complete survey of these villages based on a few parameters ranging from temple entry to the use of the common well, and similar factors. According to Navsarjan, out of the villages covered, 98% still practiced untouchability.
What further surprised scholars was that the said government-sponsored report had completely omitted valmikis from its consideration.
And this was not the first time that the powers that be had tried to 'obliterate' the valmikis out of their existence. Leading sociologist Ghanshyam Shah had reminded readers then:
"..state government filed an affidavit before the Supreme Court in 2003 claiming there was no manual scavenging in Gujarat. This was despite the published evidences documented by Praful Trivedi [Gujaratni kashtakatha, Mathe melu Uchkavani Pratha. Ahmedabad: Janpath Prakashan, 1996.] as well as by Mari Mareel Thekaekara [Endless Fifth: The Saga of the Bhangis. Bangalore: Books for Change, 1999.] and documentary film 'Lesser Human' by K. Stalin. The government reiterated its stand in 2007 in response to a study by the Tata Institute of Social Sciences, which identified 12,000 manual scavengers in Gujarat]. In fact, the study was sponsored by the Gujarat Safai Kamdar Vikas Nigam (GSKVN), a Government of Gujarat Undertaking." (www.counterview.org, Nov 13, 2013)
For a ruling dispensation that even refuses to see that discrimination exists or which can even 'invisibilise' a section of the community just to present a rosy picture, it would not be difficult to declare that Hindu Rashtra is the only Satya (truth) and everything else is Maya (illusion).
The writer is an independent journalist based in Delhi. The views are personal.
Get the latest reports & analysis with people's perspective on Protests, movements & deep analytical videos, discussions of the current affairs in your Telegram app. Subscribe to NewsClick's Telegram channel & get Real-Time updates on stories, as they get published on our website.
Subscribe Newsclick On Telegram