How Hindutva Wants to Erase Half of Partition Memories
The right-wing does not wants you reading these stories of Muslims who chose India during Partition.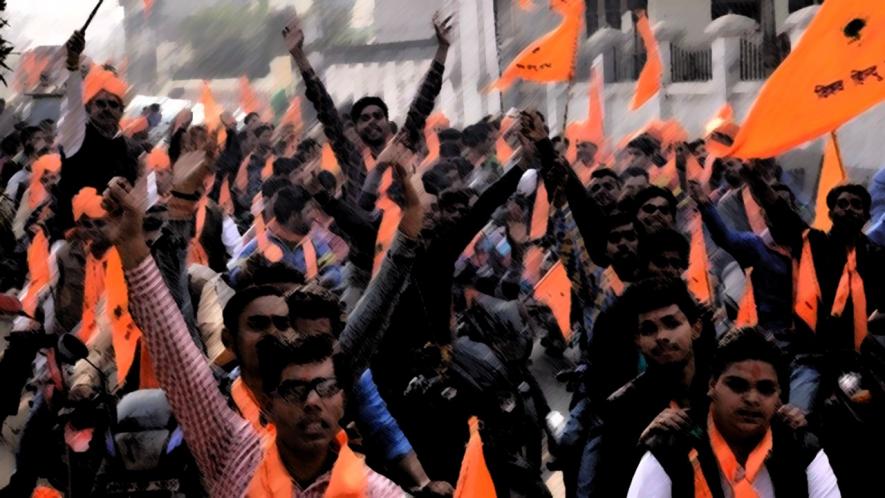 A strange sort of partitioning is unfolding in India. The usual apparatus of lies, fears and misconceptions about Muslims are being propagated by right-wing lobbies. Foremost among them is the myth that Indian Muslims did not suffer during the partition of India. The stark truth is that both Hindus and Muslims suffered severe setbacks. Let me detail at least some of the sufferings of the Muslims, for nobody seems to be recalling these details.
All this talk about Muslims and Hindus has reminded me of Urdu-Hindustani poet Nida Fazli, whom I had interviewed years ago. He had shared details of how the Partition had changed the course of his life. Just before the Partition, he had gotten engaged to the woman he was in love with. But his family, and also that of his fiancée, decided to migrate to Pakistan from India.
"I was determined. I did not want to move from here and stayed back, though went through a very turbulent lonely phase; very painful years," Fazli recalled. "I was all alone here. It is only after several years of loneliness that I found a companion in Mumbai."
The late Qamar Azad Hashmi, a writer and mother of activist Safdar Hashmi, had also told me: "Like thousands of people, my family was affected by the Partition. We had to shift out of our home in Delhi and live in refugee camps set up at Humayun's Tomb. Though initially I went with my family to Pakistan, I returned the very next year and got married here."
Qamar's husband's family had moved to Pakistan, but he was determined to stay put in India. His business suffered tremendously after Partition. "We raised our children in extremely tough financial conditions," Qamar said.
The legendary singer with a beautiful melancholic voice, Talat Mahmood, was another Indian Muslim who did not want to relocate to the newly-carved out Pakistan. His father, Manzoor Mahmood, owned an electric fittings and gramophone store in Lucknow. He was known for singing Iqbal's popular taranaas at the Muslim League's functions: 'Chino-Arab hamara/ Hindustan hamara…'
At the time of the Partition, Talat was in Calcutta [now Kolkata] with his older sister. When their family migrated to Pakistan, his sister also declined to leave.
A decision that forever cuts someone off from their immediate family and relatives did affect Talat, as his niece Rafia Hussain had told me on an earlier occasion. "Temperamentally, he [Talat] could not adjust to the ways of the film world. The initial shock that his entire family had migrated to a new country and would settle down there forever affected him. He was far too sensitive."
According to Rafia, Talat internalised his pain of separation, but until the very end he was sure that he would never leave this country. "After all," in Rafia's words, "He had chosen to stay back at any cost."
Many academics and historians have focused on the refusal of hundreds of thousands of Muslims to cross over into the new country. In Muslims Against Partition, published by Pharos Media in 2015, historian Shamsul Islam explores this forgotten chapter of pre-Independence India. "It is true that India was partitioned in 1947 due to Muslim League's demand for a separate homeland for Muslims. And there is no denying that the Muslim League was able to mobilise a huge mass of Muslims in favour of its demand. But it is also true that a large section of Muslims and their organisations stood against the demand for Pakistan. These Muslims against the Partition challenged the Muslim League theoretically and confronted the latter on the streets," he writes.
Islam has dealt in his book with one crucial outcome of the Partition: creating within Indian Muslims a serious identity crisis. The historian Muhammad Mujeeb has written on this topic in some detail. Right after the Partition Muslims became "a smaller minority in India, physically not less, but made more vulnerable by the creation of the separate state of Pakistan, with their loyalties obviously open to suspicion and doubt, and their future nothing but the darkness of uncertainty."
Another prominent historian, Mushirul Hasan, has called the Partition "a nightmare". The so-called Islamic community in India, which had no place in [Pakistan founder] MA Jinnah's Pakistan, was "fragmented", "weakened" and vulnerable to right-wing Hindu onslaughts.
Despite the creation of a separate homeland for Muslims, India remained home to a large number of members of the faith. Those who stayed back consistently had their loyalty to India questioned, especially by the Hindutva camp. Rashtriya Swayamsevak Sangh cadres aside, the writings of RSS ideologue MS Golwalkar [gathered as Bunch of Thoughts] also has a long chapter on "Internal Threats" in which he puts Indian Muslims at number one.
Diplomat-author Pran Nevile, in his memoir Carefree Days: Many Roles, Many Lives, details how Muslims living in Delhi were attacked around the time of Partition. "By the beginning of September 1947, Delhi was flooded with refugees from Punjab. There was an acute shortage of housing... I was then living as a sub-tenant of a Punjabi family in the Western Extension Area, a new residential complex off Pusa Road which had come up during World War II… By the first week of September, with the influx of over a lakh refugees, the communal situation became tense… I vividly remember how a bulk of Muslim families were driven out of their homes on Ajmal Khan Road and some other areas of Karol Bagh."
Nevile then cites a particular Muslim family, who were then his immediate neighbours. He got to know that this family of three—Khan, an executive engineer, his wife and grown-up daughter—were likely to be attacked on the morning of 8 September. Local goons were actively involved in identifying homes occupied by Muslims, which became the basis for groups of refugees to attack them. On the night of 7 September Nevile sheltered them and the next morning, his neighbour, a Sikh, drove Khan's car and took his family safely to the Imperial Hotel on Queensway. "An hour later," he writes, "the house was ransacked by the goons, who rebuked us for aiding in their escape."
Most Muslims had understood and accepted their dismal fate under this regime, but they did not expect the situation to be as virulent as it got when the state started cracking down on the anti-CAA protests. Indian Muslims fail to understand why the state wants to reduce them to second-class citizens. Call it a partition of our psyche, but a strange fear has gripped them. In the most polarised parts of the northern state of Uttar Pradesh, entire Muslim families have reportedly talked of moving out of Hindu-dominated localities. The community is not naïve; people have grasped the political strategies of the Hindutva rulers.
Humra Quraishi is a freelance journalist. The views are personal.
Get the latest reports & analysis with people's perspective on Protests, movements & deep analytical videos, discussions of the current affairs in your Telegram app. Subscribe to NewsClick's Telegram channel & get Real-Time updates on stories, as they get published on our website.
Subscribe Newsclick On Telegram