Horror Story of Sadaat Hostel — How Cops Allegedly Brutalised 72-Year-Old Cleric, Students
Following police crackdown on anti-CAA protestors in Muzaffarnagar in UP, people are so scared that they aren't even filing complaints against police excesses.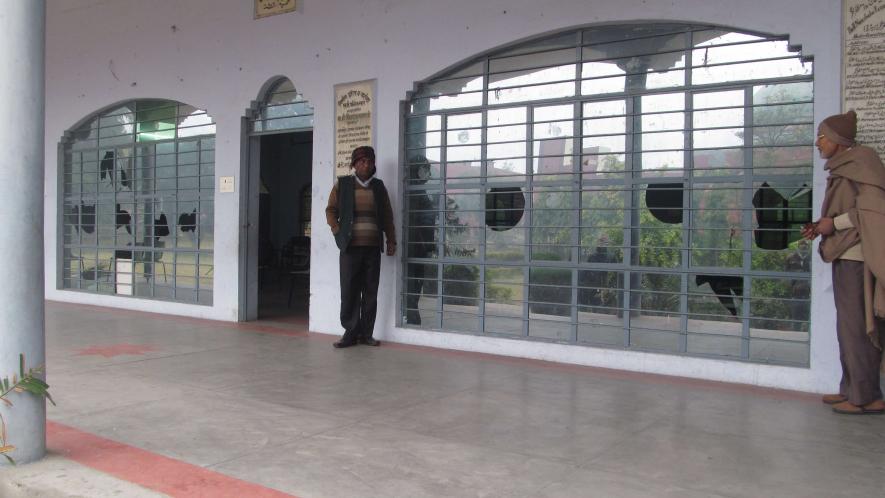 Muzaffarnagar/New Delhi: A portrait of Maulana Asad Raza Hussaini (72), a well-known Shia cleric, receiving an award from Vice President Venkaiah Naidu adorns his drawing room in Muzaffarnagar. He was awarded with the presidential honour last year for his scholarly pursuits. His guest room is now filled with visitors. What is absent is the presence of Maulana, as he is admitted in hospital after he was reportedly brutalised by the police on December 20 afternoon, during a police crackdown on those protesting against the controversial Citizenship Amendment Act (CAA).
A teacher and prayer leader at Sadaat seminary-cum-orphanage for underprivileged students, the Maulana was allegedly stripped and brutalised by cops after they attacked the hostel reportedly trying to chase some protestors.
"When the police barged into Sadaat Hostel, allegedly on the pretext of chasing some protestors, he was sitting with his students. Despite my father being a renowned personality, the cops did not listen to him and attacked him and his students with batons. They were dragged out and bundled into police vehicles. He was kept in a dark room for over 24 hours at a barrack in Civil Lines, where he was stripped in this bone chilling cold and tortured," alleged his son, Mohammad Hussain.
Speaking to NewsClick, Hussain said the Maulana was traumatised after that day's shocking incident. "He feels so humiliated that he does not want to face any of our relatives. He cries in his sleep. When the police informed us that he would be released, they asked us to bring along a pair of his clothes, that we handed to a policeman. My father stepped out after some time. He was badly injured and unable to walk on his own. He came out with his arms around the shoulders of two policemen."
Further narrating that day's horror, Hussain alleged that 42 of his father's students — aged 14 to 21 — were lodged in the next barrack. "They too were abused, thrashed with sticks through the night and forced to kneel against the wall. Around 42 students were taken into custody. Later, 29 of them were released following pressure from different quarters. The rest 13 have been booked under a stringent Section (of the IPC) and have been sent to jail. Most of them are minors," he alleged.
Sadaat Hostel is managed and run by a non-profit educational society — Anjuman Taraqqi-e-Taleem Sadat Bahra — where students from under-privileged backgrounds stay and study. It is close to Mahavir Chowk, where the violence took place allegedly after the police resorted to lathi-charge on the protestors, who were marching towards the collectorate to hand over a memorandum to district magistrate.
THE HORROR STORY
According to some eyewitnesses, as the police chased the protestors, charging batons on them, several protestors ran for cover. Some of them entered the hostel premises. A large contingent of police force, including Rapid Action Force personnel, allegedly forced their way into the hostel-cum-school premises.
Around 80-100 students, a majority of whom are orphans and come from various parts of Uttar Pradesh, reside in the hostel. They are aged between 8 and 21. When the police raided the hostel "in search of unruly anti-CAA protesters", around 42 students were inside the hostel.
"First, they (the police) started beating the namazis (worshippers) who had gathered for Friday prayers at the school mosque. They hurled abuses and communal slurs on students and staff, and began wielding their weapons. They beat up everyone who they came across. We managed to run for cover. They barged into the section where Quran teachings take place. When Maulana Hussaini tried to stop them, they pounced upon him, and beat him black and blue. When the students tried to shield him, the police attacked them too. They dragged the Maulana and the students into the open, beat them, and took them to the police station. All hostel residents were asked to come out and stand in the open. They were beaten one by one," alleged Kazim Hussain, the caretaker of the school.
He claimed that one student even suffered renal failure and was admitted to a private hospital in Meerut.
The caretaker also alleged that the students were forced to chant slogans like "Jai Shri Ram" and "Har Har Mahadev", and that it was not only the cops who had barged into the campus, indicating that people associated with Right-wing forces entered the premises along with the police.
A visit to the campus bears testimony to the alleged police excesses. Classrooms, computer labs and hostel rooms have been vandalised, with broken windowpanes furniture strewn around.
The caretaker's allegations were corroborated by a hostel resident who wished to remain anonymous. "We were with Maulana Sahib in the Quran and Arabic learning centre when we heard a commotion. Suddenly, policemen entered our centre. They were using filthy language. They headed towards Maulana Sahib, who tried to speak to them (the cops) politely. But they repeatedly hit him with batons. Maulana Sahib started crying and asked them to show mercy. They didn't relent and continued beating him. He fell on the ground, bleeding profusely, but they continued beating him," he alleged.
He added, "To shield Maulana Sahib, we fell on him and were beaten continuously for some time. Then they dragged us outside. Maulana Sahib was almost unconscious. Two policemen held him. His clothes were drenched in blood. Then, they asked all hostel inmates to come out, and beat them one by one. Many of them were asked to pull up their kurtas and shirts and were hit on their naked waists. While beating us, they abusively told us 'this is the azadi (freedom) that you wanted'. Some of them asked us to chant 'Jai Shri Ram' and 'Har Har Mahadev'. Meanwhile, one student fell unconscious. Then, they bundled us into a police truck and took us to the Civil Lines police station, where the ordeal was repeated. Meanwhile, some policemen stayed back at the school and vandalised it and the hostel buildings."
He alleged that the ordeal continued in the police station and only children below 10 years were spared. "Maulana Sahib was stripped off his blood-drenched kurta and beaten again. He fell unconscious. One student also fell unconscious (later, he was reportedly diagnosed with renal failure and admitted to hospital)," the boy said.
After around 24 hours, the Maulana and some of his students were released. "Around 13 students still remain in police custody. I don't know what sort of brutalities they must be undergoing," he added.
This horrific account was once again corroborated by a worshipper who had performed the Friday prayer in the school mosque and had witnessed the entire incident.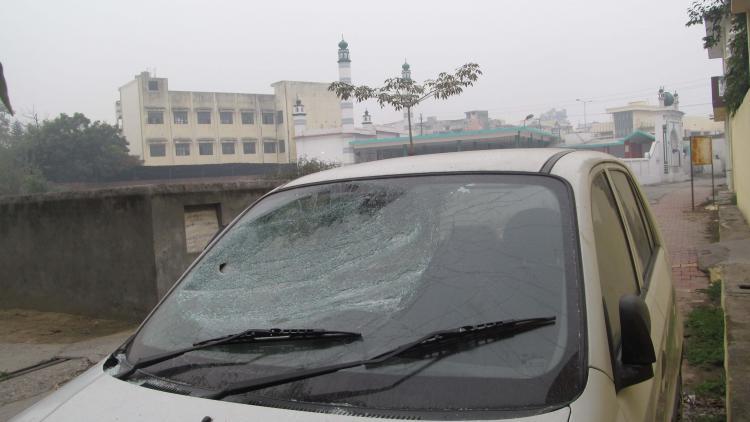 "While we (he and the residents of Sadaat Hostel) were sitting and listening to the Maulana, we heard heavy knocking at the hostel's gate. Before we could understand anything, it was broken and a crowd of policemen entered the campus. They began beating everyone. When they moved towards the Maulana, I tried to protect him before students made a protective shield around him. They dragged me aside and kept thrashing me till I fell unconscious. I gained consciousness in a police van when we were being taken to Civil Lines police station, where even teenage students were being tortured. Among them was an eight-year-old child who was not beaten up, but was made to sit on a chair and told to watch a student being stripped. The Maulana and I were also stripped and beaten up above our bare waists. The Maulana and few students were observing fast on that day (Friday). They asked for water to break their fast in the evening, but were told that they would get urine to drink," the 70-year-old man alleged, breaking into tears.
He too was released along with a few students and the Maulana.
RELEASE CAME AS COURTESY OR DEAL?
Some local residents who NewsClick spoke to, rubbished the police's claim that the Maulana and others were released as a courtesy. They alleged it was secured after a deal was struck and Chief Minister Adityanath personally intervened.
Some senior residents claimed that after the Shia community agreed that no criminal case would be filed against the police, the Maulana and some of his students were released.
They also alleged that the police was bribed Rs 1-5 lakh per student for their release. "The amount could be more for the Maulana," they claimed. However, these allegations could not be independently verified.
When asked why no case had been filed against the police, Maulana's son Syed Mohammed Hussain told Newsclick, "We are flooded with the parents of students who are still in police custody. They are crying and pleading for help. Our priority is to secure the release of those poor children."
POLICE DEFENDS CRACKDOWN
Responding to a query as to why the police resorted to such brutalities in an educational institution without any provocation, Muzaffarnagar Superintendent of Police Satpal Antil said the police entered the seminary to chase "armed vandals".
"When the police entered the campus, they were fired upon. Left with no option, we had to retaliate. The policemen — perhaps in fit of action — could not differentiate between vandals and students. As a result, some students too were beaten up," he claimed.
But, the officer repeatedly dodged the question as to how the police failed to recognise a 72-year-old cleric and as to why the men in uniform resorted to such brutalities as narrated by the victims.
Asked if any action would be taken against policemen involved in alleged excesses, Antil said: "The Muzaffarnagar police cannot resort to such barbarism. If people have evidence to prove their claims, they must come forward and file complaints. We will look into it and take appropriate action."
Asked if he would take action if evidence is provided to him for investigations, he insisted that people should file complaints and then use such evidence in court.
Newsclick is in possession of several videos made by local residents that could be verified to establish allegations of brutality and communal bias against the police.
So far, 73 persons have been arrested and over 150 have been identified, as claimed by the police.
Get the latest reports & analysis with people's perspective on Protests, movements & deep analytical videos, discussions of the current affairs in your Telegram app. Subscribe to NewsClick's Telegram channel & get Real-Time updates on stories, as they get published on our website.
Subscribe Newsclick On Telegram