How ASHA Workers are Battling Vaccine Hesitancy Among Tribal Communities in Rural Odisha
Given a lack of understanding about the virus and how it operates, the villagers fear for their lives when vaccination is brought up after what they experienced during the first COVID-19 wave.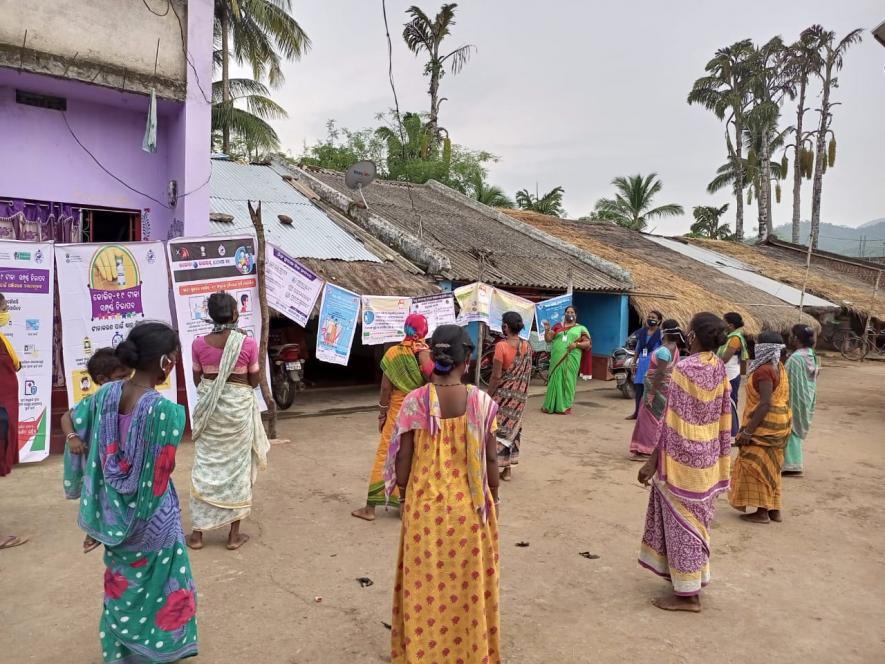 Posters exhibit regarding Covid-19 vaccine and villagers are counselled to take the jab. | Image Credit: Prafulla Maharana
Rayagada, August 12: In the last week of June, when 43-year-old Prashanti Rana, the ASHA (Accredited Social Health Activist) of Tandipur village under Kolnara block of Odisha's Rayagada district had gone to convince villagers to take the COVID-19 vaccine, most shouted back, shut their doors and even replied saying "Amaku mariba pain dakuchuki? (Are you inviting us to die?)".
This was their response to a front-line worker whom they have always trusted for health advice – for institutional deliveries, malaria or TB medicines and contraceptives. The villagers, most of whom are tribals, have always trusted Prashanti, the ASHA worker who has been working for in their village for about 15 years. The next morning, both ASHA and Anganwadi workers reached the village in the hope that they could convince some (above 45 years of age) to take the jab. "When we reached there was nobody left in the village; they fled to a nearby jungle to hide. I understood that they were scared so I decided to ease their fears," Prashanti told Newsclick over the phone from her neighbouring village of Champakana.
Champakana was also in the news when a health team found that all its villagers had locked themselves inside their houses due to a fear of inoculation. The team, which was there to vaccinate villagers, waited for two to three hours in the hope that a few would turn up, but it ended up returning empty-handed. The scenario has changed now. In Tandipur village too most of those above 45 years of age have taken their first dose. "I will convince the rest of the people to take the jab soon," said Prashanti.
Like Prashanti, 36-year-old Subarna Sundua, the ASHA worker of Naliguda colony village under Khairput block of Malkangiri district, faced a number of difficulties in convincing tribal communities in her village that they needed to be vaccinated. "No one was willing to listen, they thought the vaccine would kill them," said Subarna. When the government announced that all front-line workers will convince villagers to get vaccinated, we had gone to the village to discuss it with them, but they shut their doors, saying "Ame nebunai, tui jahakaribu kar" (We will not take the vaccine. You can do whatever you want).
Then, after repeated persuasion and discussions, they agreed. The village has a total population of about 400 people, most of whom have taken the vaccine. "Now when I go to the village, they ask me for the date of their second dose," said Subarna, laughing. Except for Bhubaneswar, the rest of the state is being administered the Covishield vaccine, which generally requires a gap of eight weeks and more between doses.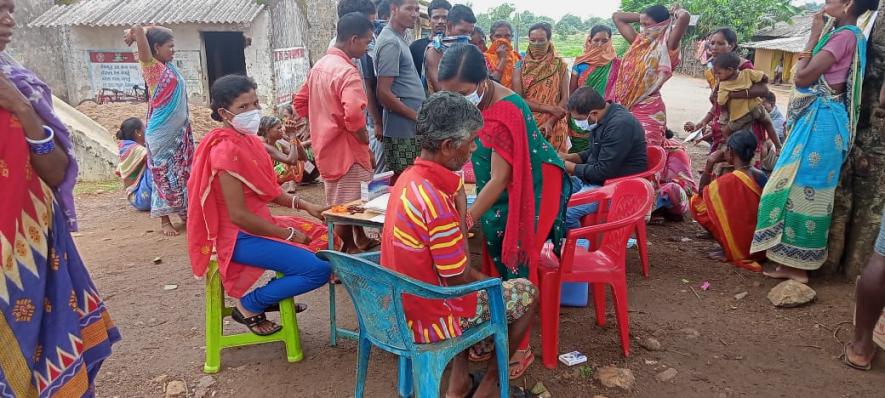 Image Credit: Prafulla Maharana
The Ordeal
Convincing villagers in Odisha's tribal dominated districts was not an easy task for both front-line workers as well as activists who work at the grassroots; it was difficult for them to get rid of the vaccine hesitancy. There were instances where ASHA and Anganwadi workers were subject to shouting, physical assault and even people spitting at them when they reached some villages. "They wanted to drive us away from their village. They feared that if they get a jab they will die within a few months", said an ASHA worker who wished anonymity. She said that videos about the adverse impact of vaccines were making the rounds, creating doubt in the villagers' minds.
Prafulla Maharana, an activist who has worked in the social sector for nearly 27 years, said there were many reasons for vaccine hesitancy. If tribal people from remote villages fall sick, they prefer to visit a disari (traditional healer) than the doctor at a Primary Health Centre (PHC). The reason is that doctors are generally are absent from PHCs, leading people to prefer traditional healers. "During the second wave of COVID-19, when health workers reached to test them, they were reluctant and rushed to hide in forests," he said.
During the first wave, when villagers were found to be COVID-19 positive, the administration picked them from their homes, sometimes at wee hours in the night and kept them in isolation centres, where they were not allowed to meet their families. If they recovered they returned home; if they succumbed their family members were not allowed to attend their funeral. Families were only informed about the deaths. "People were shocked and this scarred them further," said Prafulla. When the government started a vaccination drive most of them were of the opinion that they will die from the vaccine. "A villager even asked me if I would be held responsible if he died after taking the vaccine", said Prafulla, adding: "I did not have an answer for him".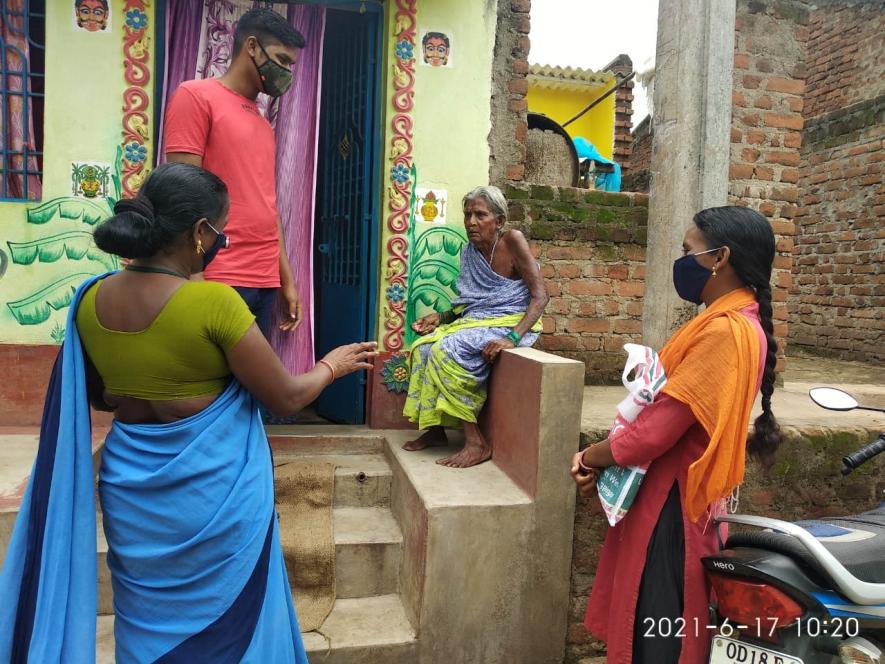 Image Credit: Prafulla Maharana
Building Trust
As people were reluctant to take the jab, traditional healers – disari, nayak and jani – were roped in. "Initially, these traditional healers were also reluctant to convince villagers to get vaccinated. They kept asking if people would suffer from fever, and if yes then whether they would survive or die," said Prafulla, adding that they needed convincing too and meetings were organised where villagers were also present. "When tribal people didn't listen to me in my village, I showed them my vaccination certificate and organised meetings with traditional healers, PRI members and village heads to convince villagers," said Subarna.
The second attempt to convince villagers was by forming youth groups in tribal villages. "They communicated with villagers in their local language. Also, those youths with Android phones were selected and trained for booking slots for the villagers", said Prafulla. The volunteers also got vaccinated, helping build trust. Prashanti explained that it took days to convince the villagers. "I would hold their hand and explain how a child develops mild fever after immunisation which in-turn helps them to fight diseases. The next attempt involved including members of the Gaon Kalyan Samiti in their campaign. Funds were mobilised to ferry villagers from their villages to vaccination booths. In Tandipur, while Prashanti was engaged in sending the villagers, AWW and youth volunteers ferried people to vaccination booths, where ANM was engaged in vaccination. "This is how we collaborated during the inoculation drive", said Prashanti.
Challenges For Front-line Workers
Since 2020, front-line workers have been fully engaged in COVID-related work like tracing, sending villagers for testing and treatment, and now convincing them to get vaccinated. This is another bit of work that adds to an already burgeoning workload. Sudisnata Madangi, 38, an ASHA worker from Rekhapadar village in Rayagada district said their job doesn't end with convincing villagers. They visit them later and ask whether they are suffering from a fever, provide them with Paracetamol and counsel them till they recover. "Working in tribal villages is more challenging as we have to cross streams, trek and climb hills to reach the villagers. We have travelled many inaccessible hamlets to reach out to the needy and evade vaccine hesitancy", said Sudisnata.
But there is always a sense of fear whenever the vaccination discussion comes up. "Villagers will be up in arms and start verbally and physically assaulting us if we talk about vaccination," said Sudisnata, adding that the shortage of vaccines has created another kind of problem for them. Gouranga Mohapatra, National Joint Convener, JSA (Jan Swasthya Abhijan), a network of civil society organisations said, "There are many incidences where villagers assaulted front-line workers, but the apathy is that there is no such law for the safety and security of front-line workers to protect them, although we have a law for doctors. Besides, these front-line workers should be provided with better incentives as they play a major role in mobilising, assisting and convincing villagers for vaccination". When asked about their demands, Sunanda said: "We are semi-literate women working at the grassroots; who will pay heed to our demands. But we will continue counselling villagers to safeguard them as there is a fear of a third wave of COVID-19."
The writer is a freelance journalist based in Odisha. The views are personal.
Get the latest reports & analysis with people's perspective on Protests, movements & deep analytical videos, discussions of the current affairs in your Telegram app. Subscribe to NewsClick's Telegram channel & get Real-Time updates on stories, as they get published on our website.
Subscribe Newsclick On Telegram