How an Inter-State Fight is Drowning Lakhs of Homes in Narmada Valley
Madhya Pradesh cabinet ministers allege that the dam, which was scheduled to be fill up to 138.68 meters by October 15, was filled on September 14, so that PM Modi could celebrate his 69th birthday at Sardar Sarovar.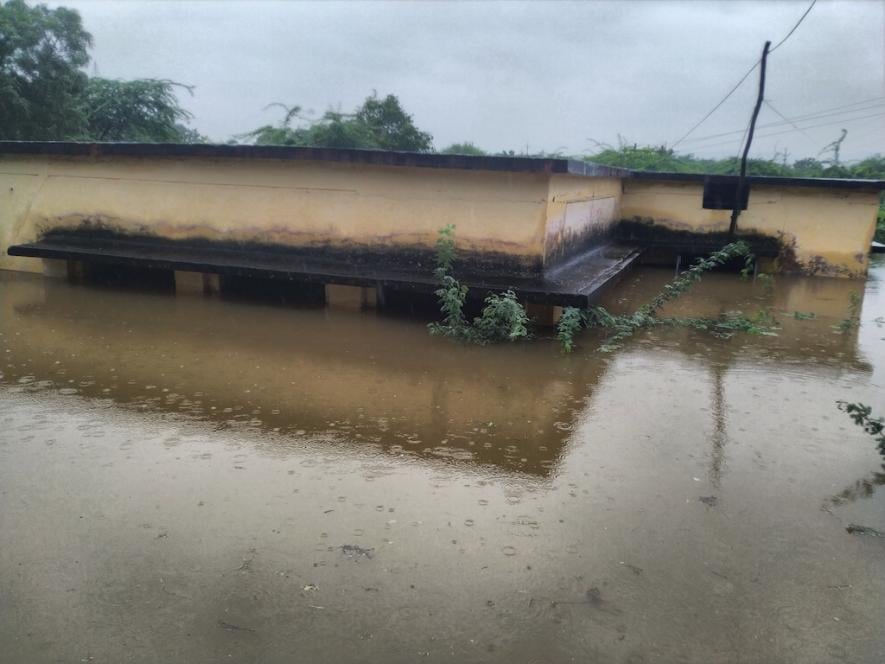 Barwani/Dhar: Jairaj Singh Chouhan, 28, a resident of Kukra village (Rajghat) of Barwani district is a young farmer. He has lost his home, ready-to-harvest crops on 5.5 acres, domestic animals, including a cat, in the flood because the Sardar Sarovar Dam Authority and the Gujarat government decided to fill the Sardar Sarovar reservoirs before the deadline of October 15.
As river Narmada's water begin to rise and enter his village, the Barwani district administration shifted Chouhan and his 60-year-old widowed mother to the Patti Naka tin shed of the city, along with other villagers. A day later, his mother fell ill owing to the poor food quality and lack of basic infrastructure in the camp.    
The following day, Chouhan loaned money from a moneylender known to him and left the tin shed. He rented a home in the town which cost Rs 3,000 per month and started living there.
"My mother fell ill because the facilities in the tin shed were not up to the mark. I have no other option but to leave the shed. There were no lights or fans. The toilets were not clean, no place to bathe, or keep animals. Most important, the food quality was so poor that one couldn't differentiate between pulses and cooked vegetables," he said.
In 2001, after the Madhya Pradesh  government's evacuation survey, the team had fixed Rs 3.5 lakh for his home and Rs 9.42 lakh for 5.5 acres of land, but a week before the Supreme Court's decision on February 8, 2017, which says 'those who have agriculture land will get Rs 60 lakh', the administration cleared his dues.
"Had they paid the dues within a year of the survey, I could have purchased land somewhere and left this village. But, they cleared the dues after 17 years in 2017, when the rates of housing and agriculture are skyrocketing. I can't buy land and construct a home in Rs 3.50 lakh nor I can buy 5.5 acres of land in just Rs 9.42 lakh," said Chouhan.  
In his 5.5 acres of land, Chouhan used to grow bananas, cotton and maize. Now, he is not only become homeless, but unemployed too. "I don't know what to do. My future is totally blank. Once I thought of committing suicide, but refrained myself because of my aged mother," he added.
About 30,000 families have been affected by the rising Narmada water. The 76 villages of Nisarpur (Dhar district) are totally submerged and others villages are also facing the same threat. As many as 65 villages of Barwani, 26 villages of Alirajpur, 19 villages of Khargone district are either completely under water or facing submergence.
The homes of more than 2.5 lakh people, living in 192 villages – including a town Dharampuri of Dhar district – Badwani, Dhar, Alirajpur and Khargone districts of Madhya Pradesh and 175 villages in Bharuch, Narmada and Vadodara districts of Gujarat have submerged into the Narmada or are facing submergence.
The Narmada Bachao Andolan (NBA) members claim that rehabilitation of over 30,000 families from Madhya Pradesh is overdue, and the administration is evacuating the villagers without any commitment.
Besides, the villages that had not appeared in the evacuation survey or whose names were removed from the primary list (made in 1993) have also submerged or will be facing submergence, said NBA worker, Rahmat.
In 2014, the height of Sardar Sarovar Dam was raised from 121.92 metre to 138.68 metre on the instructions of Narmada Control Authority (NCA). With length of 1.2 kilometre and depth of 163 metres, the project is supposed to be one of the largest dams in the world.
'BJP Govt Fudged Data on Sardar Sarovar Dam Evictees'
Commenting on the issue, Madhya Pradesh Narmada Valley Development Authority Minister Surendra Singh Baghel has alleged that those ousted by the Sardar Sarovar Dam (SSD) project were suffering because of "manipulation of data" by the erstwhile Bharatiya Janata Party government in Madhya Pradesh.
Baghel, who was elected from Kukshi Assembly seat of Dhar district, visited the villages affected by the project as well as the temporary rehabilitation centres for oustees in Barwani district.
"Those affected by SSD are suffering because the Shivraj Chouhan government conducted false surveys to show 'zero balance' and shared manipulated data of 100% rehabilitation to the Gujarat and central governments," Baghel said on Tuesday, even as NBA activists blocked a bridge at Chhoti Kasrawad on Khandwa-Vadodara highway for three hours.
Baghel was referring to an affidavit filled by the erstwhile BJP government before the Supreme Court claiming 100% rehabilitation of the villages that were the surveyed and rehabilitation was due. 
NBA leader Medha Patkar demanded that "false affidavits" submitted by the Shivraj Chouhan government on SSD should be exposed. She praised the Congress-led Kamal Nath government for holding frequent dialogues with those affected and alleged that Prime Minister Narendra Modi and former CM Shivraj Singh Chouhan never spoke to them.
After a week-long hunger strike by Patkar, the MP government has agreed to conduct a fresh survey to assess the current situation and provide a plot, Rs 5.80 lakh and Rs 60 lakh for agricultural land.
Baghel, too, criticised Modi for "celebrating his birthday when SSD oustees were suffering.
"If Modi is really a Vikas Purush, he should arrange a meeting of MP and Gujarat governments to solve the issues. As per the old assessment, Rs 1,857 crore is still due with Gujarat," Baghel said, urging the PM to release a calamity relief package for SSD-affected villagers. A delegation will meet the Centre to place its demands, he said.
On September 17, PM Modi (on his birthday) visited the SSD site at Kevadiya in Gujarat and attended 'Namami Narmade Mahotsav'.
'Dam Filled Early for PM's Birthday'
According to a letter by the Narmada Control Authority (NCA) dated May 10, 2019, the SSD authorities have to fill the SSD reservoir up to 138.68 meters by October 15, 2019 and 135 meters by September 30, 2019 this monsoon. Instead, the administration filled it a month before the deadline, setting aside the NCA letter.
In addition to that, the MP government dashed off a letter to Union Minister of Jal Shakti, Gajendra Singh Shekawat, last month and urged him to stop the filling of reservoirs, but nothing happened. As a result, on September 14, at 6.35 p.m, SSD achieved its full reservoir level (FRL) of 138.68 metres.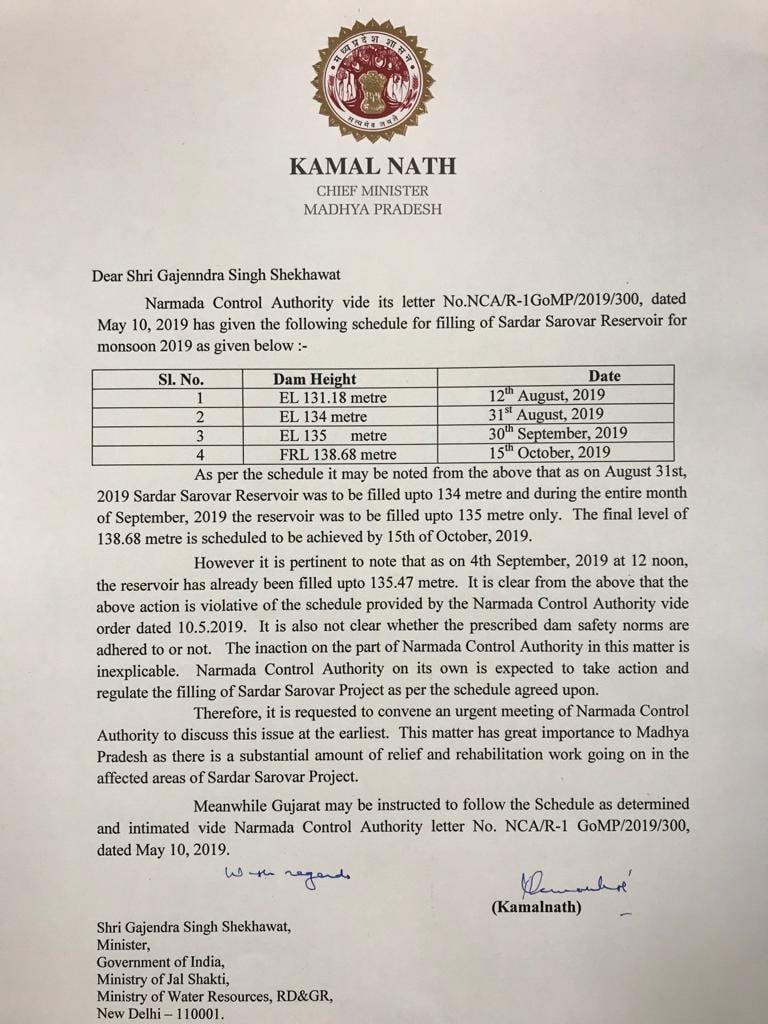 Letter written by MP Govt to Union Minister
 Modi, who had inaugurated the dam on his 67th birthday (September 17, 2017), had celebrate his 69th birthday by participating in a celebration event called 'Namami Narmade Mahotsava' –after filling of the dam.
"Sardar Sarovar Dam has achieved its full reservoir level of 138.68 metre on Sunday evening for the first time. To celebrate it, Prime Minister Narendra Modi and (Gujarat) CM Vijay Rupani will visit the dam," said Managing Director of Sardar Sarovar Narmada Nigam Limited, Rajiv Gupta.
Miffed with Gujarat Government and PM Modi's celebration, two cabinet ministers of Madhya Pradesh alleged that the dam was filled before schedule to 'make PM Modi's birthday memorable'.
The decision severely affected the relief and rehabilitation work in the area of submergence as more than 100 villages in MP were inundated, said home minister Bala Bachchan and public relations minister PC Sharma.
"Why was Sardar Sarovar Dam filled up to full reservoir level ahead of its schedule when it was to be filled almost after a month? The Gujarat government filled the dam to facilitate Prime Minister Narendra Modi's birthday celebrations in village Kavadia," alleged Bachchan on Tuesday.
"It would have been better if Modi had paid attention to the flood-affected people who had been trapped in the backwaters. The Prime Ministe should immediately sanction relief to the dam-affected people of Madhya Pradesh so that they can be provided immediate relief," demanded Sharma.
The BJP, however, hit out at the Congress government for "playing politics" on the birthday of Prime Minister Modi. "Morally one cannot accept the way Congress ministers have come out against the Prime Minister on his birthday. This is Madhya Pradesh government's negligence and failure in providing relief and rehabilitation to the dam oustees and flood-affected families. They are now making cheap allegations despite knowing that the affairs of Sardar Sarovar dam are being managed by an independent authority", said BJP state spokesperson, Rajneesh Agrawal.
Get the latest reports & analysis with people's perspective on Protests, movements & deep analytical videos, discussions of the current affairs in your Telegram app. Subscribe to NewsClick's Telegram channel & get Real-Time updates on stories, as they get published on our website.
Subscribe Newsclick On Telegram