Odisha: 100 Humans Killed in Conflict with Elephants in One Year
This year till date, on an average, one human-elephant encounter has been witnessed every 2 days and in every 3 days, a human has been reported killed in such encounters.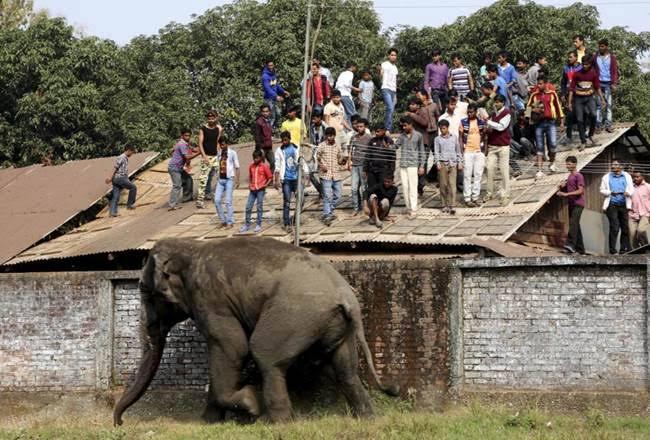 Representational image. | Image Courtesy: Financial Express
Bhubaneswar: On the morning of January 21, an elderly man was trampled to death by an elephant in the Digapahandi range of Ganjam district of Odisha when he was guarding his harvested paddy. A day before, another man was trampled to death by elephants when they entered a village in the Rajgangpur Range of Sundargarh district. On January 19, a man was trampled to death in Sukinda range of Jajpur district as a tusker tried to break into his house. A day before that, two elderly men were killed in the Tangi range of Khurda district when they had come out of their homes early in the morning.
With the latest death, the number of humans killed since April 2019 reached 100 while 102 others were injured, some of them critically in the 177 elephant-man encounter incidents recorded in the state. This year till date, on an average, one human-elephant encounter has been witnessed every 2 days and in every 3 days, a human has been reported killed in such encounters. Such a high number of human casualties had never been recorded in the past. With not even a month past, this year could well see the highest ever human casualties ever recorded in an Indian state.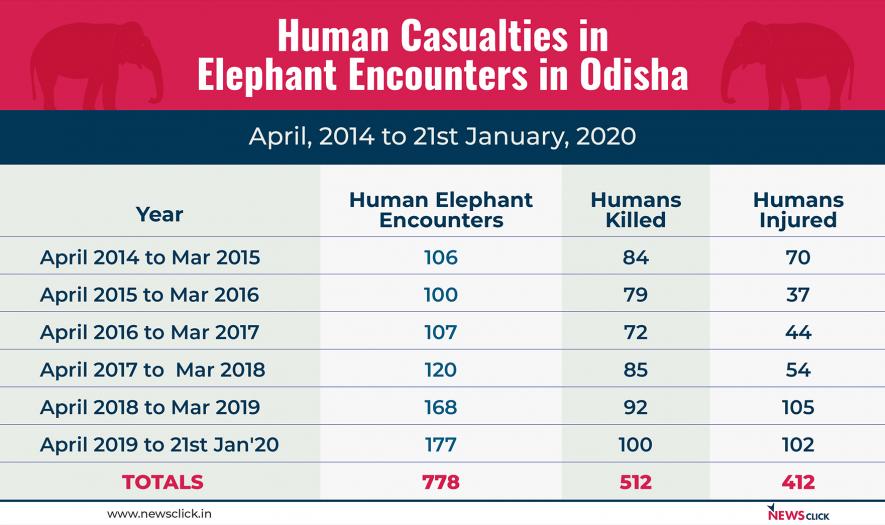 The situation in Odisha is extremely worrying. In comparison with other states like Karnataka, Assam, Kerala and Tamil Nadu where the elephant population is 2-3 times that of Odisha, what becomes clear is that Odisha's human-elephant conflict management and mitigation has been dismal.
"In the last 9 months and 21 days, 100 humans have been killed in Odisha. This is the highest record for the state. Last year, we lost 92 humans to elephant attacks," said Biswajit Mohanty, Secretary of Wildlife Society of Odisha.
Also read: Human-Elephant Conflict Escalates to a New High in Odisha as Fodder Shortage Drives Herds Into Villages
"We have now acquired the dubious reputation of being the state which sees the highest number of humans killed by elephants. States like Karnataka with much higher population see less human kills thanks to proper mitigation and management of conflict. The state Forest Department is yet to take this seriously and prevent human casualties by shutting down disturbing mines and quarries, forcing NH (National Highways) and railways to build underpass, notification of corridors," Mohanty added.
According to the data collected by Wildlife Society of Odisha (WSO), human casualties have gone up over the years and the big spike this year exposing the hapless human elephant conflict situation.
Drawing attention of the Union Environment and Forest Ministry, WSO stated, "We have been raising concerns since the last eight years before the Chief Wildlife Warden and your office about the unhindered mining and quarrying in elephant habitats, the lack of notification of identified 14 elephant corridors, the lack of underpass on roads and train lines, the barbed wire fencing of thick elephant forests all of which are significant contributors to the raging human elephant conflict."
It also stated that although an amount of Rs 3.67 crore was spent on consultancy fees for wildlife and conflict management by the state wildlife wing, nobody knows the outcome of this huge expenditure.
According to reports, Assam which has a elephant population of 5,719 saw 86 people killed in 2018-19 and 83 people in 2017-18. During the same period, Karnataka with a total elephant population of 6,049 saw 13 people killed in 2018-19 and 23 in 2017-18. However, Odisha with an elephant population of just 1,976 witnessed 92 people killed in 2018-19 and 85 people in 2017-18.
Also read: Man-animal Conflict in C'garh Can Only Be Stopped by Human Intervention
WSO maintains that the available data indicates the gross failure of Odisha Wildlife Wing in curbing human elephant conflict despite crores of rupees being spent. The letter states, "Such high number of human kills has only pushed villagers to retaliate against elephants. This is contributing to the already alarming number of unnatural deaths of elephants about which we had appraised you repeatedly in our earlier letters seeking an enquiry. It is high time that the apex body for elephant conservation in India wakes up to the alarming situation and takes steps."
In a letter to the Director of Project Elephant, a central government initiative, WSO sought its immediate intervention for setting up an expert committee to curb the menace in the state.
"We urge upon you to immediately constitute an Expert Committee consisting of experienced elephant experts and conservationists to assess the situation, identify the reasons behind human kills and suggest both short term and long term solution," Mohanty stated.
Get the latest reports & analysis with people's perspective on Protests, movements & deep analytical videos, discussions of the current affairs in your Telegram app. Subscribe to NewsClick's Telegram channel & get Real-Time updates on stories, as they get published on our website.
Subscribe Newsclick On Telegram