I Stand by Each and Every Word I Said: Nadav Lapid
The Israeli filmmaker says he is amazed that Indians have obsessively discussed his criticism of the film, The Kashmir Files, for days.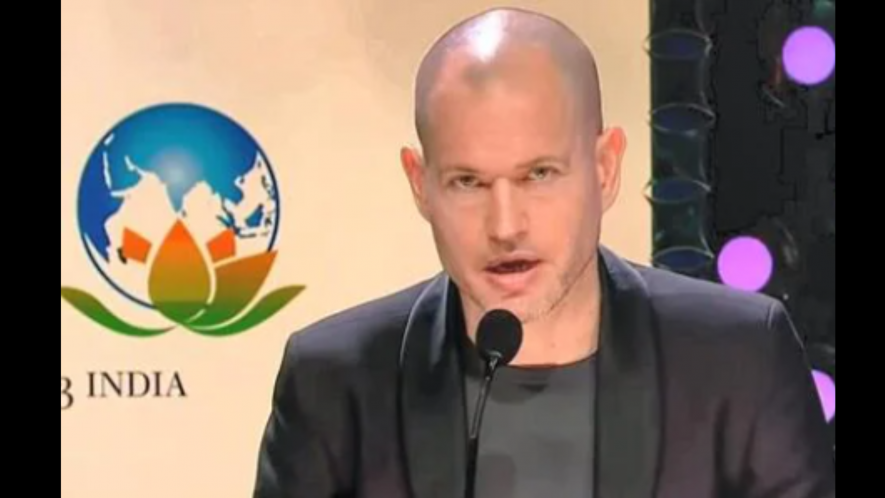 Israeli filmmaker and IFFI jury head Nadav Lapid speaks during the closing of the 53rd International Film Festival of India (IFFI), in Goa. Image Courtesy:PTI
Israeli filmmaker Nadav Lapid has been in the eye of a storm since the International Film Festival of India (IFFI) in Goa, where, speaking for the jury he headed, he said it found The Kashmir Files, a film by Vivek Agnihotri, "vulgar propaganda" unfit for an artistic competition. The film was widely promoted by ruling party leaders in India despite concerns that it could spark discord. The film deals with the exodus of Kashmiri Pandits from the Kashmir valley in the nineties, during the onset of militancy in the region. Critics in India have also called it a divisive, one-sided and politically-motivated cultural project. Independent journalist Daanish Bin Nabi recently asked Lapid about the controversy his statement sparked. Edited excerpts.
Danish Bin Nabi: Many Indian media outlets are running a story that you have apologised for your comments on The Kashmir Files at IFFI. Do you regret or stand by what you said?
Nadav Lapid: I said that my speech about the movie The Kashmir Files was manipulated as if I was ignoring or minimising the tragedy of Kashmir and that if someone, especially the victims or their relatives, were hurt, I am sorry. But I stand behind each and every word I said in my statement. Yesterday (Thursday), my fellow jury members tweeted what I have been saying from the very first day. That my statement reflected the full jury's opinion and not only my personal view, and that we all share the vision of this movie and the necessity to talk about it openly. I think it is extremely important since, with manipulation, it is easier to turn what I said into a personal issue.
DBN: The Israeli ambassador to India has come out against you openly. How do you take this? Do you feel betrayed by your fellow citizens?
NL: The Israeli ambassador took his part in manipulating my statement to attack me. He was there when I was on the stage and knew very well that I was criticising the movie and only the movie. As someone who admitted on-stage that he does not watch films, maybe he should be humble before giving statements about a domain in which he is ignorant.
I was not surprised, however, by his total misunderstanding of the concept of freedom of speech and the right and duty of an individual to express his deep truth.
Unfortunately, despite his long experience, he does not understand what it means to simply state your belief. He was talking to me like a father whose naughty son had not done his homework. It was pathetic.
The fury of certain Indian people against my words was at least authentic. I can understand them. But...I wonder whether now, after the other jury members have declared what I said was our common statement, the French, the Spanish and the American ambassador will condemn their respective fellow citizens. I am sure they won't. Luckily, they are better diplomats, more honest, courageous and less populistic than this person.
DBN: Can you explain what makes you feel 'The Kashmir Files' is propaganda?
NL: I have already explained it a thousand times. I hardly talked about my own films as much as I talk about this one. The film is totally flat; the bad play the bad ones, and the good play the good ones. The bad are ugly and repulsive, while the good are marvellous. It presents no context and endless cheap cinematic manipulations. I can go on, but I think this much is enough.
DBN: How vital is cinema in propagating a particular narrative? And equally, is the government duty-bound to cross-check every film to maintain social harmony between diverse groups?
NL: The role of government, in my opinion, is to understand the essential importance of cinema by supporting it without expecting anything back. The moment you start to push conditions: I want films that will promote this or that, I want only commercial films etc., everything is ruined.
DBN: Did you expect such a backlash in a secular country like India?
NL: I knew that it [the film] was a sensitive matter, but I am amazed that in a huge country like yours, people have been obsessively talking about it for already three days. If the discussion had not been so violent, it would have been almost impressive. I wish, in a way, that people in Israel would have been so concerned about cultural issues.
The problem, as I mentioned, is that it [the discussion on my statement] is extremely violent and does not enable real complexity. I am a foreigner, of course, but looking from the outside, maybe it is not a good sign for a society when the simple act of saying your subjective belief brings about such fury. Of course, it makes people afraid to talk.
DBN: The Indian media hounded you. Do you feel the media here is behaving objectively and professionally?
NL: I gave some interviews, mainly on TV, to clarify my ideas when I felt my statement had been manipulated. Some of the journalists were professional and serious, while others were extremely aggressive—as if their only wish was not to hear my truth as I phrase it but to make me fail, to win a battle against me. Luckily or unluckily, I grew up in an aggressive society in Israel, so I knew these types of people and felt prepared. But maybe they [Indian journalists] should at least make some effort to hide their agenda.
Get the latest reports & analysis with people's perspective on Protests, movements & deep analytical videos, discussions of the current affairs in your Telegram app. Subscribe to NewsClick's Telegram channel & get Real-Time updates on stories, as they get published on our website.
Subscribe Newsclick On Telegram