IPTA West Bengal to Reinvent Itself in Fight Against Hindutva, TMC
The Indian People's Theatre Association will compose songs and plays which will touch the lives of common people.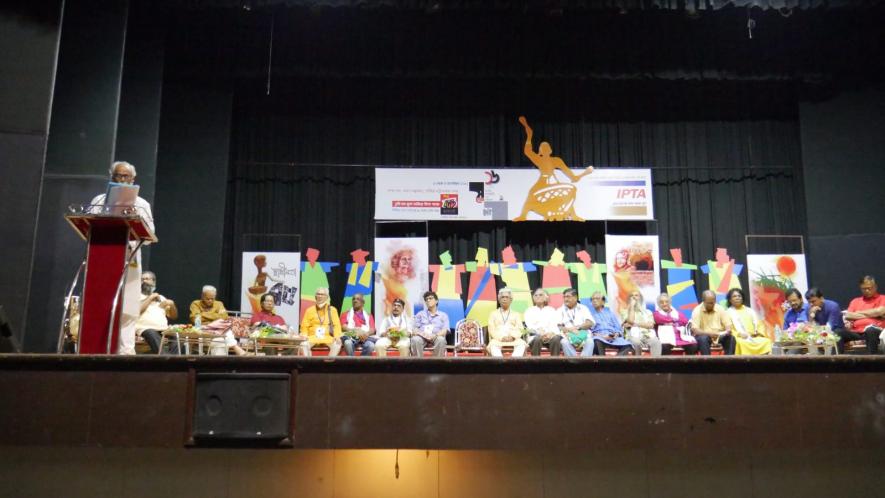 16th IPTA conference held in kolkata
Kolkata: The Indian People's Theatre Association (IPTA), a frontal progressive organisation that aims to combat fascist and communal forces through cultural awakening in the country, seeks to reinvent itself to combat "Hindutva forces at the national level" and the "anarchical state government".
Since its inception in 1943, IPTA has been focusing on performing arts to build awareness about social responsibility against exploitation of the masses in a class-divided society.
IPTA was inspired by Rabindranath Tagore and Romain Rolland, the doyens of 20th century's cultural movement. In the '40s, artistes like Hemant Kumar, Debabrata Biswas, Suchitra Mitra, Balraj Sahni, Prithviraj Kapoor had taken the centre stage at IPTA with their pro- agrarian and worker songs and performances.
Plays like Nabanna, which was written by Bijan Bhattacharya and portrayed the oppression of farmers by zamindars, were staged with Sambhu Mitra and took contemporary realism to a new height.
At its recent 16th conference in Kolkata, IPTA West Bengal secretary Dibyendu Chattopadhya said that "after 75 years of Independence, Hindutva forces have taken the centre stage in national politics and an anarchical government is in power in the state, leading to torment of common people".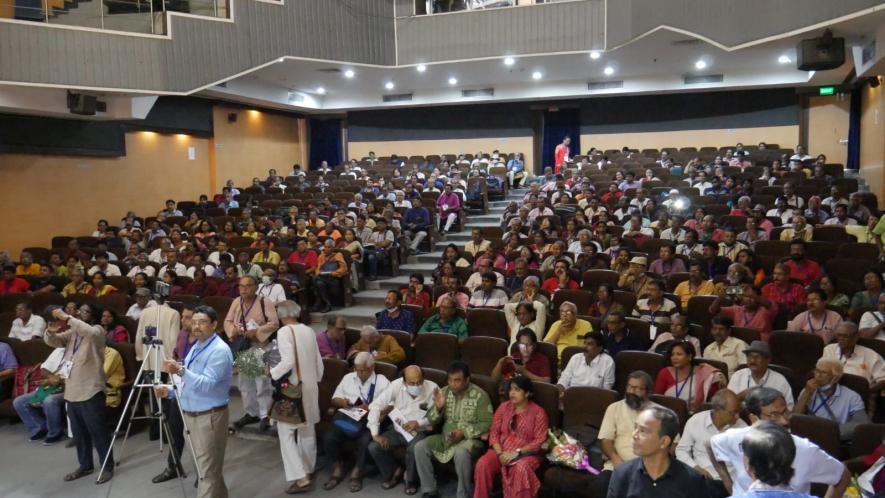 "Now, the feud regarding the Varanasi [Gyanvapi] mosque is hogging the limelight. Where is our country headed to?" Chattopadhya asked. "On one side, our leaders are busy looting the population like in the SSC exam scam and coal scam and on the other, there is inflation and the sale of national assets," he alleged.
"These torments will be reflected in IPTA plays and songs in the coming days times. Culture is a huge canvas and we won't allow it to be torn down by Hindutva forces and its anarchical associates in West Bengal," Chattopadhya said mentioning IPTA's new strategy. 
"Our  challenge is now to reinvent ourselves to come up with characters in songs, plays and prosceniums who will touch the lives of common people and undergo the same level of torment as is prevalent in society."
IPTA should produce "multifaceted multi-dimensional plays and songs at all the 256 units in the state", Chattopadhya said. "We are also guiding 700 more theatre organisations in our state producing plays loosely based on IPTA ideology to produce plays and songs. Besides, in 14 states which have IPTA branches and where the CPI(M) has ideological dominance, we are hand-holding such organisations to produce plays and street theatres."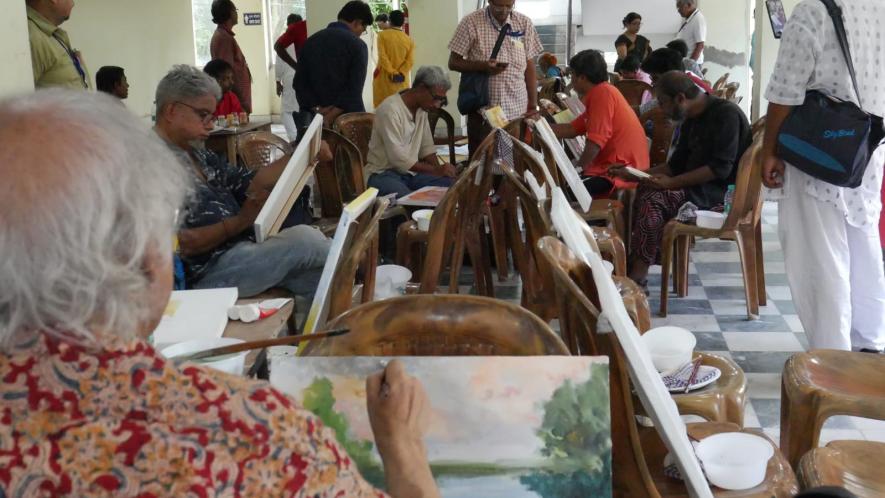 IPTA is especially coordinating with Balasangam—the largest children's group in Kerala that has got 23,000 units working under it, IPTA Assam, people's theatres in Tripura, Praja Natya Mandali in Andhra Pradesh and theatres in Rajasthan "to present a joint front against the Rashtriya Swayamsevak Sangh (RSS) in the minds of common people," Chattopadhya added.
IPTA has got valuable inputs from  progressive theatre groups in neighbouring Bangladesh, Sri Lanka, Pakistan, Vietnam and China. In fact, Badiur Rahman of Udichi theatre group in Bangladesh inaugurated the IPTA conference.
Earlier IPTA conferences called for introducing newer faces into the IPTA movement and act as torchbearers in times of darkness. "This year's conference called for organisation, creativity, unity and coordination based on which IPTA hopes to reinvent itself as the dominant player in the cultural mindscape of common people at a time when the RSS is setting up more branches in the state, especially in tribal areas," IPTA president Hironmoy Ghoshal said.
"We are trying to communicate with tribals in Purulia and Bankura with our Adivasi Lok Shilpa Sangha to address the issue. We are also planning to start musical schools in the state with a full-fledged curriculum," Ghoshal added.
IPTA veterans like Mousumi Joarder said the "fight has become stiffer after globalisation". Now 55 and a compere with Samprotik theatre group of Nagerbazar, under IPTA, she still reminisces about her childhood in Basirhat, North 24 Parganas, when she joined the association as a child artiste in 1977.
Reminiscing how progressive peoples theatre has come a long way in the last 45 years, Joarder said that her performances in plays like Mrityunjoyee Hashmi (a play on the fight of martyred playwright and actor Safdar Hashmi) in the '90s were immensely satisfying.
"In the '90s and the first decade of 2000, the focus was more on the cultural scape to remain attractive in all forms after the advent of globalisation while after the fall of the Left Front government, it has been toughest as shows got cancelled owing to rampant attacks on the progressive movement in the state," Joarder said.
Calling for a different approach to fight new challenges, Joarder said, "Like a .303 rifle, which is obsolete in today's warfare against an AK-47, the challenge is to produce plays and songs which touch the minds of today's generation directly. More work should be done in this regard."
Joarder also considers it a new beginning for IPTA with student youth organisations coming forward with new songs and theatre works. "Though these songs are centred around urban life and lack the mud-laced songs of villages, it is a new beginning. Such talent needs to be nurtured," she told Newsclick.
Shubhendu Maity, one of the most popular IPTA artistes who has penned and sang songs against the oppression of the masses, highlighted the connect and disconnect faced by IPTA artistes. 
"Though the IPTA movement in the state got prominence due to the presence of stalwarts like Hemant Kumar and Prithviraj Kapoor, its base stands on folk artistes and several lyricists who penned songs in local Bengali dialects and still remain prolific songwriters of IPTA. But the urban centric-IPTA movement has forgotten grass-root songwriters like Kamal Adhikary, Lombodhar Chakraborty, Gurudas Pal and Nibaran Pandit," said Maity, who has spent much of his life with rural artistes in West Bengal, Assam and Tripura.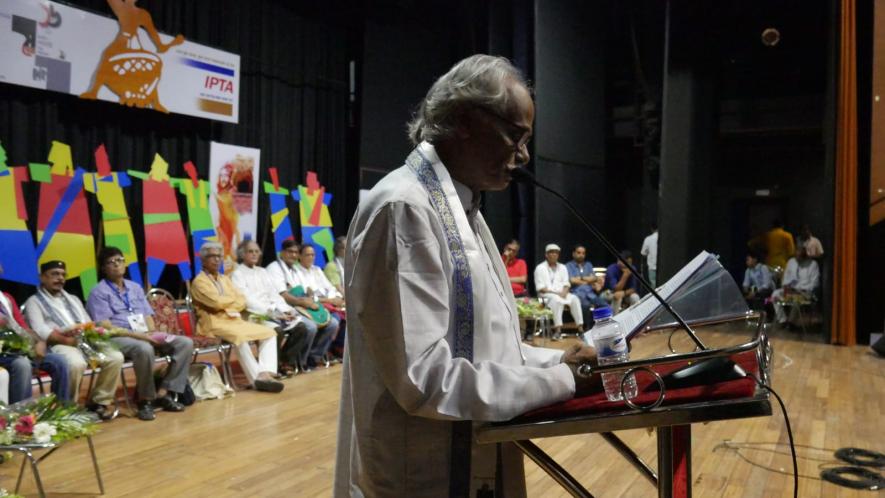 Maity, who was one of the foremost architects of starting the communist movement in Bhutan in the late '60s, called for "more emphasis on rural dialect-based songs and songwriters, who are hugely popularity on the ground level, in a class-divided society with a high level of exploitation". He has advised the IPTA leadership to change its approach in this regard.
Incidentally, Maity hand-held famous Bengali singers like Kabir Suman (a former Trinamool Congress MP), Lopamudra Mitra, Nachiketa Chakraborty and Kaji Kaml Naser.
Another IPTA organiser  Shantanu Bandhyapadhaya said that the association should constantly search for rural cultural roots in the state rather than urbanised songs. "Rural culture, which is ignored by the media, is thousand times stronger than urbanised culture and is patronised by thousands in villages," he told Newsclick.
Chattopadhya alleged that a strong people's theatre still exists in the state "though a number of intellectuals have become spineless to get doles from the state government. But several intellectuals are still part of the larger IPTA spectrum in the state".
"Besides, dole politics in the state is selective. A majority  of people's artistes who play rural songs do not get the dole of Rs 500 provided to artistes who prefer to remain silent," Chattopadhay said adding that "most of the paid intellectuals remain silent on issues like the murder of journalist-activist Gauri Lankesh and the arrests of poet Varavara Rao and activist Teesta Setalvad".  
Get the latest reports & analysis with people's perspective on Protests, movements & deep analytical videos, discussions of the current affairs in your Telegram app. Subscribe to NewsClick's Telegram channel & get Real-Time updates on stories, as they get published on our website.
Subscribe Newsclick On Telegram