'If Kashmir is 'Normal', Why are Our Sons Still in Jails of Other States?'
The government charged 412 people under PSA after abrogation of Article 370 on Aug 5,2019. While most have been released, some who belong to poorer families and can't afford legal costs continue to languish in jails outside the state, says JKCCS.
Srinagar: Two years after the special status of Jammu and Kashmir was revoked, several families await the release of their sons who were arrested prior to the August 5, 2019, decision to abrogate Article 370, thereby bifurcating the state into two Union territories. According to the families, their kin were booked under the Public Safety Act (PSA), which allows the government to detain any person above the age of 16 for up to two years with no trial.
According to the Jammu and Kashmir Coalition of Civil Society (JKCCS), a federation of human rights organisations from the region, the government charged 412 people under PSA after August 5, 2019. While the majority of these prisoners have been released, some who belong to  poorer families and cannot afford legal costs continue to languish in jails outside the state.
Nadeem Ahmad Wani, 21, was arrested on August 4, 2019, after police conducted a raid at his residence in the village of Bolus in Kulgam. The next day, when Article 370 was scrapped, the family learned he was at a police station in Kulgam. From Kulgam, Nadeem was shifted to Srinagar Central Jail in Rainawari and then taken to a jail in Agra. He was pursuing a degree in BA from Government Degree College, Kulgam.
Nadeem's mother, Tasleema, has not seen her son for two years as she has been unable to muster enough money for a visit. "I did not have money to visit him in jail. I have not seen him even in my dreams in the past two years. I cry every day, but is anybody listening?" she told NewsClick at their home in Arev village of Kulgam.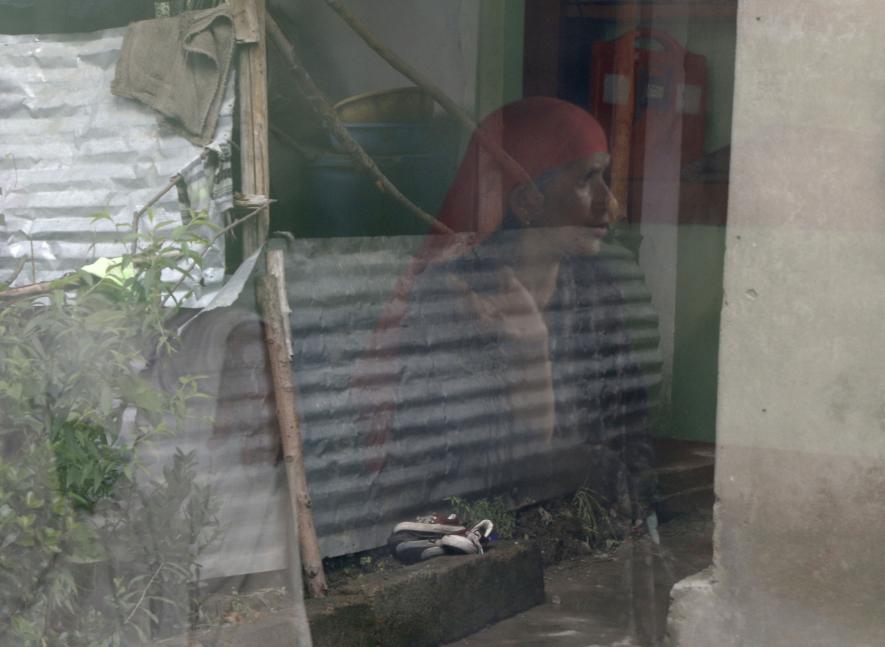 Mother of Nadeem detained in 2019 awaits for his release hoping she will see him wearing the shoes as seen in the picture.
She struggles for answers. "I still don't know why he was picked up. His exams were ongoing and he had not left his home for at least two months before his arrest. He is innocent," she pleads.
Tasleema  says her son is behind bars as he belongs to a poor family. "The police has released everyone else who was picked up in this locality alongside my son. How can a 21-year-old harm anyone," she asks.
Nadeem's father, Mohammad Ashraf Wani, a carpenter, is worried about the future of his child as he has raised him with a lot of difficulty. "Who will give him back these two precious years?" He adds that if the government is claiming that everything was normal here, why was it delaying the release of their children.
Nadeem's arrest formed part of measures that the Centre took ahead of the abrogation of Kashmir's special status. The government deployed additional troops in the region, tourists were asked to leave and schools and colleges were closed. Internet and mobile connectivity were cut off and restrictions were placed on freedom of movement and assembly. Several mainstream leaders were also placed under house arrest.
On August 1 that year, the Army picked up two brothers – Ishfaq Ahmad Dar and Salman Ahmad Dar – during a search operation in Shopian. While it released Ishfaq the very next day, Salman remains lodged in a faraway jail in Agra.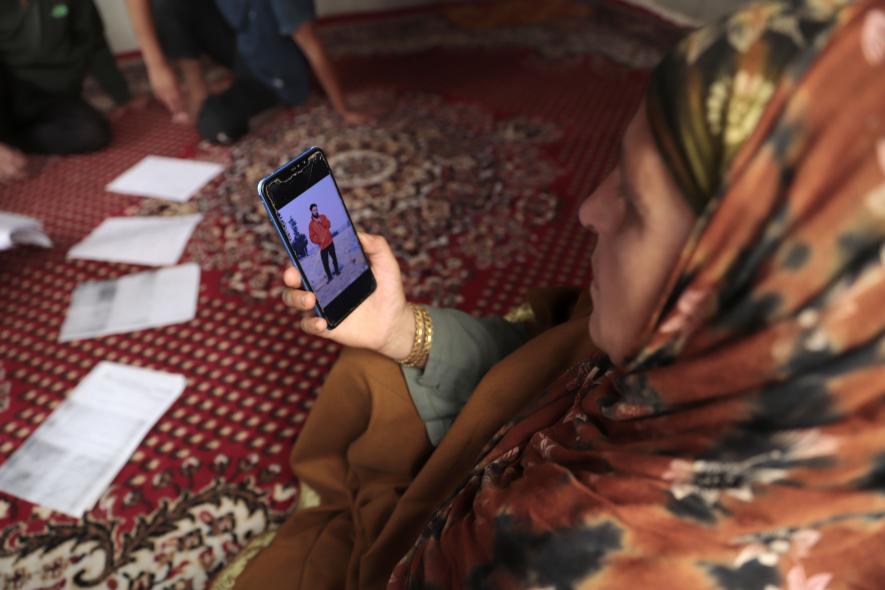 Mother of Salman from shopian looking at the picture of her son who was arrested under PSA ahead of abrogration of Article 370 in 2019.
"The Army picked us up at around 12 a.m. They beat us the entire night. I was released the next day, but they took my brother to another jail," Ishfaq Ahmad Dar told NewsClick.
On August 6, 21-year-old Salman was shifted to the Central Jail in Srinagar; he was taken to Agra jail later. He was a tailor by profession and was working hard to contribute to the family. Salman's family says they have been facing immense hardships as he was the primary contributor to their family's income. "We tried hard to get him released, but nothing happened. We have spent almost Rs 60,000 so far. I have met him once in these two years," Abdul Rashid Dar, his father, told NewsClick.
Dar still remembers the day he visited his son at an Army camp in Shopian. "He could hardly walk. They had tortured him. His hair had been pulled and his teeth were broken," he says. "These scenes keep flashing before my eyes and keep me awake all the time," he adds.
Salman's mother, Gulshana, has seen her son once in the past two years. "We were able to meet him for 20 minutes only and exchanged greetings. I did not even ask if he was alright. I haven't slept once in the last two years," she says.
The family says they have made repeated pleas to officials, but nothing has come of it "They (officials) are saying we will release him at the right time," the family says.
The August 5 decision also dashed hopes of families who had been expecting the release of their sons.
Rasiq Ahmad Ganai, 29, was all set for his release after two years in jail. He was arrested in 2017 from his native village of Souch in south Kashmir. He was immediately shifted to sub-jail Mattan on August 3. "They told me that they will release him in a day or two. He was not released on August 4 since it was a Sunday," Mohammad Amin Ganai, his father, told NewsClick. He added that he was at the jail the next day, "but they told me the situation was not conducive for his release," he says.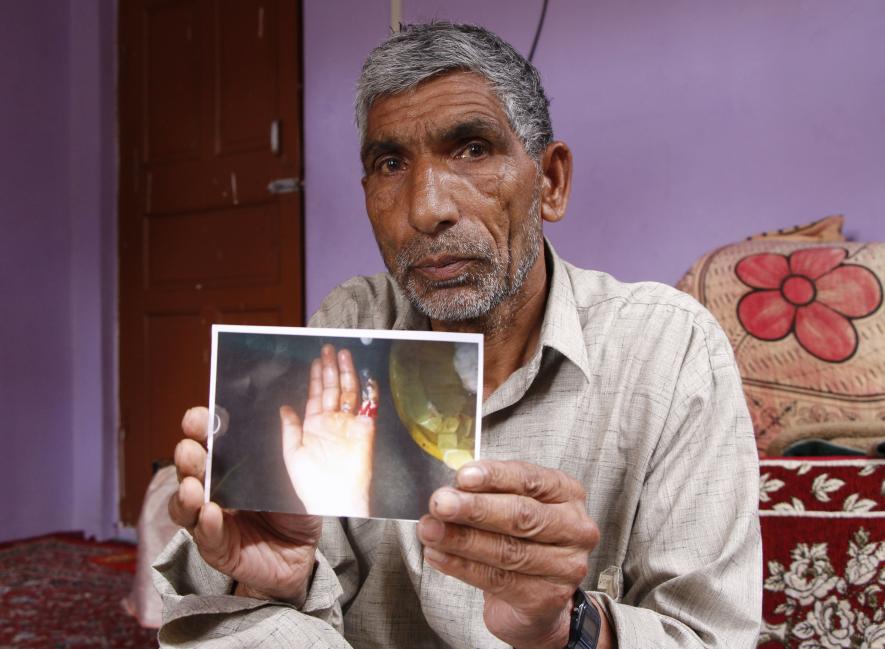 Father of Rasiq detained in 2017 from his village Shoutch in south Kashmir's Kulgam showing the picture of his broken finger caused by an accident in a police van when he was taken for hearing.
Rasiq was shifted to the Central Jail in Srinagar on August 12. He was shifted to Agra on August 21. "All my money and the efforts I made for the release of my son since 2017 were wasted," he says. Amin has not seen his son for a year as all his savings have been exhausted. "I have nothing left now. I cannot pay back my debt," he says.
He has been living alone in their house for the past four years. Rasiq was his only hope. "My wife died around five years ago. My other children are living separately. I had pinned my hopes on Rasiq, but the government has snatched my only support," he says.
The health of his son worries him the most. "His little finger had to be cut off after it was badly damaged during an accident that took place when the police were bringing him to Kulgam for a hearing. He was admitted to SKIMS hospital for around 14 days," he says. "I hope he is doing well."
Get the latest reports & analysis with people's perspective on Protests, movements & deep analytical videos, discussions of the current affairs in your Telegram app. Subscribe to NewsClick's Telegram channel & get Real-Time updates on stories, as they get published on our website.
Subscribe Newsclick On Telegram