If Comment is Free, Why are Dissenters Being Locked Up?
The State looks the other way only when Right-wing footsoldiers target innocent people and provoke violence.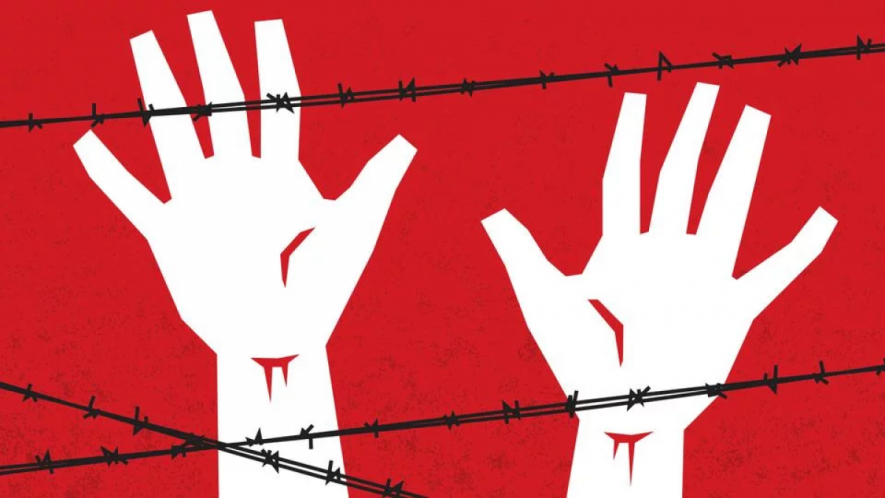 A foreigner, returning from a trip to the Third Reich,
When asked who ruled there, answered:
Fear...
The Regime, Bertolt Brecht.
Those occasions on which judicial verdicts bring cheer are getting rarer. As everyone who supports gender justice rejoices over the victory of senior journalist Priya Ramani in the defamation case filed against her by ex-minister MJ Akbar, it is also time to get excited over another judgement passed in another court.
In an ambience in which dissent is increasingly criminalised, this judgement by a Delhi court, which grants bail to two people accused of posting "fake" videos related to the ongoing farmer movement, is also a breath of fresh air.
The prosecution argued that these videos—which seemed to express discontent among police officers against the government—could create disaffection against the government. Instead of agreeing, the judge hearing the case handed out a tutorial to the government as to when the law on spreading disaffection is actually to be applied.
The law, the prosecution was told, can be invoked only when there is a "call to violence". The judge underlined that the law to punish sedition is an important instrument to maintain peace and order, and it cannot be invoked to quieten disquiet while pretending to muzzle miscreants.
Any student of law knows that the judge's declarations resonate with two historic judgements delivered by the highest court of the country, namely the Kedarnath Singh vs State of Bihar ruling from 1962 and the Balwant Singh and Bhupinder Singh vs State of Punjab government case from 1995, which specifically emphasise that the charge of sedition can be used only when violence is invoked or where there are attempts to create disorder.
The question now is, will the words of the court lead to introspection among the polity? Will they have a sobering effect on the executive? Of late, it has become increasingly evident that cases of sedition are filed even against people who do not invoke violence. Simply expressing an opinion or sharing a news item that seems to counter the official discourse have become reasons for the State to press charges of sedition.
An article in a web portal illustrates some of these cases. According to the author, Kunal Purohit, six sedition cases have been lodged during the farm protests, 25 during the anti-CAA protests, 22 after a recent alleged gangrape in Hathras, and 27 after the Pulwama episode in early 2019. The report also reveals that over the last decade there has been a 28% rise in sedition cases filed. This violates the Supreme Court's guidelines, for [especially since 2014] these cases are being filed against critics and protesters.
The situation is so grim that even sharing a morphed image of a politician can land an individual in jail and facing sedition charges.
Sixty-five per cent of the nearly 11,000 individuals who face sedition charges in 816 cases filed since 2010 were implicated after 2014 when the Bharatiya Janata Party came to power with Narendra Modi at the helm as Prime Minister. Among those charged with sedition are Opposition politicians, students, journalists, authors, and academics. The database of sedition charges launched by the noted website also finds that 96% of sedition cases filed over the last decade were registered after 2014. Almost 150 of the accused had made "critical" and/or "derogatory" remarks against Modi, and 144 against Uttar Pradesh Chief Minister Yogi Adityanath.
Yet, this is not the first time that the travesty of justice has come to light. The Indian Express newspaper published a report last year based on the government's records of crimes committed and registered. The report cites National Crime Records Bureau data to show that sedition cases are up but convictions are at an all-time low—only three per cent in 2019.
The increasing resort to filing cases of sedition—especially in the BJP-ruled states—perhaps reached a crescendo when a few of India's finest journalists and writers came under its wrath simultaneously just a few weeks ago. Charges of sedition, criminal conspiracy, promoting enmity between communities, and making assertions harmful to national integration, have been filed against them just for sharing "unverified" news items during the farmers' tractor rally, held in Delhi on 26 January. One such complaint even says that this amounted to an attempt to "build insurrection against the Indian Republic", apart from trying to sow the seeds of enmity, violence and create a "riot-like situation".
The list of accused includes the Congress Member of Parliament Shashi Tharoor, Rajdeep Sardesai, a journalist with the India Today group, senior consulting editor with the National Herald, Mrinal Pande, and the editor of Qaumi Awaz, Zafar Agha, Caravan magazine's editor, and founder Paresh Nath, another Caravan editor, Anant Nath, and executive editor, Vinod K. Jose.
Their reports on the death of a farmer during the tractor rally simply did not match the police's version. While the police claimed that the man had died when the tractor he was driving overturned, the victim's family members have attributed the death to police highhandedness. The dead man's grandfather has even filed a petition in court seeking an explanation for his grandson's death.
Twenty-one-year-old Disha Ravi, an environment activist from Bengaluru who co-founded the Fridays for Future (FFF) campaign to raise awareness on climate change, is a new addition to the list of those who face sedition charges. She was arrested from her house in Bengaluru last week.
How she was arrested has also raised uncomfortable questions, apart from the charges themselves.
It is being alleged that the police personnel did not take into consideration the guidelines issued by the Supreme Court in making arrests. Neither was a transit remand sought from a local magistrate in Bengaluru before she was taken to Delhi nor did the police ensure that a legal counsel was available to her when she was produced before the Duty Magistrate in Delhi.
Senior police officials from Karnataka—though on condition of anonymity—have told reporters that they received the information of Ravi's arrest only when all the formalities had been completed. Delhi Police has flatly denied the accusation.
However, the campaign to release Ravi is slowly gathering momentum, and the question of others languishing in jail is also getting highlighted in the process. It is also important to think over the double standards adopted by police in such cases. It prefers to look the other way when right-wing footsoldiers target innocent people and provoke violence.
No action has been taken against a senior leader of the ruling dispensation who, in the aftermath of Ravi's arrest, tweeted for the "eradication" of those who harbour dissenting views. Of course, he did not use the phrase "dissenter", but he said enough to prompt social activists to seek legal action against him. The matter remains untouched.
Merely a week before, a nondescript YouTube channel had posted a video calling for the "hanging" of a few prominent journalists and transparency activists on made-up charges. By the time YouTube took down this video (on the same day it was posted) for violating its guidelines, it had gained half-a-million views.
One is yet to hear of any investigation or action in this issue, which seems rather a fit case to explore a criminal conspiracy, promoting disaffection and assertions that are harmful to public order, not to mention defamatory.
In most mature democracies, the law of sedition has now either formally been rescinded or is largely defunct. As has been said, "Pronouncements by courts and law reform commissions in a number of common law jurisdictions support the contention that the law of sedition serves no useful purpose, is anachronistic, is palpably undemocratic, and is an unconstitutional encroachment on the right to freedom of expression."
Whether India, the "largest democracy of the world", is ready to listen to democratic voices like these is a moot question.
The author is a freelance journalist. The views are personal.
Get the latest reports & analysis with people's perspective on Protests, movements & deep analytical videos, discussions of the current affairs in your Telegram app. Subscribe to NewsClick's Telegram channel & get Real-Time updates on stories, as they get published on our website.
Subscribe Newsclick On Telegram