In Bihar's Darbhanga, a Difficult Battle for Oxygen
The shortage in cylinders for oxygen refill and delay in oxygen refilling are posing challenges for bother suppliers and critical Covid patients in Bihar's Darbhanga district.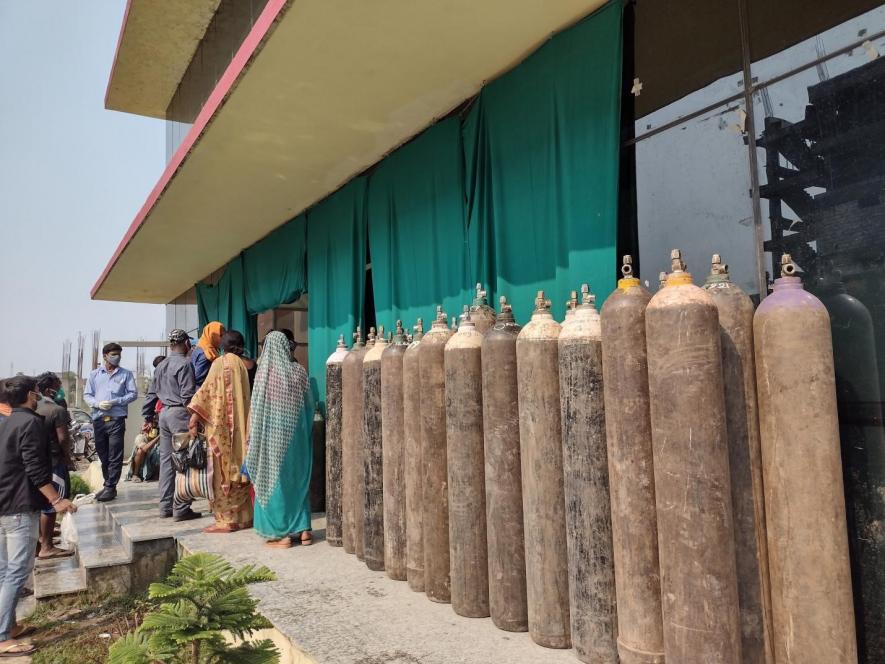 Tense faces, ever ringing calls and the pressure to get everything right -- from managing orders and oxygen production to billing and transport--this has been the life of Deepak Gupta, the sole oxygen plant owner in Bihar's Darbhanga, for the last few weeks.
Recently, Darbhanga Medical College and Hospital, the biggest government hospital in northern Bihar, started receiving oxygen supply from Gupta Air Products, owned by Deepak Gupta. The private plant was roped in after SBG air products of Muzaffarpur, which owns a tender for supply of medical oxygen to the hospital, expressed its inability to fulfil the growing demand for the life-saving gas.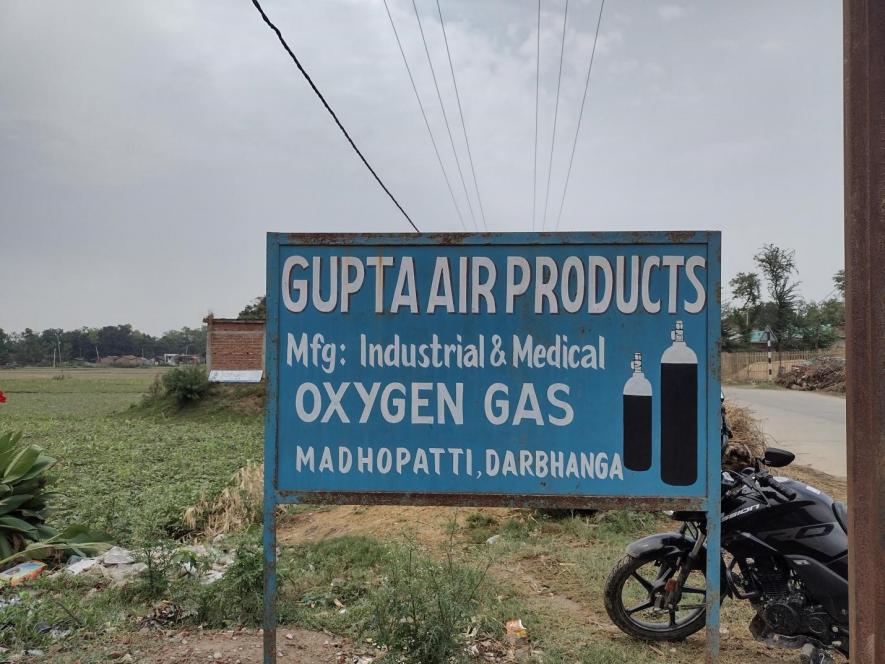 "For some or the other reason, we could not secure a tender for oxygen supply at DMCH every time we tried. However, a few weeks back, when the administration sensed a possible shortage and the current supplier expressed inability to fulfil increasing demand, the District Magistrate visited the plant and now, according to orders from the administration, we are serving the needs," Gupta said.
Directly or through agencies and retail suppliers, Gupta Air Products is meeting the demands of the whole district. Even after running at three and a half times its usual capacity and stopping supply to several districts, the plant is finding it difficult to fulfil the required needs of the area.
"We used to refill roughly 300 large cylinders a day for all districts of Mithila and Koshi region combined. Now it is 1000 cylinders a day for just three districts - Darbhanga, Madhubani and Supaul. Out of this, 90 percent supply goes to our (Darbhanga) district only." Mr Gupta added.
"Before the second wave, we needed 30-40 cylinders a day, now the requirement is of up to 100 cylinders. All thanks to our new supplier, we have not faced any shortage like what we saw in Delhi and other places. Once the newly established oxygen generator here in DMCH starts functioning, the supply to the whole district would get better," said Sonu Kumar, the outsourced staff from a private agency who manages the oxygen supply in the Covid ward of the hospital.
Kumar admitted occasional delays in transportation of oxygen. "But in such a situation, the hospital arranges the oxygen from the quota allotted for 'Manifold'," he mentioned. Manifolds are used for supply of oxygen to patients using pipelines.
At the gate of the oxygen plant, which is located nearly 16 kilometres away from district headquarters, a few individuals have also come to directly get their cylinders refilled. The crowd has worrying faces, each carrying a sense of urgency.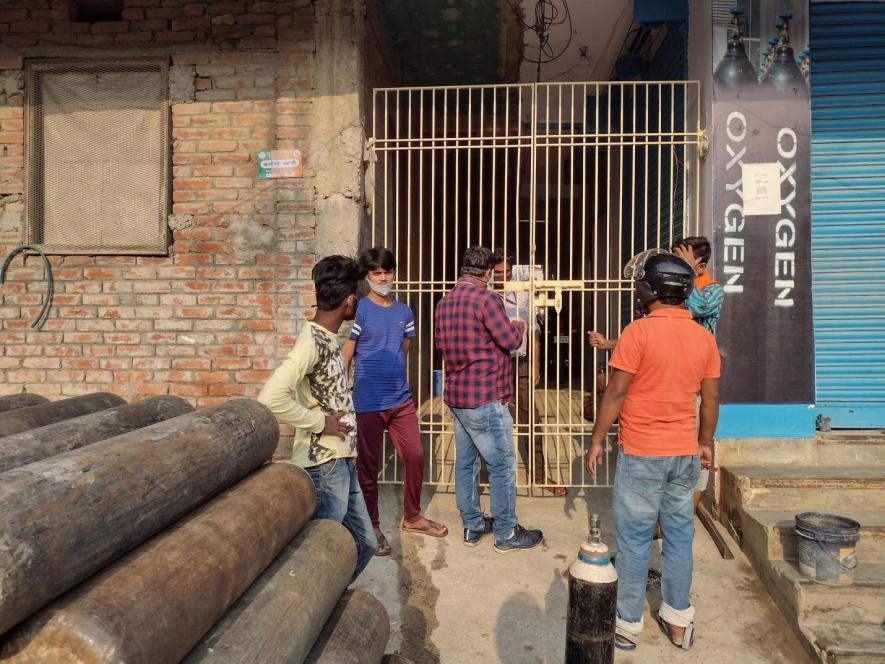 "Retailers take more than three days for refills. This delay is very tough and horrifying, especially for senior citizens like us. Yesterday, I had to send an acquaintance to the oxygen plant. What if my situation gets even worse? There are no beds in private hospitals," Ravi Prasad, a 67-year-old local resident, who is currently in home isolation, told NewsClick.
About the refill facility, Gupta, the plant owner, said, "Direct refills are only provided to critical patients. Patients with better oxygen levels can avail it from retailers." The retailers of the medical oxygen in the city are also in a difficult situation regarding supply. Out of three such well known centres in the city, the shutters of two shops have not gone up since the last few days. At one such centre, Rohit Kumar, a support staff, appears tired of explaining the delay in adhering to commitments by the shop owner.
Dinesh Ram, the driver of an oxygen ambulance, after a little argument with Rohit, is now back in his ambulance. He has not been able to secure oxygen for the ambulance needs for the last five days. "Oxygen shortage is making this tough time even difficult. I used to drive patients from several districts like Madhubani, Saharsa, etc, but now due to oxygen shortage, in peak times like this, I had to refuse multiple requests," Dinesh said. The situation has also affected his income badly.
Commenting on the scarcity of oxygen in the market, Nikunj Parasram, who runs a gas refilling centre in Darbhanga, said, "All of us, including Mr Gupta himself (owner of sole oxygen plant) are prioritising hospitals and ensuring adequate supply to save critical patients. We are also fulfilling individual demands but it takes 2-3 days." Parasram currently supplies medical oxygen to at least 10 private hospitals and several individuals in home isolation.
Like Gupta, small retailers are also getting endless calls. "Please try to understand that only refilling is possible. There is no way we can help with oxygen cylinders," Parasram said to a person repeatedly pleading for a cylinder on the other side of the phone. "A fortnight back, we had cylinders too. But now, only non-Covid (treating) private hospitals with extra cylinders can help. Patients are also getting help from NGOs or those who bought it during the first wave," he said explaining the situation.
Utkarsh Chaudhary, a management staff at a well-known private medical facility in the city, also underlined the unavailability of oxygen cylinders. Asked about the biggest challenge, he said, "Cylinders are only available in the black market. They are asking for Rs 20,000 in deposit and Rs 1500 as the daily rent. We are unable to add more home isolation patients only because of this. Oxygen concentrators are simply not available here."
Apart from Covid patients, the scarcity of oxygen has also hit non-covid treatment badly. Manish Kumar, manager of a private clinic, which is currently not providing Covid treatment, says, "I gave my cylinder for refill six days back and I got it only today. If this shortage continues for long, it may lead to a lot of trouble for normal patients with other issues." Kumar also highlighted the increased prices of oxygen and termed this opportunistic.
Asked about the increase in prices of medical oxygen, Gupta accepted that the rate has gone up. "The cost of raw material has gone up significantly leading to the upward movement of the price. We have also hired more people to work in the plant and other variable expenses have increased, resulting in this change," he added.
The healthcare system here seems to be on oxygen support itself, standing exposed by the second wave of the pandemic. And for Gupta, the ever ringing calls and pressure to get everything right do not seem to be ending any time soon.
The writer is a student at Indian Institute of Mass Communications and belongs to Darbhanga, Bihar.
Get the latest reports & analysis with people's perspective on Protests, movements & deep analytical videos, discussions of the current affairs in your Telegram app. Subscribe to NewsClick's Telegram channel & get Real-Time updates on stories, as they get published on our website.
Subscribe Newsclick On Telegram