India: E-Waste Provides Poor Children a Dangerous Living
Discarded laptops and smartphones contain valuable metals. However, extraction, usually performed by children, is a crude and hazardous process that goes unregulated.
Seelampur on the outskirts of New Delhi is home to India's largest electronic waste (e-waste) dismantling market where nearly 50,000 people scrape out a living extracting metals. Many of them are children who earn a living by dismantling, extracting and recycling e-waste.    
Thirteen-year-old Arbaz Ahmad and his friend Salman comb through the e-waste carrying a big plastic bag and breaking apart circuit boards and other parts of devices with their bare hands. They burn the material on the roadside to extract metals without wearing any protective gear. The duo sells the valuable metals they've managed to extract for around €5 ($5.4).  
"There are days when we work for more than 10 hours and earn more money. My earning depends on how fast I reach the dumping ground and what I get my hands on. There are days when I find useful metals," Ahmad said.
Five years ago, Ahmad and his family had relocated to the Indian capital from Uttar Pradesh state in search of a living. To support and feed a family of six members, Ahmad's father, who also works as a laborer at the e-waste market, decided to put his son into this work.
He is among thousands of children who burn toxic metals — including mercury, lead and arsenic — in the street. This massive industry at Seelampur is informal and unregulated.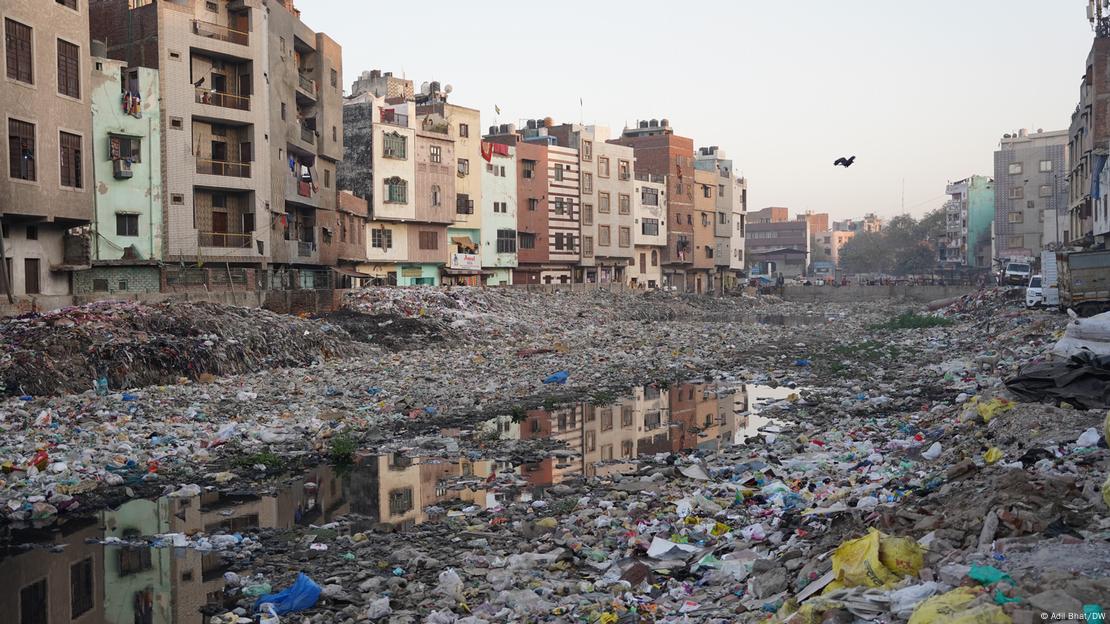 Every morning, trucks arrive with discarded computers, desktops, screens, mobile phones and air conditionersImage: Adil Bhat/DW
India's e-waste problem 
According to the Global E-waste Monitor 2020, the world dumped 53.6 million metric tons of e-waste in 2019. India produced 3.2 million metric tons of e-waste, much of which is dumped for dismantling and recycling in Seelampur with no regulations.  
Every day, trucks laden with discarded computers, desktops, screens, mobile phones and air conditioners deliver loads early in the morning.  
Pickers sift through the scrap and sort out circuit boards, batteries and capacitors. Some of it is submerged in chemical solutions or burned to retrieve small quantities of gold, copper and other metals. This acid bath exposes workers to toxins. 
India has tried to tackle this unregulated industry and introduced a series of laws in 2011 and 2016 mandating the authorization and registration of all e-waste recycling facilities, along with directives for workers to use protective equipment while dismantling the waste.  
However, activists say these laws are not strongly enforced and the majority of the e-waste market in India remains unregulated. 
The environmental NGO Toxics Link has spent years trying to pressure the government to introduce more stringent laws and oversee effective enforcement on ground. The NGO is concerned about the situation of children working in these hazardous conditions. 
Satish Sinha, associate director at Toxics Link, visits the Seelampur site regularly. During these visits, the NGO observed how poverty drives families to have their children extract e-waste for additonal income.
"To stop child labor and prevent children from hazardous exposure of e-waste chemicals, the government should ensure effective implementation of existing laws on child protection and waste management. This can be achieved only if different agencies like children's rights groups work closely with other departments, like district-level administration," Sinha told DW.
What health risks are the children exposed to? 
Parvez Mian, a doctor who treats patients from Seelampur area, is concerned about health risks for child e-waste pickers. 
His clinic is located in the congested alleys of Seelampur and treats many children every day who suffer from serious skin diseases and chronic lung infections due to continuous exposure to chemical-laden toxins found in the metals. 
"Every year the health situation only gets worse as the number of patients increases. There is a clear lack of awareness among the people working with hazardous chemicals, which is the reason for the growing number of children getting chronically sick," Mian told DW.  
Back in the narrow side streets of Seelampur, Ahmad and his friend are getting ready to dismantle and sort out the new batch of e-waste that arrived in the market. For them, this means more income. But it comes at a heavy price to their health. 
Edited by: Wesley Rahn
Get the latest reports & analysis with people's perspective on Protests, movements & deep analytical videos, discussions of the current affairs in your Telegram app. Subscribe to NewsClick's Telegram channel & get Real-Time updates on stories, as they get published on our website.
Subscribe Newsclick On Telegram