Amid Pandemic, Verbal Lay-offs and Pay Cuts Expose State of Indian Media
In the past two months, at least 410 journalists have been laid off from several media houses across India.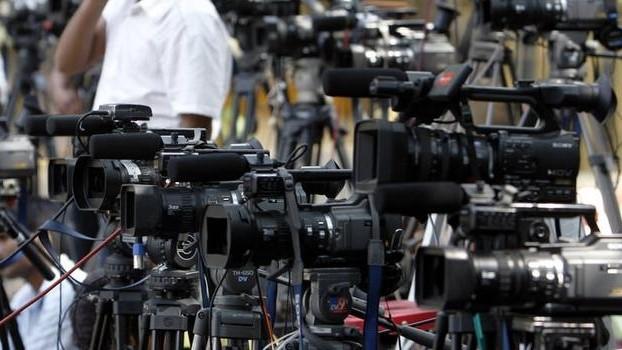 Representational image. | Image Courtesy: Scroll.in
It was a usual hectic start of their workday for the journalists at NewsX on June 1. However, soon after logging in through the company portal, but from home, they received a phone call from the HR demanding their resignation. 
"Many of us, who were laid off now have not received salary since February," said a former NewsX staffer to NewsClick. The company clearly violated Industrial Disputes Act, 1947, according to which the company needs to pay three-months salary as severance pay irrespective of what the contract says.  
NewsClick tried contacting Naresh Jaiswal, the HR at India News for his comment on the issue but there was no response. India News is also managed by ITV network which controls NewsX. 
Shocked and in despair, the former staffer admitted that later on, they came to know that this technique of demanding resignation over call was not unique to their organisation. 
In the past two months, at least 410 journalists have been laid off from several media houses across India. Of the total number of journalists laid off, 18+ journalists were from The Times Group; 46 reporters, six cameramen, and 17 producers from India Today; 15 journalists from News Nation; 45 journalists from The Quint were asked to go on leave without pay; 100+ journalists from the Hindustan Times and Mint; 50+ journalists from Sakal Times; 13 journalists from Gomantak Times; 100+ journalist were asked to resign from The Hindu; and the list goes on. 
From the information gathered through Sujata Madhok, a member of the Delhi Union of Journalists, the Indian Express was one of the few media houses to first announce pay cuts in April, and on June 23, began retrenchment. At least four journalists from the feature and op-ed desk were verbally asked to submit their resignation by Raj Kamal Jha, editor-in-chief and Unni Rajan Shanker, executive editor. Those laid off have been promised two months salary as severance. There has been no written communication yet to the affected journalists. Also, around 20 contractual employees of different departments including machine have lost their jobs. 
Apart from pay cuts and job loss, many organisations have shut down due to the economic shock and lack of revenue during the lockdown period. Cricket Samrat and the weekly Nayi Duniya print editions are some of them. 
What started off as pay cuts in early April, within few days of lockdown escalated to a list of employees to be retrenched. According to journalists and non-journalist staffers across media houses, the reason cited by the human resource teams of these companies ranged from revenue shortage to the slowdown in the news industry.  
For the Times of India, lay-offs were not just about the pandemic or loss due top print circulations. A journalist at Times of India, who did not want to be named, said that journalists have been laid off since last year. The journalist added, "Yes, the situation did get bad in-between but then it improved. Even then people are being laid off to reduce cost."  
Also read: Bombay HC asks Centre, Maharashtra and Ten Media Houses to Respond to PIL by Journalists' Unions over COVID-19 Lay Offs
On being asked whether the owners of the media organisations are taking pay cuts same as employees, Sujata Madhok said, "Unlikely that they will take pay cuts. There is no such transparency in ownership/leadership in the newspaper industry. So we don't actually know," adding, "Actually around 50% of running costs of newspapers are newsprint costs. During lockdown they are printing far fewer copies, so that is a net saving they don't talk about."
Though print media leads in the total number of journalists fired over a period of three months, electronic and digital media are not far away in the race of lay-offs. 
While national channels and papers attracted attention to the humongous resignation demands, the local and vernacular media continued to fire people without severance pay of three months and written proof as per the Working Journalist Act of 1955 (journalist and non-journalist at print publications), Industrial Dispute Act of 1947 (for the industry as a whole) and the Majithia Wage Board for the cover. 
According to Sandhya Ravishankar, the editor at The Lede, "The main point is that there is a whole set of regulations that an organisation is supposed to follow, especially during a pandemic when there are no other jobs available." She added, "It is then the duty of an organisation to take care of their employees and not use it as a reason to sack employees."
Meanwhile, journalists at the media houses claimed that the arbitrary lay-offs were a surprise but not unprecedented as the companies have been sacking journalists from times before COVID-19 and the lockdown happened. Also, most of the pay cuts at media houses like the Times of India and the Hindu were for journalists earning Rs. 10 lakh and above, while in The New Indian Express it was for journalists from all income slabs. 
According to the Mumbai Press Club, a salary cut between 30 and 50% was announced by the Indian Express and Business Standard. While India Ahead announced salary cuts too. Many departments were shut down by the big groups like Times Group, HT Media, Network18 Group and India Today Group. 
Talking about retrenchment, a former NewsX staffer said, "This, retrenchment in June was too sudden for us. A mass sacking had taken place in January as well, when 90% of the staff were asked to leave and were only paid salary for the month of January." The staffer added that NewsX showed that they were undergoing a financial loss since November, though, they did hire new interns in the coming months. 
Like NewsX, local media organisations, too, are asking their employees to rejoin enduring 50 % salary cut after asking them to resign over phone calls.
A former staffer at the Telegraph said that though revenues did drop by 80%, in the last 10-15 days, the situation is getting better with the inflow of advertisement. "It would be hard to call the move right or wrong. Maybe they were planning something like this and COVID0-19 was just a coincidental excuse. As journalists, we don't know what is going on in their (the management) mind," said the staffer, who wished to remain anonymous. 
Also read: Journalists' Unions File Petition in SC Against Media Companies, Allege Using Lockdown for Lay-offs, Salary Cuts
According to journalist Sudipto Mondal, the pandemic is just an excuse for the media houses to let go of the reporters they find problematic and that the lay-offs have nothing to do with the profits as, "Media in India survive through patronage and were never a profit-making venture." 
It was after May 31 that the Telegraph closed down its Jharkhand and North East bureau. In the North East Bureau, 44 contributors' contracts were cancelled and five out of six permanent employees were laid off. The status of the bureau was brought down to a one journalist representation, just like other news media like The Hindu, Hindustan Times and India Today.  
After the Press Council of India issued a suo-moto against the Hindu, an employee, on conditions of anonymity, said that the news company, despite all criticism, has planned to move forward with the lay-off plans. 
"The Hindu must have anticipated all this negative publicity before planning such a large scale lay off. Also, whatever they would have done in Mumbai would have grabbed national headlines and obviously they will not take back there word due to bad publicity," the employee told NewsClick. 
In April, an entire bunch of journalists were sacked arbitrarily by the Times of India in Kerala, when they decided on shutting down two out of four bureaus there. The management conveyed the decision to a list of working journalists over WhatsApp call with no written proof. 
For Sandhya Ravishankar, the use of WhatsApp call over normal call was a cunning side of the management, wherein, the management makes sure that the journalists, who are being asked to leave, do not have any proof of being verbally retrenched. 
A former HT staffer, seeking anonymity, said, "It came as a shocker. We were asked to leave without notice. It was inhumane."
According to Sujata Madhok, journalism as a profession was always insecure, though, the number of lay-offs now is unprecedented. News media organisations are either doing pay cuts or starting with pay cuts and then proceeding to retrenchment. "The most crooked thing is that they don't call it retrenchment or issue official letters," she said. 
In some cases like in the Quint, the employees were asked to go on unpaid leave which left journalists hanging by the thread. While, in other cases, like the Hindu, over 100 journalists were asked to submit their resignation. 
Madhok said that the entire work from home is an added benefit for the companies as they can now pick individuals without them knowing who else is on the same boat as them. This has also conveniently cut off the chances for protests. 
"Also, the problem with journalists is they don't resist or come out publicly due to the fear of being blacklisted," she added. 
Though according to Sandhya Ravishankar, who is also a part of Network for the Protection of Journalists' Rights in Tamil Nadu, the fear of being blacklisted may be lesser in English news media agencies, but it's not the same for regional ones. 
She said that for those who write in English may get the opportunity to freelance for international media, if blacklisted by Indian media but a regional journalist's option is confined, with limited options at their disposal. And, since, the regional space is small and close-knit, raising their voice against the management could end a journalist's career. 
The national media houses led the way, but the local and vernacular media followed. Two popular Tamil television channels reportedly asked their employees to not get tested for COVID-19. While one of them went ahead and sacked two employees who tested positive for the infection. 
Meanwhile, a Tamil newspaper laid off 200 people and another popular Tamil magazine Vikatan verbally asked 176 employees to leave. 
"But we make a big fuss when it is The Hindu, a smaller fuss when it is Times of India, and no fuss when it comes to regional languages," said Sandhya Ravishankar. 
(The writer is an independent journalist based in Kolkata.)
Get the latest reports & analysis with people's perspective on Protests, movements & deep analytical videos, discussions of the current affairs in your Telegram app. Subscribe to NewsClick's Telegram channel & get Real-Time updates on stories, as they get published on our website.
Subscribe Newsclick On Telegram