Inland Waterways: Environment and Coastal Livelihoods Sidelined for Modi Government's Pet Project
Over 17 national waterways are currently in different stages of development. Activists say that the project gives a free hand to the corporates to control water vessels and is causing a major threat to the livelihood of coastal communities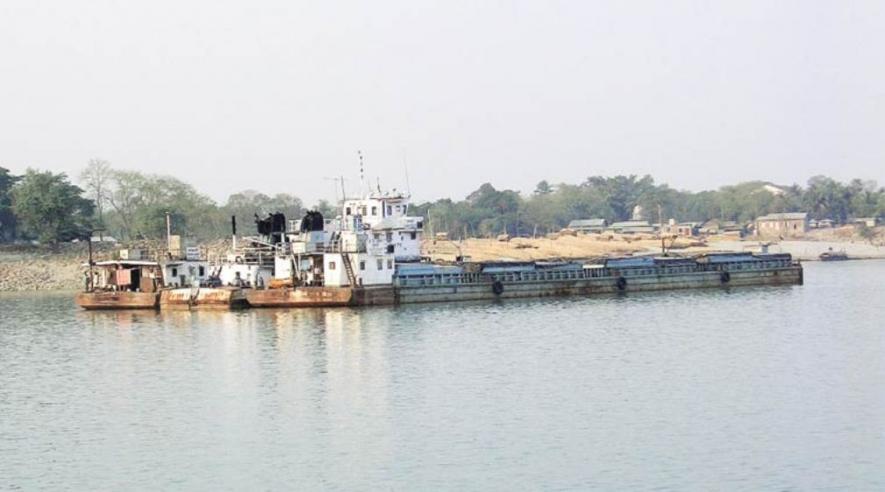 Over the past six years, the Modi government has actively pushed for environmental overhauls, with the latest being the draft Environmental Impact Assessment notification. While there has been a furore about the draft EIA notification, another government project has attracted the ire of activists. 
The government had realised that the inland water system, integrated with coastal waters, can provide for a significant transportation system in the country. There are 12 major ports on India's coasts and nearly 180 sites along the coast have been identified by the Centre and various state governments for minor ports. While the major ports are expanding with government support, the minor ports are being developed with private participation aided by the government. 
Coastal Communities Struggle to Voice Concerns due to Private Participation 
With a coastline measuring about 5,423 kms, coupled with 200 miles of Exclusive Economic Zone, the country has gained a territory measuring around 100,000 sq km of water surface for economic exploitation. 
One of Prime Minister Narendra Modi's pet projects is to promote transportation via inland waterways, with the government also planning on introducing The Inland Vessels Bill, 2020. The National Waterways Act, 2016, had declared 111 rivers or river stretches, creeks and estuaries in India as National Waterways. The national waterways project intends to create large-scale, commercial shipping and navigation systems in all these 111 waterways. 
The government claims that the proposed changes aim to facilitate economical, safe transportation and trade on inland waterways, strengthening procedures governing inland vessels. As of now, a total of 17 NWs (including 5 NWs which existed before 2016) have been identified for development. Out of the 17 NWs, developmental activities in feasible stretches in 13 NWs have already been taken up with work in the remaining four yet to be initiated. 
Activists say that the adverse environmental impact due to the waterways and their intervention into the depleting fresh water systems of India deserves more attention and  scrutiny. One of the major concerns being raised is the ability of private players to surpass environmental clearances. The recently-proposed draft EIA notification puts inland waterways in Category 'B2' projects, which only need an Environmental Permission, with or without  appraisal and a public hearing. An expert committee of the environment ministry in 2017 recommended inland waterways to be slotted into Category A. However, this has not been done. 
Speaking to NewsClick, activist Yash Marwah, founder of Let India Breathe said that projects like Inland Waterways and the interlinking of rivers "are projected as fancy messiahs that will solve every problem under the sun, while ignoring very fundamental problems that they will cause. The step-by-step deregulation regime being created to enable Inland Waterways over the past two to three years is worrisome and we need to talk about it." 
Avli Verma, a researcher at Manthan said that the project was launched with "grand claims and promises. It was claimed that national waterways were ideally suited for bulk and hazardous cargo and that these are more cost-effective and environment friendly as compared to railways or roadways. But these claims are not universal for all waterways. The development and maintenance of waterways and movement of large barges on the rivers represent massive interventions in the riverine ecosystem. Dredging, noise generated by vessels, leakage of fuel, accidental spills – all of these adversely impact the fish population, thereby directly affecting the livelihood of inland fishworkers." 
She added that many of the fishworkers are solely dependent on the rivers for their survival. Not only fish, but other aquatic species could also be harmed in the process of development of navigational channels and the movement of barges, she said.  
From just three to four million tonnes of cargo being transported through NW-1 until 2016, the  quantity has been reportedly increased to about seven million tonnes now, according to IWAI officials. Passenger movement has increased all along the rivers and also on the coast. New RoRo vessels, RoPax vessels, inter-island vessels and ferry vessels are being ordered by private players. 
Activists say that the plan does not take into account the monsoonal hydrology of India's rivers – when they are either too full or have less water – invisibilises communities that inhabit the land and the ignore the load that the transported cargo puts on the ecology of the region.
The government claims that the project is "fuel efficient, cost effective and environment friendly mode of transport …" (National Waterways Bill, 2015). However, such claims are neither qualified nor universal, as these 111 waterways will pass through 24 states and two Union Territories (20,274 km) and involve 138 river systems, creeks, estuaries and canal systems and also cut through at least 20 wildlife protected areas. 
"Even from a financial point of view, many of the declared National Waterways are proving to be non-viable. A recent report by Inland waterways authority of India (nodal agency for the development and regulation of inland waterways in India) mentions that 63 of the NWs are found to be infeasible for cargo or cruise.  If there is no depth or cargo available for these waterways, why were they declared as National Waterways without prior feasibility studies? This also raises serious concerns on the way these stretches are being planned and implemented," Verma said.  
Get the latest reports & analysis with people's perspective on Protests, movements & deep analytical videos, discussions of the current affairs in your Telegram app. Subscribe to NewsClick's Telegram channel & get Real-Time updates on stories, as they get published on our website.
Subscribe Newsclick On Telegram