Inside 'Gujarat Model': Why Are So Many Children Undernourished?
On many counts, the indicators are worse than India's average.
In May this year, the Gujarat BJP president C R Patil urged party workers to take care of at least one malnourished child each so that malnutrition can be eradicated from the state in 90 days. Reports are sparse about what has happened since then but the prescription given by Patil is breathtaking in its naivete. The state has some of the direst parameters of child malnutrition, often worse than the country-level average. This is all the more astonishing because Gujarat is considered an industrially advanced state, with high economic growth, lots of foreign investment and a model of political stability, with the BJP having ruled it continuously since 1995, barring a brief one and a half year interregnum in the late nineties when a splinter group of the BJP came to power.
First, let us have a look at the status of child nutrition, as revealed by the National Family & Health Survey's fifth round results released last year. The survey was done during 2019-20.
Stunted, Wasted & Underweight Children
Three well-known parameters of the nutritional status of children are stunting (height for age), wasting (weight for height) and underweight (weight for age). On these, Gujarat's data is tragic as much as shocking, as shown in the chart below.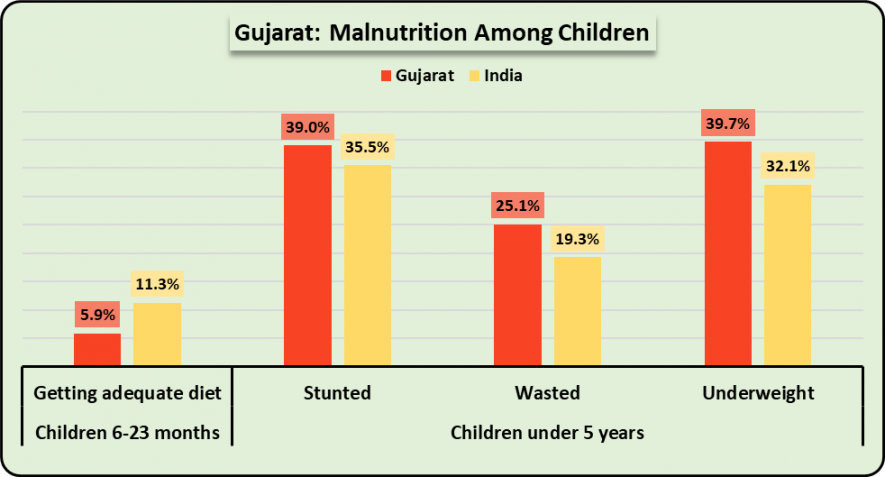 Among children under five years of age, 39% were found to be stunted. The corresponding all India average figure is 35.5% which is high in itself – but Gujarat is worse than this. Just over 25% of children in Gujarat were wasted. Again, this figure is much higher than the all-India average of 19.3%. In Gujarat, nearly 40% children were underweight for their age – compare this to the Indian average of just over 32%. Considering that the India average includes some of the poorest states with worst parameters, the fact that the prosperous state of Gujarat with its double engine government has spectacularly failed to ensure adequate nutrition to its children is troubling – and revealing.
Also read: Gujarat Elections: Rough Ride of Surat's Diamond Industry May Send BJP into Tizzy
It was also found that only about 6% of babies in the age group 6 to 23 months were getting an adequate diet, compared to over 11% at the all-India level. An adequate diet for babies this small is broadly defined as "Breastfed children receiving 4 or more food groups and a minimum meal frequency, non-breastfed children fed with a minimum of 3 Infant and Young Child Feeding Practices (fed with other milk or milk products at least twice a day, a minimum meal frequency that is, receiving solid or semi-solid food at least twice a day for breastfed infants 6-8 months and at least three times a day for breastfed children 9-23 months, and solid or semi-solid foods from at least four food groups not including the milk or milk products food group)."
As can readily be gauged from the above data, children in India as a whole are victims of extensive malnutrition. Some states do much better while others do worse. What is surprising is that Gujarat falls under some of the worst states. PM Modi wants Gujaratis to take pride in their state and often alleges that politically motivated criticism seeks to denigrate Gujaratis. But, this data shows that it is Gujarati children who have suffered severely under the 'model' policies that his party has followed in the state.
Anaemia among Women & Children
Another parameter is worth studying – anaemia. This lack of iron in the blood causes a host of developmental deficits in children, both mental and physical. The NFHS-5 data shows that an unconscionable 80% of children under 5 years of age suffer from anaemia. This is worse than the Indian average – in itself shocking – of about 67%. The survey revealed that children are often inheriting this lack from their mothers – nearly 63% of pregnant women surveyed had anaemia, compared to about 52% at the countrywide average. In fact, 65% of all women in the reproductive age group (15-49 years) were anaemic in Gujarat, a much higher share than the Indian average of 57%. (See chart below)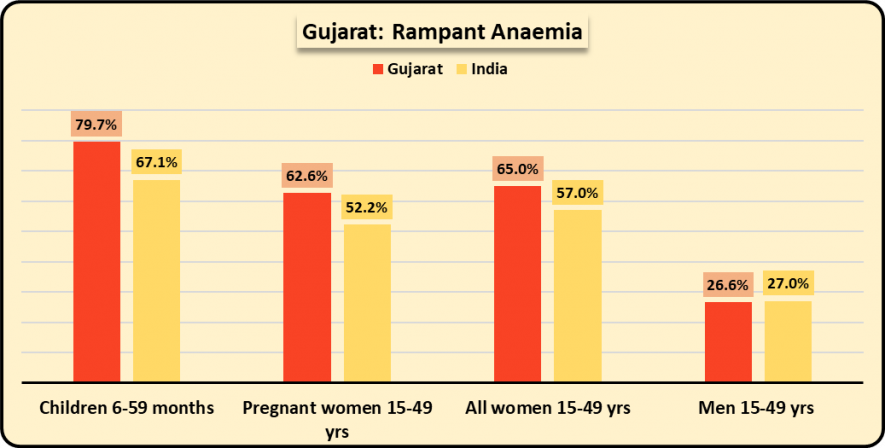 Districtwise estimates worked out by the International Food Policy Research Institute (IFPRI) based on the survey findings – available at the Niti Aayog website – show that districts with the highest burden on malnutrition indicators include: Ahmedabad, Surat, Vadodara, Dahod and Banaskantha (for stunting, underweight and anaemia) and Surat Ahmedabad, Panch Mahals, Banaskantha and Dahod (for wasting). This shows that malnutrition is prevalent both, in big cities as well as among the poorer ones, including those with large tribal populations.
What Could Have Been Done?
Why is it that the much-lauded "Gujarat model", a favourite example of good governance, has failed to fulfil the most essential needs of children in Gujarat?
Experts believe that the health of the child at this young age is determined by a mix of several factors which include – nutritious food for both the child and the mother, timely healthcare, sanitation, safe drinking water, and also, the health of the mother when she is carrying the baby. Poverty is one of the biggest determinants of child health because in the absence of adequate income, both the mother and the child will suffer from malnutrition. Healthcare facilities to treat diarrhoea and other rampant child diseases, and ensuring sanitary conditions are also essential because chronic sickness will render even a well-fed child weak and anaemic, increasing its susceptibility to more diseases.
What can the government do to address these problems? Apart from ensuring better incomes and regular employment (which will lift the family out of poverty), the government has several programmes that are being run to address child malnutrition. These include the crucial anganwadi programme which provides nutritional support to children under six years of age. Clearly, in Gujarat, the impetus to strengthen such interventions has either not received adequate political sanction or adequate funds have not been allocated for their effective implementation.
Although the proportion of children suffering from malnutrition has declined over the years, but despite that decline if the situation remains so dire then the political rulers in the model state need to start thinking beyond such prescriptions as one BJP worker adopting at least one undernourished child.
Also read: Gujarat Elections: Will Meltdown in Surat's Textile Industry Hurt BJP's Prospects?
Get the latest reports & analysis with people's perspective on Protests, movements & deep analytical videos, discussions of the current affairs in your Telegram app. Subscribe to NewsClick's Telegram channel & get Real-Time updates on stories, as they get published on our website.
Subscribe Newsclick On Telegram